The best road trips in Canada
At 3.8 million square miles, Canada is the world's second largest country. Which means the best way to see it is to hop in a car and drive . . . and drive. Along the way you'll gape at glacier-carved peaks, bird-filled marshlands and everything in between. There'll be plenty of stops to take in the views, sample local hot spots and rest your road-trip weary head too.
But knowing where to go in such a vast and diverse land might seem daunting. No worries - we've made it easy with this list of best road trips in Canada's 10 provinces and two of its three territories. (To date, there are no roads into Nunavut or between its communities). Take your pick, start your engine - the open road awaits!
Crowsnest Highway, British Columbia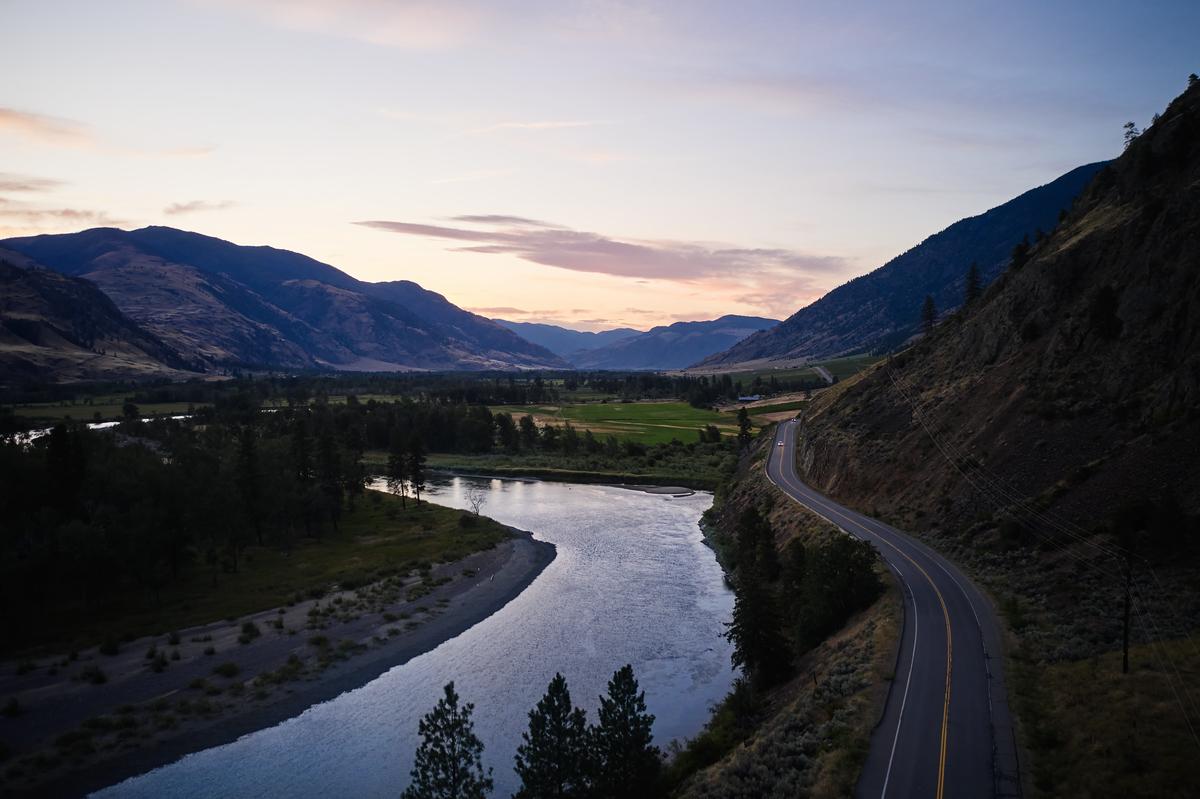 The Crowsnest Highway weaving through Keremeos and the Similkameen Valley. Credit: Destination BC/Hubert Kang
Stretching from BC to Alberta, the Crowsnest Highway passes through breathtaking mountains and charming towns. After departing from the bustling city of Vancouver, head toward the Fraser Valley on Highway 1. Stretch your legs after a few hours of driving with a hike at E.C. Manning Provincial Park and then get a good night's rest in one of the rooms or cabins at the Manning Park Resort. The next day, make your way to the Similkameen Valley and stroll around the many vineyards in Keremeos, before continuing your trip to Osoyoos -- which is home to the warmest lake in Canada.
Icefields Parkway, Alberta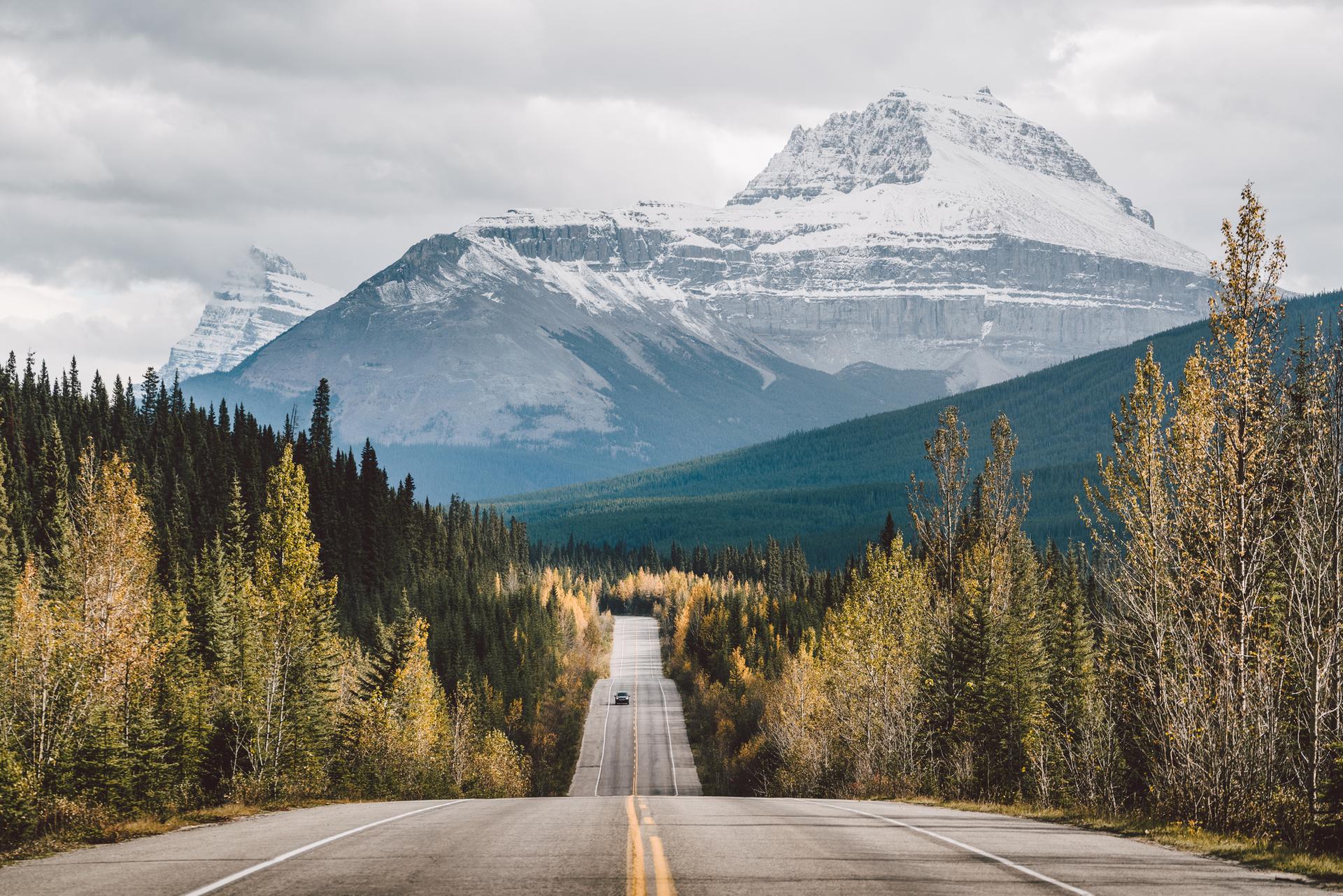 The Icefield Parkway in Jasper National Park. Credit: Roman Koenigshofer @rawmeyn
Thinking about the Canadian Rockies for your Canada road trip? Then the 146-mile Icefields Parkway is your front-row seat to some of the range's most fetching glaciers and turquoise lakes. Leaving the hamlet of Lake Louise in Banff National Park, head north along Highway 93 to savor such sights as mirror-like Herbert Lake, the sweeping Athabasca Glacier and double-barreled Sunwapta Falls. Hang your toque at the newly renovated Glacier View Lodge on the way up or at Jasper's cozy Chateau Jasper in Jasper National Park at route's end. Count on a full day but take a few to explore the icefields and both parks during less-busy spring and colorful fall.
Grasslands National Park, Saskatchewan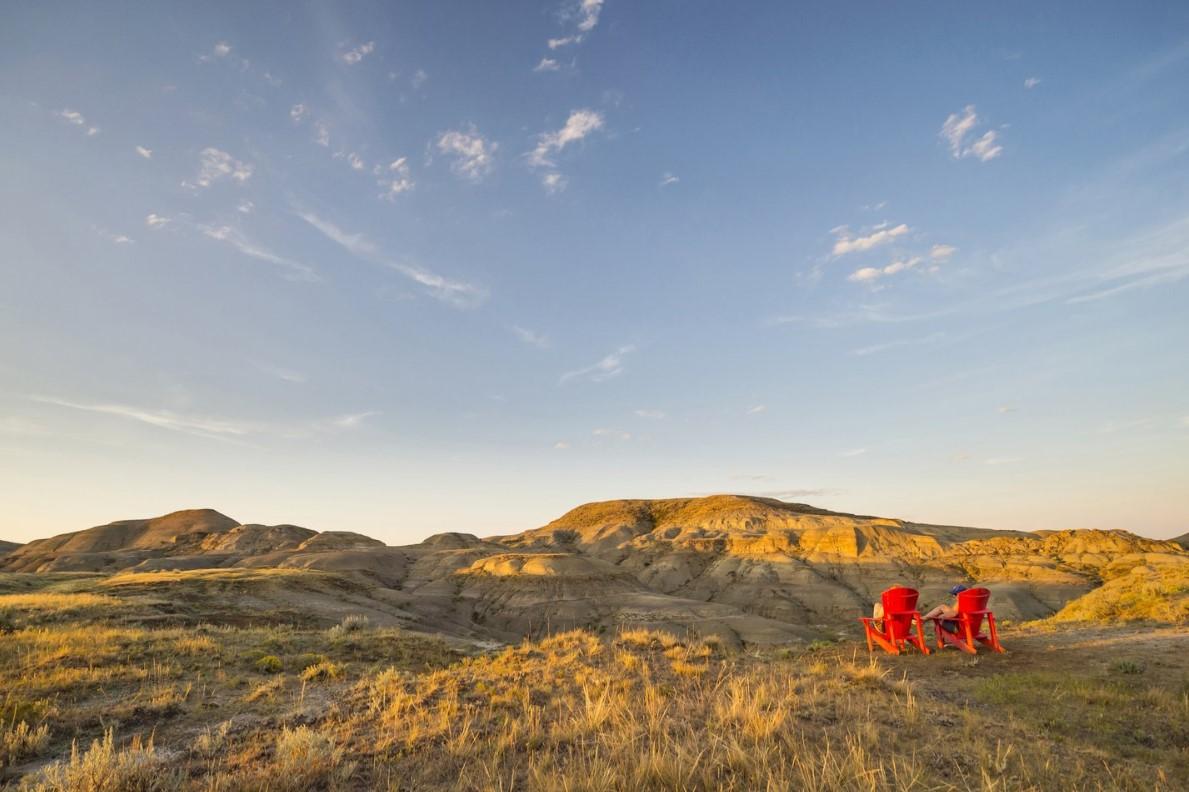 The East Block of the Grasslands National Park. Credit: Tourism Saskatchewan/Chris Hendrickson Photography
Exploring Saskatchewan's eclectic roadside attractions just got better. Thanks to the 2019 opening of the Badlands Parkway, you can now see Grasslands National Park on not one but two revealing Canada road trips. From the village of Wood Mountain, drive south to the paved, seven-mile parkway in the park's East Block to glimpse a wild but fragile prairie landscape. Then make tracks to the West Block just south of Val Marie to spot plains bison, black-footed ferrets, and settler homesteads on the 50-mile-loop Ecotour Scenic Drive. Take one to a few days; 178 miles total.
Interlake Region, Manitoba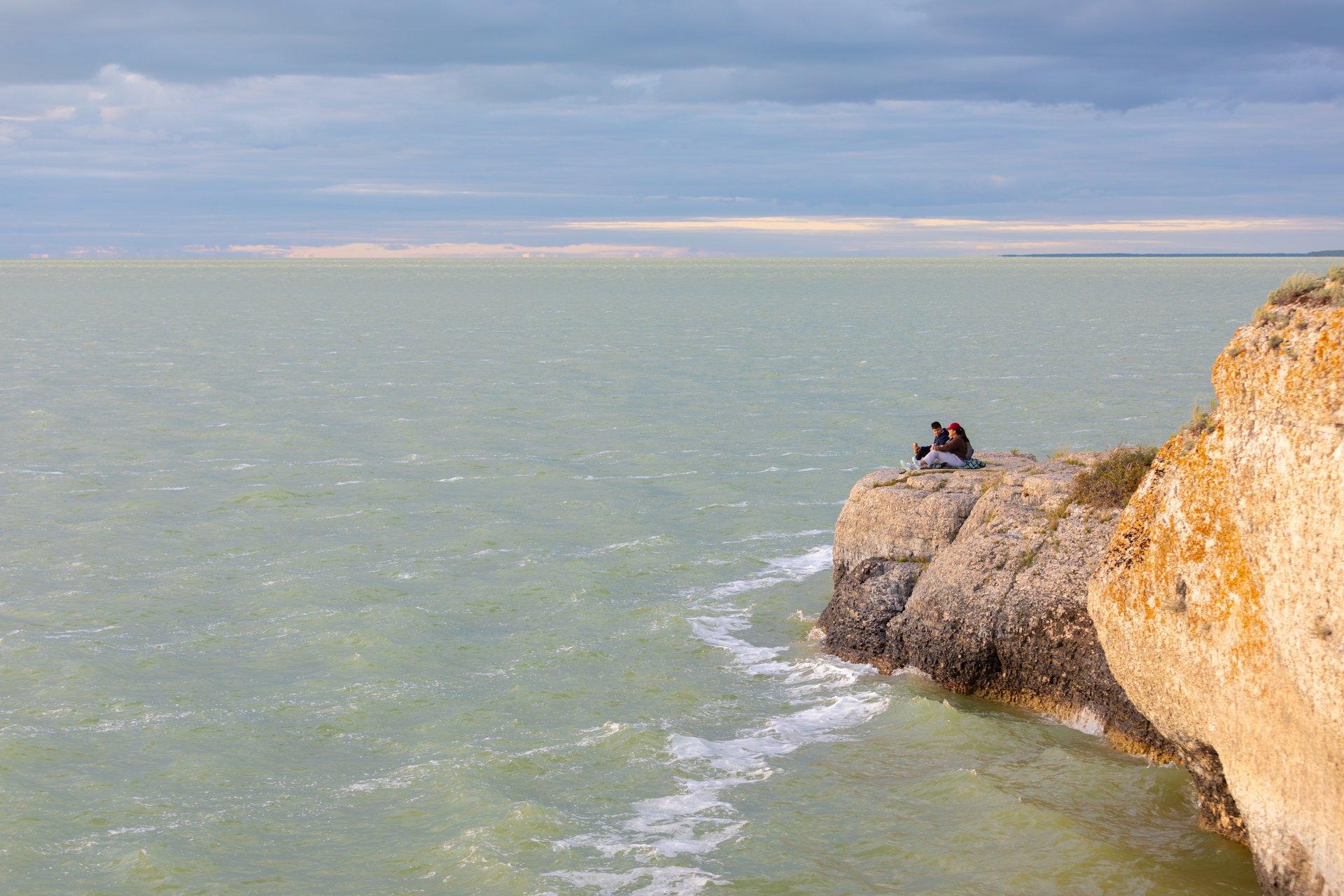 Lake Manitoba. Credit: Visual Soul Studios-Courtesy of Travel Manitoba
Toronto to Stratford, Ontario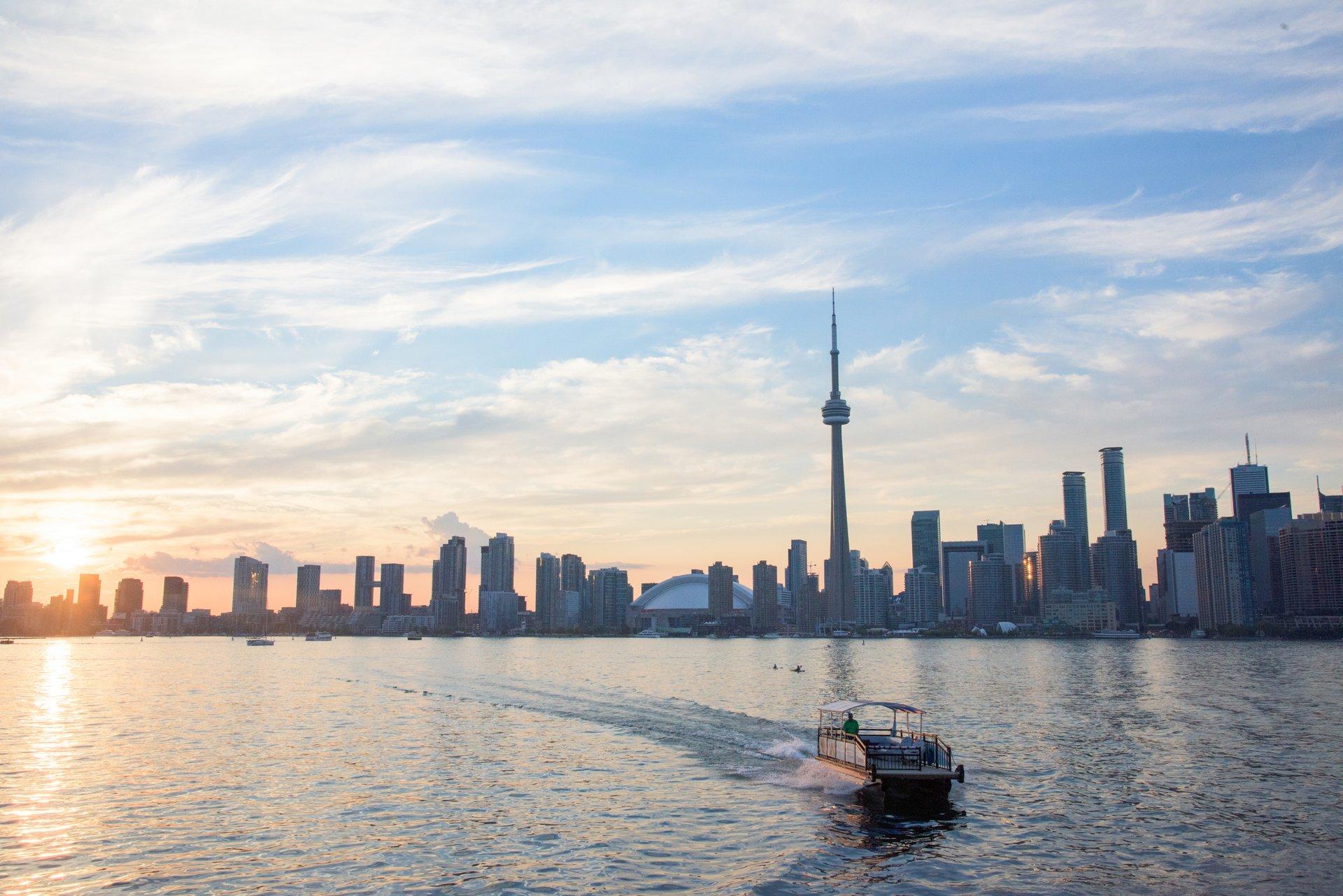 The Toronto skyline. Credit: Destination Toronto
Montreal to Gaspésie, Quebec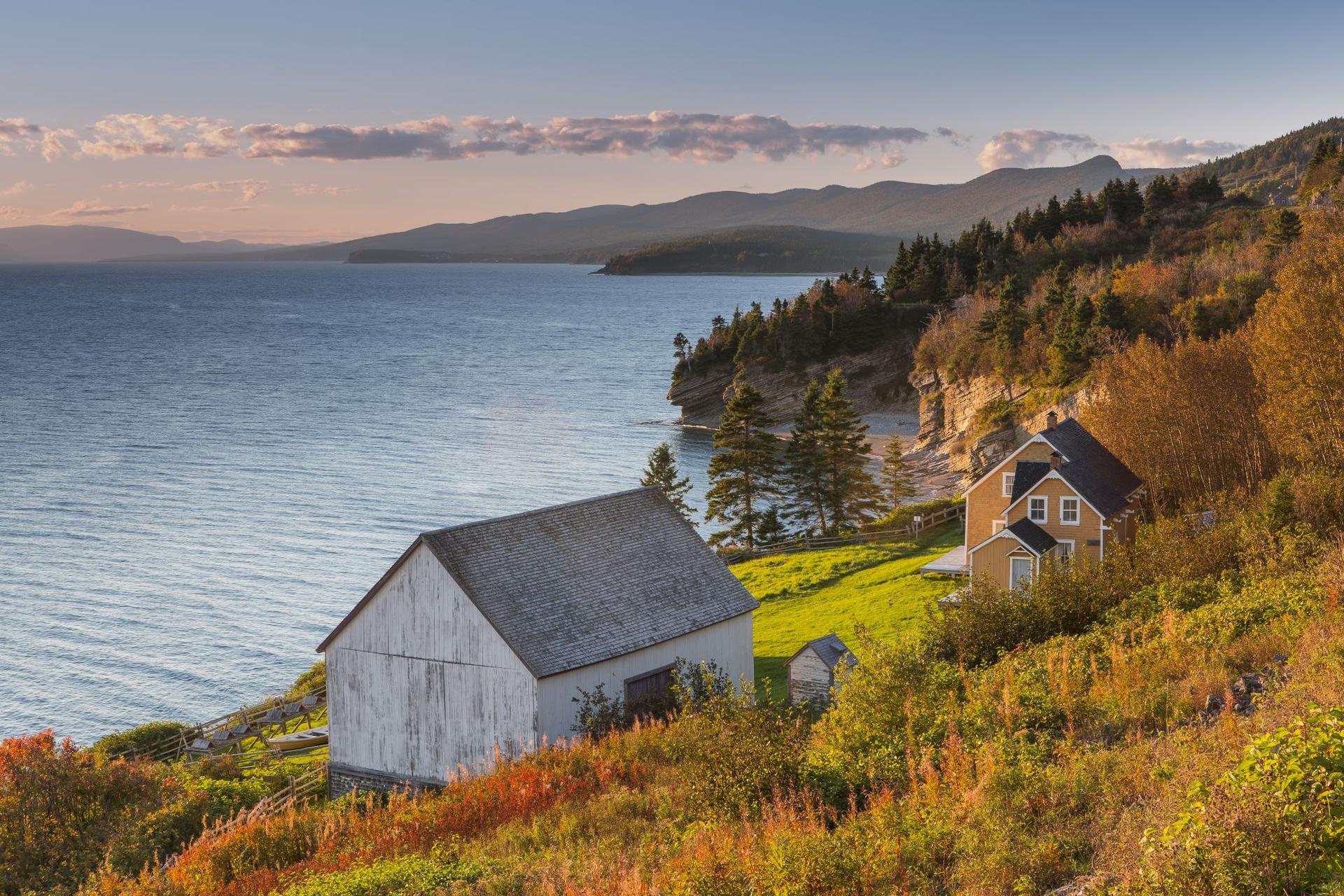 Forillon National Park in Gaspésie. Credit: Toursime Québec / Mathieu Dupuis
Take a week or more to hit several Quebec sweet spots on this charming 606-mile drive, which should be on everyone's best road trips in Canada bucket list. Visit Montreal and Quebec City - voted forth and first top Canadian cities, respectively, in Travel + Leisure's World's Best Awards 2021 - before heading northeast along the St. Lawrence River to the Gasp? Peninsula and its striking Perc? Rock. Watch for whales, caribou and northern gannets - you can't miss their distinctive black-tipped wings. Alternatively, skip the cities for the full-on Gasp?sie Tour or try one of these scenic drives.  
Irish Loop, Newfoundland and Labrador
Breaching whale seen along the Irish Loop. Credit: Barrett & MacKay Photo
Bay of Fundy, New Brunswick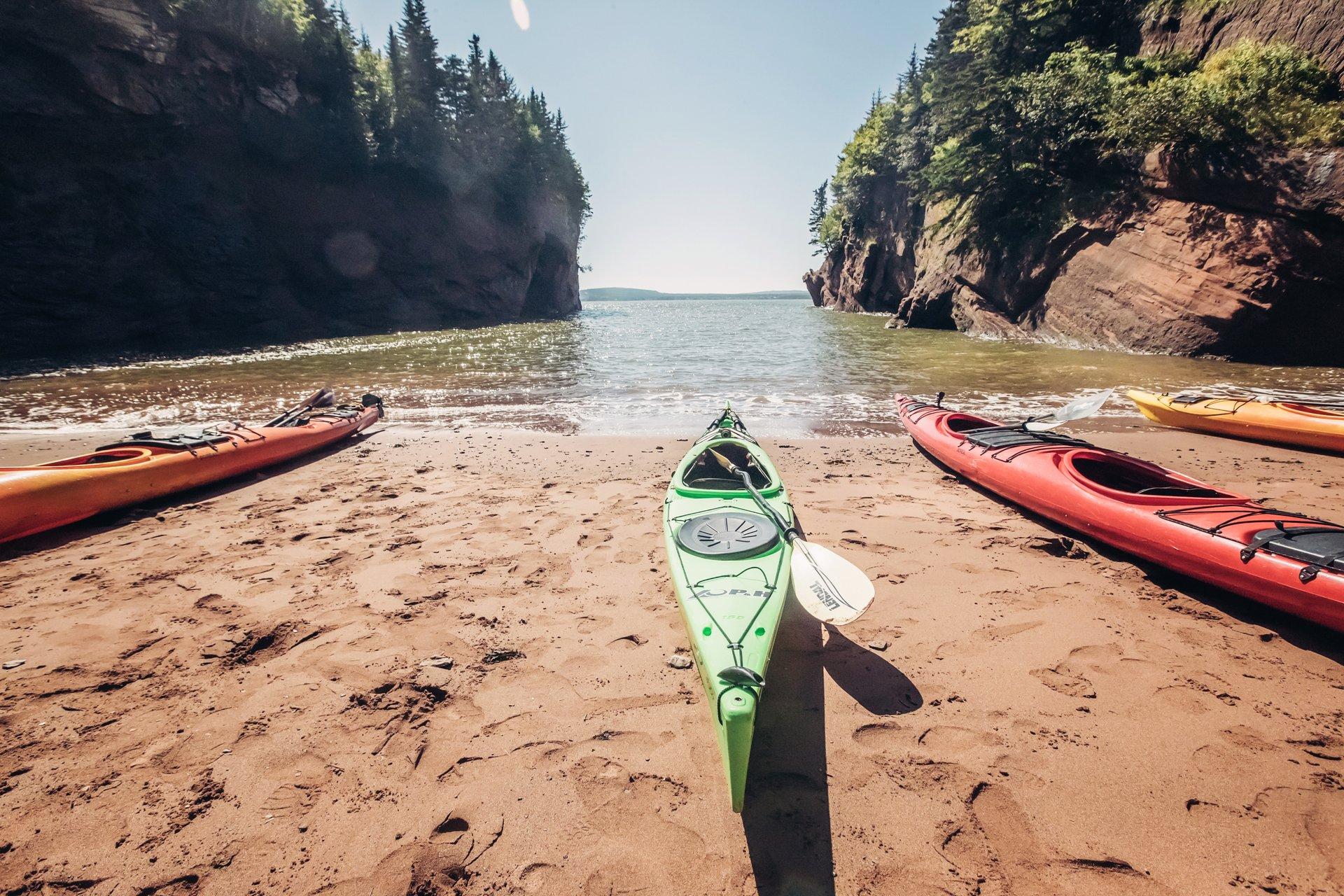 Kayaking in St. Martins, in the Bay of Fundy. Credit: New Brunswick Tourism
North Cape Coastal Drive, Prince Edward Island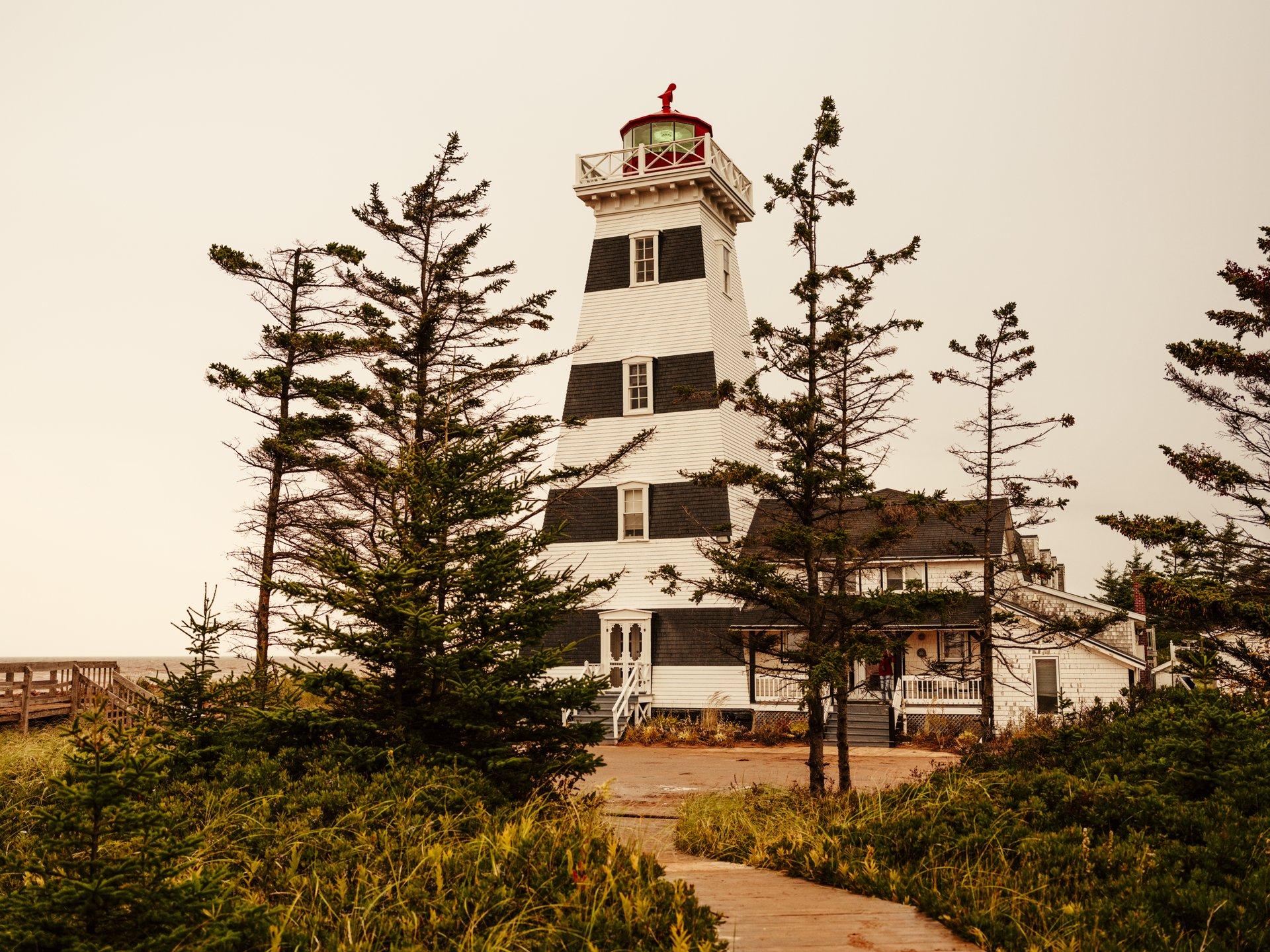 The Westpoint Lighthouse Inn. Credit: Destination Canada
Halifax to the Cabot Trail, Nova Scotia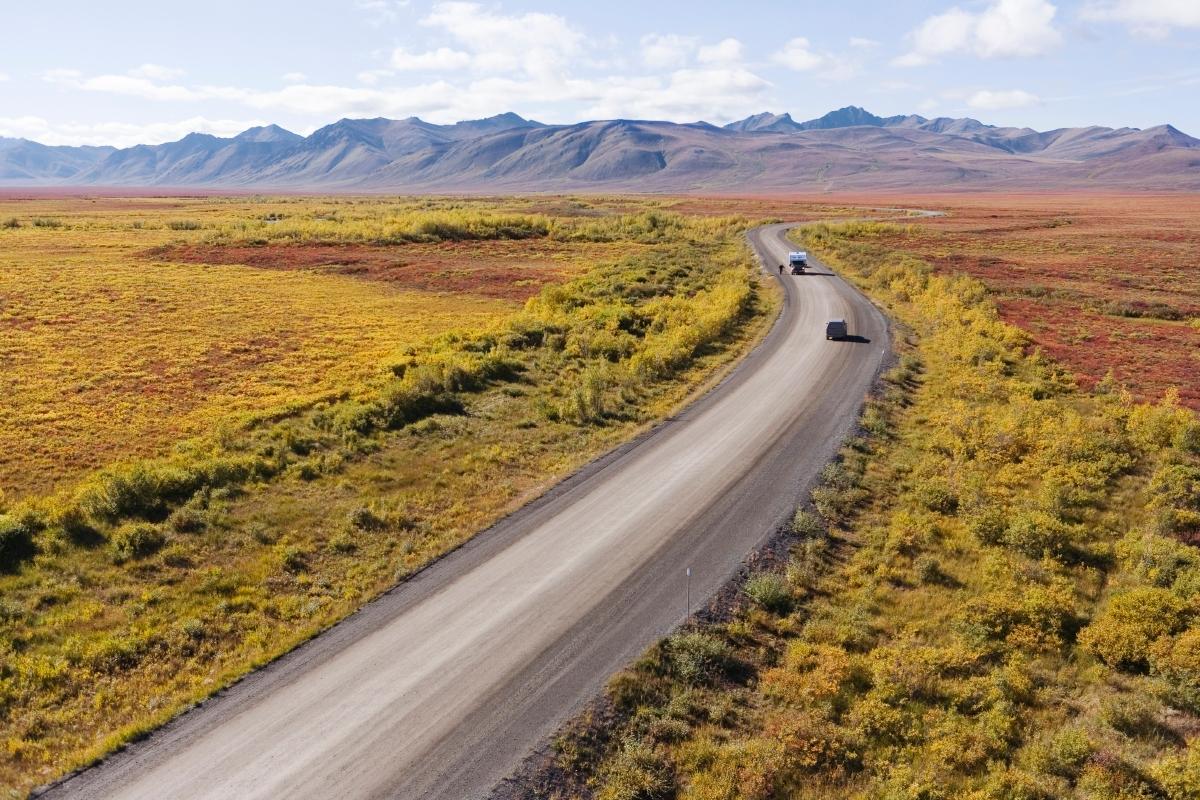 Meat Cove, Cape Breton Island. Credit: Tourism Nova Scotia / Photographer: Tom Cochrane
Get your urban fix in the lively capital of Halifax before striking out for rural Cape Breton Island and the world-famous Cabot Trail - considered to be not only one of the best road trips in Canada but in the world. Named after Italian explorer John Cabot, who landed on these shores in 1497, the 186-mile coastal loop climbs from sea-swept beaches and sleepy fishing villages to forested slopes and cliff-tops. Plan for a full four days to take in Baddeck on the shore of Bras d'Or Lake; Cape Breton Highlands National Park and its 26 hiking trails; and the traditional Acadian town of Ch?ticamp.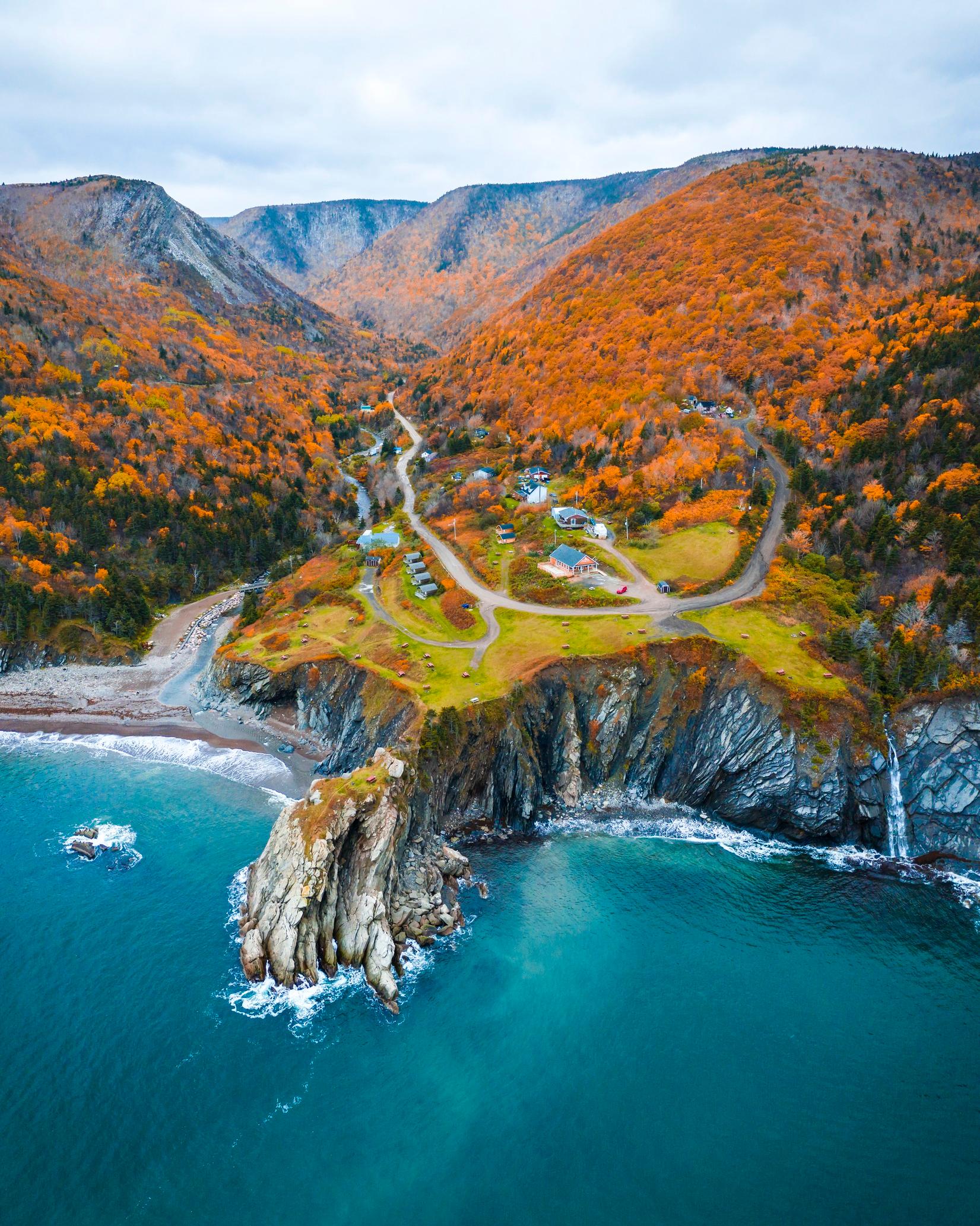 The Dempster Highway in fall. Credit: Yukon Government/F Mueller
Tucked into the northwest corner of Canada, the Yukon is home to few people (population 38,500), many mountains and 3,100 miles of maintained roads. Of the territory's go-to road trips, the 458-mile, five-to-seven-day Dempster Highway delivers the most off-the-beaten-track experience. Load up on supplies and gold-rush history in Dawson City (think historic walking tours, entertainment and the infamous Sourtoe Cocktail). Then drive north through wildlife-rich tundra, crossing the Arctic Circle and hopping two ferries on the way to Inuvik in the Northwest Territories. Catch early fall's red, yellow and orange tundra, winter's ice roads, spring's foraging wildlife and summer's midnight sun.
Inuvik-Aklavik Ice Road, Northwest Territories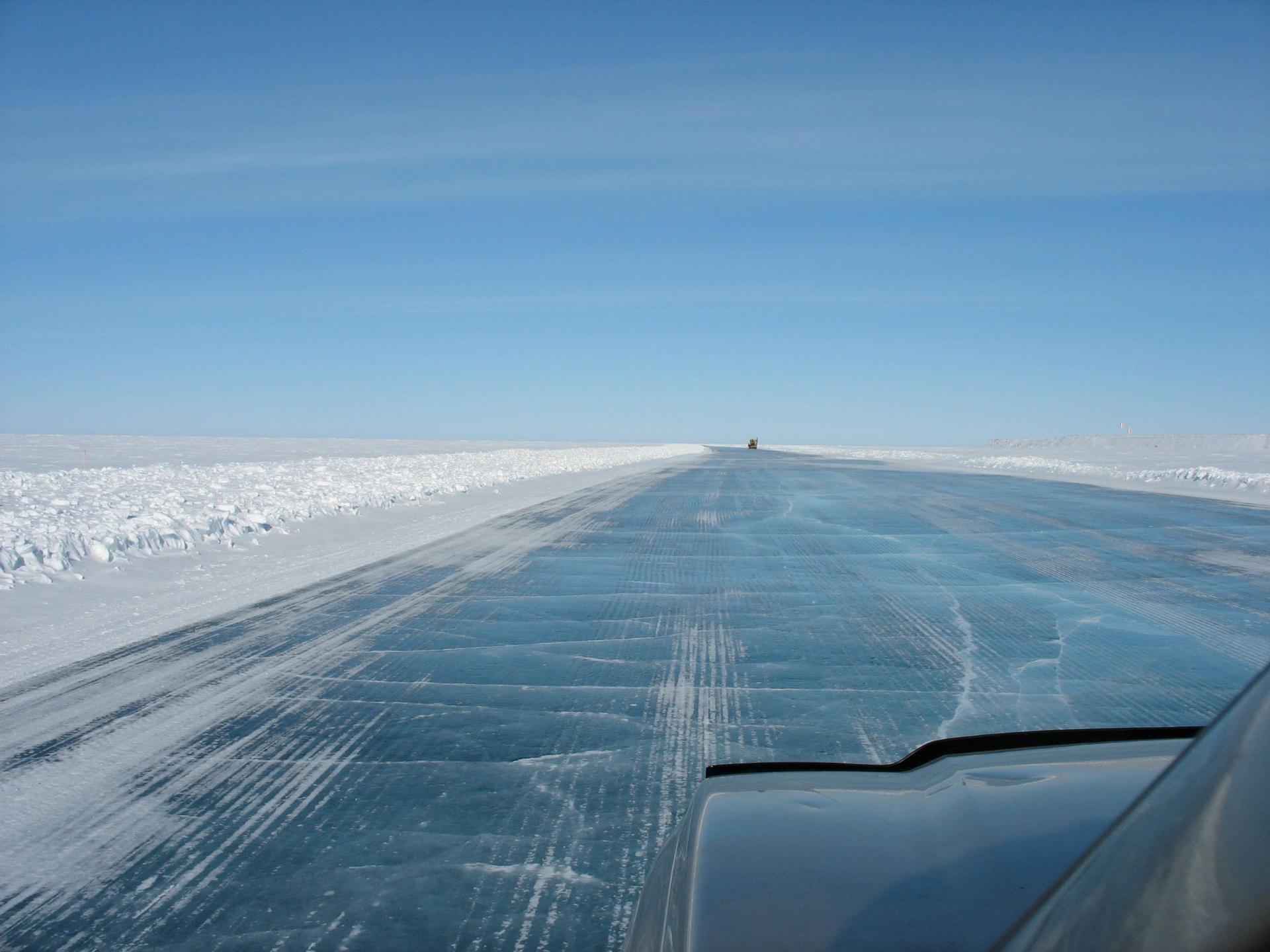 The Inuvik-Aklavik Ice Road. Credit: R. Heming
Come winter, some 1,245 miles of ice roads are plowed across Canada's vast Northwest Territories. Impassable the rest of the year, these frozen waterways connect 12 towns and their residents to the outside world. If you're up for a more off-beat Canada road trip, make like a local and give ice-road travel a go on the 73-mile stretch - called "pretty and pretty legendary" by the NWT tourism authority - between Inuvik and the hamlet of Aklavik. Revel in Richardson Mountain views as you cross the Mackenzie Delta. Winter travel in Canada can be unpredictable: drive with caution and be prepared.
Got the grit for a grand-slam road trip through Canada? Travel the country from coast to coast on the 4,860-mile Trans-Canada Hwy. Opened in 1962, the route passes through all 10 provinces and most major cities. Start your journey in the west in Victoria, British Columbia, or the east in St. John's, Newfoundland and Labrador. Either way, take your time (at least two weeks) on the world's longest national road - it's sure to be a trip of a lifetime.