Yukon's Most Iconic Drives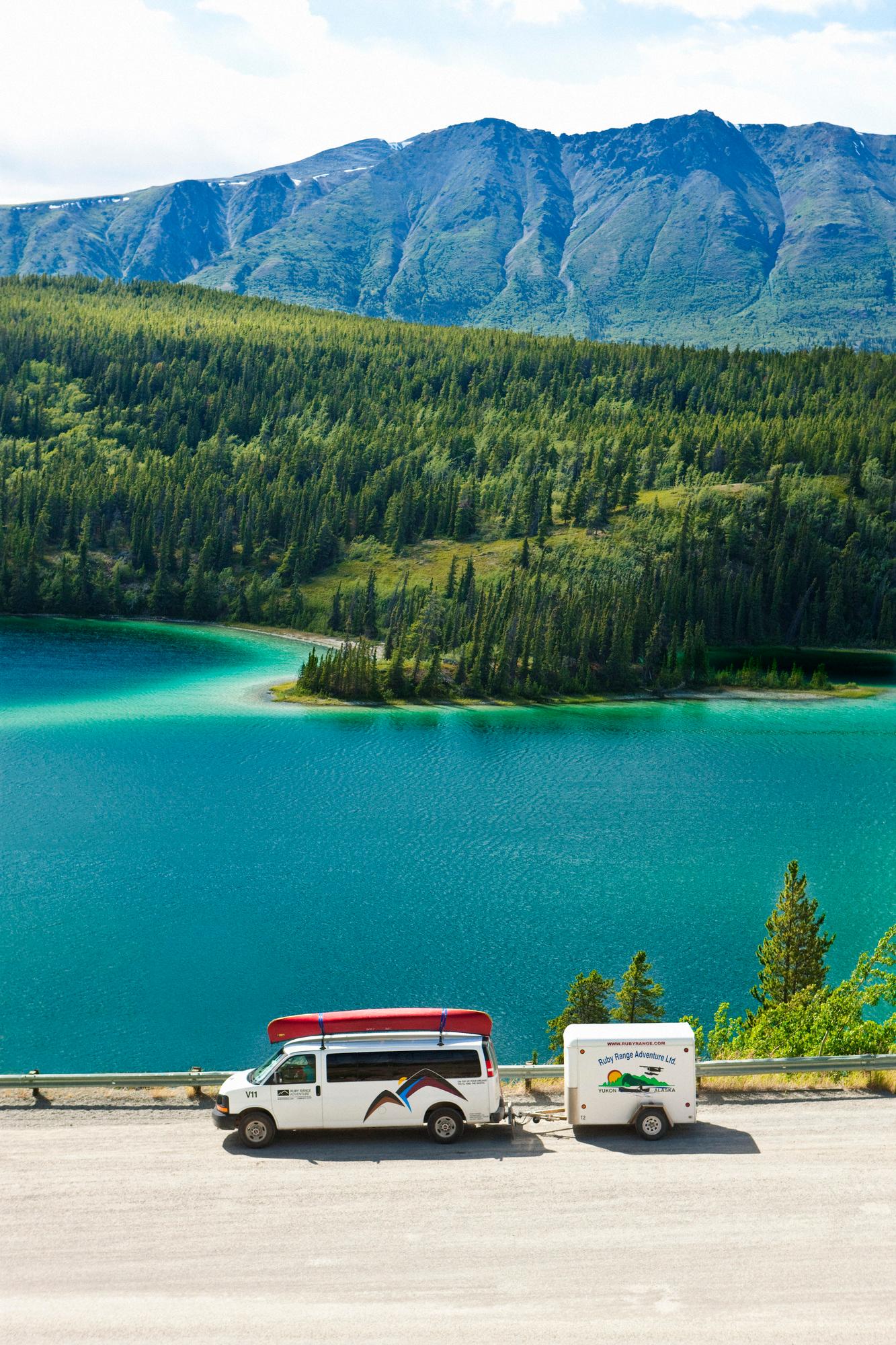 Vast, wild, beautiful -- Yukon Territory is made for road trips. Picturesque is probably an understatement. The varied, hyper-charged terrain -- from desert, sand dunes, and towering glaciers, to layers of dramatic colors, unusual geological features, and historic rivers -- makes each route iconic. And if you hit the road in summertime, the days will stretch to almost 24 hours, thanks to the Midnight Sun around the Summer Solstice. Get behind the wheel and get ready for a trip of a lifetime.
The making of the Alaska Highway was tough. In 1942, a crew of 16,000 built the roadway linking Alaska with the U.S. mainland as a strategic 1,680-mile WWII thoroughfare. Some say the feat rivals the Panama Canal's construction. Today's 1,387-mile route goes from Dawson Creek, BC through the southern Yukon to Delta Junction, Alaska. It's one of the world's legendary drives, celebrating its 75th birthday in 2017. Look for the sign pointing home that a solider famously posted during the highway's construction and Watson Lake's Sign Post Forest that cropped up around it.
You'll want to hike or picnic along the Southern Lakes with wide-angle panoramas and learn about Tlingit culture at the Teslin Tlingit Heritage Centre. Spend a day or three in Whitehorse, the territorial capital where you can go on a mountain biking, dogsledding, or river rafting side trip. Stroll the charming downtown, browse First Nations art at a gallery, hang out at a funky coffee shop, and catch some live music. Detour to Aboriginal community Champagne near Haines Junction, a former key trading post and soldier/highway crew camp during the road construction. See Kluane National Park and Reserve's enormous ice fields and dramatic glacier-carved valleys-- also a UNESCO World Heritage Site -- on a flightseeing tour or hike.
If you like your solitude with a lot of self-reliant grit, tackle the legendary Dempster Highway, a famed wilderness highway created with oil transport ambitions that ultimately fizzled out. Canada's only all-season drive crossing the Arctic Circle, it's 458 miles on wide gravel roads that meander through an untouched, expansive landscape that includes two brooding mountain ranges, wide open tundra, sweeping views, and carpets of wild flowers. The roads are well-maintained and seven-feet thick in some spots over the permafrost, though you're not likely to meet many people or evidence of them. Drive slowly to see lots of caribou, Dall sheep, grizzlies, and moose. Plan at least a week to savor the trip and bring your tool kit because AAA won't be coming to help with that flat tire.
The route originates in Wild West vibe, turn-of-the-century Gold Rush outpost Dawson City heading north on the Klondike Highway to the Northwest Territories' remote community Inuvik on the Mackenzie River delta. You can, as of 2017, drive all the way to Tuktoyaktuk, a hamlet on the Arctic Ocean and Canada's north coast, on the new all-season overland highway replacing the winter ice road.
There's lodging and services at the start and finish, and one stop in the middle at Eagle Plains with a lone motel, restaurant, gas station, and camping/RV park. Pause to camp at Tombstone Territorial Park and don't miss the outstanding interpretive center. Fishing, hiking, and photography along the way are all recommended. For a summer road trip under the Midnight Sun, go June to September; for fall colors, August to September; for winter driving and the Northern Lights, February to April. You're likely to see caribou herds in early fall or early spring. The Dempster is named after the RCMP inspector who dogsledded the route -- and it's still for intrepid independents like Mr. Dempster.
Variety is the reason to drive the popular Golden Circle, a 379-mile mountain loop with lots of stops. One highlight is a micro desert, the planet's smallest. But there's also coastal Alaska rainforest, rugged mountain passes, cute alpine towns, and swaths of forested wilderness. Most road trippers depart from Whitehorse driving south on the South Klondike Highway, hitting  Carcross, where the White Pass & Yukon Route Railroad ends on the historic Klondike route. Carcross is also a popular mountain biking destination, especially Montana Mountain where Bor?al Explorers leads customizable glamping-type multi-sport excursions. Then it's on to coastal Skagway, Alaska through the rocky White Pass. The circle continues, pausing for a ferry to Haines, Alaska (book well in advance), through Haines Junction, and finally Kluane Country on the Alaska Highway, returning to Whitehorse.
The big to-dos on the Golden Circle are hiking and delving into the area's history and culture. Take time to overnight in a town, even end-of-the-road Keno City (near Dawson City), population 20. Meet the characters who call this former mining town home, unplug, and enjoy the quiet because there's definitely no cell reception. Don't miss a chance to hear some live banjo or sit down for drinks with locals in a frontier-style saloon and sample the homespun fare, especially fresh salmon, wild game, bannock burgers, and berry preserves. Then wash it all down Yukon-style with some local craft brew or spirits.
History with impressive landscapes? The 892-mile Klondike/Kluane Loop covers three scenic highways, motoring past hulking glaciers and remnants of the Yukon's gold mining past. Much like the prospectors in search of striking it rich 1898, head from Whitehorse to boom town Dawson City on the North Klondike Highway. Take time to visit the historic sites and attractions. Learn more at the Dawson City Museum, Dredge No. 4, and the D?noj? Zho Cultural Centre. Watch a cancan show at old-time saloon Diamond Tooth Gerties Gambling Hall and try your hand at Blackjack, or go gold panning.
Continue on the aptly named, mostly gravel Top of the World Highway traversing a velvety-green, glacier-carved ridgeline to Alaska. If you can go in September, the vibrant autumn colors push this landscape into the superlative zone. Then it's back into Canada on the Yukon's Alaska Highway through Kluane Country, finishing up in Whitehorse. Along the way, boat into water-accessible Fort Selkirk Historic Site, hike for the day or do a multi-day wilderness trekking outing at spectacular Kluane National Park and Reserve, and go on a flightseeing adventure around Mount Logan, Canada's tallest.
The Yukon has more than 3,000 miles of highway to explore — and when there's 24 hours of daylight, the scenery outside your window just keeps coming.
Get ready for your epic road trip at Travel Yukon's website.