A quick guide to Carcross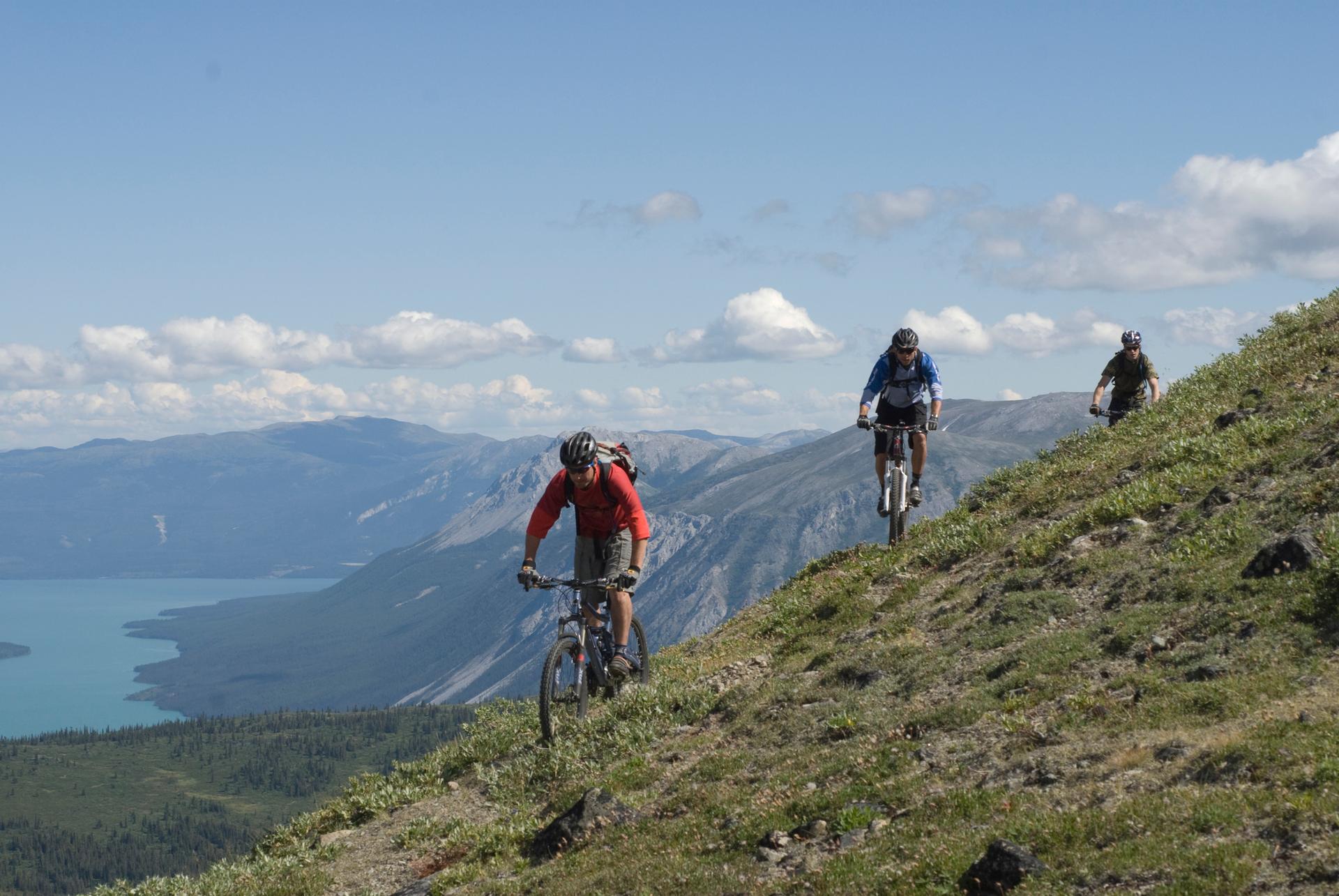 What should you know about Carcross, Yukon? Let's start with the small: There are under 300 residents living there; it's also only 0.29 square miles; and the Carcross Desert just north of town is often called "the world's smallest desert." So yes, small is an appropriate adjective for this town.
And yet, the history of the town dates back thousands of years, when it was used as a hunting and fishing camp for local First Nations peoples. That big history combines with big outdoor adventure, namely mountain biking, to form a tourism hotspot that has far outgrown the town's size. So much so that big ships — cruises stopping in Skagway, Alaska — often offer their guests day tours to Carcross.

To sum it up, Carcross is a small town but one that packs a big punch. If that's your kind of vacation destination, here's a quick guide to help you plan your trip.
Quick facts
Carcross was originally named Caribou Crossing because large herds of caribou migrated through the area. It was renamed in the early 1900s because of mail mix-ups with another Caribou Crossing in British Columbia.

While the Klondike Gold Rush greatly reduced the number of local caribou, a recovery program has helped bring numbers back up above 1,500. Keep an eye out!

Dogsledding isn't just a winter activity. In Carcross, you can grab a seat behind a team of huskies in the middle of summer on a dog cart ride.
5 must-sees
Montana Mountain
If your idea of a great weekend is flying down a mountain on two wheels, you'll want to add Montana Mountain to your bucket list. The mountain, whose main peak sits  7,243 feet above sea level, is crisscrossed by about 25 miles of mountain biking and hiking trails, all maintained by youth from the local Carcross/Tagish First Nation. You might encounter mountain goats or woodland caribou as you take on challenging, world-class trails along rock or pine forest terrain.


Carcross Commons
At its core, Carcross Commons is a collection of retail spaces. But as is common in small communities, these spaces have become meeting places where you can interact with and learn about the local people. Discover totem poles inspired by the local Tlingit people, before visiting a carving shed where masters transform wood into art. Meet local artisans, and spend some time in an art gallery. Then, dine on locally sourced foods, or just enjoy a gourmet coffee to help you stay awake under the midnight sun. Feel at home, while really learning about the people who actually live here.


Carcross Desert
At one square mile, it won't take you long to explore the Carcross Desert. And though small in size — it's often dubbed the smallest desert in the world — that doesn't mean this unique spot isn't worth the visit. The desert is actually a collection of sand dunes left by a glacial lake thousands of years ago, and the strong winds from nearby Bennett Lake continue to supply the area with sand today. The dunes are enjoyed by both locals and visitors, who hike up them, sandboard down them, and explore them on ATVs. Plus, they're home to a variety of rare plants and insects. No matter why you visit, there's something special about feeling your feet in the sand and looking up at beautiful snow-capped mountains.
Caribou Crossing Trading Post
Want to see arctic animals up close, try your hand at gold panning, or just play a bit of mini golf? The Caribou Crossing Trading Post is a popular stop for all of these reasons, and a few more! Just a little bit north of Carcross, on the South Klondike Highway, people tend to stop in for a delicious meal at the Caribou Cafe, or to cuddle up with husky puppies at the petting zoo, but don't skip the wildlife museum. Take in displays of taxidermy animals from the region, including bears and wolverines. Then, step back in time and look up between two massive tusks at a life size woolly mammoth.
The Caribou Hotel
One of the oldest buildings in the area, and an officially designated historic site, the Caribou Hotel is a worthwhile stop for any history buff. The hotel was actually built in the town of Bennett to accommodate a regional mining boom. When the boom died down in the early 20th century, it was floated across Bennett Lake to Carcross, and sold to Dawson Charlie, one of the original discoverers of Klondike Gold. Unfortunately it burned down in 1909, but was rebuilt on the same site where it stands to this day, alongside other historic buildings on Dawson Charlie Street. The architecture, building style, and decorations will take you back to a simpler time. And though the hotel has housed everyone from dignitaries to RCMP officers, it's most famous guest is likely  Bessie Gideon, a former manager who has apparently haunted the third floor since her death in 1933. Bessie was even featured on a Canadian postage stamp.
How to get here
Carcross is most commonly reached by car, after people fly into nearby Whitehorse.

You can also reach the town by train. The popular and historic White Pass and Yukon Railroad, built in 1898, still travels to and from the town along a beautifully scenic route that connects Carcross with Skagway, Alaska.
Where to go next
Thinking of doing a little exploring in Yukon? Carcross is not too far from Whitehorse (50min by car) and Dawson, home of the Klondike Gold Rush (6h45m by car or 1h15m by plane).