The best road trips in PEI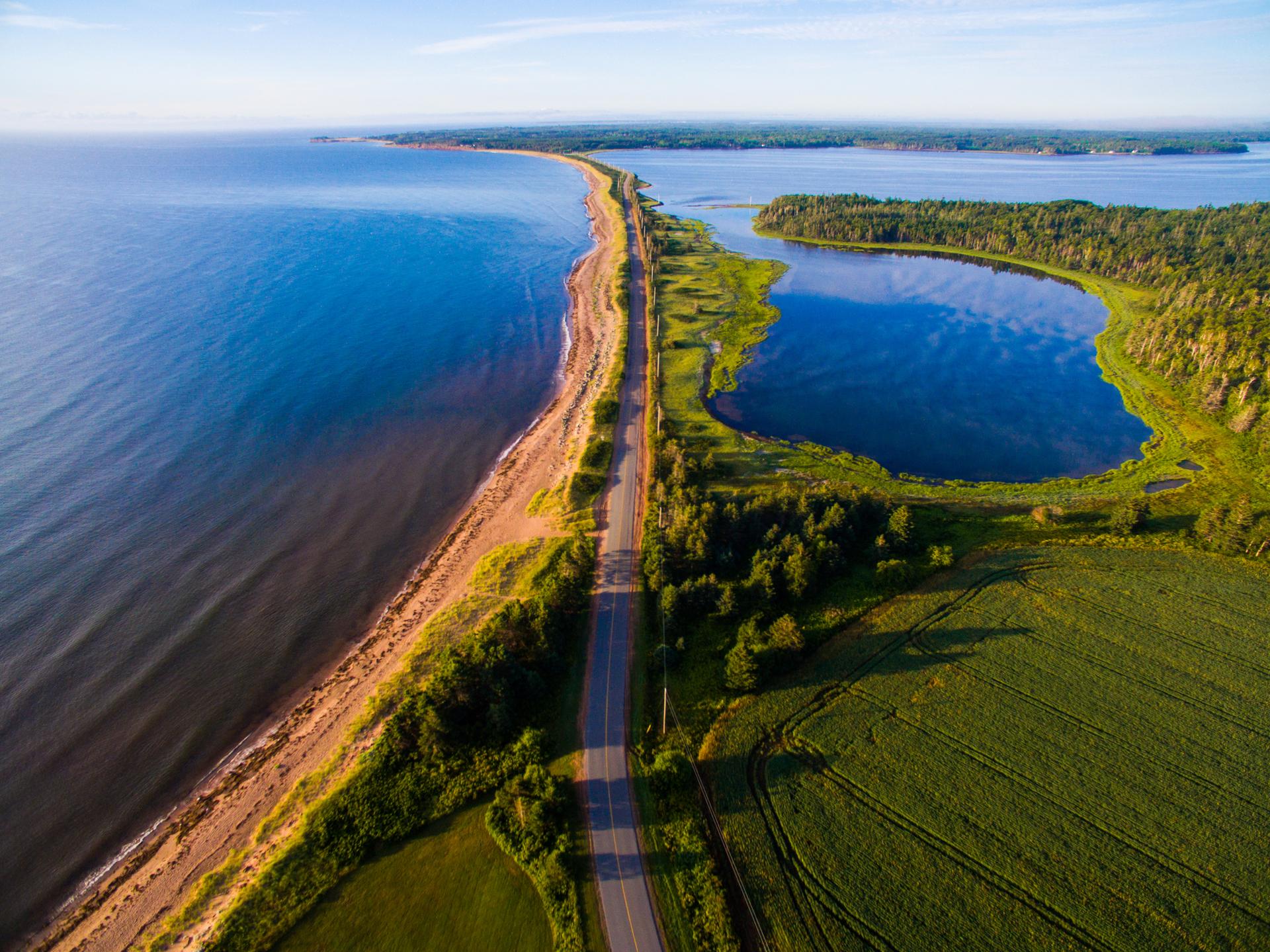 A gentle, rolling countryside overlooking the ocean, dotted with patchwork-quilt farms and cheery lighthouses, Prince Edward Island is a friendly, welcoming place. It's a tiny island-province on Canada's East coast known for tender potatoes, succulent lobster, vast sandy beaches, distinctive red earth, and, of course, Lucy Maud Montgomery's plucky fictional heroine Anne of Green Gables, celebrated around the world.
PEI, as it's called, is also ideal for road tripping -- and cycling vacations, too -- because of its size: You can easily zip here and there in no time, meaning maximum experiences packed into far less time. Not to mention, there's delicious field- and ocean-to-table fare and superb seaside golf to be had all over. Here are the best road trips for your next Atlantic Canada island adventure.
The Argyle Shore - Red Sands coast
2-3 days: An easy going 35 miles one-way
The Argyle Shore is colored by vast crimson-sand beaches demarcated by emerald cliffs above. Here, you'll also find Cape Cod-style cedar shingled hideaways, fields of pink and purple lupin waving in the breeze, and red trimmed cottages surrounded by white-picket fences and swaths of blooming flowers. Really, quaint barely covers it. This dreamy place was named by Scottish settlers as a nod to Argyllshire back home -- and it's just as bonny.
Try a leisurely paced Red Sands Shore tour to see the island's south coast with lots of stops and not much time behind the wheel. Crossing the Confederation Bridge into PEI, head east on the highway. Make time for a stop at historic fishing village Victoria-by-the-Sea to peruse the artisan studios and galleries, and splurge on handmade treats at Island Chocolates. Sea kayak or picnic at the lighthouse waterfront park. Continue east, stopping at any quiet beach, most of which overlook Northumberland Strait -- though Argyle Shore Provincial Park is especially picturesque with its red cliffs and huge beach. End at 1720's Port-la-Joye-Fort Amherst National Historic Site, a strategically situated harbor, where you can learn about the settlement of PEI and French-British battles that decided its fate. The views of Charlottetown are also beautiful. It's just a short motor back to Charlottetown, or you can always double back and rent a cottage at Victoria or stay in one of the area's charming B&Bs, like 100-year-old farmhouse Briarcliffe Inn in Fernwood. There are also five golf courses in the area, plus vintages to taste at Matos Winery & Distillery in St. Catherines, a short hop to the north.
Drive the whole island - PEI tip to tip
5-7 days: See it all in 174 miles
The cross-province journey starts at North Cape in western PEI -- don't forget your North Cape ribbon so you can get tip-to-tip certified! Here you'll want to pause at a coastal village and sample some of the outstanding seafood: Mussels, lobster, snow crab, and the classic, Malpeque oysters. Eat and learn about PEI's agriculture at the Canadian Potato Museum, and take in a Celtic concert in Summerside. Learn about renewable energy at the North Cape Wind Energy Interpretive Centre or get to know traditional Acadian culture at Village Musical Acadien in Abram Village.
Along the north Central Coast, take in the postcard-esque Green Gables Shore, which some say is the island's most spectacular, with its green, hilly farmland contrasting red sandstone cliffs and white sand beaches. And as the name suggests, this is Anne country. Hike at PEI National Park or choose from 11 golf courses while you're there.
The eastern region is ideal for outdoor adventure and vintage lighthouses, with six historic sites to visit. Finish at the 1866 East Point Lighthouse and pick up your Tip-to-Tip Certificate by turning in your North Cape ribbon. This is also a great spot to pick up some local crafts and picnic on the shore. Consider celebrating your arrival with a bicycle ride around popular Basin Head beach or a guided excursion -- like starfish hunting or a giant clam dig on a deserted island -- with Tranquility Cove Adventures in historic Georgetown.
North Cape Coastal Drive – Seafoodie culinary tour
4 days: 217 miles with lots of stops
If eating and drinking is your idea of fun, this route is for you. This area is famed for its delicious seafood just plucked from the ocean -- they don't call it the Canadian Oyster Coast for nothing. Be sure to try seaweed pie and the celebrated Malpeque oysters, along with the rest of the bounty. Starting in Summerside near the Confederation Bridge, take a drive that encircles the island's western peninsula, passing both red- and white-sand beaches and delightful coastal landscapes.
Meet the friendly folks at Malpeque Oyster Barn in Malpeque Bay and dig into some fresh steamed mussels, best enjoyed with (local) fries. Sample the creamy clam chowder at Mill River resort, a multi-time PEI Chowder Competition winner, or try Acadian cuisine at Resto-Bar La Trappe in Abram-Village. A field-to-table locavore favorite is The Doctor's Inn, an 1860s B&B in Tyne Valley. Tuck into a multi-course meal starring spuds at the Canadian Potato Museum and learn more about this versatile tuber, even used to make fudge here. The museum houses the world's largest collection of antique potato farming machinery and also organizes potato farm tours. If you want to spend time with local producers, PEI Coastal Experiences will connect you with islanders who will boil you a lobster on the beach, take you wild blueberry foraging, or tasting at an oyster farm.
Central Coastal Drive
3-5 days: A 157-mile loop hitting the highlights
If you want to see all the Anne stops and relax at tranquil, gorgeous beaches, too, this is your drive. Plus, it's a tidy loop that can be done at a brisk or relaxed pace. This road trip takes in the whole central north coast, cuts down across the island to the south coast, heads west, and then back up again.
Start with the north Green Gables Shore Region and combine beach stops -- Cavendish, Brackley, or Stanhope -- with Anne sites -- New London's Birthplace of L.M. Montgomery or the Anne of Green Gables Museum in Kensington, which offers lakeside carriage rides. After some driving, walk or picnic at Cavendish Grove, pretty sugar maples in PEI National Park. If you have time, go canoeing or deep-sea fishing at North Rustico. On the south shore, play in the water at Chelton Beach Provincial Park, then hike or cycle one of the world's longest bridges, the eight-mile Confederation Bridge. Learn how engineers constructed it at the Gateway Village Information Centre.
The beauty of PEI is: It's small. So just choose your passion -- food, beaches -- and hit the road. Even a weekend will do for a fun, scenic, and memorable road trip.
Find all the top sights and attractions at the Prince Edward Island Tourism website.
Find all the top sights and attractions at the Prince Edward Island Tourism website.