7 scenic drives through Quebec
Quebec is the biggest province in Canada, meaning there's a whole lot to see. We've gathered seven great road trip routes which will bring you to some of its most beautiful wonders and sought-after experiences. Some of these trips are short, and keep you very close to the city, while others will take you quite a bit longer, and really embrace that road trip spirit.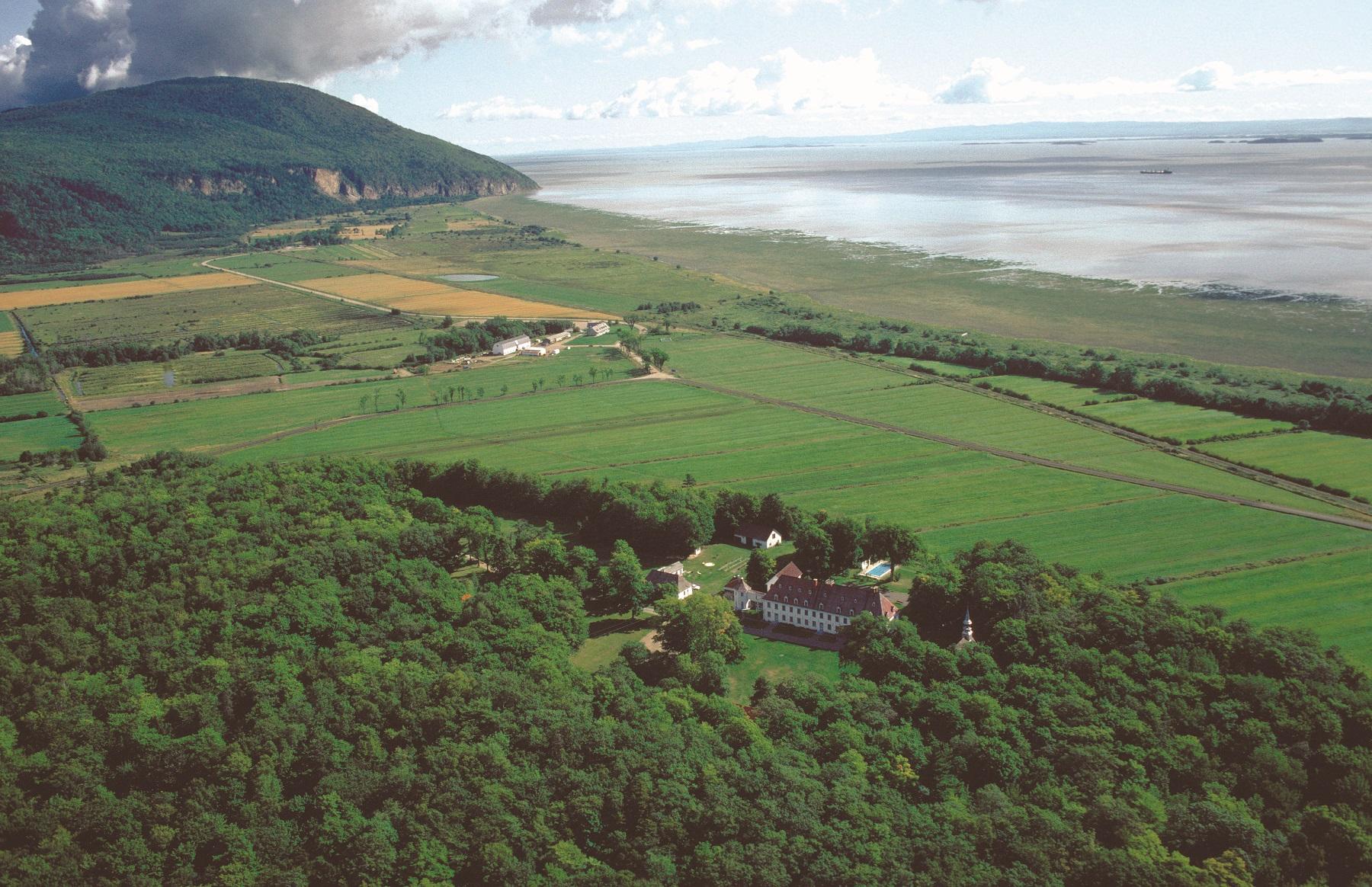 The New France Route – Credit: Denis Trudel
1. The New France Route (Route de la Nouvelle-France)
The New France Route is all about experiencing the history of Quebec through the relics of some of its early settlers. This was once a supply road connecting the capital of New France, Quebec City, to the coast of the St. Lawrence at C?te-de-Beaupr?. On this short trip, you'll drive through communities dotted with old homes and churches, visit the farms that sustained them, and see history on display at multiple museums.
Starting point: Quebec City
Length: 35 miles
Time: < 1 day
Essential stops: Domaine de Maizerets, Maison Girardin, Montmorency Falls Park, Auberge Baker, Cap Tourmente National Wildlife Area. Click here for more on these stops
2. The Fjord Route (Route du Fjord)
No, fjords aren't only a European thing. The Fjord Route takes you around the impressive 65-mile long Saguenay Fjord, one of the longest in the world and surrounded by cliffs 300m in height. Quirky and historic small towns line both sides of the fjord, including some considered to be the most beautiful villages in Quebec. You're going to want to go for a whale-watching excursion in Baie-Sainte-Catherine, and generally take advantage of the breathtaking landscape through biking, hiking, and camping. You can pick up an audio-guide to learn more about the towns and attractions along your drive. 
Starting point: Baie-Sainte-Catherine
Distance: 146 miles
Time: 1 to 2 days
Essential stops: Saguenay-St. Lawrence Marine Park, Mus?e de la Nature, the Mus?e du Fjord, Saguenay Fjord National Park. Click here for more on these stops.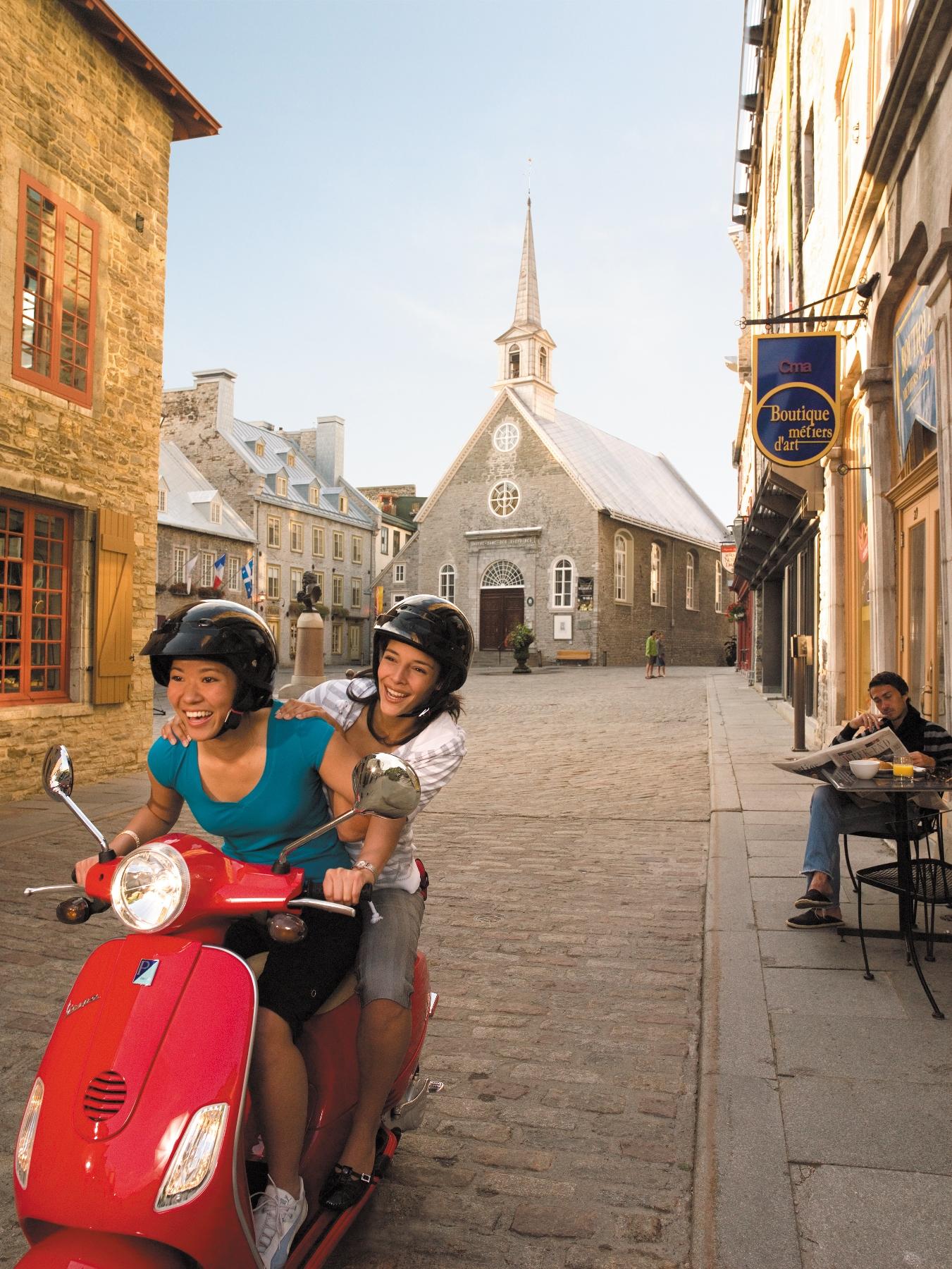 Experiencing Old Quebec - Credit: Camirand Photo
3. The King's Road (Chemin du Roy)
The King's Road is a route that connects the province's two biggest cities: Montreal and Quebec City. The road dates back to 1737, when officials decreed that a 'royal road' be built to connect the two biggest settlements in 'New France.' At the time it was the longest road north of the Rio Grande.
Driving this route, you'll be following the tracks of stagecoaches and ox-drawn carts, stopping at a multitude of historical landmarks along the way. You'll pass through old towns like Repentigny and Trois-Rivi?res, where you can visit beautiful churches and eat local Quebecois cuisine. Heritage sites mix with beautiful nature throughout the drive, until you finally arrive at the cobblestone streets of Old Quebec or Old Montreal (depending on where you started). And for cyclists, the King's Road is part of the Green Route, meaning you can bike it in safety.
Starting point: Montreal or Quebec City
Distance: 174 miles
Time: 1 to 2 days
Essential stops: Sainte-Anne-de-la-P?rade church, the Quebec Folk Culture Museum, the Old Prison of Trois-Rivi?res, Lake Saint-Pierre. Click here for more on these stops.
One stop on the Wine Route: Cidres et Vergers Pedneault - Credit: Asymetric/Finn O'Hara
4. The Wine Route (Route des vins)
You're going to want to bring a designated driver on this one. The Wine Route is a path connecting 21 vineyards that you can tackle by car, bike or tour. Located in the Brome-Missisquoi region this drive will take you to two of the oldest vineyards in Quebec, as well as a slew of new players who are shaking up the local scene. Of course, the Wine Route has more than wine. Great restaurants, artisans, and outdoor fun can be found in the handful of small towns along the way.
Starting point: Farnham via Montreal (1 hour southeast)
Distance: 86 miles
Time: 1 to 2 days
Essential stops: As many vineyards as you can visit, Brome Lake, Mont Sutton, Centre de Sant? Euro-Spa. Click here for more on these stops.
5. The Navigators' Route (Route des Navigateurs)
Explore historic towns and maritime ports as you trace the Navigators' Route, a 292-mile path along the southern half of the Saint Lawrence River. The route traces highway 132 starting in Baie-du-Febvre (though many people pick it up in Quebec City), and takes you through three different regions: Centre-du-Qu?bec, Chaudi?re-Appalaches, and Bas-Saint-Laurent. Along the way you'll have opportunities to explore historic lighthouses, paddle out on the water in a sea kayak, picnic along the scenic St. Lawrence, and enjoy the beauty of the Quebec countryside. Follow the white ship wheel signs which mark the route, and keep an eye out for sail-shaped symbols which indicate a viewpoint or landmark worth stopping for.
Departure point: Baie-du-Febvre (or Quebec City to cut down on distance)
Distance: 292 miles
Time: Approx. 4 days
Essential stops: Centre de la Biodiversit? du Qu?bec in B?cancour, ?les du Pot ? l'Eau-de-Vie archipelago and ?le aux Li?vres, the Mus?e maritime du Qu?bec, Bic provincial park, Pointe-au-P?re Maritime Historic Site. Click here for more on these stops.
6. The Whale Route (Route des Baleines)
Thirteen different species of whales can be found in the estuary and gulf of the St. Lawrence, and these animals are the inspiration for the Whale Route. Blue signs with a little white whale mark your way as you travel from town to town along Quebec's eastern coast. The drive has all the features you'd expect as you follow the ocean: beautiful vistas, lighthouses, shipwrecks, wildlife viewing, and great, great seafood. But really the entire point of this drive is to see the ocean giants that gave it its name. Stop off in towns along the way for whale-watching excursions by boat, Zodiac or sea kayak.
Starting point: Tadoussac
Distance: 546 miles
Time: 4 to 6 days
Essential stops: Cap-de-Bon-D?sir Interpretation and Observation Centre, Daniel Johnson Dam and Manic-5 Generating Station, Pointe-des-Monts Lighthouse, Vaur?al Canyon and falls. Click here for more on these stops.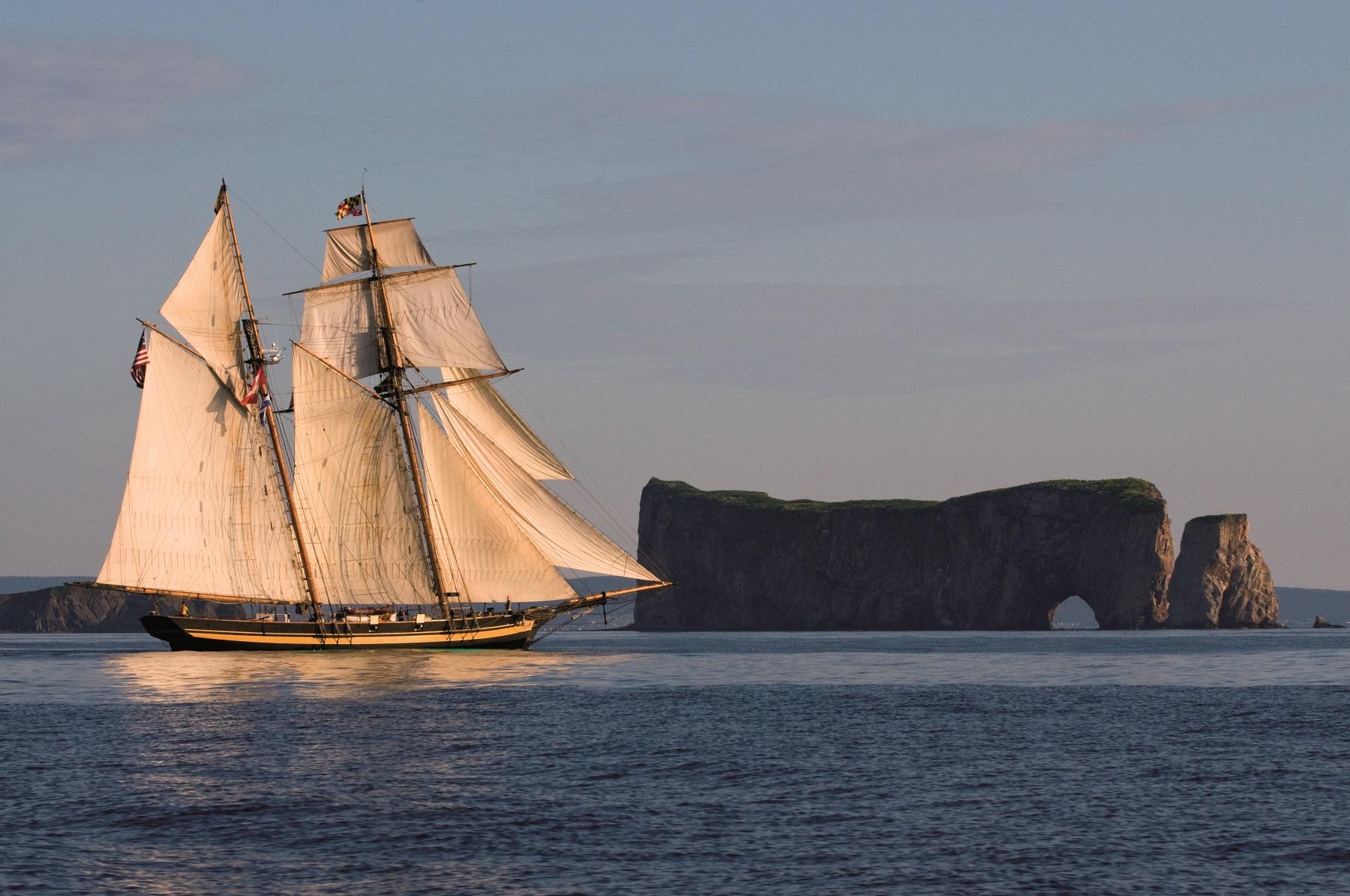 Percé Rock, on the Gaspesie Route – Credit: Marc Loiselle
7. The Gaspesie Tour (Le Tour de la Gasp
?

sie)

 

 

The Gaspesie Tour is a longer road trip that brings you from the province's biggest cities all the way to its easternmost tip. Starting off in either Montreal or Quebec City, you'll be heading east, following the St. Lawrence River through many of Quebec's beautiful tourist regions. The route will take you through the Eastern Townships and Quebec's wine regions. You'll then tour between small, historic waterfront villages and bigger rural districts like Rivi?re-du-Loup and Rimouski. Finally, you'll come face-to-face with the Atlantic Ocean as you explore the huge Gaspe Peninsula -- one of National Geographic Traveller's 50 Places of a Lifetime in Canada. There you can visit the awe-inspiring Perc? Rock, and immerse yourself in the beautiful outdoors, scuba diving, whale watching, sea kayaking, fishing, and more.

 

Starting point: Montreal or Quebec City
Distance: 765 miles
Time: Approx. 7 to 10 days
Essential Stops: Rimouski Wildlife Reserve, Reford Gardens, Exploramer, Bonaventure Island, and Gaspesie and Perc? Rock provincial parks, Chic-Chocs Mountain Lodge. Click here for more on these stops.

 

 

To learn more about Quebec's tourist routes, visit the Quebec Original website.