Summer 2022 is festival season in Montréal!
Along with its foodie scene, French flair and fun for the whole family, Montr?al is known around the globe as a true festival city--and summer 2022's calendar is packed to the brim! Featuring film, music, dance, theatre, art and performance, Montr?al's festivals make up a vital part of the city's DNA, and every park, theatre, nook and cranny is buzzing with things to see and do all summer long. We suggest getting your pocket calendars in hand--your summer's about to get a whole lot busier.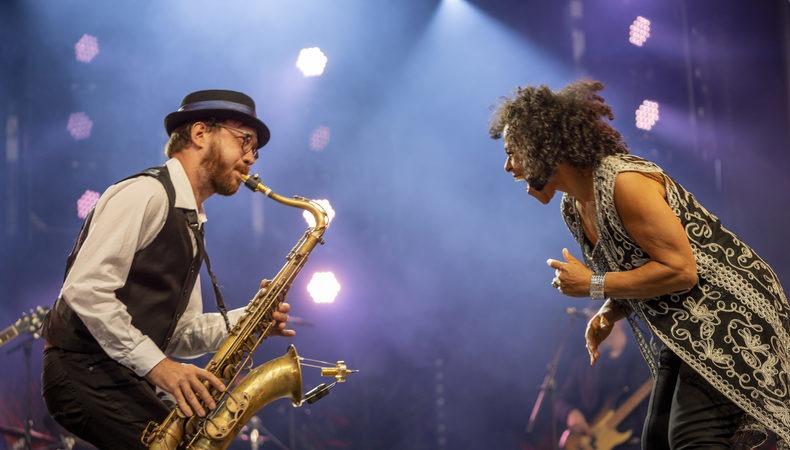 Credit: Sarah Bilson
June is the gateway to summer
Festival TransAm?riques (May 25 to June 9, 2022)
Montr?al has long been a hotspot for performance art and experimental dance, and the Festival TransAm?riques leads the way with a fulls late of exclusives and premieres. The 2022 program features Re:Incarnation by Lagos-based dance troupe Qudus Onikeku, Lars Jan's Holoscenes, Andrew Tay and Stephen Thompson's Make Banana Cry and the theatrical piece Laboratoire poison by Brussels' Adeline Rosenstein.
Festival Go V?lo (May 29 to June 5, 2022)
Montr?al was ranked in the top 20 biking cities in the world by the Copenhagenize Index, and every summer a primary mode of transport is atop two wheels. The Festival Go V?lo's annual calendar of guided bike tours--including both the iconic Night Ride and car-free pedals through the heart of the city--make for the ultimate in urban biking.
St-Ambroise Montr?al Fringe Festival (May 30 to June 19, 2022)
Featuring over 700 street performers and musicians, the Montr?al Fringe Festival injects an added dose of excitement into the Plateau-Mont-Royal quartier for three weeks every summer. We'd suggest simply wandering through the hood--during Fringe, everywhere's a stage and there's surprises around every corner.
MURAL Festival (June 2022)
We've all heard the expression about watching paint dry as the ultimate in boredom, but Montr?al's MURAL Festival turns that adage on its head entirely. More than a mere block party on busy Saint-Leonard Boulevard, MURAL invites top international graffiti artists to come and literally change the landscape of the city with wall-size artworks that in many ways, also tell the story of Montr?al in vibrant colour.
Suoni Per Il Popolo (June 3-29, 2022)
An annual exploration of Montr?al's more experimental musical side, Suoni Per Il Popolo offers mind-expanding experiences and a focus on community. Welcoming and altogether original, Suoni guarantees unforgettable, boundary-expanding experiences.
Yatai MTL - La semaine Japon (June 6 to 12, 2022)
Bringing together Montr?al's Japanese cultural, artisanal and restaurant communities, Yatai MTL brings Japan's best to the city. Besides dotting the map with participating businesses, Yatai also takes over the Mile End's Le March? des Possibles on June 10-12 with food trucks and performances. Follow their Instagram and Facebook pages for the latest pop-ups and special announcements.  Itadakimas!
Francos de Montr?al (June 10 to 18, 2022)
Bringing the best in French-language music to Montr?al's core, Francos de Montr?al boasts over 250 performances in 10 chanson-filled days. This year's headliners include Pierre Lapointe, Damien Robitaille, Ichon, Salom? Leclerc, Rymz, MC Solar's new Big Band project and Lary Kidd. For full lineup see their website and get ready to sing along en fran?ais!
Festival des Musiciens du monde (June 16 to 19, 2022)
Over the course of four nights, the Centre des Muciens du Monde's annual program of global music performances guarantees new discoveries, beloved music and folk dances and rare instruments from all over the globe. The centre's online workshops get audience members performing too.
Festival International de Jazz de Montr?al (June 30 to July 19, 2022)
For 42 years, the Festival International de Jazz de Montr?al has expanded the definition of jazz, spotlighting acts as varied as Anderson .Paak and the Free Nationals, Bob Dylan, Tanya Tagaq and Diana Ross. 2022 offers unmissable opportunities to experience the likes of Jean-Michel Blais, Woodkid, Bebel Gilberto, Gregory Porter, Jesse Cook, ?lafur Arnalds, Pat Metheny, Alicia Moffet and George Thorogood & the Destroyers. Nick Cave lovers also won't want to miss a rare showing of Stranger than Kindness: The Nick Cave Exhibition at the Maison du Festival. Now that's what we call range. Check out the full schedule of performers and reserve tickets at the festival's website.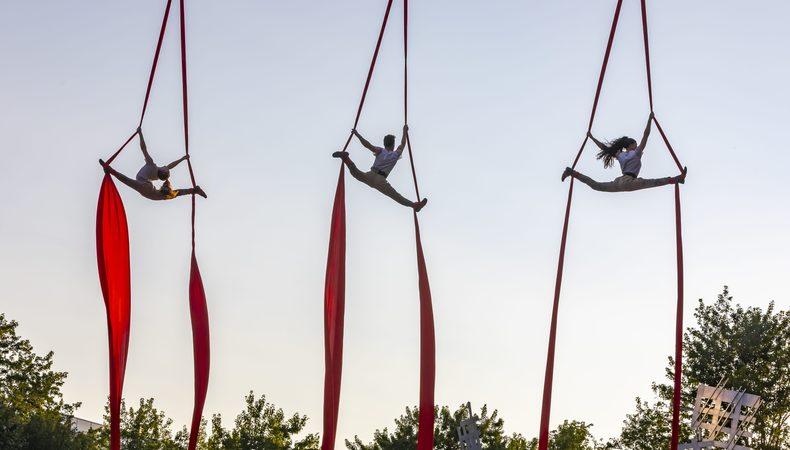 Credit: Eva Blue / Tourisme Montréal
Festival season heats up in July
Mtl en Arts (June 29 to July 3, 2022)
Every Mtl en Arts the pedestrianized Ste-Catherine Street through Montr?al's Gay Village transforms into the largest open-air arts gallery in Eastern Canada. Join hundreds of artists (with many offering works for sale) as they take their creations to the streets in the summer sun, and find your next masterpiece in the process.
Festival International Nuits d'Afrique (July 12 to 24, 2022)
For its 36th year, the Festival International Nuits d'Afrique promises another stellar program of over 100 performances, workshops and other activities with the African, Caribbean and Latin American diaspora in the spotlight. Bring your comfiest shoes, because you'll be up on your feet dancing all evening!
TOHU - Montr?al compl?tement cirque (July 7 to 17, 2022)
If you're wondering why Montrealers keep their eyes to the skies for 10 days every July, the answer is simple: to not miss the show! The city itself is under the Big Top during Montr?al compl?tement cirque, as the world's top circus performers transform parks, streets and the air into one giant shared circus arena.
Just For Laughs (July 13-31, 2022)
We're not kidding when we say Montr?al's Just For Laughs is the world's top comedy festival. But don't take our word for it--just follow the laughter from the city's theatres, clubs and streets. For it's 40th anniversary, the JFL 2022 in-person reboot guarantees guffaws and mirth galore, featuring Bill Burr and Kevin Hart at the epic-size Bell Centre.
Festival Fantasia (July 14 to August 3, 2022)
One of Canada's most beloved film festivals, the Fantasia International Film Festival puts the focus on genre cinema. Three weeks of thrills, chills and bloody spills paired with filmmaker Q&As and other activities, mark Festival Fantasia as the movie event of the summer.
Festival Eur?ka! (July TBC, 2022)
Montr?al's family science festival is back, offering online programming and in-person activities for kids and adults alike. The fest's Virtual Eur?ka game platform for 8 to 12 year olds lets participants build a boat and sail through a series of scientific discoveries. Check the festival website for further fall in-person events!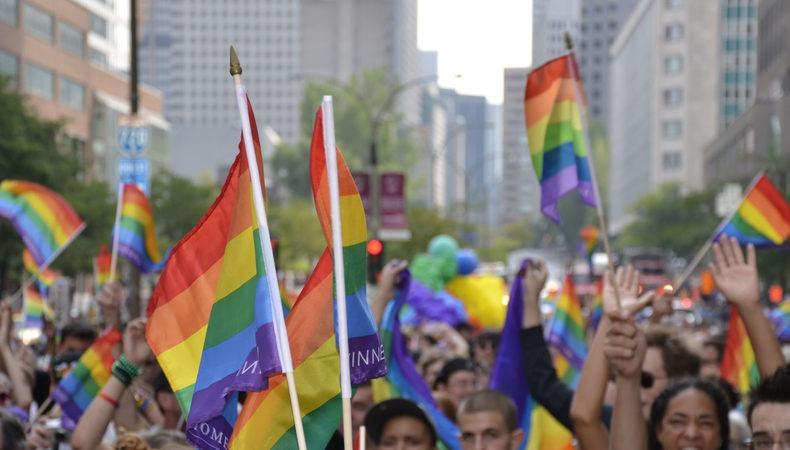 Credit: André Bilodeau
Move your feet in the August heat
Montr?al Fashion & Design Festival (August 2022)
Just one look at the Festival Mode Design's ultrachic Instagram and you'll know you've found fashionista heaven. Using the Quartier des Spectacles as its catwalk, #FMDMTL's fashion shows, pop up shops and events keep you on the cutting edge of style while mingling with Montr?al's most fashionable.
ItalfestMTL (August 5 to 21, 2022)
For its 29th edition, ItalfestMTL offers two weeks of community pride in Little Italy and beyond. Food, culture and performances bring Montr?al's feisty Italian community out in force to eat, dance and play the summer nights away. Ciao bella!
Montr?al Pride (August 1 to 7, 2022)
One of Montr?al's biggest annual parties, Montr?al Pride features a rainbow of internationally beloved musicians and drag queens, endless joy in the Gay Village quartier (in full effect on Community Day) and the powerful moment of silence during the Parade commemorating the 2SLGBTQ+ community's history. Last but not least, dance your cares away and get your flirt on at the closing outdoor T-Dance set to the sounds of some of the world's top DJs.
MUTEK (August 23 to 28, 2022)
23 years after its first edition, MUTEK has long established its reputation as a world-leading festival of electronic music and digital art. Adored by both audiences and artists, MUTEK sets the standard for avant garde music and virtual experiences.