The best of Canada's vibrant cities from coast to coast to coast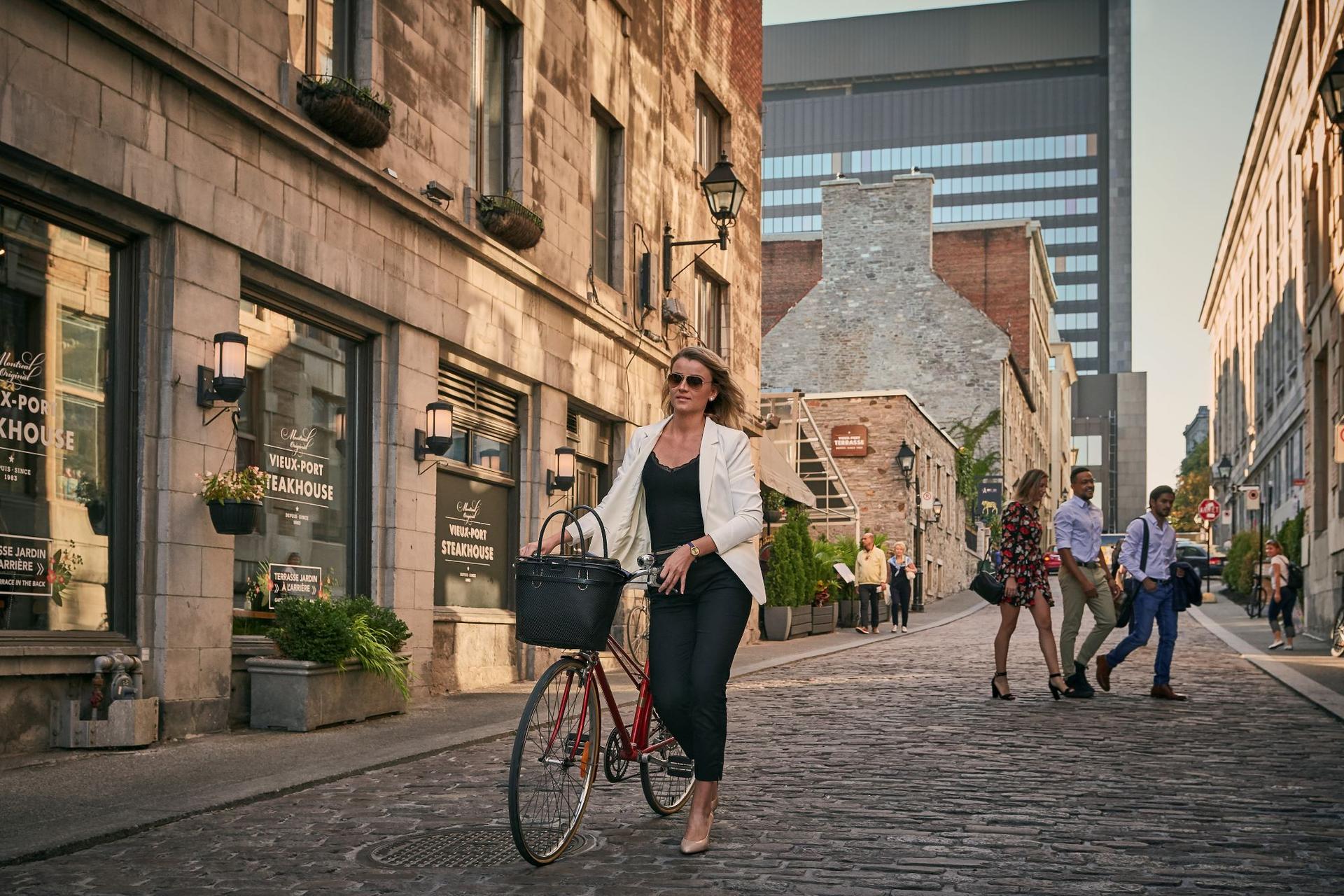 Set on the footstep of serrated mountains, alongside mighty rivers and fragrant forests, Canada's vibrant cities from the west to east—such as Vancouver, Calgary, Winnipeg, Toronto, Montreal, and Halifax—offer experiences you can't find anywhere else.
Connect with Indigenous culture, discover creativity in cuisine and arts and most of all, recharge and ignite your imagination while travelling across Canada. Delve deep into urban centers with our guide on the best ways to experience these Canadian major cities.
Vancouver, British Columbia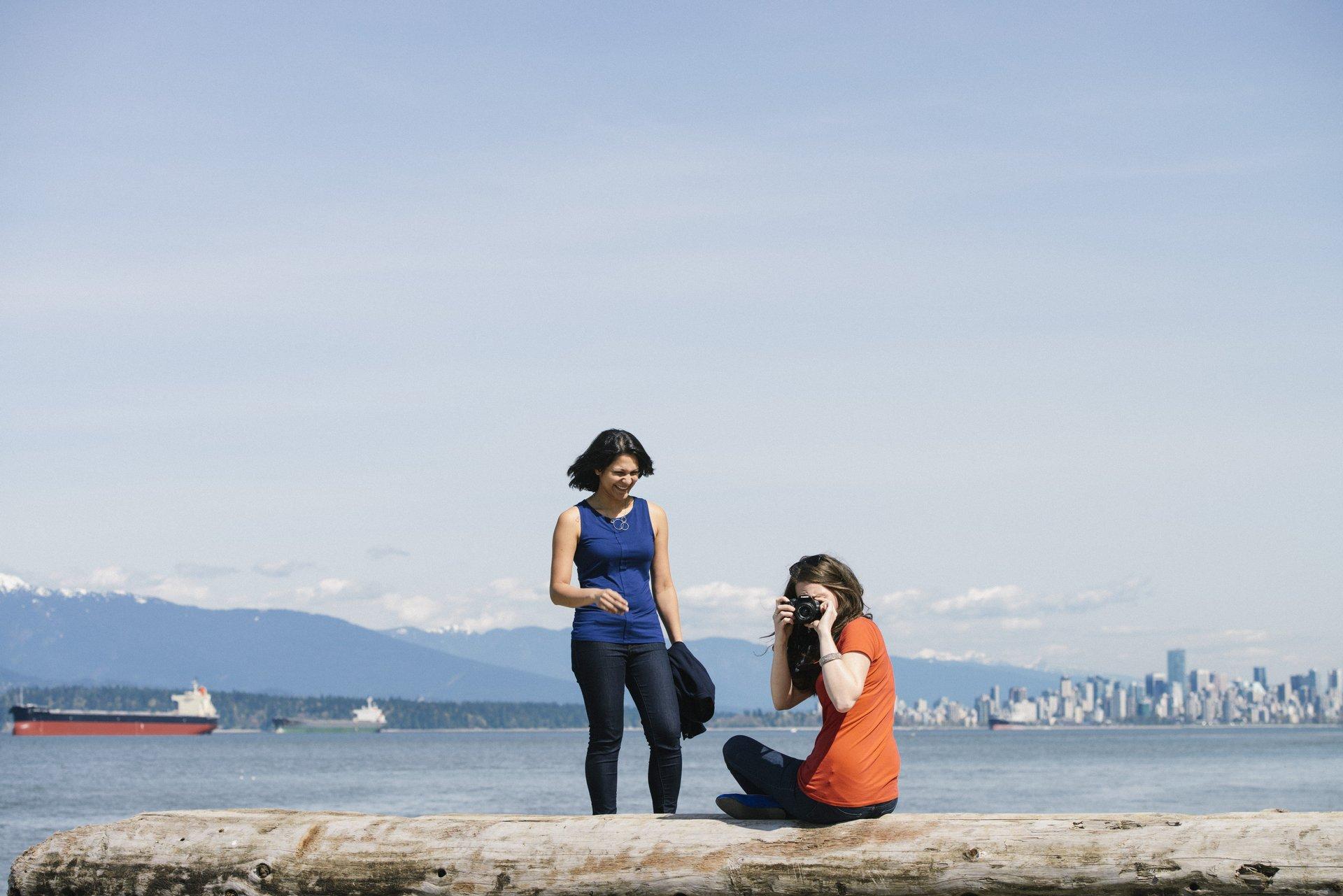 Vancouver is a city nestled between the sea and mountains.
Vancouverites believe that the West Coast is the best coast, and for good reason. Vancouver is one of the world's greenest cities and holds top spots on global liveability lists. Locals fully embrace this ethos, whether eating sustainable sushi made from British Columbia spot prawns (a seasonal delicacy you can get fresh off fishers' boats at Granville Island Public Market) or fuelling their passion for playing outside. 
Absorb Vancouver's laid-back vibe by walking or biking (borrow a Mobi). The city has 280 miles of paths tracing the West End, Kitsilano and UBC's ocean beaches, backdropped by Yaletown's heritage buildings and Olympic Village's glass towers. Parks and streets are practically open-air museums with massive sculptures and murals, especially in Mount Pleasant.
It's even easy to experience nature and authentic Indigenous culture downtown at Vancouver's 1,000-acre Stanley Park with Talaysay Tours. A local guide and cultural ambassador leads educational walks through the old-growth forests, sharing contemporary stories and legends and pointing out local plants harvested by Skwxu7mesh Uxwumixw (Coast Salish people). Build on this knowledge at the Museum of Anthropology at UBC, where each piece in its collection of Northwest Coast Indigenous art is a living story of past and present. And while you're on the West Side, find a seat at Salmon and Bannock to taste Indigenous dishes such as candied salmon and its namesake fried bread.
For more rainforest rejuvenation, head to Capilano Suspension Bridge Park in North Vancouver. As you stand on its 450-foot showpiece gently swaying 230 feet over the Capilano River, imagine that the original 1889 structure was made from hemp rope and cedar planks. Also experience the Treetops Adventure and the Cliffwalk, a series of bridges and stairs floating 110 feet in the forest and alongside a granite precipice above the river. 
Nearby, Grouse Mountain is also alluring with hiking trails, adrenaline-inducing ziplines and a wildlife refuge that's home to grizzly bears Grinder and Coola--all atop its 3,700-foot summit. When you're ready, relax in your room at Pinnacle at the Pier overlooking Vancouver Harbour.
Calgary sits on the banks of the Bow River. Photo credit: Tourism Calgary - Roth and Ramberg Photography Inc.
Calgary is probably best known for its 10-day celebration of Western heritage during the annual stampede celebrations. Stampede Park is one of many places to reconnect with friends and family as this vibrant Alberta city also plays host to international festivals from film to beer, which you can sip on a curated brewery tour. 
Sitting on the banks of the Bow River, Calgary is the traditional territory of the Blackfoot People. Many Chief Tours offers ecotourism experiences around the city that showcase the region's rich Indigenous history, culture and connection to the land. Then explore more on your own: Calgary has 497 miles of paved pathways, where arts and outdoor pursuits blend beautifully. 
To roam around on foot, a prime place to stay is at Hotel Arts Kensington in trendy Kensington Village. Take a self-guided art walk among 30-plus sculptures, murals and art installations, making sure to stop at the iconic Peace Bridge, a helix-shaped deep-red structure nicknamed "the finger trap." 
The Peace Bridge is also the jumping off point for the 21-mile Bow River Pathway, which travels to Eau Claire and Prince's Island parks, plus Chinatown. Here, fill up on authentic dim sum at Silver Dragon Restaurant. Discover downtown's landmarks too. Like Studio Bell, home to the Canadian Music Hall of Fame, whose nine interlocking towers reference acoustic vessels, and the Calgary Central Library, an outsize structure that has an expansive wood archway evocative of the Chinook mountain-wave clouds unique to the area. 
After a few days walking, biking and checking out Calgary's arts scene, get re-energized at Cedar & Steam with a detox aromatherapy massage and a flight of locally made kombucha at the spa's Remedy Bar.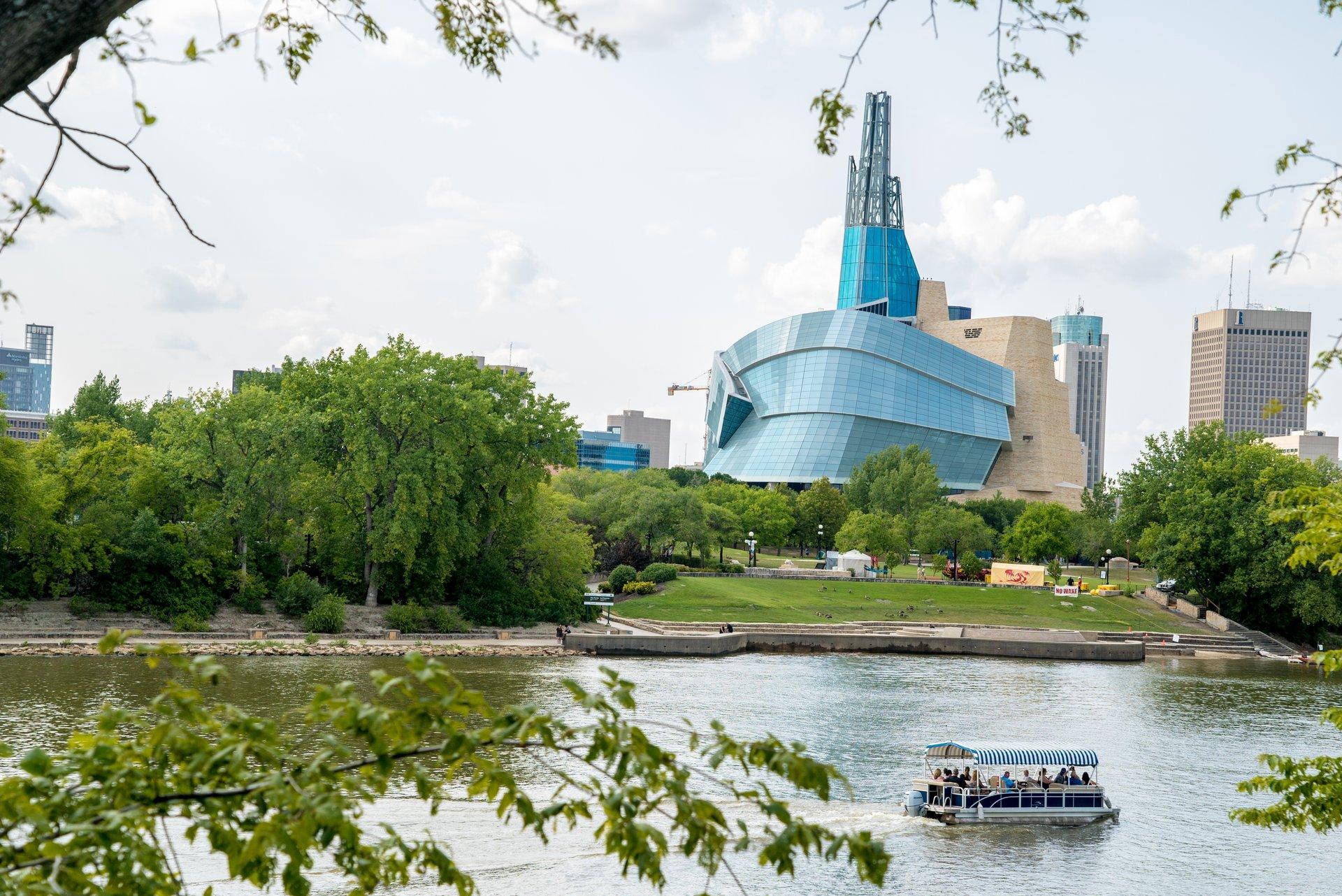 Winnipeg is home to the spectacular Canadian Museum for Human Rights. Photo credit: Travel Manitoba
Situated in the geographic centre of North America at the junction of the Red and Assiniboine rivers, Winnipeg, Manitoba, is an ideal city for taking things slow. Start your trip off right in this city of 750,000 by unwinding in the sauna at Therm?a by Nordik Spa-Nature, then slipping into an ice-cold pool for a "thermal shock" (really, it's a good thing). Continue your self-care in "The Peg" by checking in to the Inn at the Forks (it also has an on-site spa and restaurants), named for the The Forks National Historic Site, where Indigenous peoples trapped and traded for 6,000 years. 
You can spend hours at this traditional meeting place, from visiting a tall grass prairie garden to shopping in historic stable buildings. But do take time out at other new gathering spots: the Indigenous Peoples Garden in Assiniboine Park and Qaumajuq. The recently opened museum located within the WAG has the world's largest public collection of contemporary Inuit art. Another mind-expanding must-see is the Canadian Museum for Human Rights. The first museum of its kind, its aim is to preserve and promote Canadian heritage and encourage human rights dialogue and education globally.
Winnipeg's diversity can also be discovered through its cuisine on a food tour in the West End, an area brimming with Ethiopian, Chinese, Pakistani and Vietnamese restaurants. The local food and beverage scene is flourishing too. Feast Caf? Bistro, started by a home cook turned restaurateur from the Peguis First Nation, melds culture and cuisine in fare such as Bison Banny, made with Manitoba grass-fed bison sausage and served on bannock.
In Winnipeg's historic exchange district, the tasting menu at Deer + Almond almost reads like a love letter to the province, with carefully composed dishes like deer tartare with fermented sour cherries and Manitoba hemp hearts. Nearby is Patent 5 Distillery located in a former livery stable, and just two doors down, Nonsuch Brewing has rotating taps (try the Prairie Common) and snacks such as beef tartare and burrata.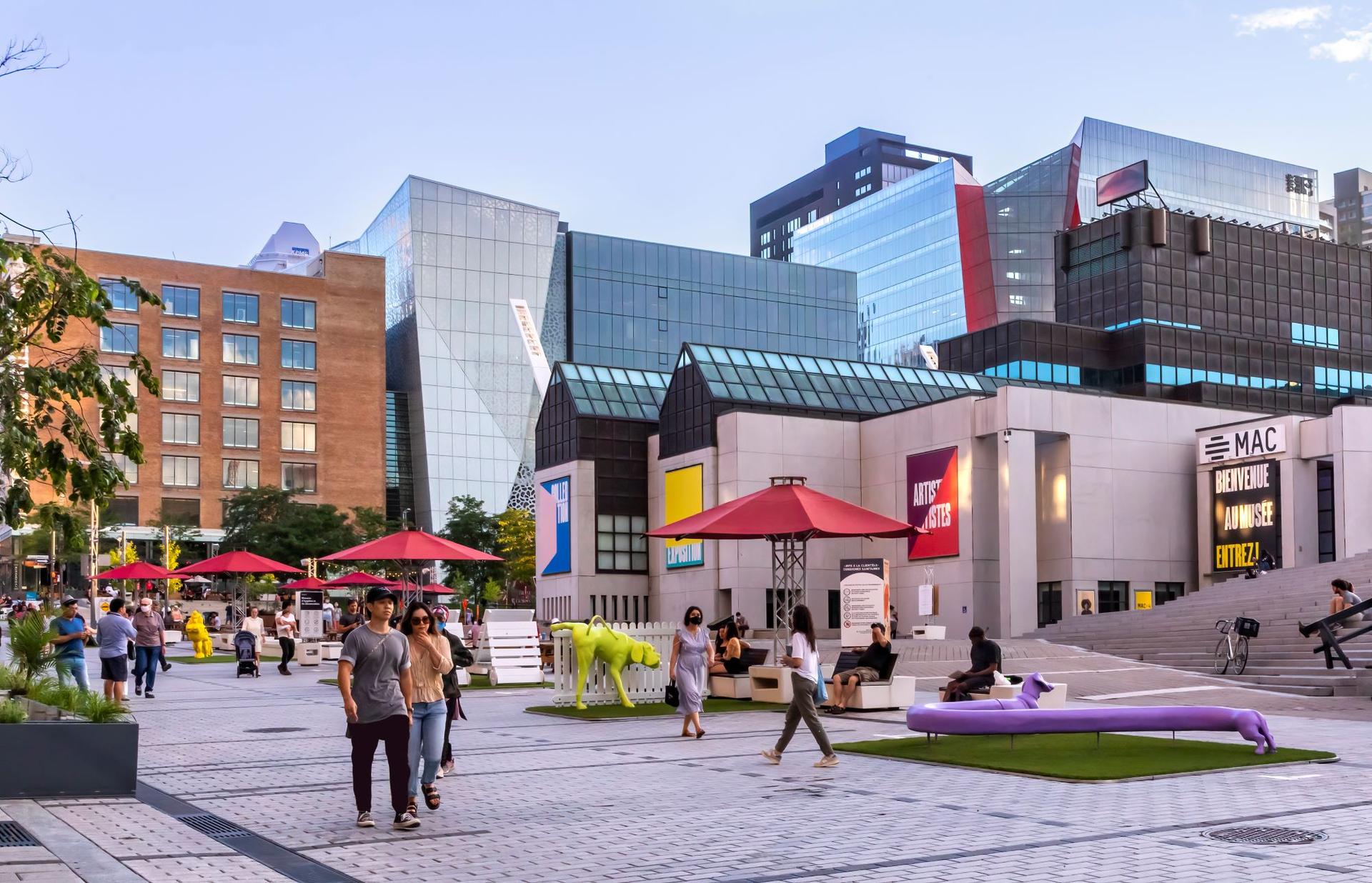 Montréal's Place des Arts is a major performing arts centre. Photo credit: Eva Blue - Tourisme Montréal
For the ultimate urban vacation, head to Montr?al, a tr?s belle (beautiful) French-speaking city (the world's second largest, after Paris) spread out on its namesake island in the St. Lawrence River. In addition to its Francophone heritage, expect to hear a host of languages spoken when exploring this city of 3.6 million people. Montr?al has 120 distinct ethnic communities that contribute to its international appeal. You'll notice that cool convergences are everywhere.
To get acquainted with the dynamic nature of old Montr?al, stay at Auberge du Vieux-Port, formerly a 19th-century warehouse that's been converted into a modern hotel. Then take a ride on La Grande Roue de Montre?al (Canada's tallest observation wheel) and gaze at the grandeur of Old Montreal with cobblestone streets and buildings preserved from the 1600s. Contemplate the city's storied history while sitting on the terrace of Le Bistro de la Grande Roue eating salted-caramel cr?pes. 
At Notre-Dame Basilica, an iconic edifice with layers of religious heritage and French-inspired Gothic Revival architecture, be mesmerized at AURA, a high-tech multimedia experience combining music and light projected on the basilica's walls. Then head outside to Saint-Laurent Boulevard and wander among buildings decked with murals (there's a self-guided dynamic map and guided tours). Look for new works like BirdO X Iregular, a surreal geometric rooster created by reclusive visual artist Jerry Rugg (aka "birdO") during the 2021 mural festival.
Montr?al is constantly pushing boundaries while preserving its multicultural heritage. Experience this coexistence first-hand at the 1933 Marche? Jean-Talon in Little Italy. Stalls of flowers and farm-fresh fruits line this public market and community gathering place. A favorite stall is La Maison Onyx, which hosts a rotating lineup of Black and Indigenous chefs and purveyors. 
To get a taste of local craft beer from its source, drive across the St. Lawrence River from West Montreal to Kahnawake Brewing Company, Canada's first Indigenous-owned microbrewery on Indigenous land. Try the Hard Day's Work, an ESB beer brewed with 100 per cent Quebec malts.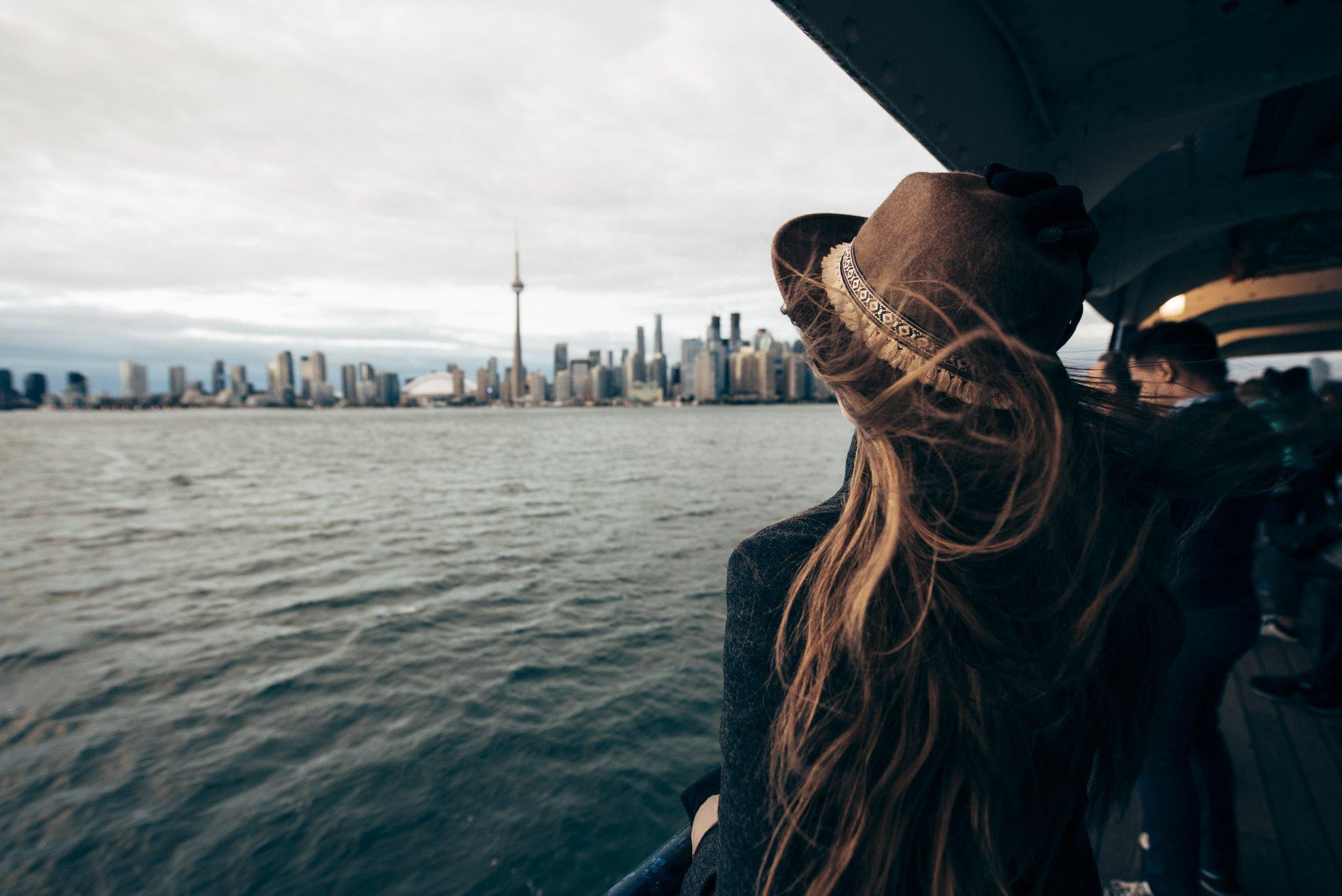 Toronto seen from the Toronto Islands Ferry. Photo credit: Max Coquard
In Toronto,start uncovering the city's singularity at Gladstone House in the epicentre of downtown, where innovative local art and light applications meld with exposed-brick walls. For a deeper exposure to art, check out the Art Gallery of Ontario or visit McMichael Canadian Art Collection. This museum on the outskirts of Greater Toronto is situated in 100 acres of forest on the original lands of the Ojibwe Anishinaabe people. Its permanent collection of 6,400 pieces includes Indigenous art and works from Tom Thomson, among other members of Canada's Group of Seven.
Another sensory experience--one that incorporates musical elements into landscape design--can be had at Toronto Music Garden, conceived by celebrated cellist Yo Yo Ma and landscape designer Julie Moir Messervy. The garden's natural elements, such as swirling paths of wildflowers meadows and arc-shaped conifer groves, were inspired by Bach's "First Suite for Unaccompanied Cello."
Naturally, Toronto's not just creative when it comes to art. It's a dynamic destination for dining and drinking. Get the insider intel with Tasty Tours Toronto. Led by passionate locals (who'll let you sample the Toronto Truffle(TM), or  Toffle(TM)), the tour roams through the eclectic Kensington Market neighborhood and offers exclusive behind-the-scenes peeks at restaurants. Or discover some of Toronto's local foods at your own pace. Visit the farmers and merchants at St. Lawrence Market, selling  tasty items like maple syrup, pastries and cheeses. On Sundays an antiques and collectibles show and sale pops up at the market. 
A few blocks away is the Distillery District, a National Historic Site founded in 1832 by Gooderham & Worts. Once "a windmill in the wilderness," it became the world's largest distillery. The windmill is gone but industrial-era Victorian buildings still stand, along with art galleries, cafes, beer halls and the Spirit of York Distillery Co., which makes grain-to-glass gin, vodka and whiskey, among other spirits. 
The lively Halifax Waterfront is known for its strollable boardwalk lined with seafood restaurants. Photo credit: Discover Halifax
With endorsements like making it onto National Geographic's "places of a lifetime" list, Halifax easily lives up to the hype. The city describes itself as full of dreamers, strivers, doers and believers. Meet some of these 431,000 friendly Haligonians (Halifax residents) when strolling its historic 2.5-mile seaside boardwalk downtown. 
But first, settle in at the Halliburton, a boutique hotel composed of three historic townhouses. After exploring, make your way back for "The Flight," a six-course blind-tasting menu for two. It's just a 20-minute walk from the Halliburton to the waterfront is lined with shops, sculptures of historic figures, the Maritime Museum of the Atlantic and the Canadian Museum of Immigration at Pier 21, which tells the story of how Canada has been shaped by newcomers.
The latter is also one pier away from the Halifax Seaport Farmers' Market, North America's longest continuously operating farmers market. Marvel at exotic locally grown mushrooms, purchase Nova Scotia spirits and for lunch pick up a plant-based Bliss Bowl or plate of authentic Polish pierogies handmade with local Nova Scotia ingredients. 
Thirsty? As you make your way back along the waterfront, drop by Alexander Keith's Nova Scotia Brewery for a tour and tasting. This Halifax institution has been keeping the city supplied with suds since 1820. And if you skipped lunch or want a late-after snack, take a water-bound excursion to The Canteen in Dartmouth (its Crobster Roll, a mix of Nova Scotia snow crab and lobster topped with truffle aioli, is worth the mini adventure). Simply stroll to the Halifax Ferry Terminal and board the Alderney Ferry, a glorious 15-minute ride that drops you off right downtown.
As one of the world's largest and deepest ice-free natural harbours, it's no surprise that Halifax Harbour has many stories hidden on its islands. A local favorite is McNabs Island. Find sanctuary in the seat of a kayak paddling here or head for the sandy shores of Cole Harbour-Lawrencetown Coastal Heritage Park, where the surf is always up. Slip on a wetsuit and learn to ride the waves for a unique Halifax experience.