Where to eat lobster in Prince Edward Island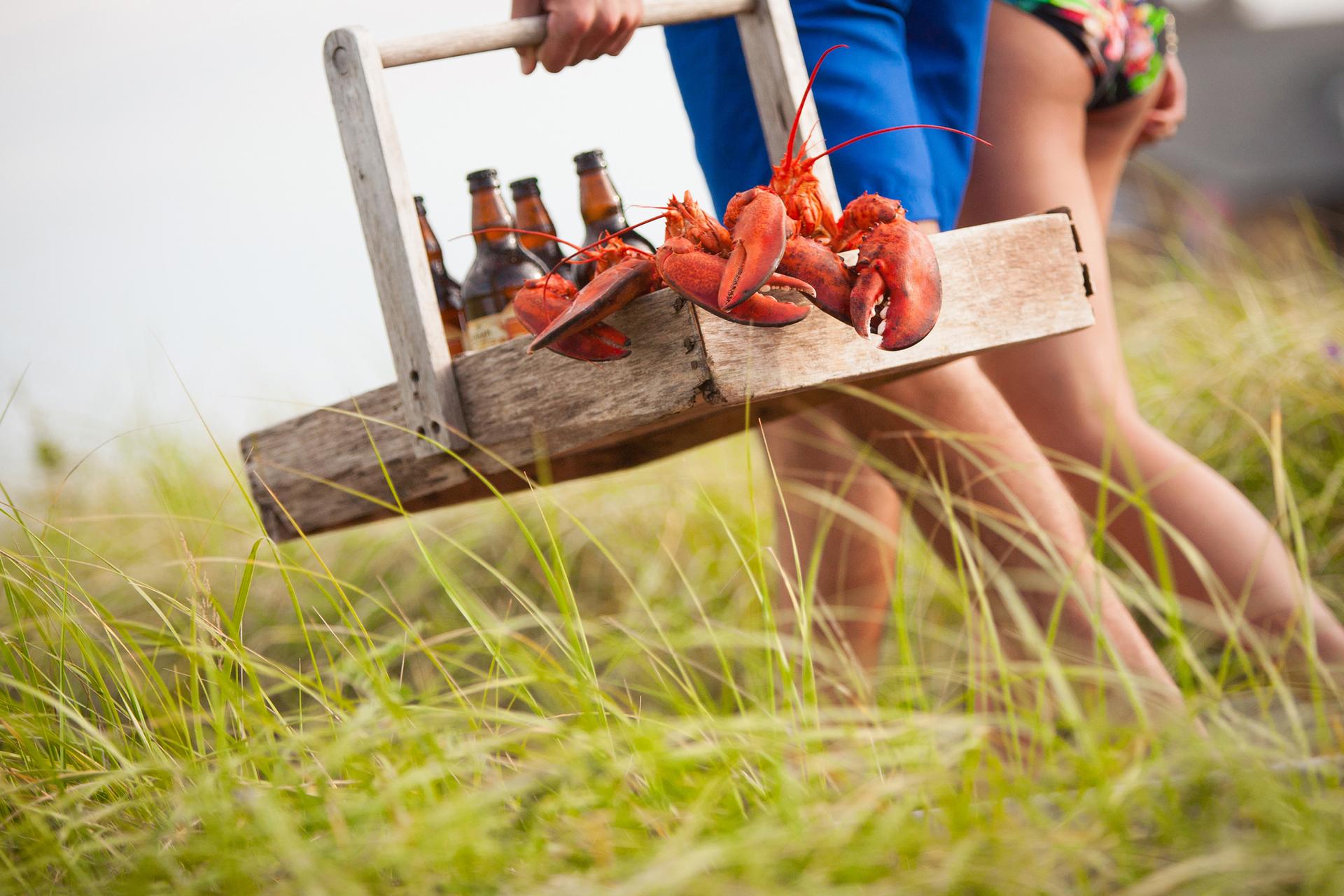 Well-traveled foodies know Prince Edward Island is the place to go for an Atlantic gastro-vacation, especially for seafood, and more specifically, succulent lobster wild caught from the sea at its peak. PEI is known around the world for its hard-shelled crustaceans that yield juicy, tender meat, and for the smaller variety (75% of the catch) that gourmets prefer because they are more flavorful and delicate. Here's where to find the best lobster on PEI.
Today PEI has 1,200 lobster fishers and most have been trapping in the Gulf of St. Lawrence for generations. It's a highly regulated fishery open just two months out of the year, focused on sustainable and fair trade practices, though visitors can buy and enjoy lobster year-round. Buy it fresh (live) at the wharf May to June and August to October, or head to a grocer or farmers' market. This map details the best places on the island to buy lobster and here's how to cook it, according to the pros.
As homegrown celebrity chef Michael Smith says, "A feed of lobsters is an instant occasion, a special treat and a tasty connection to the island." Join a memorable community feast or event. Or really experience PEI and arrange something special for just the two of you -- a like-the-locals-do-it lobster boil with the captain aboard a fishing boat. Clearly, it'll be hard to find a fresher catch.
PEI International Shellfish Festival
This lively September extravaganza in communities around the island spotlights Food Network hotshots and features high-profile cooking demos, Iron Chef-type competitions, celebrity chefs, East Coast live musical entertainment, and tons of fun. Learn how to shuck shellfish like the pros and try a quahog (a hard clam). There's even a Chef Challenge dish worth $10,000 in prize money, the "world's longest lobster roll." Don't leave without getting your new PEI cookbook autographed.
The array of lobster recipes is endless, as are the methods: Grilled, steamed, boiled; served hot, cold; canned, smoked... But traditional favorites are chowder, the lobster roll, and simply steamed, cracked open, and enjoyed with melted butter and lemon -- and a bib!
Make a reservation at these popular standbys: In the east, Clam Diggers Restaurant and Beach House for seafood and sunsets on the deck; on the north-central shore, The Pearl Eatery, an acclaimed farm/sea-to-table fine dining spot; and on the North Cape coast, Brothers 2 tavern for steak, seafood, and PEI brews. In Charlottetown, go to Lobster on the Wharf for superb culinary fusion. Squeeze in next to locals at Water-Prince Corner Shop over no-frills tasty fare -- also star-chef Michael Smith's fave. Or, try Fish Bones for lobster, music, and burgers.
Culinary Institute of Canada
Get a chance to cook at the teaching school described as one of Canada's finest. The Culinary Institute of Canada puts on fantastic boot camps via Holland College. These are full- and half-day immersive programs alongside award-winning chefs in state-of-the-art kitchens covering everything from farm to prep to table to focusing on bounty of the sea. They're also extremely popular, so sign up early and get ready to pull on your chef's whites. If you'd rather just reap the rewards without all the work, sample the students' best at the institute's Lucy Maud Dining Room. Not only is it a bargain, the food is devoutly local and covers the latest in contemporary cooking.
While it's not all lobster all the time, you can be sure that the Fall Flavours Festival will have plenty to sample. You can head to a lobster party on the beach, then bite into local potatoes and green beans, oysters, mussels, and beef. It's a treasured month-long celebration of homegrown cuisine and traditions with various authentic events -- galas, demos, concerts, visiting and chef's dinners, beer, wine, and food tastings -- all across the island. Try your hand at potato harvesting or oyster shucking, too, at the Culinary Boot Camp.
Try pulling in a feisty crustacean yourself. Experienced seaman Captain Mark and Top Notch Lobster Tours takes three sailings a day much the way his family's been doing it for four generations. With an experienced fisherman as a guide, guests can snag a buoy and haul it in fisher-style. The brave can band a claw and pluck live lobsters out of the trap, too. Everyone shares a traditional onboard lobster boil afterwards. Experience PEI is another outfitter that can get you on a boat with a veteran fisher to show you the ropes. You choose the bounty: Lobsters, mussels, oysters, or a deep-sea fishing expedition.
Be sure to end your lobster feast with some rich, old-fashioned PEI ice cream -- yep, the island is also famed for its spectacular dairy products. COWS is the go-to and Wowie Cowie is the flavor to order. You just might have to stay longer than planned to eat your way through this epicure's isle.
Get started planning your foodie trip at the Prince Edward Island Tourism website.
Get started planning your foodie trip at the Prince Edward Island Tourism website.