Vancouver's Best Craft Beer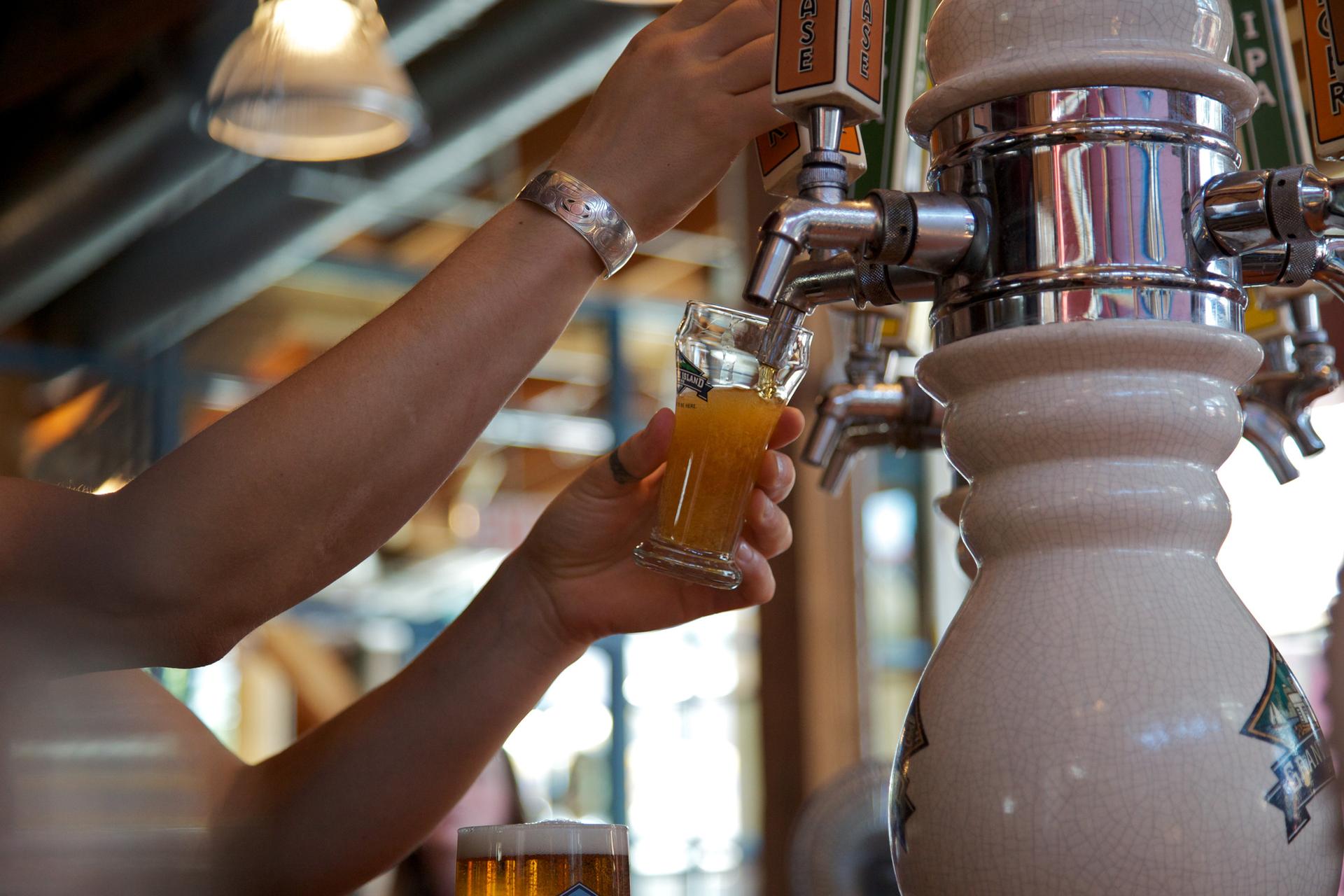 West Coast, laidback Vancouver is a green city of outdoorsy types. But if in between all the hiking, sailing, and cycling Vancouverites can seem tad aloof, the booming craft beer scene is changing that. Leading the country in a locavore-inspired revolution, British Columbia's neighborhood-centric small-batch suds scene is distinctively inclusive -- about communing around authentic, quality-ingredient brews. While the Vancouver beer movement may be spearheaded by well-educated, well-dressed, sophisticated creatives, they're friendly and unassuming, ready to launch into passionate discussion with anyone who's interested. Concentrated in the city's rapidly evolving east side, it's a subculture you'll want to fully explore. That, and the sizzling-hot, culture-melding culinary scene -- one Cond? Nast Traveler has singled out as top in the world.
Pioneered back in the 80s following the U.S. lead, some Vancouver originals like Granville Island Brewing have been snapped up by mainstream brands dabbling in the crafty medium. The latest iteration is a slew of contemporary micro tasting lounges and neighborhood pubs in scruffy warehouses on gritty streets catering to devotees who return regularly to refill their growlers. From just 10 in 2013, there are now over 30 microbreweries in town; 176 total in BC. Some have dubbed Vancouver "Portland North," with more than 20% of the city's beer market in microbrew, far surpassing the 4% national average. Sample some of the best oatmeal stouts, fruit brews, smoked porters -- and community -- these new-school masters have on offer.
Tasting rooms are relative newcomers in Vancouver. Most feel like neighborhood meeting places -- comfy, lively, and conversational, aided by long-table seating and a welcoming attitude. Family-owned, West Coast-vibe 33 Acres Brewing Company is just that -- a "hub," as owner Josh Michnik calls it, open for lattes and brunch in the AM as well as pints and snacks as the day carries on. Sip the 33 Acres of Sunshine unfiltered white ale, nibble on local charcuterie or soba noodles with shaved beets, or buy signature T-s, manufactured down the street, all in the white and airy caf?-esque space. There are events like Taco Thursdays, food truck meet-ups, and "Music is a Gift" live performance nights. Beer and coffee? Just "a catalyst to collaboration," says Michnik, a former art director.
"Yeast Van" is what locals are now calling industrial-residential East Van, home to at least eight craft beer makers within walking distance of each other. Ice hockey pals started always-busy Bomber Brewing, the city's first to sell microbrew in cans. It's a tiny, unassuming retreat frequented by cycling commuters and beer tourists from near and far. Plus, it feels approachable, like your buddy's basement crash pad. Match a soft pretzel and mustard with a German-style lager and play a board game. Or park your bike out front and sample paddles and flights of Park Life, a passion fruit ale. Regulars like to watch the game on TV and the production unfold through the glass wall: Workers stacking pallets and hosing around the steel tanks and humming compressors. Don't miss the stand-out IPA and ESB with good depth. Bomber gives facility tours three times a week.
Just across the street from Bomber is homey Off the Rail Brewing, a relative newbie started in 2015 in an old warehouse. Cheery with an open concept featuring blonde woods and minimalist decor, the tasting room overlooking the busy Adanac bike route lends itself to easy conversation over a Kama Citra Ale or Czechmate Pilsner with a crusty baguette. The brewers dabble in different styles to craft15 small-batch beers with a focus on high-quality lagers and pilsners. Sample the housemade root beer, too.
There's actually a graffitied food truck inside Parallel 49 on Triumph Street, a revamped East Van institution where moms and dads are known to drop by after a session on the playground. Renovated in 2017, the place is now an industrial-hip indoor-outdoor tasting room, suds store, and street food restaurant all in one. Accents like chain curtains, exposed ceiling ductwork, and cinder block walls set the tone. Dine on elevated Pacific Northwest food truck fare (think: braised duck corn dogs) then wash it down with 40 eclectic beers on tap. Mystic Skull No. 5, for one, is a dark lager brewed with chocolate mole spices like chipotle and cumin. Also consider the Apricotopus, Grapefruit Radler, or Salty Scot Scotch Ale.
Community is key to Red Truck Beer Company, one of Vancouver's original craft pioneers and a multiple award winner. The brewer hosts a summertime parking lot concert series at their Truck Stop Diner, which serves house made beer on tap alongside burger, fries, and pub fare. Also core is meticulously brewed beer -- you can't go wrong with the signature lager, ale, IPA, or ISA. Originally based in North Vancouver, it's now on East 1st Avenue near Main Street in the transitioning Brewery Creek district. The place is housed in a sprawling, retro-cool industrial 34,000-square-foot brewery marked by the mascot 1946 red pickup. Tour the brewery floor to learn more.
Get to know the folks making the brews and building community at the source in Vancouver's distinctive neighborhoods; take a tour with one of five companies, including Vancouver Brewery Tours, offering the inside scoop. Then check the BC Craft Beer Community Calendar for special events. Better yet, visit during Vancouver Craft Beer Week when all the hoopla happens. For more about craft beer in Vancouver, visit WestCoastFoods.ca.
Find the best places to eat and drink at the Tourism Vancouver website.