Ontario winter guide
Ontario in winter: It's festive, bustling, and beautiful, with the fresh snow sparkling in the sun in the daytime or illuminated by twinkle lights at night. You can ski or go for a sleigh ride, snowshoe way into the backcountry or unwind at a Moroccan spa, see Canada's biggest collection of art and artifacts or stroll a Christmas market decked out for the season and dusted in white.
Just choose your region in this east-central Canadian province and plan your adventure: A peek at fabled Niagara Falls frosted in snow and ice? A tour of sophisticated Toronto or Ottawa, the nation's capital? Or how about an outdoor wine festival in the Niagara wine region? Here's your insider's guide to Ontario in winter
Explore the Algonquin wilderness
Rugged Algonquin Provincial Park is stunning in winter and you're likely to have most of the 2,955 square miles to yourself, along with the resident moose, bear, wolves, and myriad wildlife. It's also much easier to spot the creatures against the white backdrop. Mid-province, this vast untamed wilderness is just a three-hour drive from Toronto.
Peruse the park guidebook and come prepared to snowshoe past lakes or go ice fishing from your backcountry base camp -- or get snowed in on purpose with Northern Edge Algonquin on Kawawaymog Lake. The off-the-grid retreat center guides will take you out for dogsledding, snowshoeing, cross-country skiing, kick-sledding, and ice skating expeditions. Gourmet candlelit meals and cabin lodging with a wood-fired sauna are also included -- and if you're lucky, a late-night Northern Lights show.
See art and museums in Ottawa
As the nation's capital, Ottawa is home to Canada's top museums and galleries. To mark the country's 150th anniversary of confederation, several top institutions got major facelifts:
1. The sleek National Arts Centre.
2. The National Gallery of Canada and its new Canada's Masterpieces, Our Stories, interpreting art in through 1,000 indigenous artworks and history.
3. The Canadian Museum of Nature's new 8,000-square-foot Canada Goose Arctic Gallery, arguably the world's best collection of fossils and artifacts from Canada's North.
Many museums are near Parliament Hill, too, always festively lit up for the holidays. Buy a National Museums Passport if you want to visit all of them.
Also of note are the subterranean Diefenbunker, Canada's Cold War Museum, a now-public secret Cold War-era underground bunker, just west of Ottawa; the Canadian War Museum; and architectural landmark National Gallery of Canada, the country's premier showcase for visual art, with 40,000 artworks including masterpieces with an emphasis on Canadian and contemporary
Collingwood's Blue Mountain Resort is the favorite for ski and snowboarding, plus fun in the snow -- winter caving, snowmobiling, horse-drawn sleigh rides, snowshoeing, tubing, and heli-touring, to name a few. In fact, this place often comes in third in Canadian rankings after British Columbia's Whistler Blackcomb and Quebec's Mont-Tremblant, and is Ontario's largest ski resort. There are 42 runs, freestyle terrain, and a stylish pedestrian village, including luxurious indoor-outdoor spas, great restaurants and pubs, and retail therapy. Book in advance because Blue Mountain is popular.
Celebrate the season at a festival
Ontarians love winter and there are no shortage of celebrations to mark the season. While the rest of the world toasts the fall harvest, in winter the Niagara Peninsula is busy plucking frozen grapes to make award-winning Icewine. Canada is the world leader in Icewine production, and this is where it all happens. Get into it at Niagara's 17-day January fest of glitzy galas, celebrity chef food and wine pairings, VIP vintner dinners, tours, tastings, and seminars. Be sure to stroll the twinkle-lit Niagara-on-the-Lake Icewine Village as well and sample cocktails like the Icewine martini at outdoor ice bars.
Other headliners are February's TD Ottawa Winter Jazz Festival and Winterlude, also in Ottawa, for three weeks in February of ice carving competitions, dragon boat ice racing, and ice skating on Rideau Canal, the largest natural outdoor skating rink in the world. The Toronto hot ticket is the two-day December electronica dance music focused Solaris Winter Music Festival, known for its spectacular light show and special effects, and just outside Toronto in Headwaters, January's Fire & Ice Winter Festival with skating, ice carving, fat biking, and fire sculpture, plus signature fire-and-ice theme cocktails.
Winter is for hibernating, too, and recharging at the spa. Head to a palace of pampering for a massage, facial, or rejuvenating body treatment. Top picks are Toronto's luxe Miraj Hammam Spa in the Shangri-La hotel -- for vinoth?rapie at an exotic Moroccan-inspired hammam, or wet-steam sauna -- and glam Four Seasons Hotel Toronto with the city's largest spa for a deep-tissue massage or dip in the indoor Zen pool. Follow with dinner at the flagship hotel's celebrated Daniel Boulud restaurant.
Dip into Scandinave Blue Mountain in Collingwood for Nordic-style R&R: An indoor-outdoor 25-acre sanctuary in the woods featuring hot pools, steam baths, and saunas. Ste. Anne's Spa in Grafton is about serenity and quiet. Set in a vintage stone farmhouse on 400 acres in the countryside, it's an all-inclusive adult-only resort looking onto Lake Ontario. Picton's wellness-minded Spa at Claramount at the Claramount Inn is set in a neo-colonial mansion surrounded by vineyards -- try a pear and green apple body polish or hot stone massage. Yoga, nutrition, manis, pedis, and massage are on the menu at Strathmere near Ottawa, a 200-acre organic farm-to-table refuge in a fruit orchard. Meditate, sit in on a cooking demo, and soak in the outdoor hot tub.
There's also sophisticated Millcroft Inn & Spa in the Caledon Hills, a restored mill on Shaw's Creek surrounded by 100 acres, with 17 treatment rooms, in- and outdoor pools, herbal steam rooms, and an infrared sauna. In wine country, Niagara-on-the-Lake's best include huge 100 Fountain Spa at the Pillar and Post Inn Spa and Conference Centre with the region's only indoor/outdoor hot springs and quaint Spa on the Twenty at a 100-year-old Colonial inn in charming Jordan Village.
Outdoor ice hockey is as Canadian as Mounties and the maple leaf. You can see games on frozen ponds all over Ontario, from casual pick-up games to organized competitions, but classic is a match outside on Ottawa's Rideau Canal. Rent some skates and join, or grab a cup of steaming hot apple cider from a snack shack on the ice and watch the action. Winter is also the National Hockey League pro season for the home team, the Ottawa Senators. See if the Sens are playing in town while you're visiting and catch a game at the Canadian Tire Centre, especially against rivals the Toronto Maple Leafs.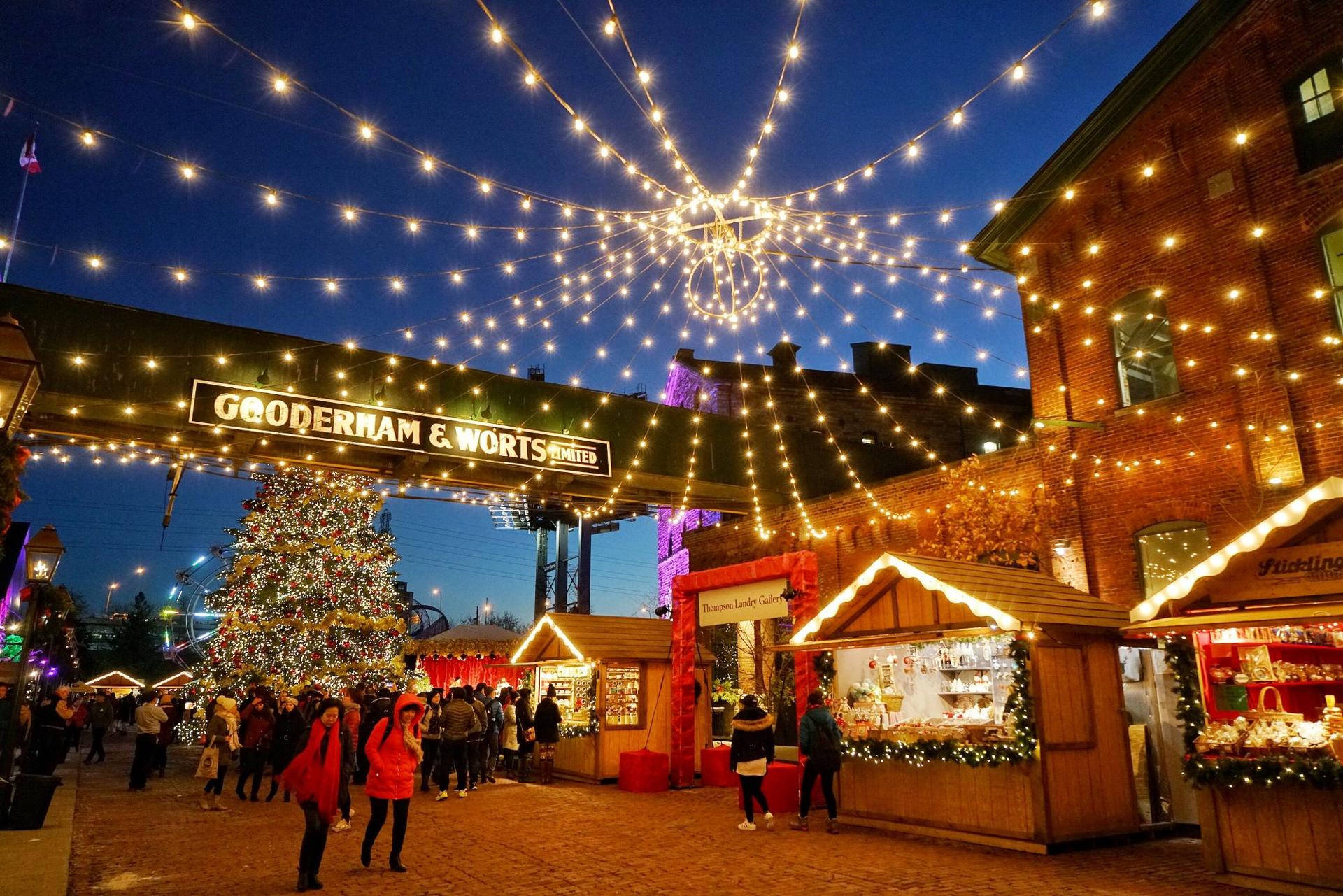 Credit: Destination Toronto
If you've got an old-fashioned European-style holiday market on your mind, don't miss Toronto's pedestrian-only Distillery Historic District. It's already a cool area -- a national historic site with some of North America's best-preserved 1800s-era industrial architecture -- but the November-December outdoor Christmas market trimmings and lights push the street fest scene into the enchantment zone. And you could spend all day and evening enjoying the food stands with artisan sausages, pretzels, and shortbread, handmade toys and teddies, mulled wine, carolers, and live performances.
In Ottawa, after you check out the spectacle of the Parliament Hill holiday light show, head inside for the Canadian Museum of History Christmas Market, showcasing tasty edibles, custom jewelry, and handmade crafts. Hamilton's daytime Ottawa Street Farmer's Market features 100 vendors offering decorations, arts and crafts, and original gift items. Kitchener City Hall hosts an authentic four-day German Christkindl Market in early December with Bavarian dancers, bands, and outdoor performances. Outdoor vendor stalls display old time wares like nutcrackers, handcrafted wooden toys, evergreen bough wreaths, and Christmas ornaments, plus traditional staples like apple fritters and Bratwurst washed down with mulled wine.
It's true, you could spend weeks getting to know Ontario, but because it's located near the U.S. border just above the Great Lakes, it's also easy for an action-packed mini-trip or relaxing weekend getaway.
Pack your coat and mittens, and plan your itinerary at the Ontario Travel website.