Newfoundland and Labrador's Incredible UNESCO Sites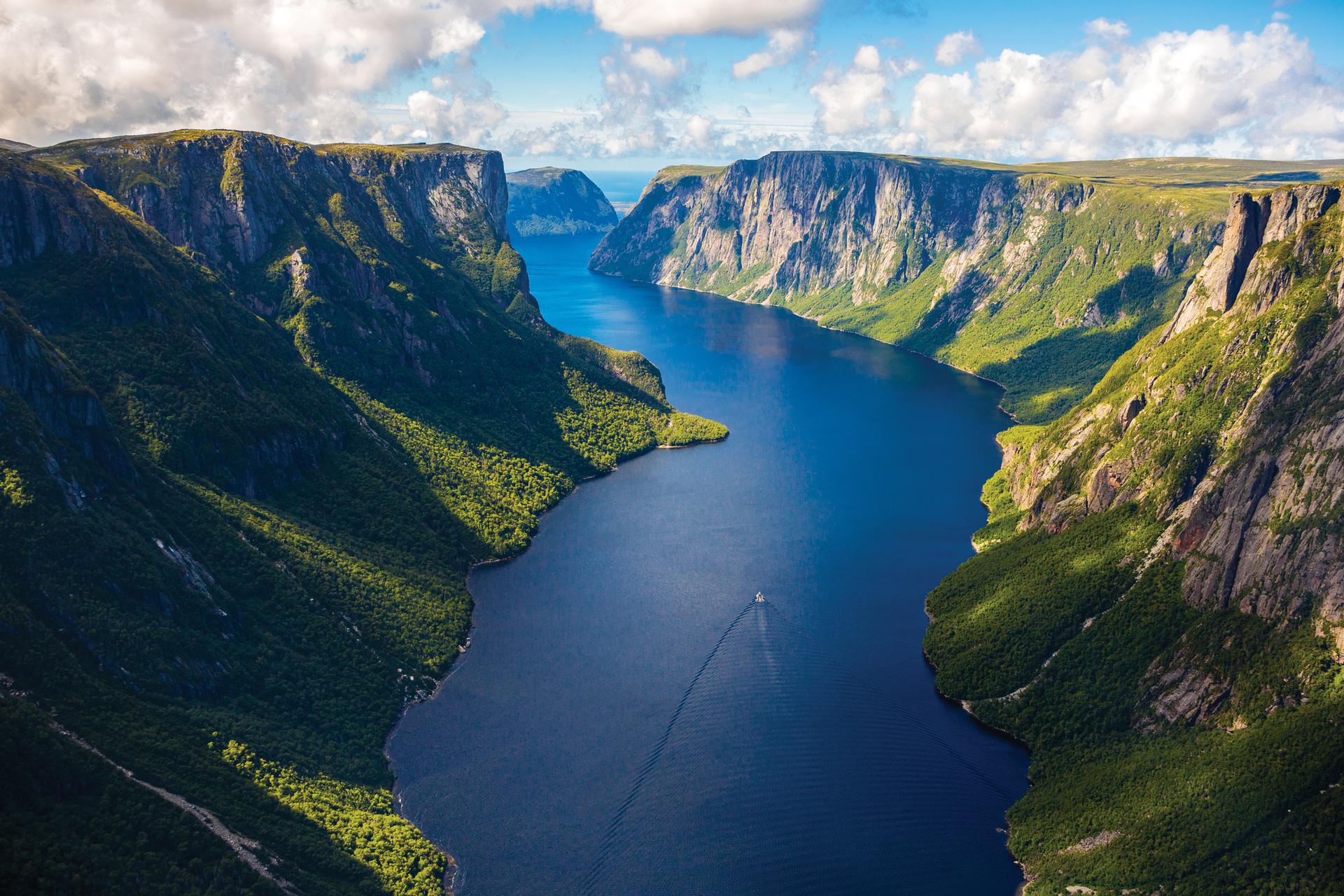 Imagine crossing the Atlantic in open wooden boats. That's exactly what the seafaring Vikings did back in 1000 AD when they departed from Greenland, landing 1,360 miles later on the shores of what is today Canada's most far-east province. You can see the archaeological remains today of their original settlement in Newfoundland and Labrador.
That's what's so thrilling about UNESCO World Heritage Sites, global hot spots of culture, history, and the natural world that give us real connections to the past. Of 18 in Canada, Newfoundland and Labrador has four sites -- see all of them, if you like, in one four-day scenic road trip.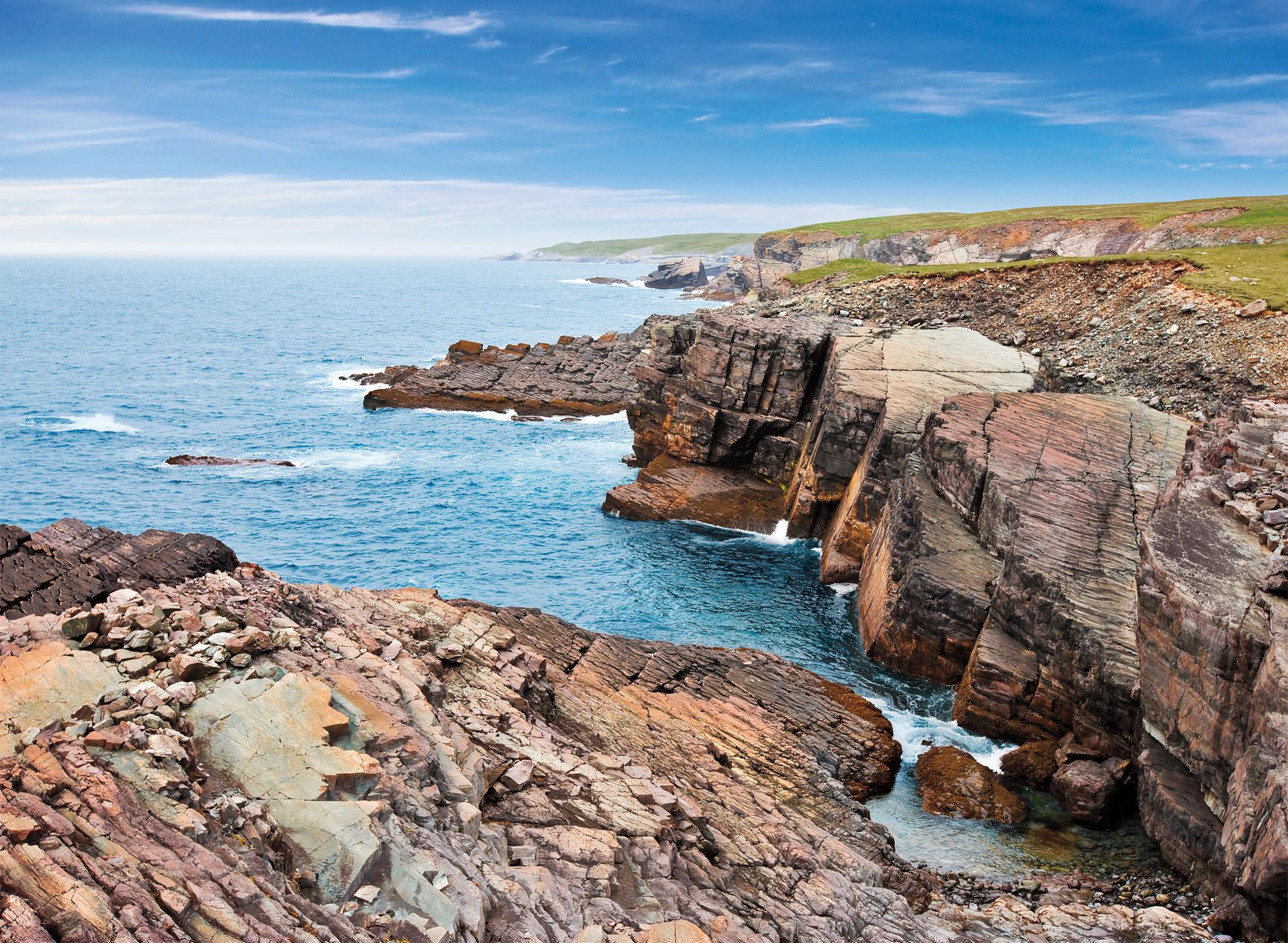 Mistaken Point Ecological Reserve, credit - Newfoundland and Labrador Tourism/Barrett and MacKay
There's old -- and then there's old. The planet's most ancient creatures of all are evidenced at Mistaken Point Ecological Reserve, the province's newest UNESCO World Heritage Site. Named in 2016, this is one of the most important fossil sites in the world. This place's remarkable fossils, Ediacaran biota, date back 560 to 575 million years and are the sea floor's oldest examples of large, complex, multi-cellular organisms. Beyond the history, the place is also gorgeous -- a windswept shore of grassy bluffs above jagged, tilted sheets of rock and the churning Atlantic.
A narrow 10-and-a-half-mile strip at the province's southeastern tip on the Avalon Peninsula near Trepassey, Mistaken Point is so named because on foggy days sailors would often confuse it with Cape Race Harbour to the east and collide with the craggy cliffs. Though locals had known about them for years, a geology grad student first realized the huge scientific significance of the fossils back in 1967; it's been an ecological reserve since 1987. Find out more at the interpretive center, then take the daily guided tour departing at 1 pm from mid-May to mid-October -- the only way to see the fossils embedded in the mud- and sandstone. Reserve well in advance.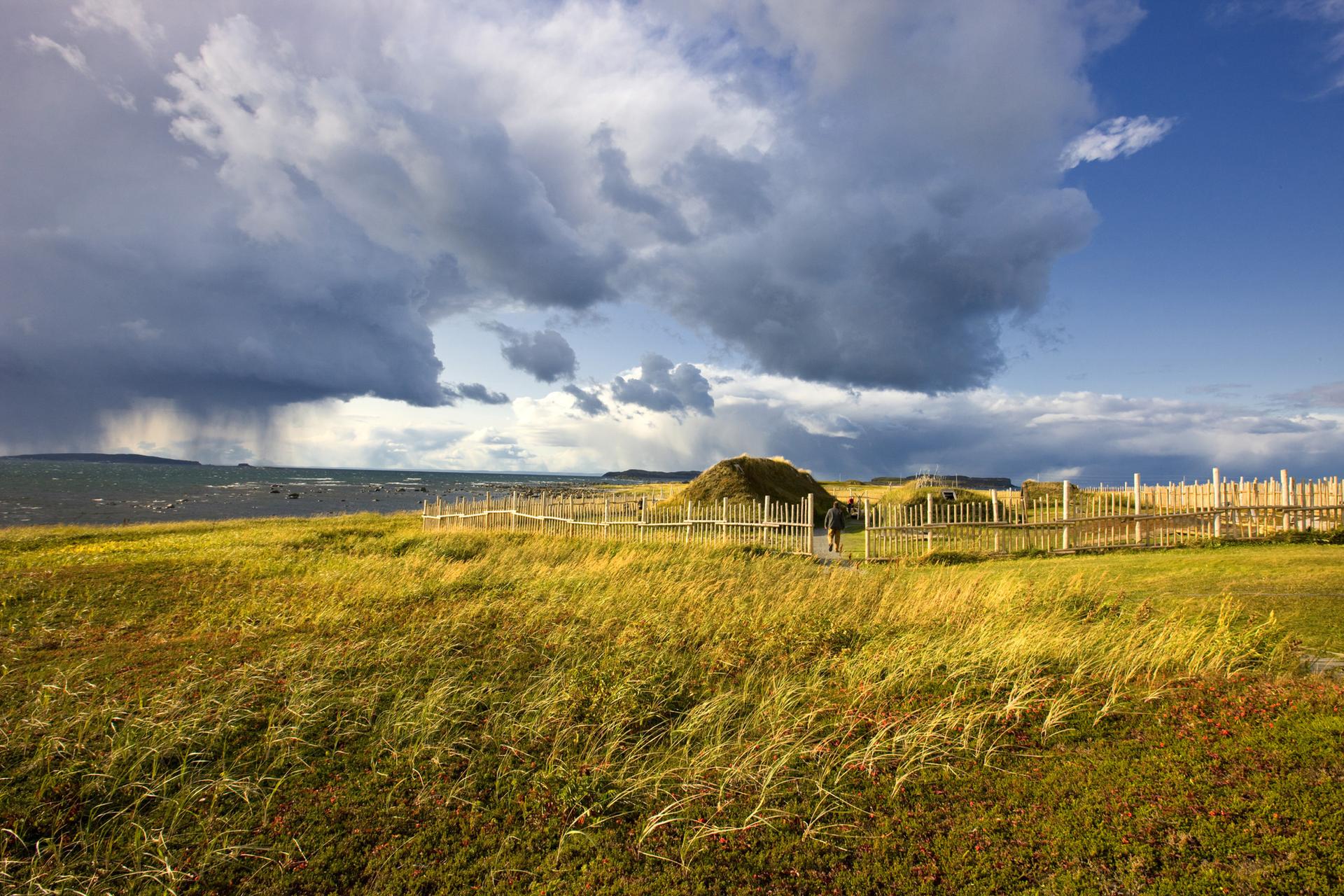 L'Anse aux Meadows National Historic Site - credit: Newfoundland and Labrador Tourism
If you're a fan of archaeology, you'll want to explore L'Anse aux Meadows National Historic Site, the only known evidence of Norse presence and earliest European settlement outside Greenland in the Americas. On Newfoundland's northernmost coast, it's also just a few hours along the Viking Trail from another site, Gros Morne National Park.
A small expedition of raiding Vikings arrived here in the 11th century and called it Vinland, staying just a few years and clashing often with the native community. An archaeologist and adventurer couple uncovered the Norsemen's timber-and-sod hut encampment in the 1960s, including a blacksmith type operation, bone needles, bronze jewelry, and plant remains from warmer climates.
Today, there are historically accurate reconstructed huts, interpreters in period dress, dramatic reenactments, opportunities to learn how to weave, work metal, or fashion a leather pouch Norse-style, and artifacts on display in the visitor center. Nearby is also a recreated Viking trade port, Norstead, featuring traditional games and Snorri, the original knarr (ship) that landed here, named after the first European born on American soil, as the legend goes. You can also hike, picnic, or take a guided tour from late May to early October.
Red Bay Basque Whaling Station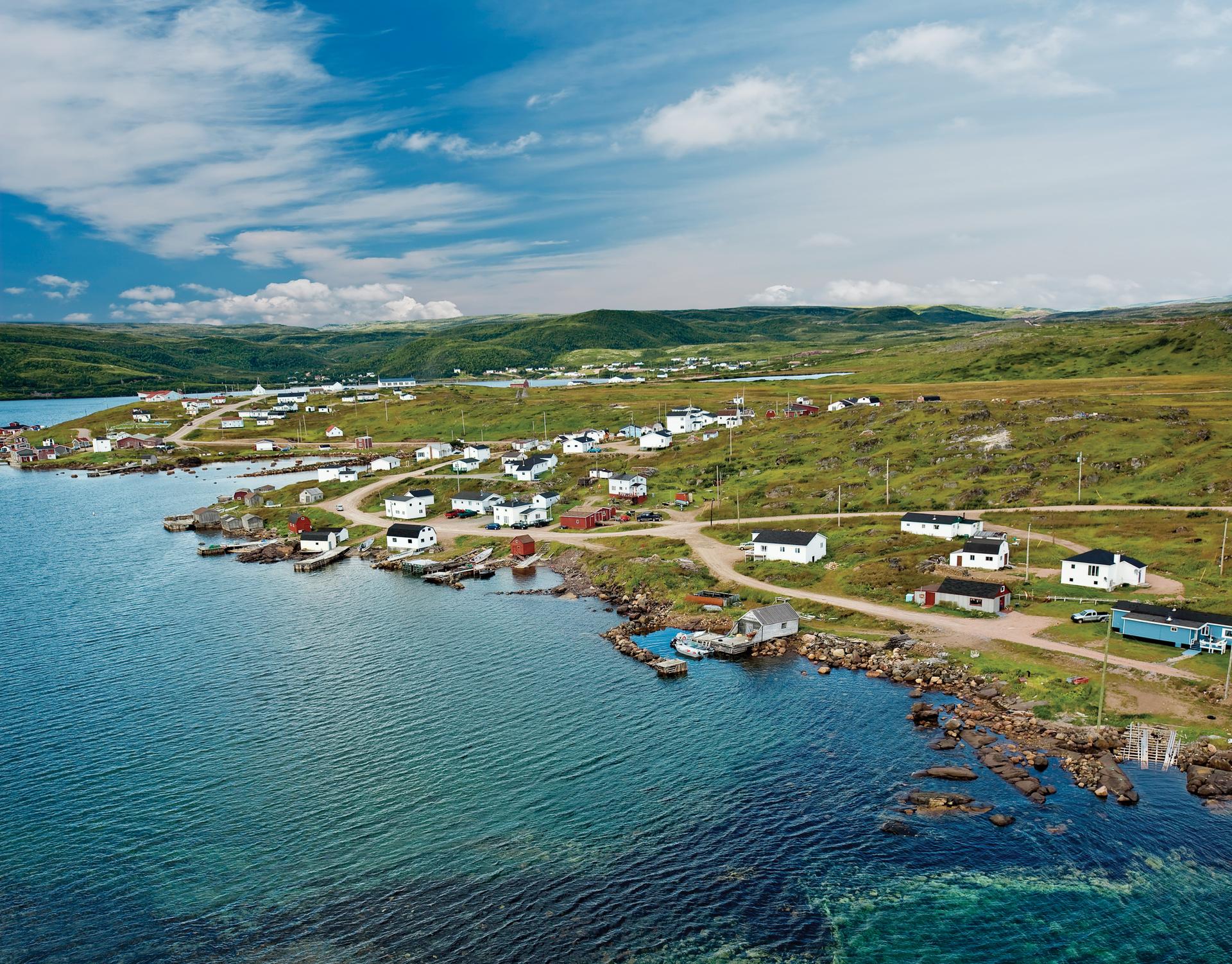 Red Bay National Historic Site - credit: Newfoundland and Labrador Tourism/Barrett and MacKay
Labrador fishing village Red Bay on Canada's northeastern tip in the Strait of Belle Isle was a thriving whaling hub back in 1530. For about 70 years, it was the globe's first large-scale, pre-industrial oil production operation in the European tradition. Long forgotten, in 1977 the place was uncovered by an English woman, married to an architect with ties to North Spain and Southern France's Basque country, who worked with the Royal Canadian Geographic Society to unearth the station. Today, it is a historic site, commemorating the thousands of Basque mariners who hunted huge populations of bowhead and right whales in the coastal waters for their prized, oil-rich blubber.
You can still see the cooperages and fat rendering ovens on Saddle Island at the bay's entrance, accessible by a quick boat ride. Other attractions include 500-year-old red clay roof tiles and a cemetery with 145 graves, attesting to the perils of whaling. Stroll the streets of the historical town while you're there and see old wharves and whale bone remains, and, off the coast, four sunken galleons, including the San Juan, lost in 1565. The main interpretive center showcases artifacts, such as oil barrels and navigational instruments, and enormous whale skeletons contrasting the harpoons and small open boats the Basque used. On the Labrador Coastal Drive, you reach Red Bay via ferry from Newfoundland to Blanc Sablon, Quebec, and then it's a one-hour drive over the provincial border to Labrador.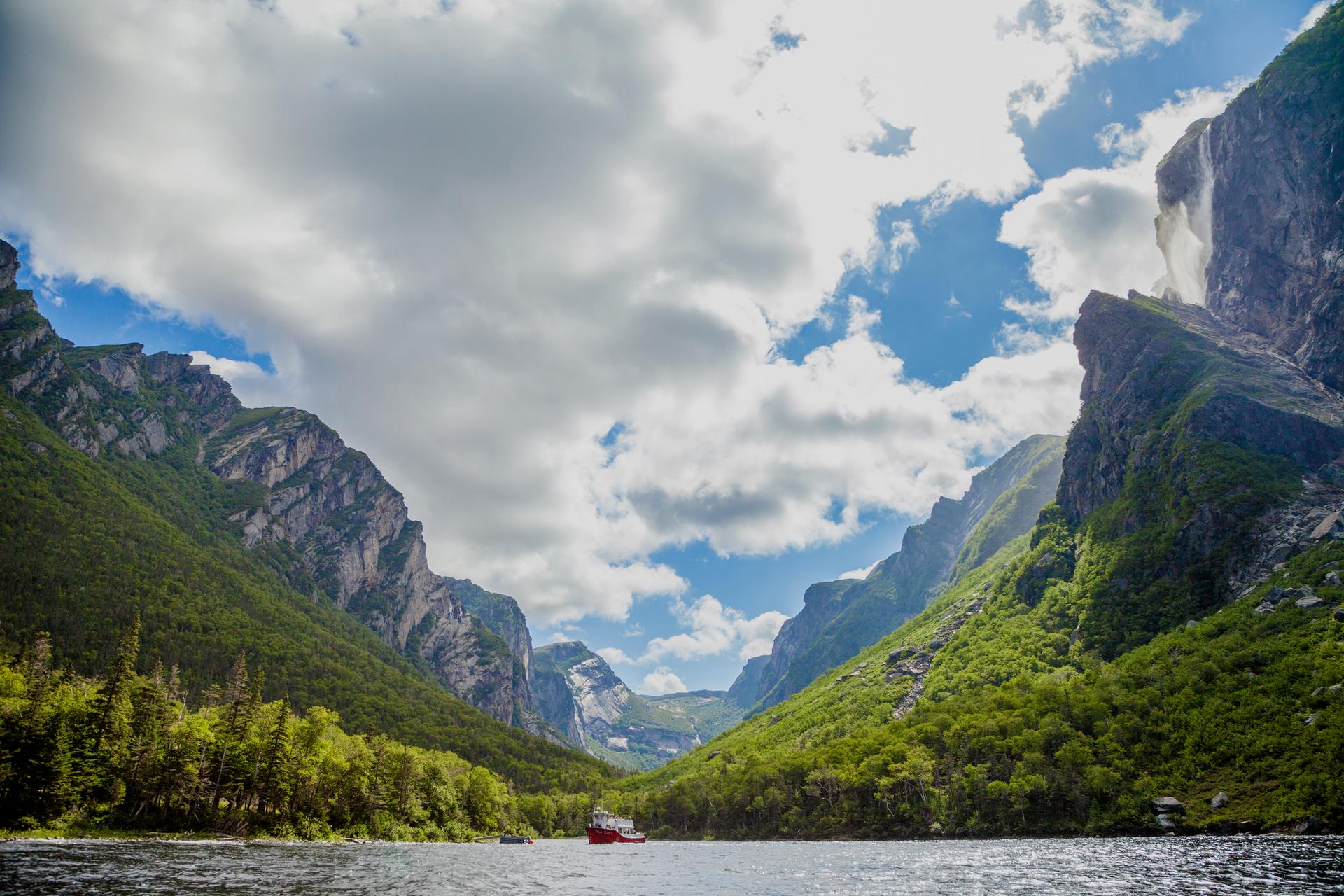 Bon Tours' Western Brook Pond Boat Tour, Gros Morne National Park, credit - Newfoundland and Labrador Tourism
Plate tectonics and continental drift? See just what that means at dramatic Gros Morne National Park on Newfoundland's west coast. To see Gros Morne is to witness the powerful geological forces of sea colliding with continents to carve and shape the landscape eons ago. It's all there: Exposed ancient ocean crust, volcanic rock, glacier-cleaved rocks and valleys, steep freshwater fjords and cliffs, plateaus and barren headlands, waterfalls and fossils, crystal lakes, bogs, and spectacular ocean vistas. Expect superlative natural beauty and pristine topography over nearly 700 square miles of wilderness.
Because it's so vast, you'll want to prioritize your time. But be sure to stop at the Discovery Centre near Woody Point in the southern section, then see the glacier-cut Western Brook Pond, a 2,000-foot-high fjord with waterfalls and a sandy beach, on a boat tour. Another highlight is the aptly named Tablelands -- made of igneous peridotite, toxic to most plants and usually found only in Earth's mantle. Looking out for moose and caribou, choose from the scenic 2.5-mile Tablelands hike or the 5.6-mile Green Gardens trail, which leads to coastal pillow lava formations -- rare and unusually formed. The park hosts a theater festival and writers gathering, too, if you want to wrap in some culture.
Even after hitting four UNESCO sites, there's plenty more to do and see in Newfoundland. Start with these top 10 attractions.
Delve into more culture at the Newfoundland and Labrador Tourism website.