8 ways to experience Yukon's midnight sun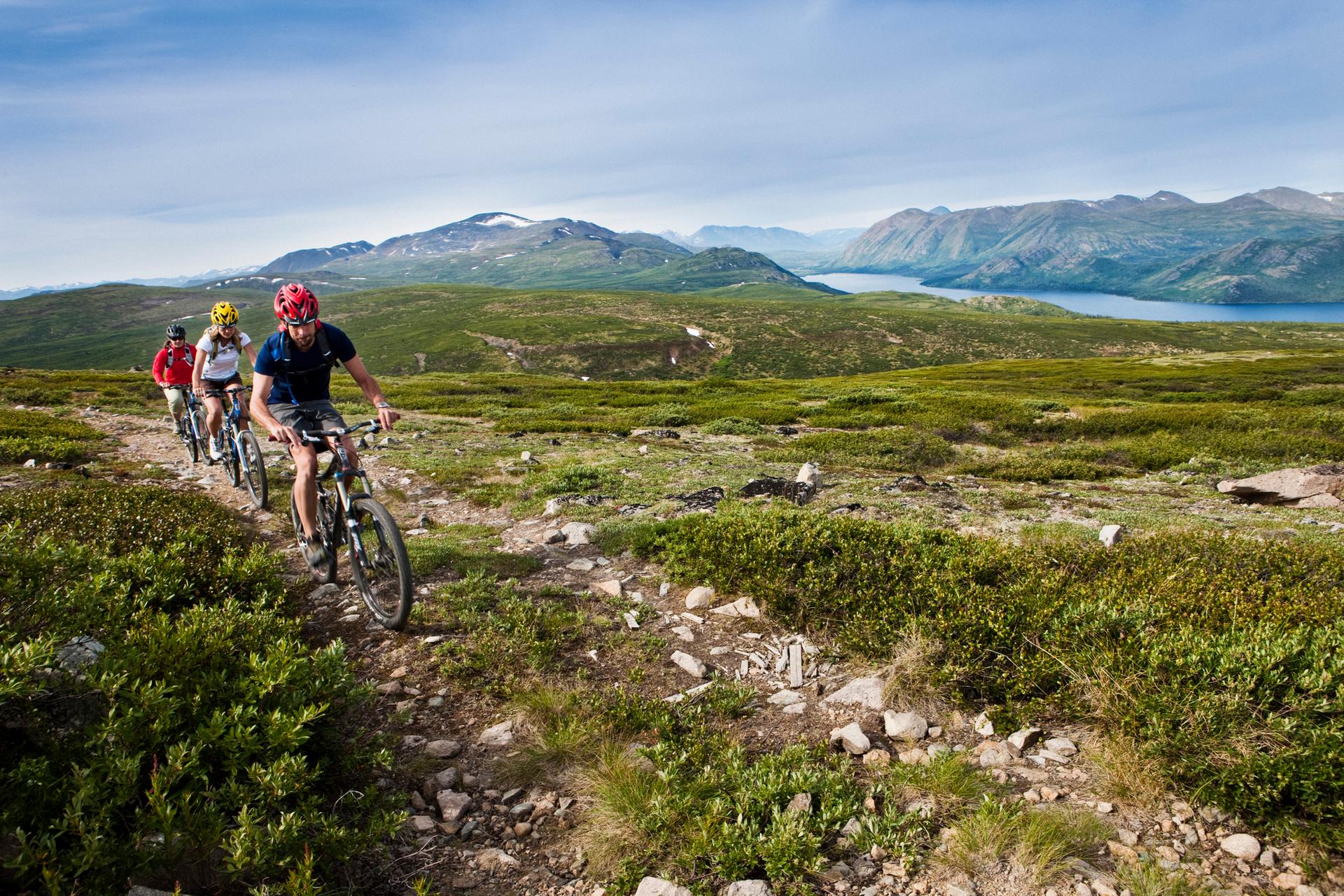 Summer really is endless in Yukon Territory. The seasonal solstice ushers in the Midnight Sun, bringing with it 24 hours of daylight from June to September. After holing up for the winter, work hard-play hard locals take full advantage of all the light and vitamin D -- and you should, too. It's a lot of time to explore the Yukon's varied landscape of dramatic glaciers and valleys, historic rivers and gold mining past, rugged mountains and sand dune-marked desert -- the world's tiniest. There are many adventures to pack into the long summer days. Here are eight of the best ways to experience the Midnight Sun in Yukon.
The Yukon has earned a global reputation for primo single-track riding, and Carcross is the place. Bikers rave about the optimal conditions and wide-open spaces, which often mean you can just cut your own trail. It's pretty much impossible to get lost, too, because you can see for miles. Outside magazine named both Carcross and Whitehorse as 2013's top mountain biking destination in the world. The best rides, the pros say, are Whitehorse's Porcupine Ridge, Cottonwood Trail in Haines Junction/Kluane National Park and Reserve, and volcanic Montana Mountain in Carcross with 25 miles of trails -- look for bearded white mountain goats and woodland caribou and you zoom down into the valley. Plan your own trip or let the guides at Bor?al Explorers take you. This outfitter also leads multi-sport outings. For example,try  paddling, hiking, and biking with a dash of history -- all out of a luxe lodge and yurt basecamp.
Yukon is made for road tripping and the drives are epic. Motor the 1,387-mile Alaska Highway, a strategic WWII route to Alaska, or tackle the Dempster Highway, a rough-to-the-max, 458-mile gravel wilderness road that goes all the way to the Arctic Circle with only one lone stop in the middle. Dempster road trippers are about as likely to see grizzlies as to get a flat tire, so come prepared. Another top journey is the Golden Circle, a 379-mile loop with lots of stops that offers a huge variety of scenery and towns, including a peek at the White Pass & Yukon Route Railroad on the historic Klondike route.
The territorial capital Whitehorse is young, outdoorsy, and fun loving. A community of 25,000, it's filled with friendly folks and plenty of adventurous souls. It's also a historic hub, where the Klondike and Alaska Highways meet. Funky and eclectic, the town has a number of artists, boutiques, and great restaurants. During the day, take in the sights -- the SS Klondike, a 1937 beautifully restored Yukon River stern-wheeler, the world's only log cabin cathedral, the river waterfront, and the MacBride Museum of Yukon History. Then peruse the latest show at Arts Underground and hang out at a funky coffee shop. After dark, catch some live music and sample the beer at upscale Dirty Northern Public House.
Kluane National Park and Reserve is incredible from the summit, but it's ethereal from the sky. Consider a flightseeing adventure in and around the area, especially around Canada's tallest peak, Mount Logan. From thousands of feet up, you can really see how the glaciers carved and swept the area. Several outfitters take guests on air trips above one of Canada's largest national parks, early 14,000 square miles.
The Yukon River is a historic waterway and was the area's key transportation channel. If you like to canoe or kayak, or want to learn how, the Yukon River is a must. There's a reason it's named "great river" in Gwich'in -- and you'll want to find out why. The clear-green river is not too difficult to navigate, and boasts superb wildlife and scenery. A bonus: Learning all about the waterway's Aboriginal heritage and fabled prospecting past. Rent gear from two main outfitters, Up North or Kanoe People, and organize your own paddling adventure. Or take a guided tour ranging from a half-day, full-day, week, or even 20-day sojourn on the water.
Prospectors heading to the Yukon in droves during the 1890's Klondike Gold Rush fueled boomtown Dawson City on the North Klondike Highway. Relive the Wild West days with a cancan show at old-time saloon Diamond Tooth Gertie's Gambling Hall. Play poker, put your chips down on the gaming table, and toss back some spirits. For the brave, there's always the infamous Sourtoe Cocktail, too.
Get into history and culture
There are many opportunities to learn about the Yukon's Gold Rush past at several National Historic Sites in the Dawson City area. There's Dredge No. 4, a huge sluice dredge and one of 25 that once worked the area mining for placer gold, where you can take a tour. Discovery Claim is the spot on Bonanza Creek where three prospectors first struck gold on August 17, 1896. Check out the claim, find out more about the history and $500 million in ore that came from the area, or try gold panning yourself. There's Dawson City Museum and Dawson Historical Complex, a collection of 17 historic buildings downtown -- blacksmith's shop, general store --connected by wooden boardwalks that tell the pioneer, boom town tale. The D?noj? Zho Cultural Centre showcases First Nations culture and traditions of the area, with exhibitions, films, special events and performances, plus a gift shop with handmade  garments, jewelry, and beaded footwear.
Summer in the Yukon is no time to rest. Here are more top things to see and do. You can catch up on sleep when you get home!
Find more vacation ideas at Travel Yukon's website.