5 trendy Toronto neighborhoods you'll want to explore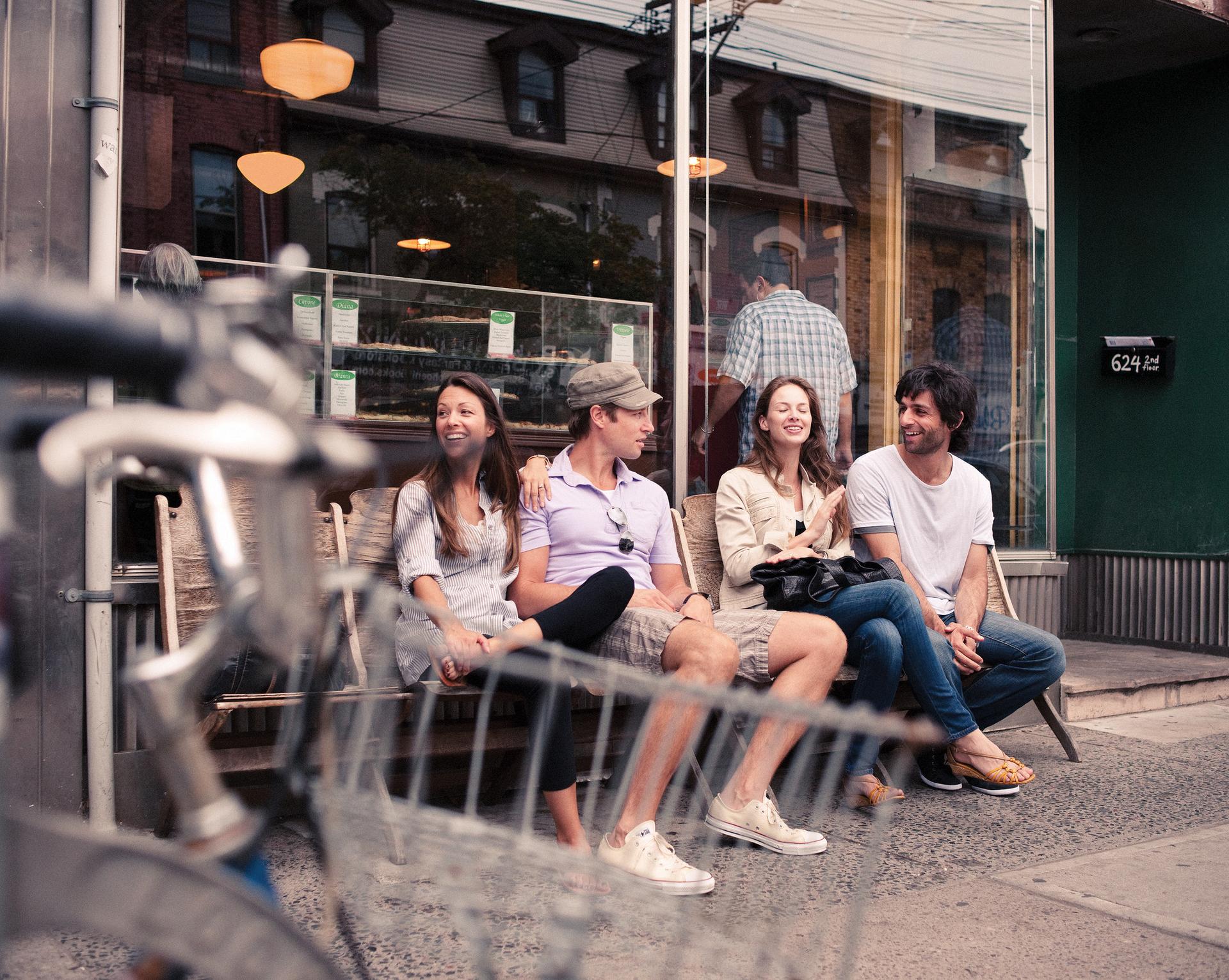 Like every big city, Toronto is a collection of neighborhoods, each with its own style, vibe and scene. You might find yourself in a shopping mecca in the morning, a historic market around lunchtime, and surrounded by popular bars at night.
Here's a look at 5 of Toronto's major neighborhoods and what you might expect out of each.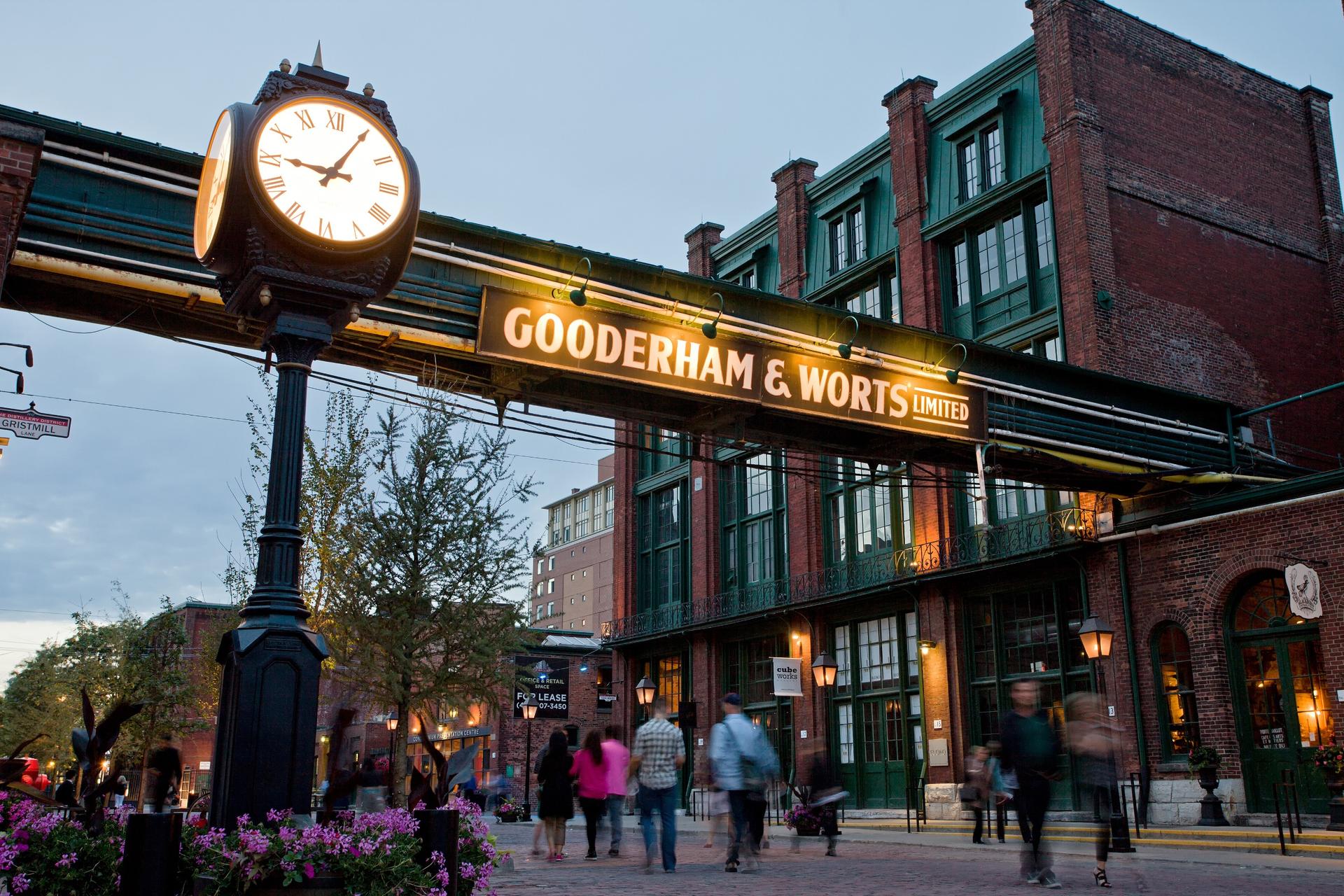 The Distillery Historic District - Credit: Clifton Li
Old Town and the Distillery Historic District
Much of the City of Toronto can be traced back to Old Town. This collection of six neighborhoods has seen a revitalization as trendy shops and restaurants took over space in centuries old buildings.
In Old Town you'll find one of the city's best foodie destinations: the St. Lawrence Market. The market has existed in some form since 1803, and just four years ago National Geographic named it the best in the world. Treat your senses, as you see, smell, and sample fresh produce and cheese, or browse the works of countless local artisans selling souvenirs, clothing, jewelry, and more.
Not far away, pay a visit to the Distillery Historic District, a pedestrian-only village featuring more than heritage buildings that now house everything a modern traveler might enjoy. New fashion can be found in restored, Victorian-era buildings; culinary inventions are hidden behind weathered red brick walls; and art galleries and performance venues host events year-round, ensuring that the old neighborhood is full of life. 
Don't leave Old Town without paying a visit to the Gooderham Building. Widely known as the Flatiron Building, this red-brick, narrow structure stands in stark contrast to the surrounding skyscrapers, making for a great Instagram photo.
The Entertainment District
If you enjoy performing arts, festivals, sports and major attractions, the Toronto Entertainment District is the aptly named place to be.
It's in this neighborhood that you can see celebrities and their fans at the annual Toronto International Film Festival. It's in this neighborhood that you might run into Drake at a Toronto Raptors or Toronto Blue Jays game. It's in this neighborhood that you can spend your days at the city's biggest attractions, from the CN Tower to the Ripley's Aquarium of Canada, and your nights in some of Canada's most popular clubs and bars
There are an infinite amount of ways to spend a day in the Entertainment District. If you don't even know where to start, we'd recommend going for a stroll on Canada's Walk of Fame, stopping at Luckee Restaurant and Bar for renowned chef Susur Lee's modern Chinese food, and then heading to the Yuk Yuk's Comedy Club that helped launch the careers of many Canadian comedians, from Jim Carrey to Howie Mandel. 
Yorkville - Credit: www.torontowide.com
Yorkville + the Annex
Once a hippie neighborhood, Yorkville is now just hip, and is widely known as a fashion district. Sometimes dubbed the "Mink Mile," Bloor Street is lined with designer boutiques where you can shop brands like Tiffany, Chanel, and Herm?s. The fancy stores are straddled by equally fancy dining, all of which make Yorkville a great place to mingle with high society.
It might be surprising, then, to discover that the University of Toronto campus sits right along its border. Since students aren't known to shop luxury boutiques and eat haute cuisine, most spend their time in the adjacent Annex neighborhood.
The Annex's popularity and style are largely driven by the university students that inhabit the neighborhood. Rows of coffee shops, theaters, bookstores, galleries, restaurants and bars are filled day and night with a young, trendy clientele. The neighborhood really comes alive in the summer when patios open up and you can enjoy the weather with your meal.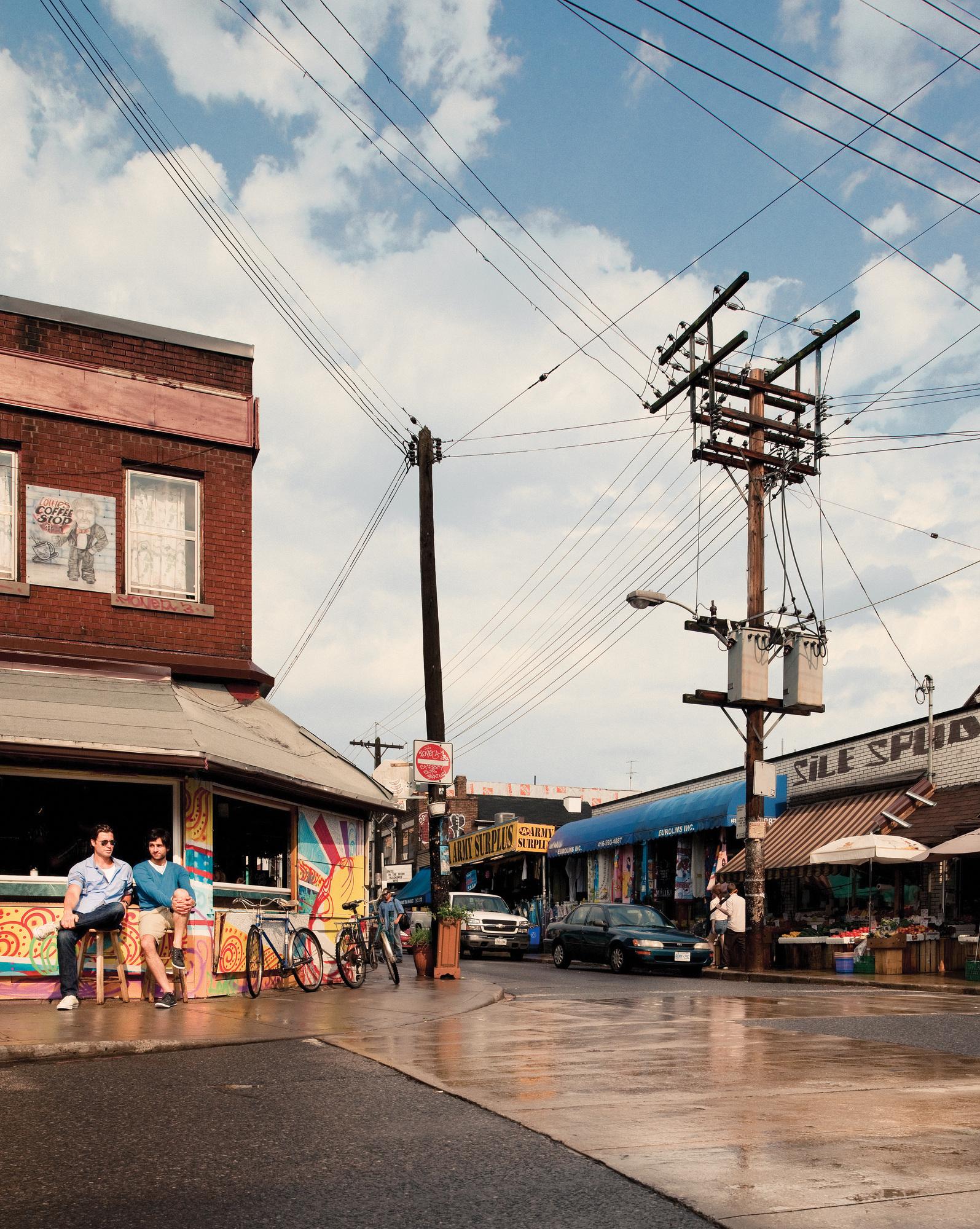 Kensington Market
Chinatown + Kensington Market + AGO District
Kensington Market is an incredible street market that really reflects the wide diversity at the core of Toronto. Caribbean, Latin American, European and Vietnamese immigrants have all found a home in the area over time, each leaving their stamp in a variety of ways. This diversity comes to life in the unreal mixture of restaurants and cafes, the vintage clothing shops and lively market booths.
Just south of Kensington market is Toronto's Chinatown neighborhood, a fantastic place to immerse yourself in the local Asian community. Dine on authentic Chinese, Japanese, Thai and Vietnamese cuisine before browsing the markets for international produce, unique products and souvenirs. If you really want to experience the best of Chinatown, visit during the Chinese New Year when the community comes together to celebrate and dancing dragons roam the streets.
While in the neighborhood, make sure to stop at the Art Gallery of Ontario (AGO), home to a remarkable 90,000 works. This is one of the biggest and best art museums in North America, and is home to the largest collection of Canadian art in the world as well as works from legendary artists like Rubens, Goya, Picasso and Rembrandt.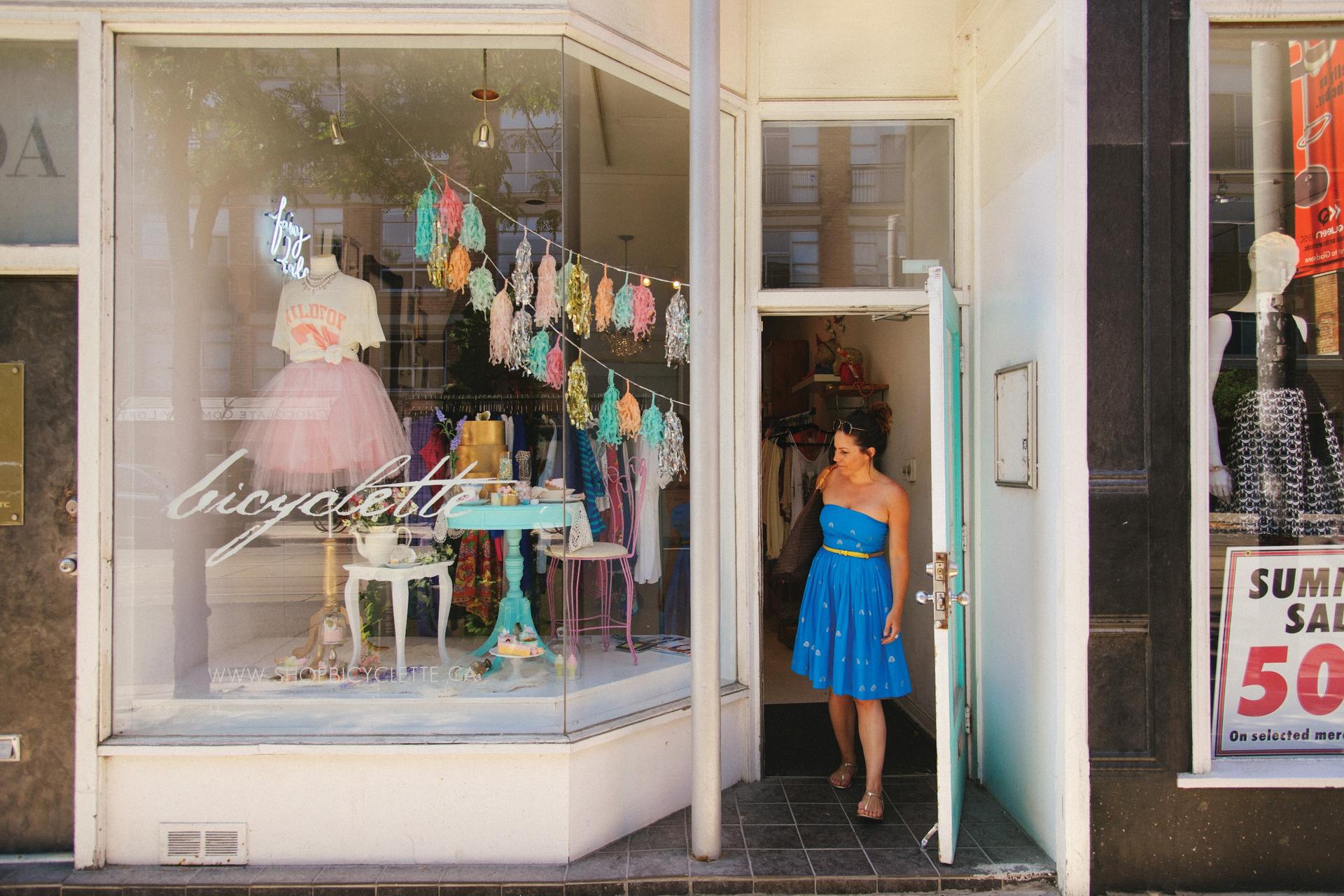 Queen Street West
Queen West + King West + Liberty Village
Queen West is pretty much home to all things cool. It has great shopping, tons of art and design studios, and a variety of live music venues and good eating, all of it set against a backdrop of historic buildings. Walking through the streets you'll stumble upon hidden galleries, drum circles in Trinity Bellwoods Park, 'art hotels' like The Drake, and "Graffiti Alley," the self-explanatory street art hub that might just be the perfect background for your next profile photo. Is it any wonder Vogue named West Queen West one of the coolest neighborhoods in the world?
Fashionistas tend to congregate, which is why nearby King West is also home to some of the best shopping in the city. Housed in what was once the center of Toronto's textile industry, the former industrial buildings of King West have been inhabited by clothing outlets and retailers.
Another former industrial area, Liberty Village is now the popular place to live for Toronto's urban professionals. You can live, eat and drink, all in converted old buildings that used to house factories. The industrial spirit lives on through the neighborhoods latest inhabitants: tech startups, digital agencies and advertising firms. 
These are just a few of Toronto's great neighborhoods. Discover more on the Tourism Toronto website.
These are just a few of Toronto's great neighborhoods. Discover more on the Tourism Toronto website.