5 must-do activities in Lunenburg, Nova Scotia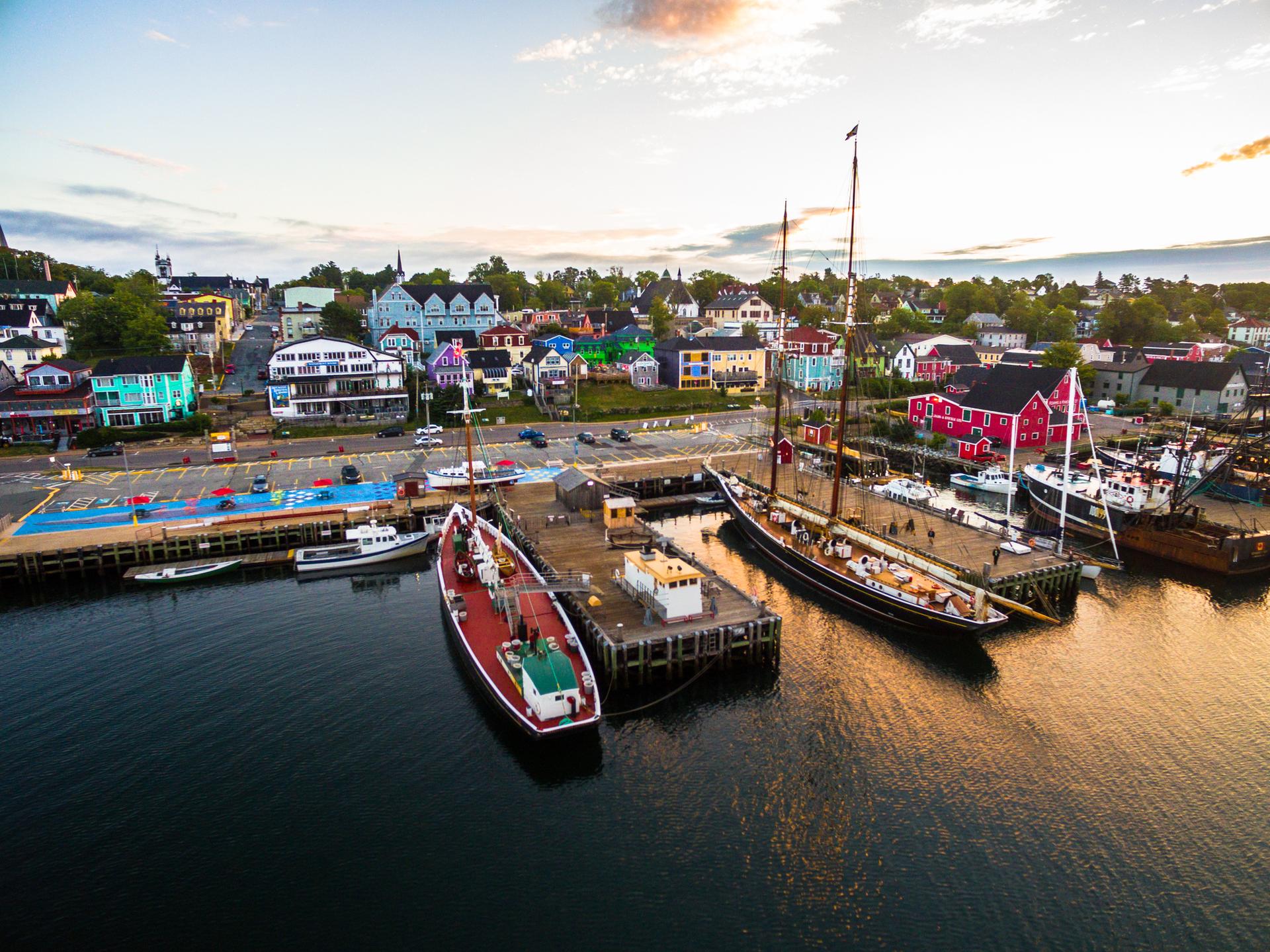 A former rum running and ship building port town, and a UNESCO World Heritage Site, postcard-perfect Lunenburg is a fishing village of brightly painted British Colonial buildings built in the 1750s, about 37 miles from Halifax. Lunenburg is now a charming, walkable town, and a must-stop on any trip to Nova Scotia. Here's what to do when you visit.
Go for a walk
We mentioned it was walkable, so why not start with a walk? Wandering around Lunenburg is an easy way to fill your camera's memory card. From the colorful wooden homes and buildings (painted bright colors so they could be seen from boats on the water), to the magnificent 19th century churches, to the tall ships docked along the waterfront, Lunenburg is not short on sights to see.
Learn as you go with a walking tour to learn more about the town's history, the architecture, and the culture of this community, plus any number of local facts, tidbits, superstitions, and folklore your guide will share along the way. If you like something a little more quirky, you can also take a Haunted Lunenburg tour. You'll risk nightmares as you make your way to Hillcrest Cemetery, listening to stories of ghost sightings and gruesome deaths along the way. Spooky, but very fun.
Eat everything
Seaside towns mean seafood treats, and Lunenburg is the place to fill you belly with the best and freshest the ocean has to offer. In fact, many local restaurants are part of Nova Scotia's Seafood Trails, so you know you'll be getting the best chowders, lobster, oysters, and fish around.  
Go for brunch at the Grand Banker Bar & Grill and try either the lobster or salmon benny. The Hollandaise sauce and eggs somehow make the seafood taste even better. For lunch, visit the South Shore Fish Shack for classic fish and chips you'll think of for years after you leave, as well as other seafood delights. For dinner, opt for oysters and the grilled scallop pasta at Rime Restaurant and Wine Bar. Then end your perfect foodie day with an ice cream cone on the dock.
Finally, if you want to do as the locals do, learn how to shuck scallops or try one of the town's traditional recipes, including Solomon Gundy, Lunenburg Pudding, Lunenburg Sausage, and sauerkraut, and see how it stacks up to the food back home.
Embrace your inner rum runner
With almost 2,500 miles of shoreline, Nova Scotia is home to lots of secret ocean alcoves and hidden ports, Lunenburg included. These secluded spots are thought to have given way to the province's favorite drink: rum.
Nova Scotia became most known for rum running during Prohibition. Instead of just trolling the waters for tuna and salmon, fisherman decided to take it upon themselves to fill the US demand by repurposing their boats to smuggle spirits.
Today, you can relive some of that history by walking or biking the Rum Runner Trail, which runs from Halifax to Lunenburg. Once at your destination, it's time to taste the past at the Ironworks Distillery. Opened in 2009, this distillery uses locally grown produce to make their spirits, which include rum, fruit liqueurs, gin, and vodka. Located in a renovated marine blacksmith's shop dating back to 1893, the ambiance and their spirits and cocktails will transport you to a different time.
Step abroad the Bluenose II
In 1921, a ship called the Bluenose launched from the shores of Lunenburg. That ship would become a world-renowned racing champion, going undefeated for 17 years and cementing its place as a Canadian icon. It even appears on Canadian currency! The legend of the Bluenose is an important part of Nova Scotia's history, and this history is carried on today by the Bluenose II.
This exact replica of the original ship has sailed around the world, but spends most of its time docked in front of the Fisheries Museum of the Atlantic, in Lunenburg. Walk onto the deck of the 150-foot schooner, feel the wind blowing through your hair and its sails, and go for a ride you won't forget. You can even be a deckhand for a day! Then, take some time to explore the museum's floating vessels, aquarium, and exhibit complex. You can even speak with retired fisherman and get a first-hand account of life on the water.
Rub shoulders with artists and artisans
Lunenburg's arts scene is much bigger than you'd expect for a small town. About 10 per cent of the town's businesses are in some way related to the arts. There are at least eight galleries, a number of art and pottery studios, and even a tattoo parlor! As you explore the city, definitely take the time to pop into these locations, meet the people behind the art, and find something you'll be proud to hang on your wall at home.
If you happen to be visiting during the summer, there are also several art events you can enjoy. Artisans and craftsmen share their work during both the Lunenburg Festival of Crafts and the Lunenburg Street Festival & Art Walk in July, alongside musical performances and entertainment. Then, in early August, the Nova Scotia Folk Art Festival takes over the town for a day. Over 1,600 works from 60 participating artists are yours to take in and take home -- for the right price.