What to see and do in Northern Ontario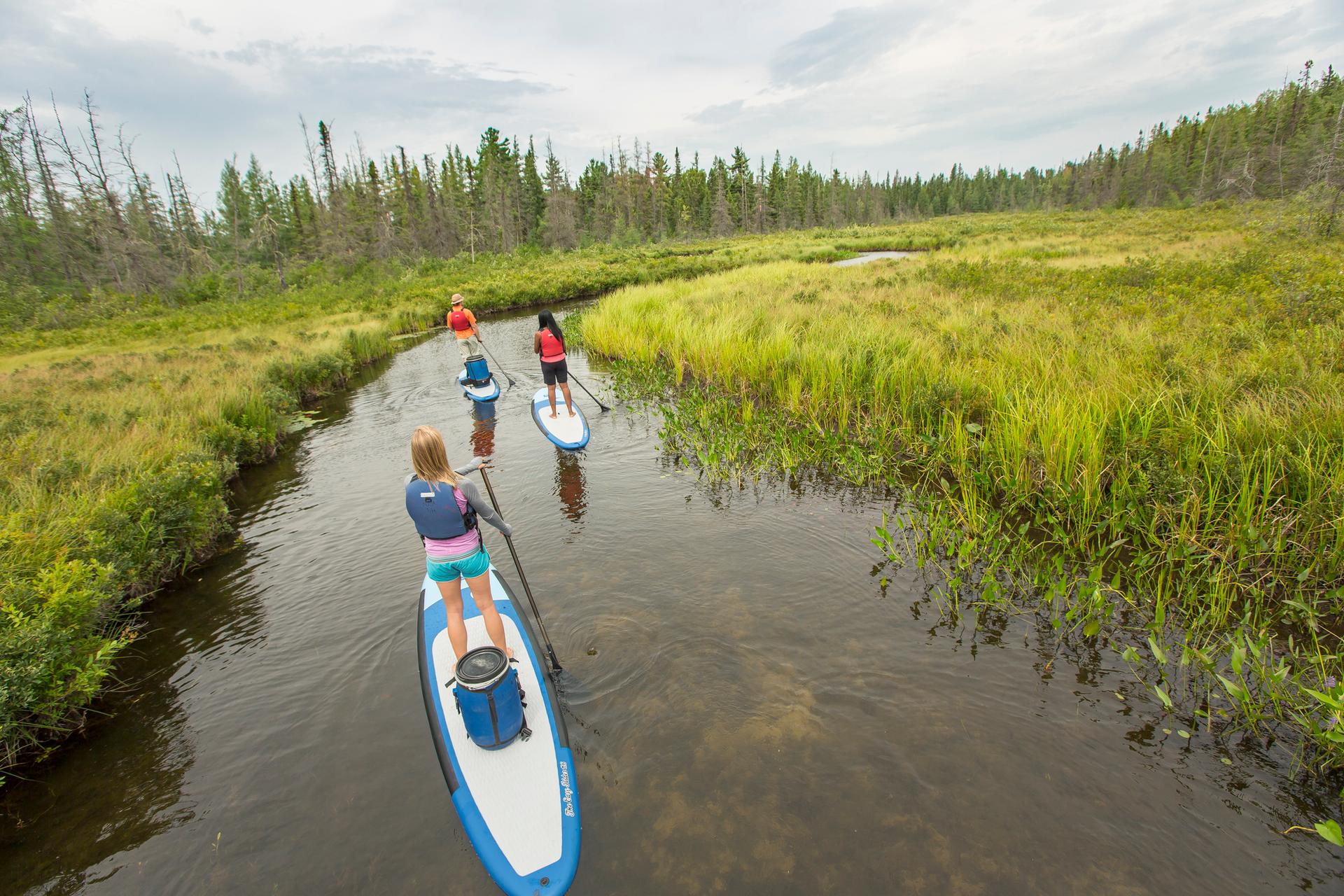 Not familiar with northern Ontario? Neither are most people, but it's a place you'll want to get to know. This sparsely populated region bordered to the north by Hudson Bay and south by the Great Lakes is unspoiled, rugged, and beautiful with some of Earth's oldest rocks in the Canadian Shield outcroppings. It's a global hotspot for brook trout angling, filled with quiet sandy beaches overlooking turquoise waters, close to 250,000 lakes, and thriving Indigenous history and culture. It's also enthusiastically outdoorsy -- in fact, year-round outdoor adventure is a way of life here. Here are the highlights.
World-class trout fishing
Northern Ontario holds the world record for the largest brook trout ever caught -- and that milestone, set back in 1915, still holds. Join other anglers vying to reel in the big one on that same river, the Nipigon near Thunder Bay. Camp and fish near the Shakespeare or Kelvin Islands. Other top places to catch "Brookies" are Lake Superior, the Winisk River north of Hudson Bay, or one of Algonquin Park's 1,500 lakes, especially the remote ones.
Secluded and gorgeous best describe the beaches bordering Lake Superior in northern Ontario. Surrounded by cliffs, Sandy Beach is just that, plus it has standout views and is 10 minutes from the Wawa Goose Monument. Hike to nearby waterfalls, stroll the boardwalk, read the pavilion info on the area's Aboriginal history, swim, and sunbathe. Swim at sleepy inland Rock Lake, near historic Bruce Mines flanked by pretty farmland, or picnic on the fine sand near the green-blue water of Katherine Cove in Lake Superior Provincial Park, also near the Agawa Rock Pictographs Trails.
Not only do the Agawa Rock Pictographs Trails involve a memorable hike descending through boulders and rock chasms, it's a sacred Ojibwe site in what some say is one of the province's best protected spaces, Lake Superior Provincial Park north of Sault Ste. Marie. The one-hour loop trail takes you along the base of a sheer 98-foot-high cliff ledge overlooking one of the planet's largest lakes. The rock face is adorned with 17th century Indigenous paintings, scarlet depictions of caribou, bears, and canoes. It's one of the largest collections of its kind in Ontario and Canada's most famous. Visit May to September and when the lake is calm.
Indigenous culture on Manitoulin Island
Crystal-clear lakes, fresh air, a slow place -- Manitoulin Island is a magical place that feels lost in time. The name means "Spirit Island" in Ojibwe and visitors go to get away from it all and learn about authentic Indigenous culture. The town Manitowaning is the first European settlement and the Wikwemikong First Nation's land remains Canada's only unceded reserve. In Lake Huron, this is the world's largest freshwater island with hundreds of inland lakes. Cross-country ski and ice fish in winter; cycle and hike through craggy white quartzite rocks in summer. A highlight is a tour with Great Spirit Circle Trail to get to know the Anishinawbek people. Join a sunset canoe voyage, watch a traditional song and dance performance, and take a torch or drum making workshop. Another must is picnicking above the dramatic ribbons of water cascading down Bridal Veil Falls near Kagawong. Don't be surprised if the only human you see for miles is you.
Moose spotting in Algonquin Provincial Park
Take a three- or four-day photo safari with Voyageur Quest in iconic Algonquin Provincial Park. Your objective? Moose. Professional photographer and experienced outdoor guide Rob Stimpson leads guests to his secret spots around this vast, quintessentially Canadian 2,955-square-mile park. You're likely to see not one, but 10 or more of the foraging giants during this backcountry cabin camping and canoeing adventure. You're likely to see tons of other wildlife, too.
Polar Bear Express train adventure
Ride the Polar Bear Express from Cochrane to Moosonee with locals in summer to experience the remote northern wilderness. You'll chug past an enormous hydro dam, wild rivers, and muskeg, taking you to Moosonee, the Arctic gateway town on the Moose River near James Bay, accessible only by the train or air. A big draw is the mostly Cree Moose Factory Island, among Ontario's oldest English settlements and home to the legendary Hudson's Bay Company now a museum in the 1673 building). The other attraction is outdoor adventure: Wildlife including caribou, seals, and belugas, fishing, camping, and canoeing. Venture out on your own or take a Moose River Tours guided expedition.  
Because of its northern, far-flung location and scant ambient light, Moose Factory Island is also a prime location to catch a vibrant Northern Lights show. Another top spot is Gordon's Park Eco Resort on Manitoulin Island, which hosts lots of fun aurora events, like the Laser Guided Sky Tour and Dark Side of the Moon Party. Keep in mind a few tips on how to record it and prepare to maximize your chances of a spectacular display.
The region's biggest city Thunder Bay is on the northern shore of the world's largest freshwater body, Lake Superior. Understandably, this is the place to get out on the water and explore, and the area has hundreds of volcanic islands, too. Learn to sail, rent a sailboat, or hire someone to take you out. Add in some kayaking, hiking, single track riding, hunting, or flightseeing. Other top to-dos include fly fishing on the Nipigon River, or in winter, skiing, snow shoeing, dog sledding, and ice climbing.
Pukaskwa National Park is famed for its beautiful views of boreal forest, vast Lake Superior, and delightfully undeveloped Great Lakes shoreline -- the longest stretch, in fact, at 1,118 square miles. Look for moose, lynx, timber wolves, peregrine falcons, and black bears as you tackle the 37-mile Pukaskwa Coastal Trail, one of Canada's toughest, crossing the dramatic White River Suspension Bridge over Chigamiwinigum Falls. It's rough, remote, rugged backcountry, so consider hiring an experienced guide such as Naturally Superior Adventures for the five-day backpack.
If you're looking for unspoiled adventure way off the beaten path, northern Ontario is your destination, ideal for canoeing and camping. All you need to do is narrow it down to which one.
Plan your journey at the Ontario Travel website.