Marvel at Nunavut's spring caribou migration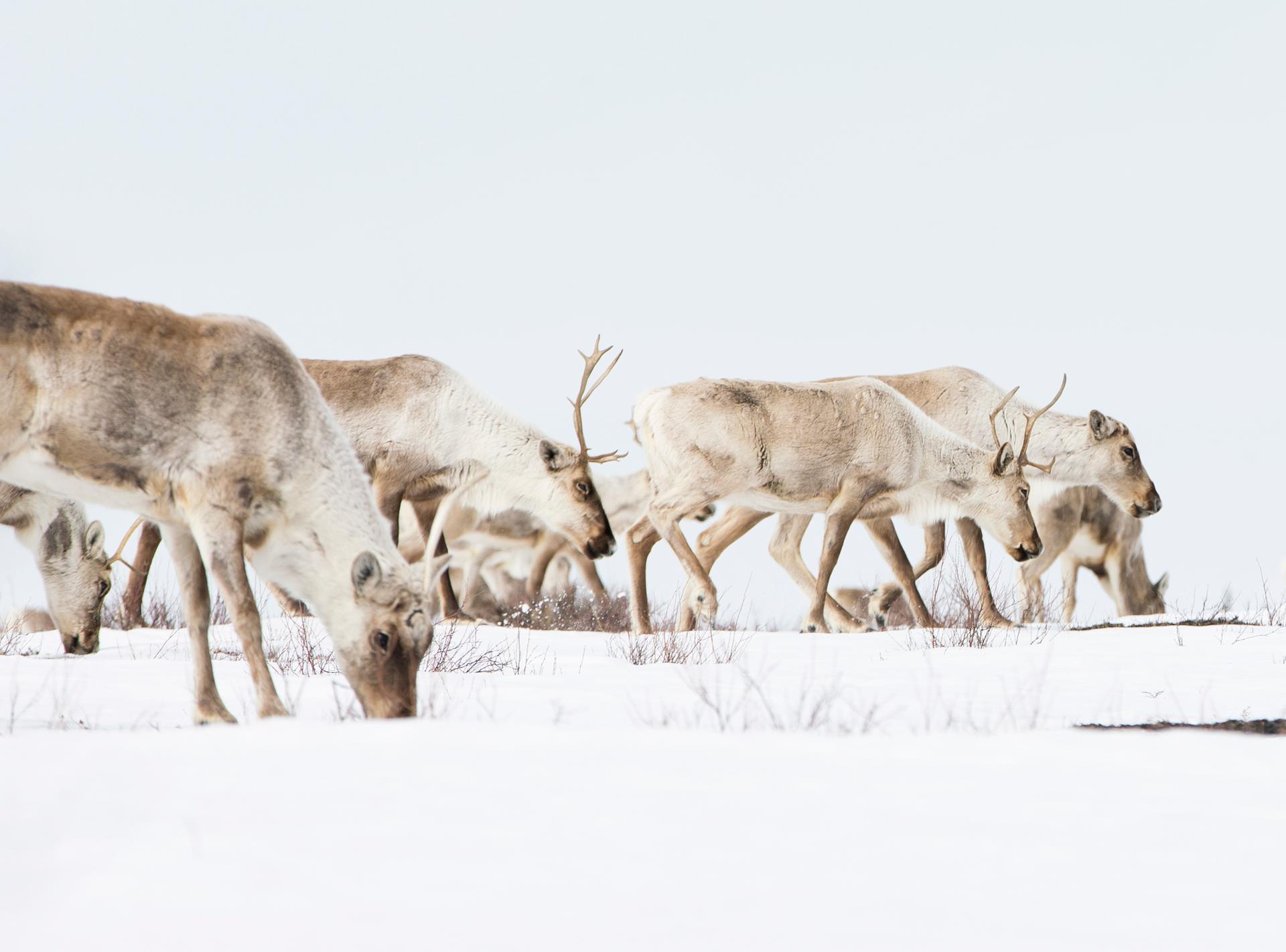 Want a wildlife experience on a scale you've never seen? Witness hundreds of thousands of caribou on their annual spring migration, flowing past your five-star wilderness resort. You'll feel like the caribou are brushing just past you as you sit and watch the magnificence of the migration.
Spring is the perfect time to visit Arctic Haven Wilderness Lodge on Ennadai Lake, Nunavut. Photograph the Barren Grounds Arctic tree line as it comes to life with the 300,000+ strong Qamanirjuaq caribou herd gathering for migration.
Over 300,000 caribou migrate past the Arctic Haven Wilderness Lodge each spring. - Credit: Nansen Weber
Being surrounded by a herd of migrating caribou will overwhelm and captivate your senses; you will feel the earth shake as the herd passes while the temperature perceptively increases from the body heat of thousands of animals, the sounds of hoof steps and snuffling animals will fill your ears, and the sight of so many animals moving together will trick you into thinking the tundra itself is on the move. It is a life-altering experience.
The migration usually starts at some point between the last week of April and the second week of May. The timing of the migration is tied to the spring melt and the first bloom of lichen, essential to the caribou diet. Local outfitters will share their knowledge of migration routes that measure in the hundreds of kilometers and of the importance of caribou, both to the land and to the people. 
Being surrounded by a herd of migrating caribou will overwhelm and captivate your senses. - Credit: Arctic Haven Wilderness Lodge/Nansen Weber
Ice fish, kite-ski, or take a one-hour flying tour of Ennadai and the surrounding area to look for wildlife and survey the landscape from above. Spring on the Barren Grounds Arctic tree line is alive with not only caribou, but also wolverines, bears, and wolves. The conditions are great for enjoying outdoors activities like cross country skiing, bicycling, and snowmobile or ATV rides. For a truly northern experience, you can try your hand at mushing a dog sled team.
In the evenings, enjoy a culinary feast inspired by locally-sourced ingredients, relax in the wood fired sauna by the lake, and gaze up at the spectacular dancing Northern Lights above. At 60° north, Northern Lights remain visible until the end of April at Arctic Haven Wilderness Lodge.