A sports fan's quick guide to Canada
Americans and Canadians share a lot of things, and a love of sports is probably at the top of the list. There's just something about being in the stands, surrounded by cheering people, as athletes lay it all on the line, that makes any getaway more memorable.
Across Canada, there are tons of professional sports teams whose athletes and fans put on a show any visitor will enjoy. We've created a quick sports fan's guide to Canada, so you can make the most of your time in the country.
Hockey
Hockey is Canada's sport. As a nation, we tend to live and breathe the sport from October until (fingers crossed) June, with the occasional summer hockey in between. With so much passion for the game, the atmosphere at a National Hockey League game in any Canadian city is incredible; you really have to experience it for yourself.
There are seven NHL teams in Canada:
Montreal Canadiens
Vancouver Canucks
Winnipeg Jets
Edmonton Oilers
Calgary Flames
Ottawa Senators
Toronto Maple Leafs
If you don't know much about hockey and want to learn a bit about the game before spending your money on big league tickets, there are also several minor leagues across the country that showcase rising talents. The Canadian Hockey League, the American Hockey League, and the Canadian Women's Hockey League all play games in Canada, and offer a cheaper way to enjoy the game in the midst of dedicated fans.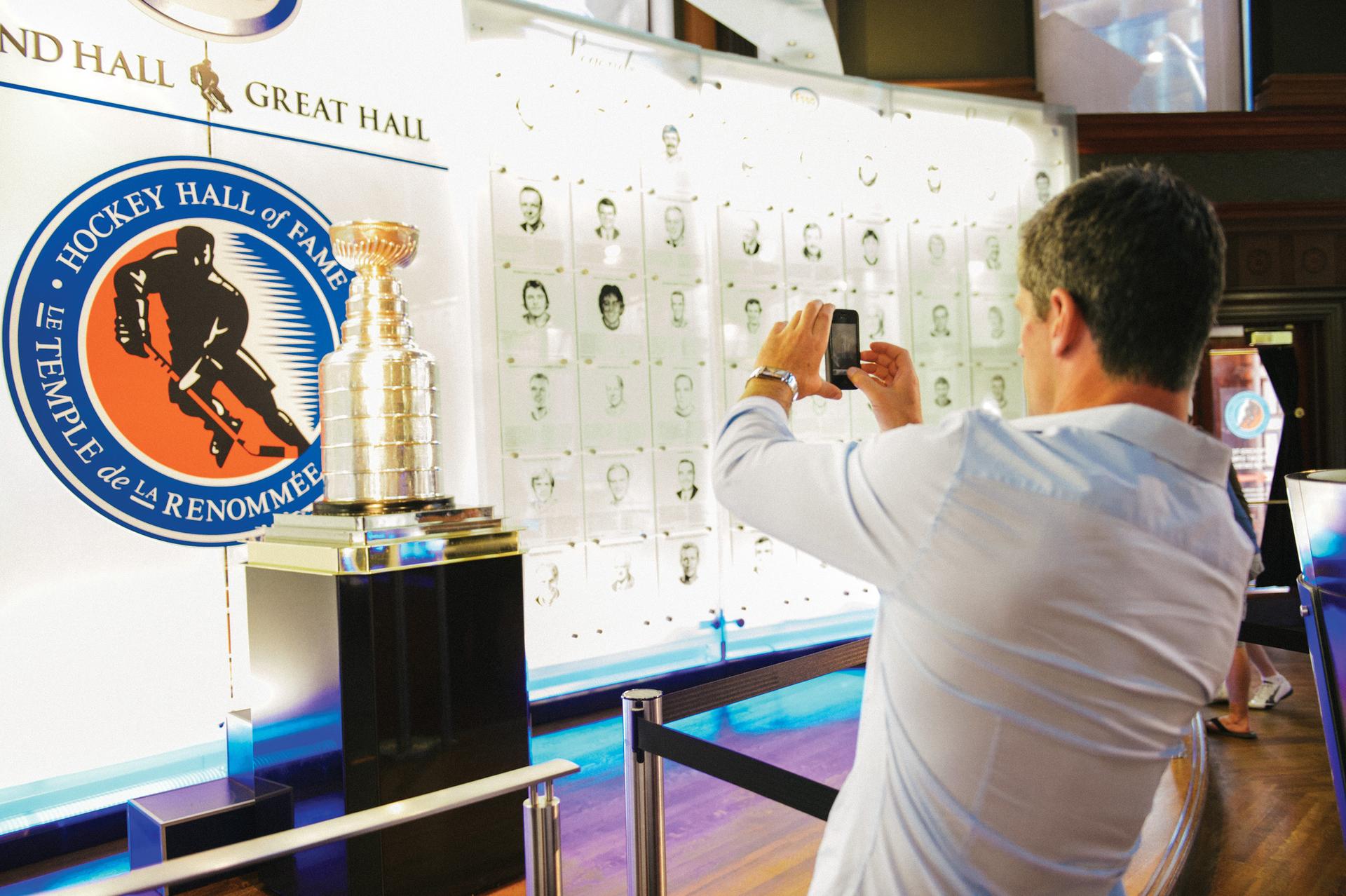 The Hockey Hall of Fame
Also, while in Toronto, stop in at the Hockey Hall of Fame. Some 65,000 square feet are filled to the brim with artifacts, mementos and relics straight from the rink. Learn about the 388 members inducted into the Hall of Fame, and see the sticks, gloves, pucks, and even nets from some of the greatest games ever played. Test your shooting and goalie skills with state-of-the-art games, see if you could make it as a play-by-play commentator, and grab a seat in a replica NHL dressing room. And, most important of all, touch the actual Stanley Cup.
Basketball
Toronto is Canada's biggest city and has the biggest variety of professional sports teams. The Toronto Raptors, as most basketball fans are aware, are the only NBA team based in Canada (RIP Vancouver Grizzlies). As the only team, they have the weight of an entire country of basketball lovers behind them.
Led by the likes of DeMar DeRozan and Kyle Lowry, the Raptors represent Canada's hoop dreams year after year. On any visit to the 6, you'll want to stop in at the Air Canada Centre, rub shoulders with Drake, and take in a game. We the North.
Baseball
Toronto is also home to Canada's only professional baseball team (for now...). The Blue Jays are the stars of the show, and the city explodes when the playoffs come around. The Rogers Centre is an amazing place to chow down on a hotdog, do the seventh inning stretch, and generally take in some amazing baseball. In the words of Marcus Stroman, "Toronto is a baseball city," so definitely bring your glove when visiting. 
Canadian football
What's the difference between Canadian and American football? A better question might be "what do they actually have in common?"
Canadian football uses a different ball, a longer field, a bigger team, and fewer downs, creating a game with a different feel altogether. That being said, any football fan will feel right at home in the stands at a CFL game, surrounded by cheering, jersey-adorned fans with painted faces.
There are nine cities in Canada with CFL teams, so you're never too far away from enjoying a great football game. The teams are:
Hamilton Tiger-Cats
Ottawa Redblacks
Montreal Alouettes
Toronto Argonauts
BC Lions
Saskatchewan Roughriders
Calgary Stampeders
Winnipeg Blue Bombers
Edmonton Eskimos
Try out Canadian football and see what you think!
Soccer
The popularity of soccer continues to grow throughout North America, and is put on full display at Major League Soccer matches.
Canada has three MLS teams:
The Montreal Impact
Toronto FC
Vancouver Whitecaps FC
Each of these teams has an extremely loyal following. Walk through the streets around the soccer stadiums in any of these cities on game day and get caught up in the cheering, singing crowds for an unforgettable experience.
Other sports
There are a number of other professional sports you can enjoy while in Canada. This includes lacrosse, rugby, and any number of Olympic sports, many of which host international competitions in the country.
While on the topic, across Canada, many former Olympic venues are yours to explore and enjoy. Visit the Olympic Stadium in Montreal, Whistler in British Columbia, or WinSport at Canada Olympic Park in Calgary to learn more about Canada's three Olympic Games, and to experience the very same venues where the best athletes in the world earned their gold medals. And don't leave Calgary without stopping in at Canada's Sports Hall of Fame to learn more about the country's sports icons.