Québec City's hottest winter events
Baby it's cold outside, but that's no reason to stay in. Québec City comes alive in the winter, with festivals and attractions that will make you forget all about the weather. Whether it's watching people fly down a track on skates or going to bed in a structure of ice, the city's hottest winter events will leave you all warm and fuzzy.
Carnaval de Québec - Credit: Frederic Lavoie
The Qu?bec Winter Carnival
Ice carving, dogsled races and maple syrup are all key elements of the world's largest winter celebration: the Qu?bec Winter Carnival.
The carnival comprises 17 days of non-stop festivities. Feel the excitement as canoes race across the ice-choked St. Lawrence River and back. Watch artists from 30 international teams compete in creating giant, fantastical sculptures from a remarkable 360 tons of ice. Stare in wonder as a dogsled race winds through the narrow, snowy streets of the Old City.
Or, if you'd rather, just keep it casual on a carriage ride through cobblestone streets. Listen to fiddle music to keep warm outside a towering palace made of ice. Smell the sugary aroma of warm maple syrup and stop in for a sample. Skate in the shadow of the ramparts of the only walled city north of Mexico. Then stroll streets lit by Victorian lamps before dining in a cozy gourmet restaurant on local Qu?bec cuisine.
The Qu?bec Winter Carnival is big enough that there's always some new experience to try. So put on your toque and come get a furry bear hug from mascot Bonhomme Carnaval.
Jamboree
Jamboree is a huge snowboard and skiing festival that takes place right in downtown Qu?bec City. You can literally walk a few blocks from your hotel and come across massive snow jumps that have been built alongside of the highway.
The highlight of Jamboree is the Big Air World Cup, during which some of the world's best riders try and perform groundbreaking tricks high above the crowd. Even if snowboarding isn't your thing, you can join in on the partying. This past year, Jamboree hosted Igloofest, a one night outdoor dance party during which spectators don crazy winter outfits and dance the night away outdoors.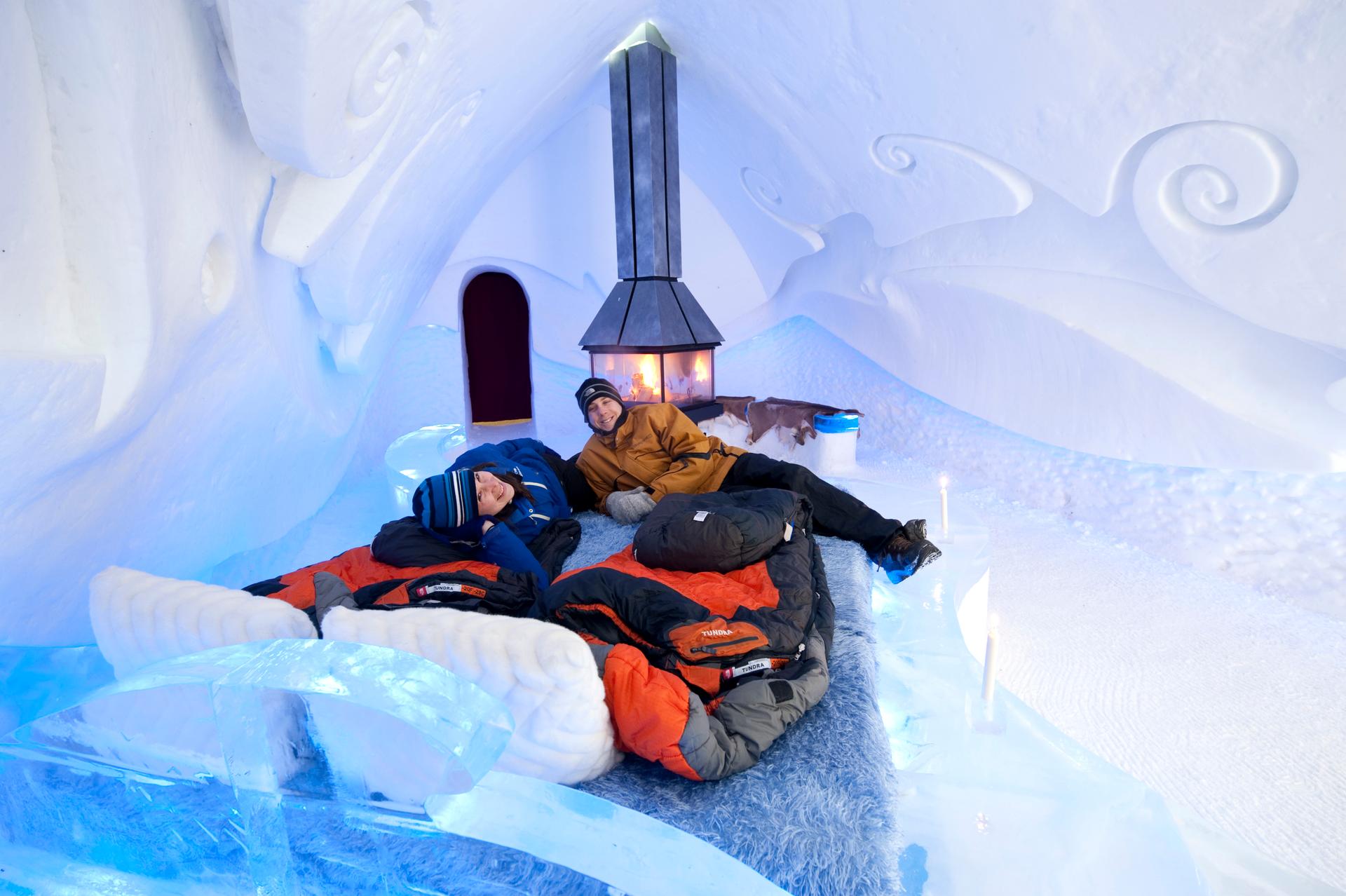 Québec City's Ice Hotel
Ice Hotel (H?tel de Glace)
Sleeping on ice takes on a new, much more positive meaning at the fairytale-esque H?tel de Glace. Located just steps from downtown Qu?bec City, this is the only ice hotel in North America, and has provided guests with the story of a lifetime for the last 15 years. An astounding 15,000 tons of snow and 500,000 tons of ice are used to make the hotel and its 44 theme rooms and suites.
Step inside what feels like a glacier and marvel at a majestic lobby where statues, columns, even chandeliers are made of ice. Slip on a glove to pick up an ice champagne flute sparkling with ice cider. Spend an hour in the outdoor spas and sauna, and then head to your room where the walls are ice, the ceiling is ice, and, yes, the bed is also ice. Thankfully, you can cozy up in front of your room's fireplace, and not worry too much about the cold.
Even if you're going to have to layer up to stay warm, there really is no other experience quite like a night in the Ice Hotel. Between January and March, drop by for a visit or spend a night in this work of art.
Festi Lumi?re
It really doesn't feel like the holidays until those colored lights start shining. Festi Lumi?re takes care of that in extreme fashion.
This light festival, hosted by the Qu?bec Aquarium, uses more than 500,000 lights to create a magical display among trees and sculpture. You'll walk along an outdoor path through "the Enchanted Forest," gazing at so many reds, greens, blues and yellows that you'll forget that it's nighttime. The Festi Lumi?re also has an outdoor bar, fire pits to keep you warm, and music to get you dancing. A great, casual event to enjoy a winter night in Qu?bec City.
Québec City German Christmas Market - credit: Genevieve Roussel
Qu?bec City's German Christmas Market
A little taste of Germany right at city hall? That's what on the menu at the annual Qu?bec City German Christmas Market.
A small village of wooden kiosks appears outside of city hall, the entire area covered in Christmas decorations and lights. As you walk through the market you'll smell bratwurst cooking, you'll taste mulled wine and gingerbread, you'll head choral singing as you browse a variety of Christmas-themed gifts and souvenirs. Stop for a drink at the Lufthansa WinterBar and don't forget to say hello to the man in the big red suit. The entire event is "exquisitely European."
Learn more about these and other exciting events on the Québec City Tourism Website.
Learn more about these and other exciting events on the Québec City Tourism Website.