A 7-day driving tour of beautiful Gaspé, Québec
With its French heritage, old-world architecture, and spirited people, the province of Quebec often draws comparisons to Europe. Start your immersion in this French-Canadian part of Canada in Quebec City, the province's capital. While it's tempting to stay in the city, you'd be missing out on the jaw-dropping scenery and solitude that exemplifies the Gasp? peninsula, a 155-mile-long stretch of land framed by the Gulf of St. Lawrence.
What does this drive look like?
After discovering Quebec City, North America's cradle of French civilization that's overflowing with to-die-for cuisine and fascinating history and culture, you'll drive east on coastal Highway 132 for the start of a scenic tour that will fuel all your senses.
When you reach Parc National du Bic it's all about wildlife and getting your blood pumping, whether you're hiking and seal-spotting in summer or snowshoeing the trails in winter. Then continue communing with nature in Gasp?sie National Park, which is celebrated for its local caribou.
Indulge in the traditional Quebec and

Gaspésie

culinary scene in and around

Sainte-Anne-des-Monts

. Go dog sledding in winter and continue east to "land's end" to learn about

Mi'gmaq

culture in

Gaspé

city before chilling at

Carleton-sur-Mer's

beaches and micro-brewery.
Take a different route back to Kamouraska and Quebec City, leaving time to explore the scenery surrounding

Témiscouata

Lake, another natural treasure.
There's no shortage of places to see along Route 132, as evidenced by the celebrated Gasp?sie Tour that traces the peninsula for 790 miles. But with so many islands, parks, historic sites, and eateries from which to choose, here's a more compact itinerary for your trip from Quebec City along the coast.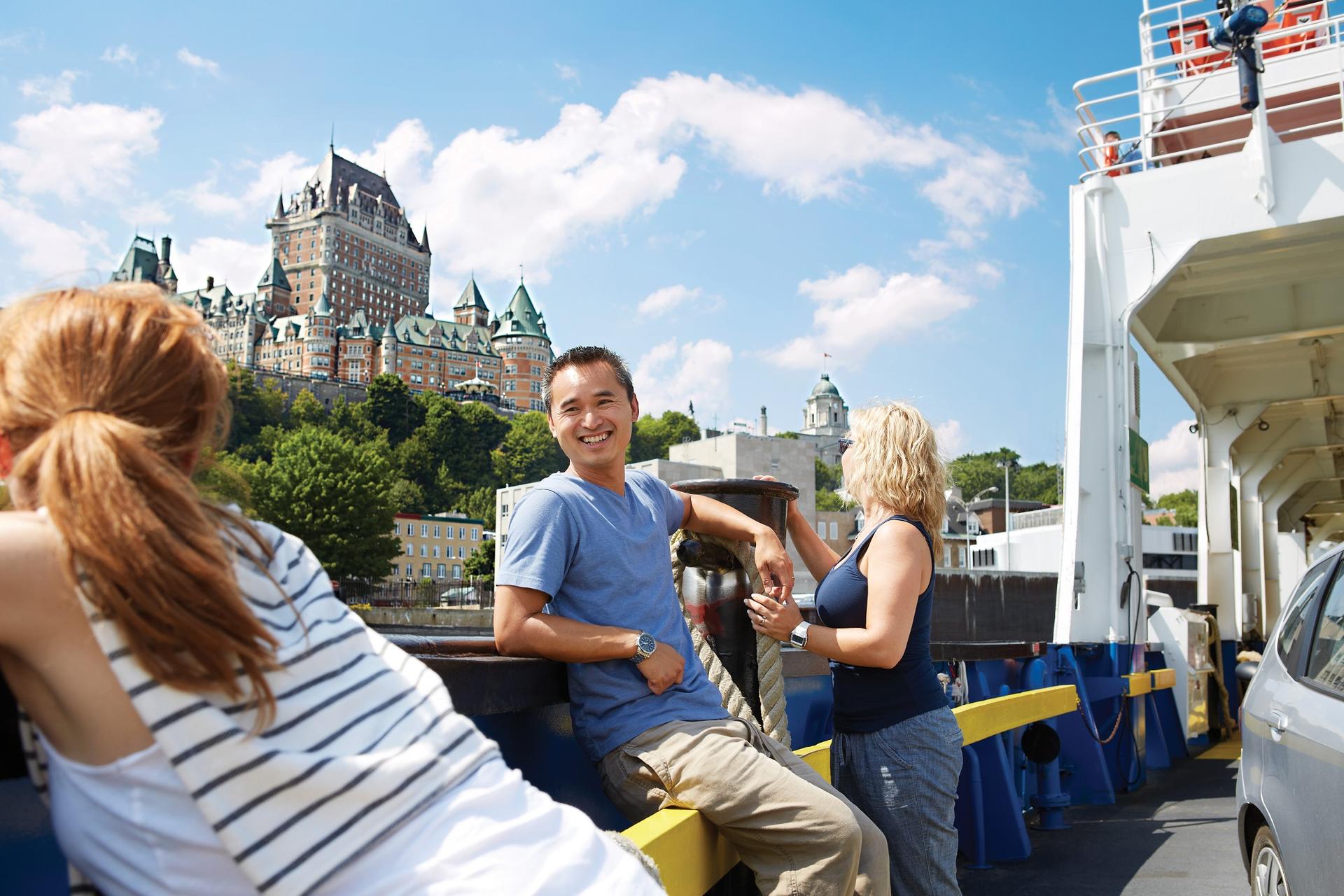 Fairmont Le Château Frontenac
Day 1: Quebec City
Your starting point
Must-stops along the way
With its deep history, UNESCO World Heritage Site status, and heady mix of cultures and award-winning restaurants, Quebec City is practically surreal. But this fortified provincial capital (it's the only walled city north of Mexico) is decidedly down-to-earth. Founded in 1608, it maintains a festive atmosphere year-round, with easily-accessible sights that give you a glimpse into this exceptional city that's a destination like no other.
Mus?e National des Beaux-Arts du Quebec: Ready to learn a little about Quebec's captivating history and emerging future? Get a primer by browsing the collections of early and contemporary art at the National Museum of Fine Arts of Qu?bec. The museum possesses nearly 40,000 works! Before you visit, explore the collections online. You can even save your favorites, then seek them out when you arrive.
Quartier Petit-Champlain: One of the best ways to discover the essence of a city is to wander its streets. Discovering the Petit-Champlain District's cobbled streets, fashionable boutiques, and age-old architecture doesn't require a plan; simply get lost and see what you find. Make a point of getting get there via the old 1879 funicular (it was revamped in 1998) and marvel at the city views as you ascend.
Changing of the Guard: No, you're not at Buckingham Palace. But this ceremony that's held at the Citadelle (a National Historic Site) was indeed inspired by London's daily tradition. Your spine is sure to tingle as you watch the Royal 22e R?giment's soldiers wearing their signature red attire and bearskin hats perform this colorful military tradition.
Eat
Quebec City is arguably a hotbed of quintessentially Canadian cuisine. Start off with a light bite and then dig deep into traditional game meats and more
Cantook: Since 1982 this cafe has been dedicated to roasting and brewing the best beans it can put into your cup, whether a cold brew or steaming latte. Hunker down in the hipster surroundings with a pastry and your java of choice and ponder the inspiration behind the cafe's name, which comes from the French word for a tool used by lumberjacks. 
Aux Anciens Canadiens: Built from 1675-1676, historic Maison Jacquet in Quebec City is the province's oldest house. It's a fitting place for this restaurant where you can take a big bite of Quebec's traditional cuisine. Expect hearty game dishes such as bison tenderloin and poutine of pig's knuckle, plus desserts like maple syrup pie.
End your day
Finish off a day of discovery by shopping for gourmet goods and sleeping in a castle.
At L'?picerie J.A. Moisan, the oldest grocery store in North America, find delectable items like Quebec cheeses and craft beer, soaps, spices, and teas. Upstairs, the former apartments have been converted into L'Auberge, an inn with four guest rooms that each ooze Victorian charm.
Fairmont Le Ch?teau Frontenac: It was already the world's most photographed hotel, but now this regal edifice's crown gleams even more, thanks to a multimillion renaissance project undertaken in 2018. Splurge and stay a night or two in this castle-esque National Historic Site secluded behind Old Quebec's walls overlooking the St. Lawrence River. You'll be in good company: since it opened in 1893, the hotel has hosted luminaries such as Queen Elizabeth, Alfred Hitchcock, and Charles Lindbergh.
Day 2: Rimouski
Total drive time: 4.5 hours
Must-stops along the way
Leave the buzz of the city behind for the sanctitude of forest and sea
Parc National du Bic: During summer and early fall, keep your eyes peeled for grey and harbour seals that haul out on the St. Lawrence Estuary's rocks. In winter, cross-country ski, snowshoe, or hike the network of trails, stopping in at a warming hut to catch your breath and soak up views of the stark yet stunning surroundings.
Eat
Fuel up on Gasp? cuisine and Quebec cider.
Le Crepe Chignon: You'll find French faves like escargot and egg pots at this restaurant in Rimouski, but as its name implies, people come here for the sweet and savory crepes. For breakfast try Crack Sur Moi, a crew made with lamb sausage, apple, and Emmental cheese, with a fried egg on top. Dropping by for lunch? Be sure to sample a glass of Quebec cider and have maple-sugar crepe for dessert.
End your day
The coast's endless views continue when you check into a waterfront hotel.
Hotel Saint-Germain: The sleek and spacious rooms overlooking the water in Rimouski offer amenities galore. Creature comforts include like in-room coffee makers (or order up continental breakfast), a gym, and even a co-working space so you can sneak in a little work or exercise while on the road.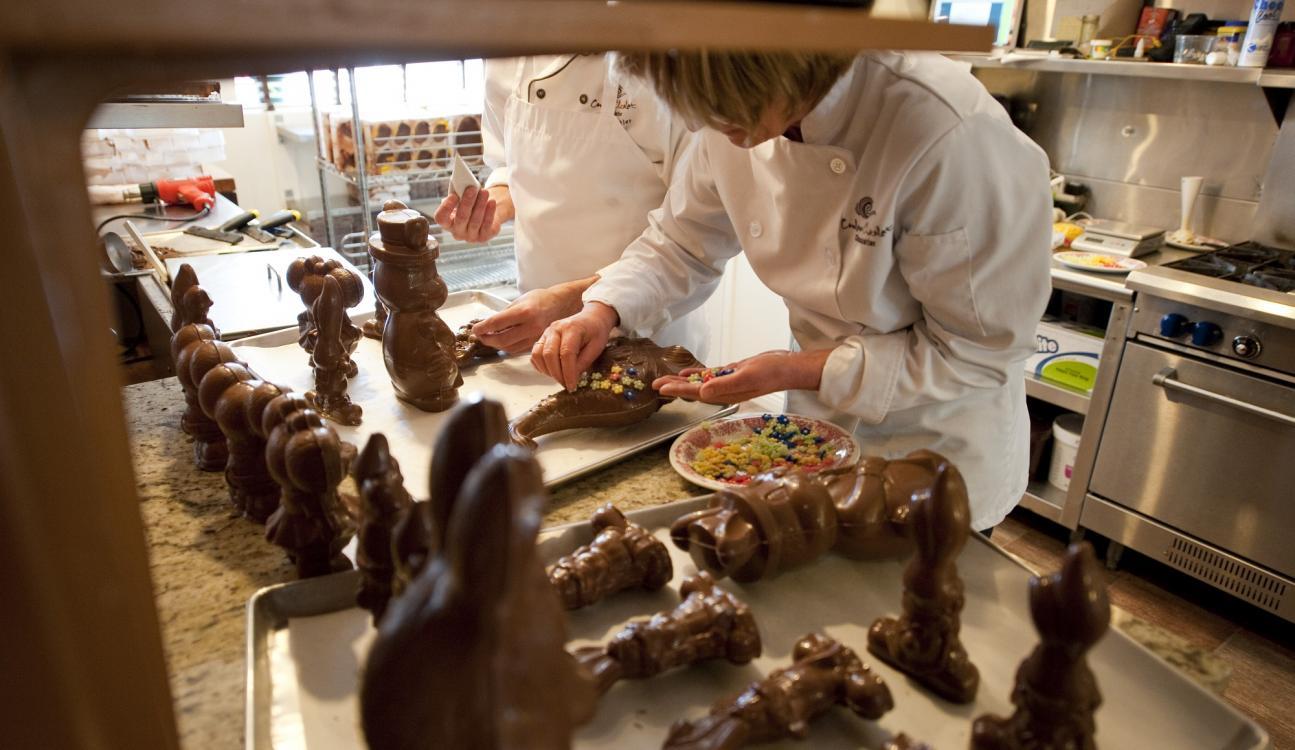 Couleur Chocolat in Sainte-Anne-des-Monts
Day 3: Sainte-Anne-des-Monts
Total drive time: 3 hours
Must-stops along the way
Get extra close with nature at its wildest by going dog sledding and looking for caribou and moose.
Dog sledding: Near Matane, head south on Route 195 to Saint-Vianney village for a once-in-a-lifetime experience of mushing Siberian and Alaskan huskies with Gasp?sie Dog Sledding. Learn how to lead your own sled and take part in harnessing the dogs before you set off.
Gasp?sie National Park: Caribou or moose? You'll have a chance to see both these massive creatures in their natural habitat. In fact, the park was created in 1937 to protect the the Gasp?sie caribou, an endangered species. Year-round you can explore many of this park's high-altitude peaks, tundra landscapes, and rivers full of spawning salmon.
Mus?e des Phares: Back on the coast, take time to stretch your legs at the lighthouse museum in La Martre. Take a guided tour of the unmistakable cherry-red octagonal structure and check out the gift shop and exhibition on shipwrecks.
Eat
Indulge in traditional Quebec and Gasp?sie cuisine and modern treats that bring a taste of the forest to your plate.
La Broue in the Toupet: Grilled beef is the star of the plates served up at this Sainte-Anne-des-Monts bistro tucked inside the H?tel & Cie. You'll find simple fare like fried pickles with horseradish sauce, and standout dishes like red deer tartar and Quebec pork ribs, which embody the restaurant's farm-to-table ethos.
Couleur Chocolat: Make time to drop in to this artisan chocolate shop in Sainte-Anne-des-Monts for a taste of the unusual. Case in point: The chocolats forestiers are made from ingredients found in the Gasp? forest, such as balsam fir, wild caraway, and parsnip.
End your day
See sunset and sunrise in the park surrounded by mountain views.
G?te du Mont-Albert: Can't rip yourself away from the park? Get cozy at Mont Albert Cottage (as it's known in English), a four-star hotel set amid stunning Gasp?sie National Park with rooms overlooking namesake Mount Albert.
Forillon National Park, Gaspé
Day 4: The city of Gasp?
Total drive time: 3 hours
Must-stops along the way
History lesson in a day? Hike ancient trails, discover Indigenous culture, and see the place where French explorers arrived in Canada. 
Forillon National Park: When you arrive at the peninsula's "land's end" you'll also have found the start of the International Appalachian Trail. But before you start hiking the historic trails by old barns, through maple groves, and along sea cliffs, take a few minutes to absorb the area's beauty. If you're patient, you might even spot a blue whale breaching in Gasp? Bay or the Gulf of St. Lawrence.
Cross of Gasp?: When Jacques Cartier came ashore in Gasp? in 1534, he erected a wooden cross, claiming this land for King Francis I of France. On the waterfront look for the 42-ton granite cross that marks the 400th anniversary of the arrival of French explorers in Canada.
Site d'interpr?tation Micmac de Gespeg: Quebec's Indigenous communities comprise an integral part of the province's past and present. Take a guided tour through a traditional camp where you'll learn about the Mi'gmaq culture -- from their ancestral beliefs and customs to the work tools they used dating back to the 17th century.
Birthplace of Canada: Visit this interpretive site in Gasp? on the York River, which includes a series of heritage and reconstructed buildings depicting the township in 1900. During evenings in summer and fall watch "A Tale of Time and Tides," a free multimedia show on Gasp?'s heritage.
Eat
Feast on fresh seafood on a terrace overlooking the ocean.
Caf? de L'Anse: Whether you want to dive into a hearty breakfast (try the French toast sandwich) before hitting the road or wind down the day over a platter of smoked cod, salmon, and fresh shrimp on the terrace overlooking the sea, this lovely cafe satisfies. Located in Le Griffon Centre Culturel, a cold-storage warehouse for fish that was built in 1942 and saved from demolition by village locals, the emphasis here is on regional produce.
End your day
Visit an 1860s stone home -- then spend the night.
Auberge William Wakeham: Rustic, Royal, Romantic? These are merely three of the charming rooms from which to choose at William Wakeham House, an ancestral home built in the 1860s for its namesake owner. Once composed of a doctor's office, sports hall, and music room, this carved-stone structure overlooks the Bay of Gasp? and the York River, making it a restful retreat in the picturesque city of Gasp?.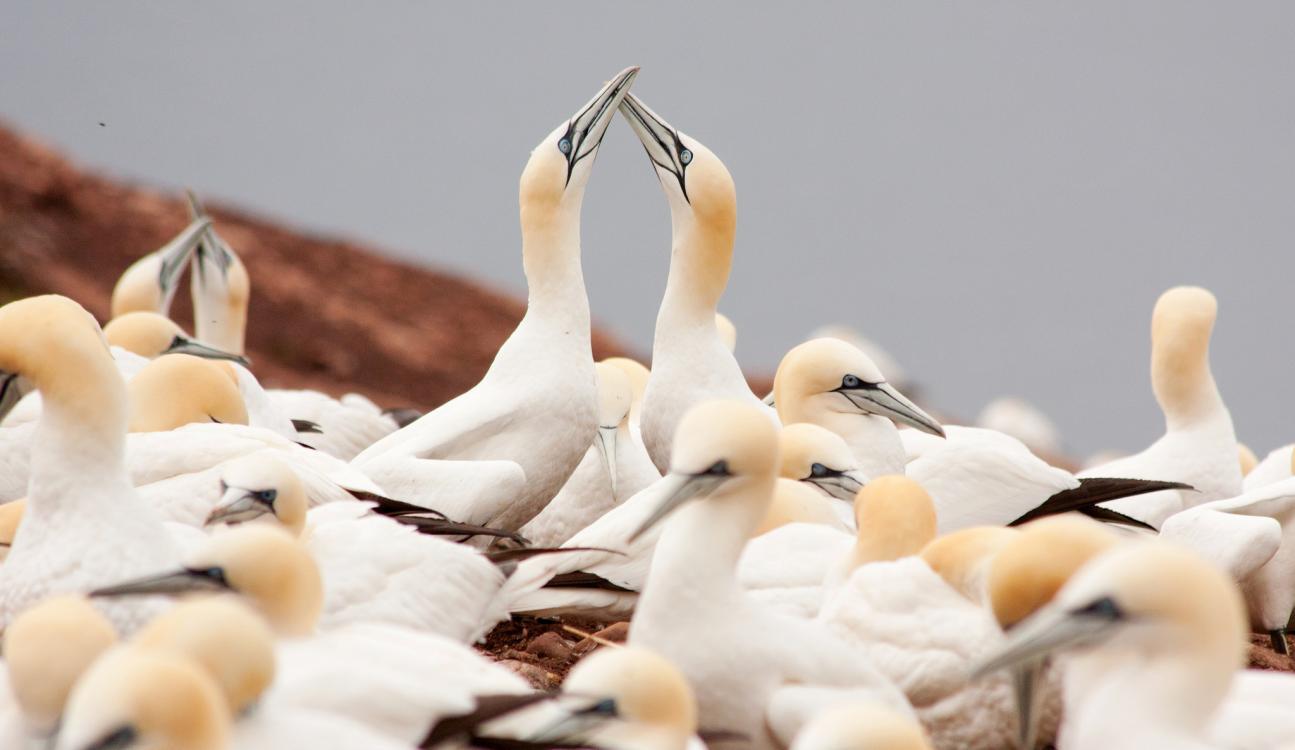 Northern Gannet birds in Parc National de l'Île-Bonaventure-et-du-Rocher-Percé
Day 5: Perc?
Total drive time: 1 hour
Must-stops along the way
Spend the day discovering a 375 million-year-old sea stack and visiting a colony of Northern Gannet birds.
Parc National de l'?le-Bonaventure-et-du-Rocher-Perc?: Water, water everywhere! The best way to gaze in wonder at the famed Perc? Rock and its natural arch is to venture out to sea. The 375 million-year-old limestone sea stack has been recognized by UNESCO as a Global Geopark and an icon of nearby Gasp? city and the peninsula itself. Visit Bonaventure Island and Perc? Rock National Park in summer to get a close-up look at the world's largest and most accessible colony of Northern Gannet birds.
Eat
Indulge in ice cream at an artisanal dairy bar.
La Vieille Usine: Don't miss poking around L'Anse- ?- Beaufils, a former fishing village. Stop in at its hub, the La Vieille Usine, or old factory (check out what on at the theater and pop into the art gallery), for casual fare at the cafe-bistro. Want something sweet? Have a Bonaventure waffle or ice cream at Au Glaces De L'Anse, an artisanal dairy bar located in a 1940s-era building.
End your day
Admire Perc? Rock in the distance from your private balcony.
La Normandie: Watch the morning sea mist rising and the gannets circling Perc? Rock from your seaside suite in this primely positioned hotel. Most rooms have private balconies and electric fireplaces, boosting the romance quotient of this waterfront getaway.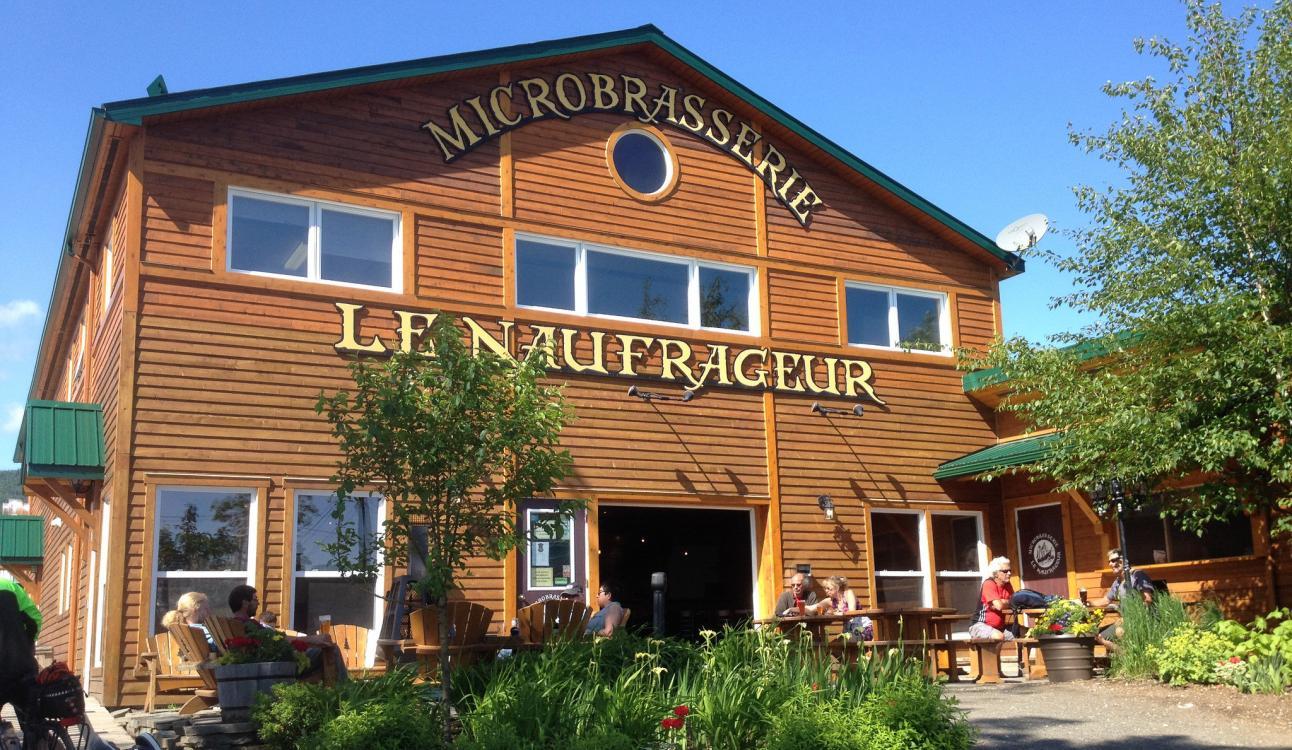 Microbrasserie Le Naufrageur in Carleton-sur-Mer
Day 6: Carleton-sur-Mer
Total drive time: 3 hours
Must-stops along the way
Splash around in Baie-des-Chaleur's warm shallow waters and learn to sail.
Swim and sail: Thanks to its location in the shallower waters of Baie-des-Chaleur, Carleton-sur-Mer offers calm beaches and superb summer swimming. Another way to enjoy Gasp?'s south shore is to learn how to sail (there are single-day camps for kids) or take a relaxing excursion on a catamaran; both adventures are available through ?covoile Baie-des-Chaleurs.
Eat
Sip local beer in an old theater on the seaside.
Microbrasserie Le Naufrageur: Get in touch with local life in Carleton-sur-Mer while sipping a pint of organic beer (try the Doris blonde lager that has hints of lemon and green apple) at this rustic micro-brasserie and pub located in the old La Moluque Theatre. Have a snack to go with your suds, such as eggs pickled with vinegar and stout, handmade sausages served with crusty bread, and other Gasp?sian treats.
End your day
Stay close to the sea, whether you bed down in an historic hotel or hide away in a tent.
Manoir Belle Plage: With mountain and water views, plus delightful rooms decorated with works from the region's artists, you won't want to leave this former English-style village in Carleton-sur-Mer. Get a taste for Gasp?sian terroir here too: dine at Le Courlieu, the on-site restaurant overlooking the sea.
Luxury beach camping: Forget about hauling camping gear. Experience Beaubassin Beach near the city of Bonaventure by overnighting in a ready-to-camp Beaus?jour tent (ideal for a family of four). Commune with nature, cook meals outdoors, and access the beach with ease.
Day 7: Quebec City
Total drive time: 6 hours, 45 minutes
Must-stops along the way
Start your day early and make the final push to Quebec City, stopping for some easy cycling en route.
Parc National du Lac-T?miscouata: After overnighting in Carleton-sur-Mer, drive to St. Leonard and take Highway 2 north toward yet another amazing wilderness area that boasts 10,000 years of human history. Rent a bicycle and hit the trails on this Lands and Forests of Acadia circuit. Want to spend more time in quiet contemplation? Fish for speckled trout and perch on Grand-Lac-Touladi and Petit-Lac-Touladi.
Eat
After days of indulging in gourmet Quebec cuisine, opt for lighter local fare.
Le Comptoir Gourmand: It's worth stopping (or staying another night) in postcard-pretty Kamouraska en route to Quebec City. But make time to have lunch or a pastry in this cafe and bakery that's run by a mother-daughter team. And if it's picnic weather, get a meat pie, salad, or sandwich to go, so you can keep up your energy as you continue exploring.
Bistro L'Orygine: In a city brimming with hearty yet heavy French fare (like poutine: French fries heaped with gravy and cheese curds), this organic bistro is a celebration of local ingredients made with a light hand. Menu items showcase seasonal foods like elk carpaccio paired with cherries and hazelnuts and vegan-friendly hummus made with beets and chickpeas.
End your day
Wind down your week-long adventure with a celebratory beer, then stay in a carbon-neutral hotel in a 300-year-old building.
Korrigane: Artisanal beers -- from red ale to black IPA -- brewed in small quantities are at the cornerstone of this St. Roch neighborhood brasserie that also makes it a mission to support Quebec-based micro-enterprises. Share a plate of nachos or go for the veggie chilli made with organic tofu. Most menu items have suggested beer pairings so you can learn a little about Quebec craft beer as you drink up and chow down.
H?tel du Vieux-Quebec: Recognized for its commitment to environmental sustainability, this carbon-neutral hotel situated in a 300-year-old building in Old Quebec combines the best of old and new worlds. Contemporary guest rooms are filled with furniture made by Quebecois craftspeople, organic vegetable and herb gardens are located on the hotel's rooftop, and urban bee hives produce honey that's used in the property's on-site restaurant, Le Tournebroche.
A week of driving the diverse Gaspé peninsula gives you a sampling of all this region has to offer. If you want to delve deeper into French-Canadian culture, you can easily extend your trip to 10 days or more.