A foodie's guide to Quebec City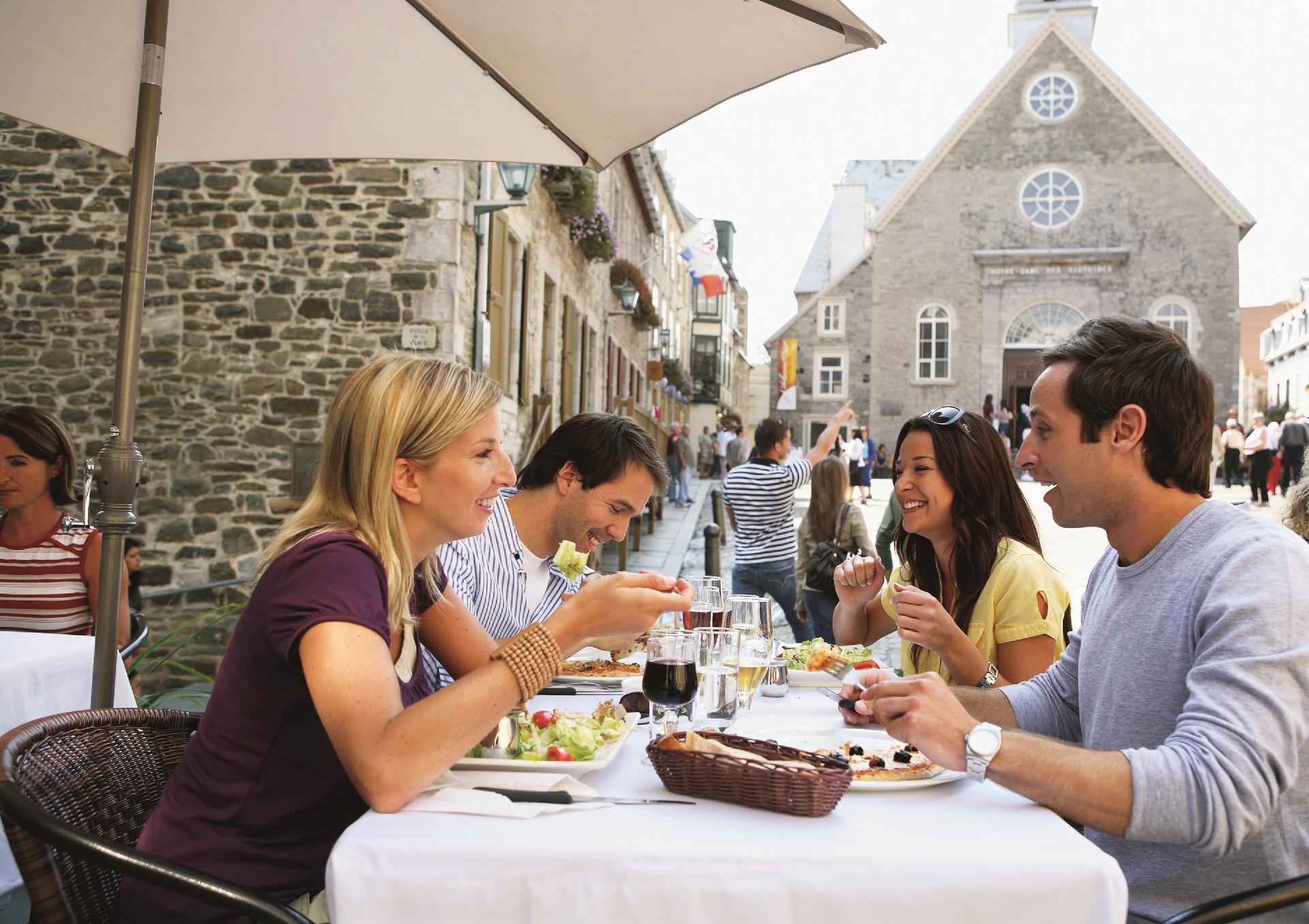 Spend 24 hours in Quebec City and you'll quickly discover why it ranks among the 20 best food cities in the world according to Conde Nast Traveler readers. Spend 48 hours in Quebec City and, well, your stomach might never let you leave.
If great food is your favorite part of travelling, this foodie's guide to Quebec City will have you packing your bags in no time.
A sugar shack experience - credit: Laurene Bath
The food
Quebecers love their food, and there are a few local specialties that you shouldn't skip on any trip to Quebec City.
There are of course, the clich?d goodies. When people think of Quebec, they often think of poutine -- that messy piles of fries, cheese curds and gravy. In Quebec City, many people swear by Snack Bar Saint-Jean or Chez Aston for authentic poutine, but any small diner or restaurant serving local cuisine will have its own variation of this famous dish.
Then there are the childhood dishes most Quebecers would eat at home, but that you can find scattered among restaurants serving traditional cuisine. There's tourti?re, a simple meat pie made with minced pork or beef and often eaten with ketchup. There's f?ves au lard, a type of baked beans, often seasoned with maple syrup and served as a side with breakfast. And there's poor man's pudding (pouding ch?meur), which is made from a series of very basic ingredients: sugar, flour, cream, cake or bread, and an absurd amount of syrup. The spongy, sweet result is, truly, worth a visit to Quebec all its own.
Beyond these favorites, in Quebec City you can find a number of traditional French restaurants, ethnic foods and modern cuisine. We'll talk about some of the most renowned restaurants in more detail below.
At the heart of Quebec City's food scene are ingredients made in and around the city. Cheese producers like the award-winning Alexis-de-Portneuf, apple orchards and berry farms on ?le d'Orl?ans, a multitude of wineries and cider producers, and the maple products from Quebec's famous sugar shacks, are all commonly found in the best meals and the best restaurants around Quebec City.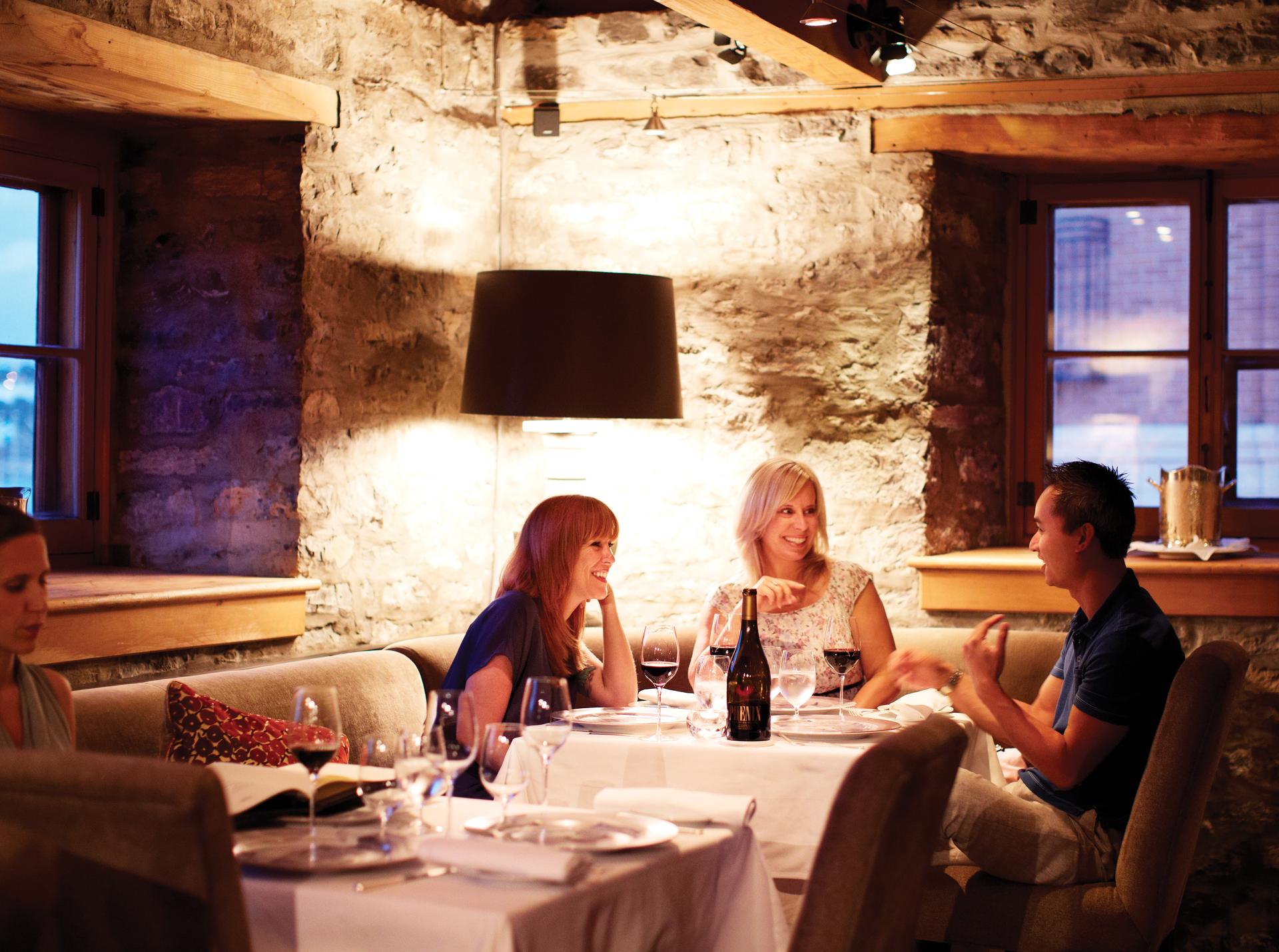 Chez Muffy in Quebec
The restaurants
It's impossible to make a concrete list of the best restaurants in Quebec City. There are just too many chefs making great food. Below you'll find a few of the biggest names and a few award-winners, but you can just as easily close your eyes, walk through the streets, and bump into a truly fantastic restaurant.
For authentic Quebecois cuisine, head to aux Anciens Canadiens, where meat pie and poutine are always on the menu. At Laurie Raphael, one of the province's greatest chefs, Daniel V?zina pushes 'locavore' food deeply connected to Quebec's roots. Or, step even further back in the history of the province and enjoy a meal inspired by First Nations cuisine at La Traite in Wendake, just a 20-minute drive north of the city.
For French cuisine, you're going to want to visit Chez Muffy, a French-Canadian farmhouse-inspired restaurant, located in the Auberge Saint-Antoine hotel. Quebec's local farmers, fishermen, and producers are as integral to the food here. A specialty? Local mackerel, larch-infused butter, grilled zucchinis and sweet-and-sour radicchio.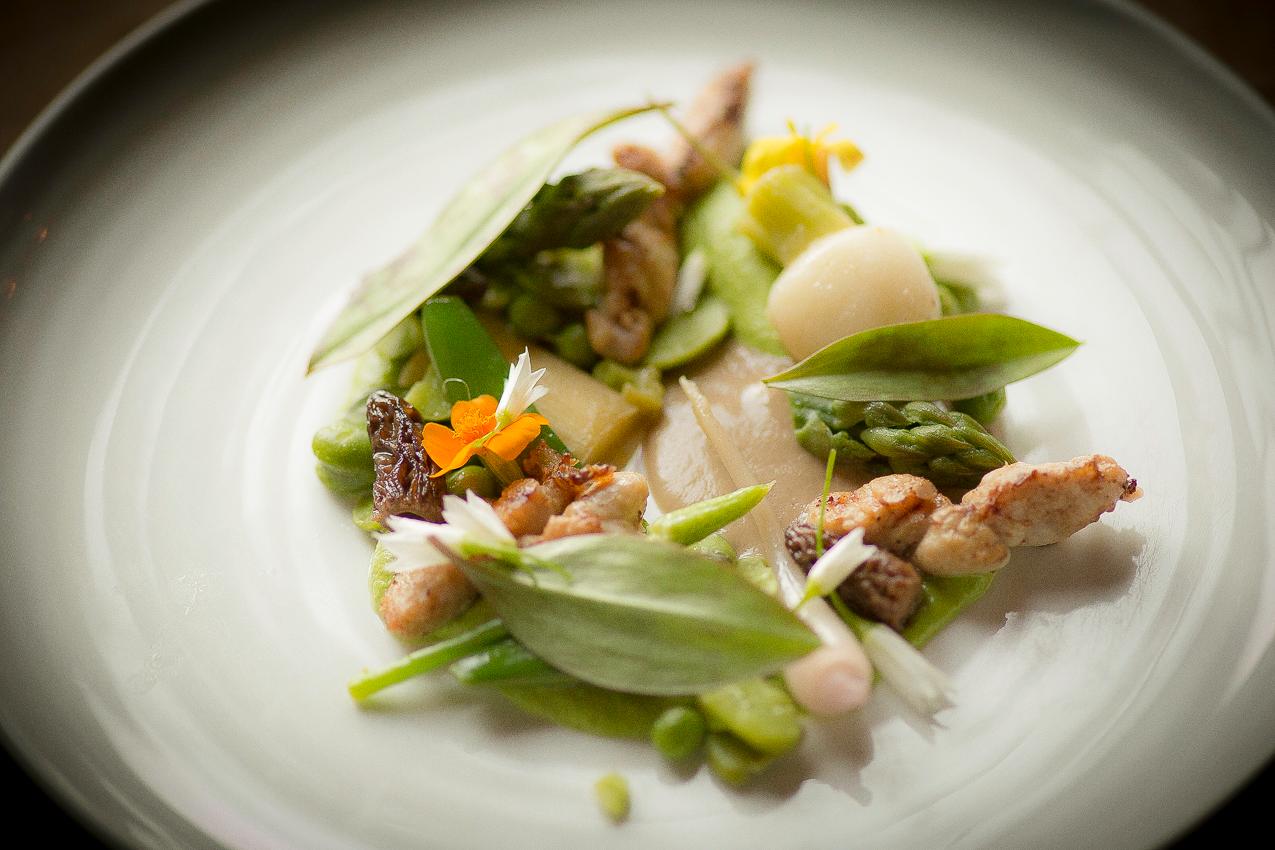 A dish at Chez Muffy
French master chef and one-time Quebec chef of the year Jean-Luc Boulay is at the helm of Le Saint-Amour, a local leader in fine dining. The restaurant has one of the best wine lists in Canada, and celebrities including Sir Paul McCartney and Sting have enjoyed its French cuisine.
Then there's Le Clocher Pench?, a Quebec institution that uses artisan ingredients to create dishes like salmon tartare, homemade blood pudding, and crispy sweetbread.
Orygine offers a fresh local cuisine highlighting vegetarian and vegan options. Located in a historic building, the bright environment adorned with an elegant bar hides one of the most beautiful terraces in the city. In short, Orygine has that je-ne-sais-quoi that will charm you.
Restaurant L?gende is another local favourite, named one of the best new restaurants in Canada in 2014 by enRoute Magazine. Here you'll find torchon foie gras, lamb fries, monkfish and elk carpaccio on a menu that changes with the seasons, so that only fresh, local ingredients are served.
If you're looking for an immersive gastronomic experience, hidden in ancient vaults, Tani?re3 is the ultimate boreal cuisine destination. A mysterious environment where research, refinement and attention to detail will leave you speechless.
If one restaurant just won't cut it, sign up for a food tour of Quebec City. A guide who lives in the neighbourhood will lead you on a walking tour during which you'll sip wine, sample cheese, and savour pastries. You'll eat cr?pes, maple snacks, poutine, and locally made chocolates, all while discovering the history of the city through the food of the different cultures that have called it home.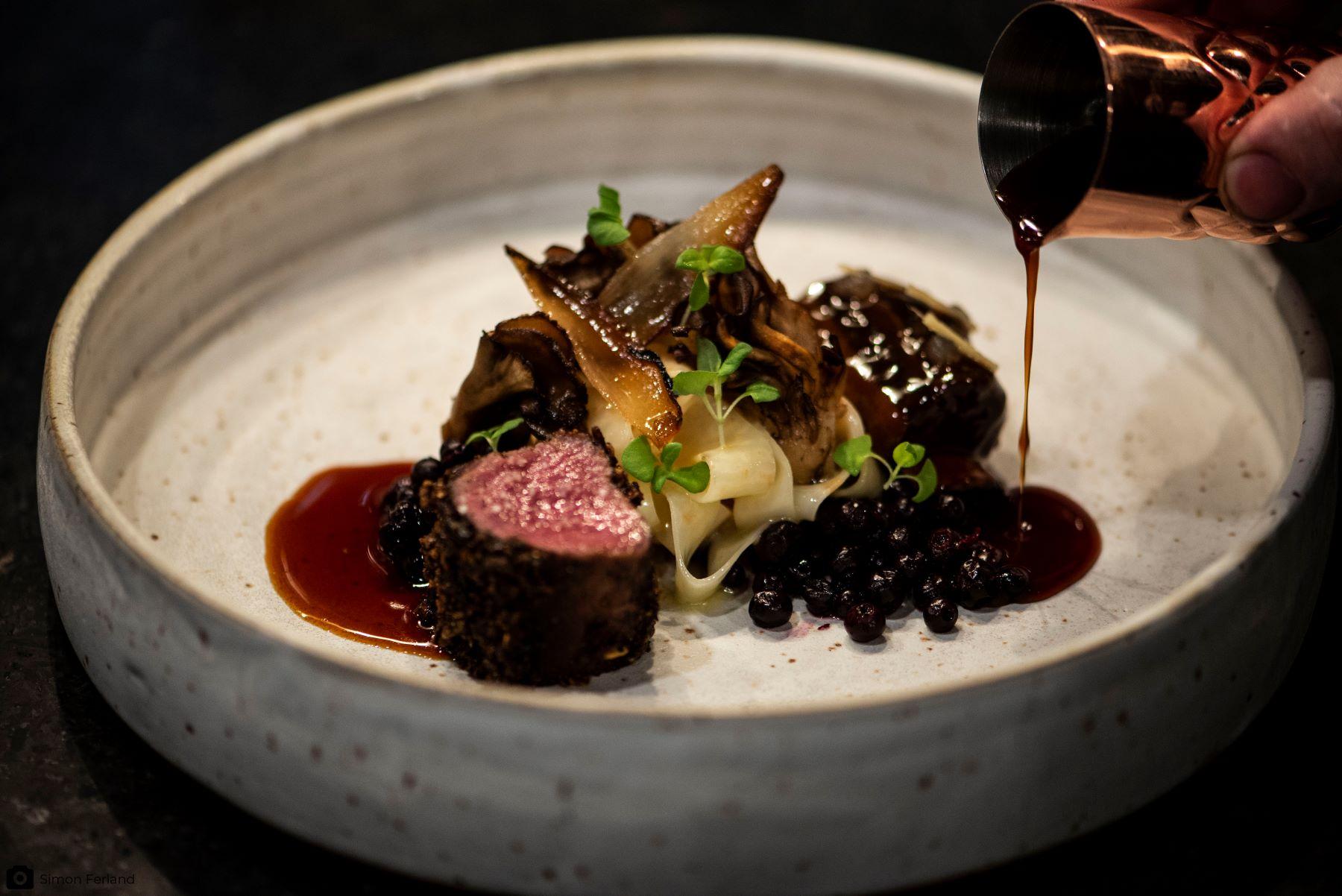 A dish at Tanière3. Photo credit: Simon Ferland-Groupe La Tanière
The foodie hubs
The Old Port has a high concentration of fine dining restaurants, or you can stop in at the March? du Vieux-Port, a nearly 400-year-old market. There you'll find fresh fruits and veggies, local breads, cheeses, meats, seafood, and maple products sold by the producers themselves.
The Petit Champlain District, also found in Old Quebec, has a number of bistros, pastry shops and sweet shops, all in a beautifully historic setting. 
Grande-All?e is home to some of the best nightlife in Quebec City, and this includes great dining. Fine cuisine, Italian, and casual options line this main street, which is often filled with people.
The Saint-Roch district recently underwent a trendy transformation, which was followed by the emergence of new restaurants and bars. Walk along rue Saint Joseph and have your choice of fine dining or a burger and beer at a brasserie.
Limoilou is an up-and-coming area where you might run into people that fall into the hipster category. Walk around and try out some of the low-key bistros and ethnic restaurants, often tucked away and barely noticeable, but full of great eats.
The Island of Orleans (?le d'Orl?ans) is just a short drive across a bridge from Quebec City, but is home to tons of farmers and food producers. Stop in to enjoy fresh produce, wine, and meals with that home-cooked feel.
For more on Quebec City's culinary scene, visit the Quebec Region Tourism website.
For more on Quebec City's culinary scene, visit the Quebec Region Tourism website.