Exploring the ByWard Market neighborhood
Right in the heart of Ottawa sits one of Canada's oldest and largest public markets: the ByWard Market. Just minutes from Parliament Hill, the market is a hub for foodies and shoppers, and the surrounding neighborhood is alive with cultural experiences, nightlife and entertainment. Basically, you need to pay it a visit during your trip to Ottawa.
The "Ottawa" sign in Inspiration Village at the ByWard Market - credit: Ottawa Tourism/Southavy Pathammavong
The History
ByWard Market has been a gathering place for nearly two centuries, connecting rural producers to urban customers since 1826. It was first established by Lieutenant-Colonel John By, an engineer who also built the famous Rideau Canal, and has been a center of commerce ever since.
Throughout its history the ByWard Market Building has burned down four times; boutiques and restaurants have replaced many industries and services; the market has grown and changed and evolved. But through all of this time, it remains to this day on the same site where it was first built.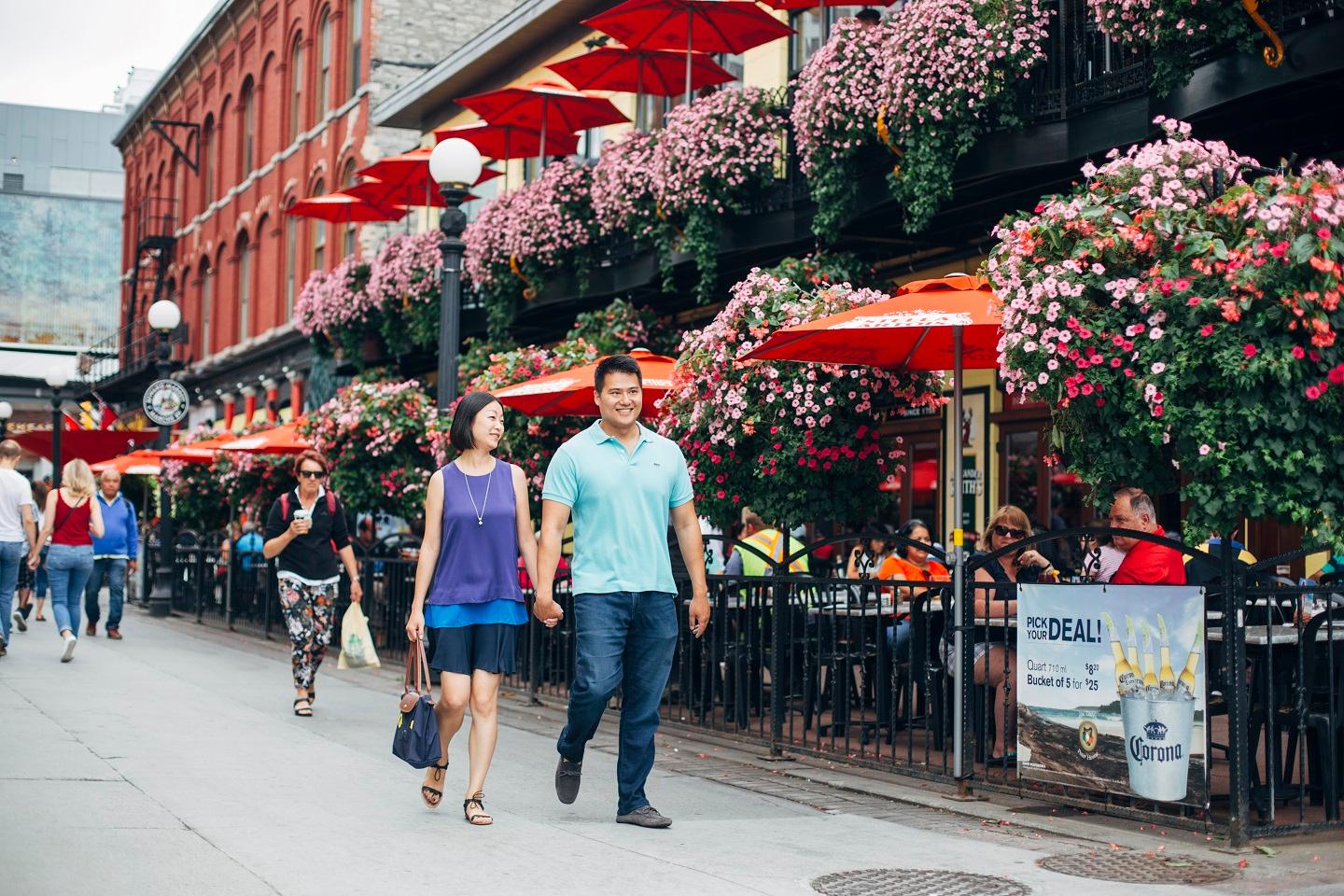 ByWard Market neighborhood - credit: Ottawa Tourism
The Market
Local produce and meats, fresh cheese and baked goods, artisanal goods and crafts, these are the reasons you visit the market. Farmers and craft merchants come together to create a truly sensory experience, and you'll see, listen, touch, taste and smell your way through over 150 stands.
In the summer months, people browse bustling streets filled with open-air stalls for flowers or supplies for their next picnic. In the winter months, the market's many restaurants and vendors take on a renewed popularity. In the ByWard Market Building, you can grab anything from bagels to butter chicken to bubble tea at a number of restaurants and cafes, or pick up clothing, jewelry and souvenirs from local artisans.
Over 500 businesses call the market and the surrounding neighborhood home. This includes 109 restaurants, 22 food retailers, 48 fashion boutiques, 12 house and home stores, and a handful of bookstores, and so much more. There's really something for everyone.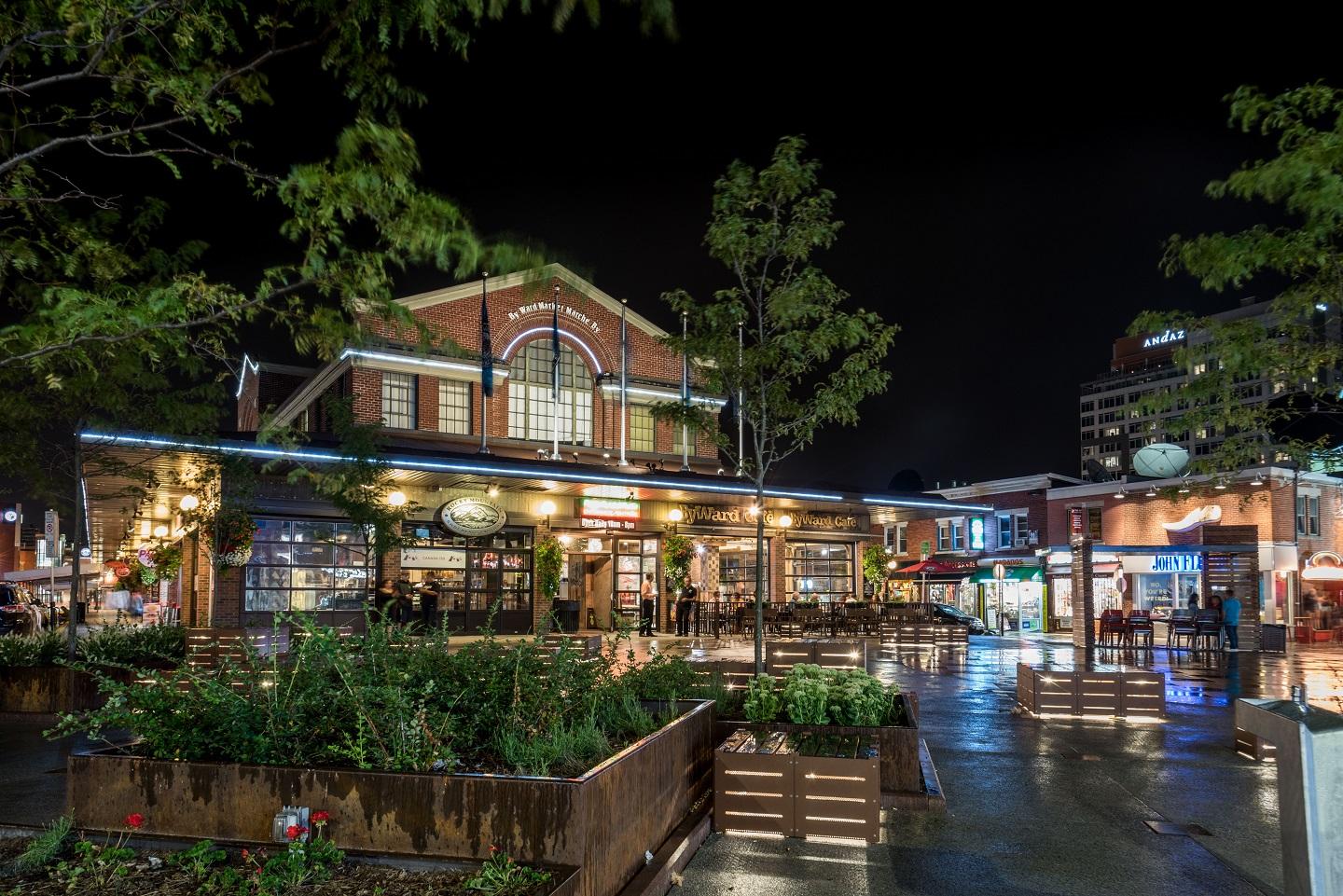 ByWard Market at night - credit: Ottawa Tourism/James Peltzer
The Neighborhood
Shopping and eating aren't the only reasons to visit the ByWard Market neighborhood.
Spend your days visiting no less than 14 arts, culture and education facilities. These include the National Gallery of Canada, home to nearly 40,000 works covering everything from Inuit sculpture to the creations of Pablo Picasso, and the Notre Dame Basilica, one of Ottawa's oldest and largest churches. Walk the streets and enjoy the buskers sharing their talents with passersby, or pop into a salon and treat yourself to a mani-pedi.
Then, when the sun sets, the area is home to some of the best nightlife in the city. Whether you lean more towards the pub or the club, there's live music and dancing for every taste. 
Want to explore everything the ByWard Market has to offer? Visit their website.
Want to explore everything the ByWard Market has to offer? Visit their website.