Experience Indigenous culture in the heart of the city
You don't have to head far away from the downtown core to discover more about different Indigenous cultures in Canada. Whether it's visiting an art gallery, signing up for a guided walking tour or dining at an Indigenous restaurant, there are plenty of ways to learn more about different Indigenous nations right in the heart of Canada's cities. Here are some ideas to get you inspired.
Salmon n Bannock Restaurant, Vancouver | Photo Credit: Greg Funnell
Check social media to track down Mr. Bannock, Vancouver's first Indigenous food truck, which rolled onto the streets in 2018. Created by Squamish Nation chef, Paul Natrall, who says, "We take pride and joy in sharing fusion Indigenous cuisine, using traditional ingredients from the Squamish Nation such as juniper berries, smoked wild salmon and meats, and traditional methods such as clay and stone baking." 
If you're looking to sit and savour authentic Indigenous flavours of the Pacific Northwest you have to visit the renowned Salmon 'n Bannock restaurant. Start off by sampling appetizers like their candied and smoked salmon that's peppered on the outside with a mouthwatering maple drizzle finish before you move onto your main course. Once there, you'll find dishes featuring wild BC salmon, organic and free range game meats as well as their signature bannock that complements every dish perfectly.
When you're finished savouring a dish from Mr. Bannock and Salmon 'n Bannock, walk through one of Vancouver's most famous downtown attractions, Stanley Park, with Talaysay Tours. Candace Campo and her team of Indigenous guides provide an authentic Indigenous perspective on how the Coast Salish peoples traditionally lived on the land and sea in the region. On a 90-minute tour, which takes place in the Stanley Park forest, you'll learn about Coast Salish culture, their medicine, technology and the foods they have gathered for millennia.
Squamish Lil'wat Cultural Centre | Photo Credit: Logan Swayze
Take a break from the slopes and make your way to the Squamish Lil'Wat Cultural Centre in the Whistler Upper Village to learn more about the local and  Squamish and Lil'Wat nations in a gorgeous setting surrounded by mountains. Join a cultural ambassador as they introduce you to the Journey through the world of the Squamish and Lil'Wat peoples, through song, stories, a movie and hands-on craft workshops.
Stop by the nearby Audain Art Museum to explore the intricate and beautiful art of Northwest Coast First Nations. The pride of the collection is Haida carver, James Hart's The Dance Screen (The Scream Too), the most significant contemporary carved cedar Dance Screen in the world.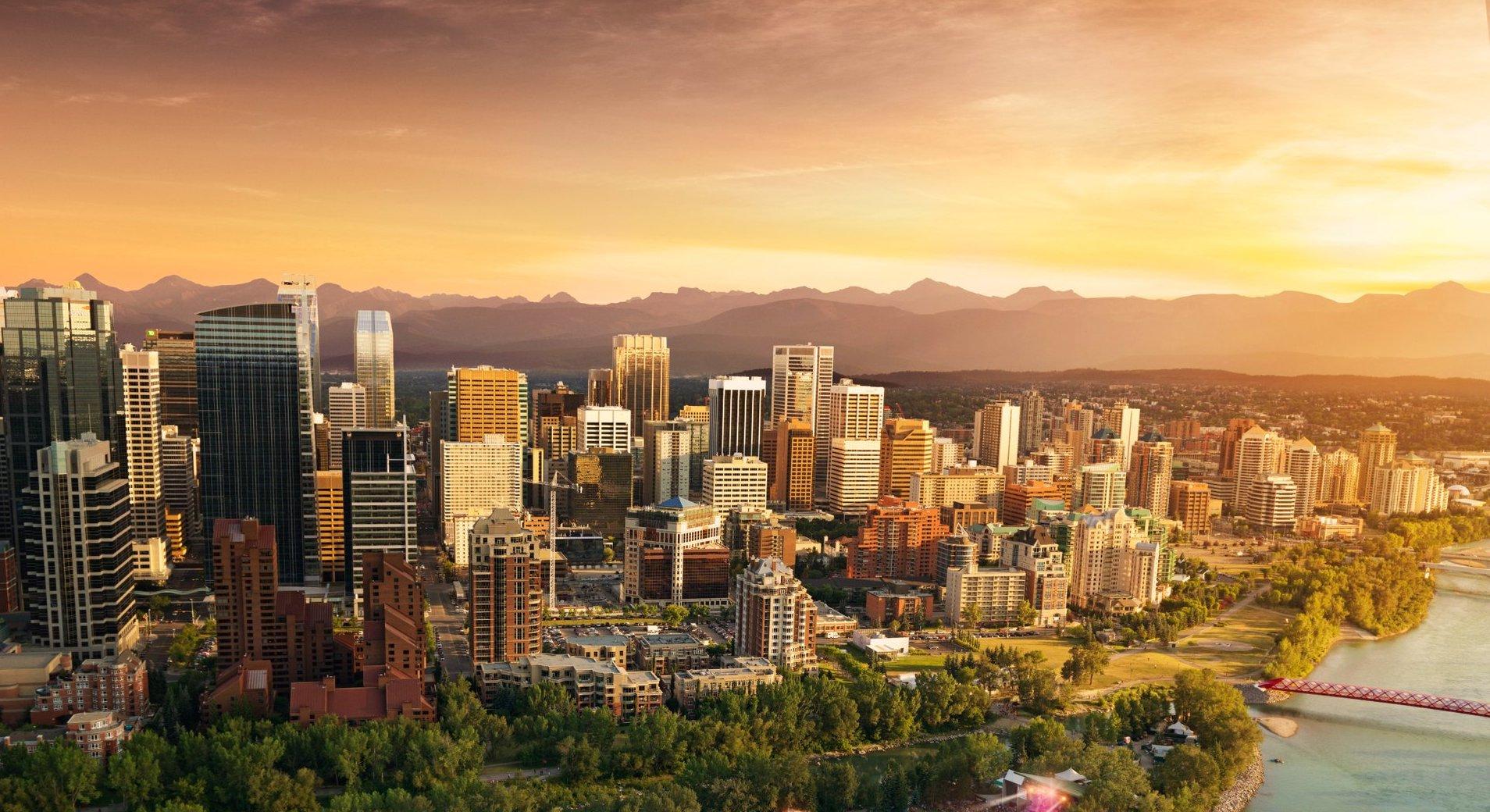 Photo Credit: Roth and Ramberg Photography Inc.
Discover one of Calgary's can't-miss city experiences at the Moonstone Creation Gallery. Moonstone Creation is an Indigenous-owned, family-run business in Calgary, Alberta. Although they make the majority of the products they sell right in-store, they represent over 50 Indigenous artists from across Canada. With a wide variety of art, from beaded jewelry to bronze sculptures, they ensure everything is Native made, not Native-Inspired. For a true, made in Canada experience, be sure to come to Moonstone Creation.
Canadian Museum of History | Photo Credit: Canadian Museum of History
In Ottawa, go on a self-guided stroll around Pindigen Park located moments away from the Ottawa River (and not far from the Canadian War Museum). The park, created in partnership with the local Anishinabe First Nation communities of Kitigan Zibi Anishinabeg and the Algonquins of Pikwakanagan,celebrates Indigenous culture and heritage in the capital region. was . On-site there are interpretive panels with text in Algonquin, English and French as well as colorful illustrations depicting the Anishinaabe interacting with land, water, air and people. There are also large steel animal silhouettes of a moose, black bear, river otter, eagle and turtle, created by Sylvia Tennisco based on artwork by Tony Amikons who both live in the Pikwakanagan First Nation community.
Book a walking tour with Jaime Koebel, of Indigenous Walks to take a deeper dive into Ottawa's history and  gain an Indigenous perspective on social, political, cultural and artistic spaces in the downtown core. Jamie, a talented visual artist and international award-winning dancer, is Otipemisiwak/Nehiyaw (M?tis/Cree). The goal of Indigenous Walks is to provide the public with an opportunity to become aware of who Indigenous people are in a safe, interesting and caring environment, right in the heart of our nation's capital. 
Just across the Ottawa River in nearby Gatineau the immersive Indigenous Experiences can be found prominently on the grounds of the Canadian Museum of History. It's here, on the traditional territory of the Algonquin people, where you can learn from Indigenous storytellers and dancers, paddle down the Ottawa river in a voyageur canoe and participate in varying workshops. The breadth and depth of what you can encounter and learn at Indigenous Experiences make it a must visit for anyone visiting the Ottawa area.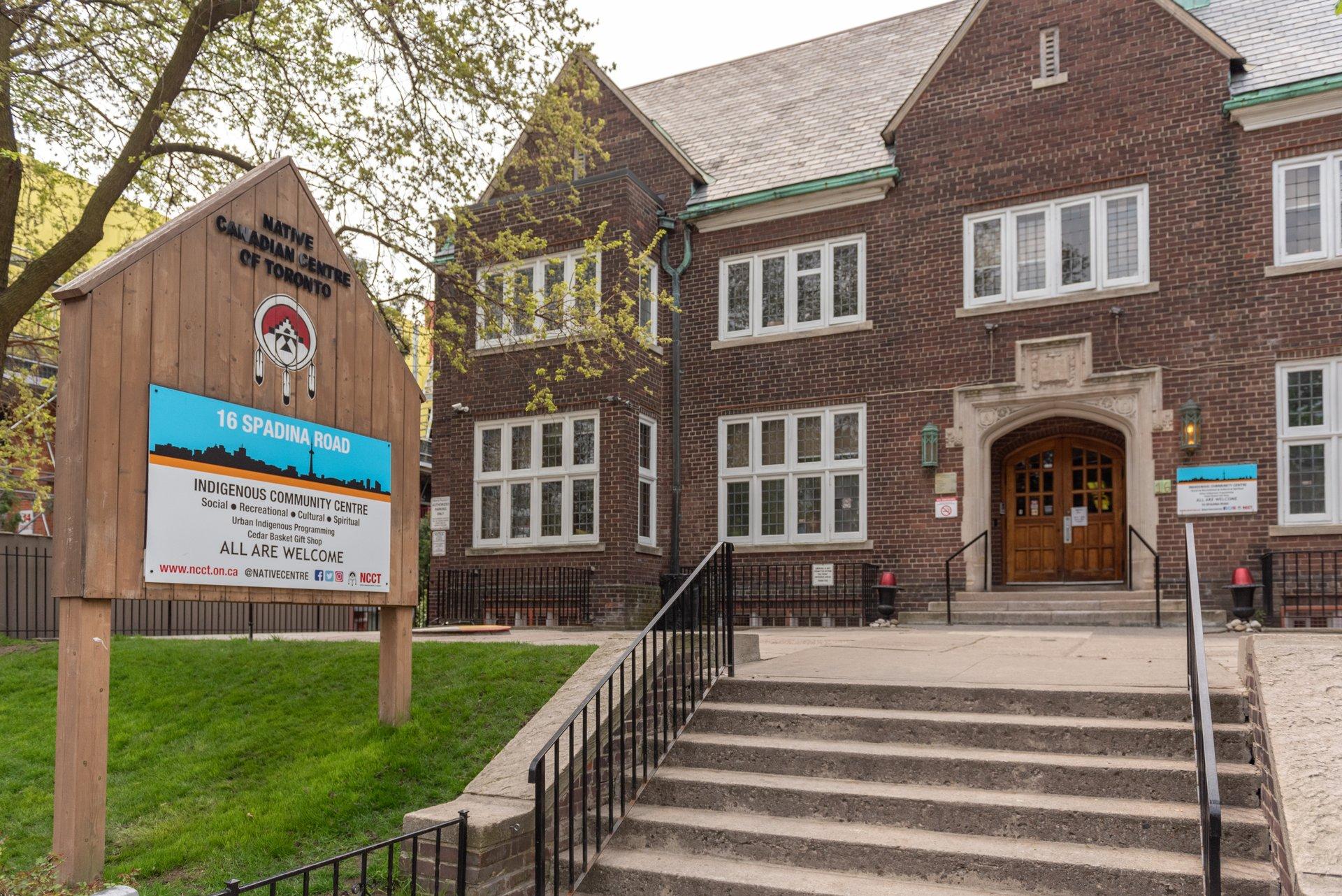 Native Canadian Centre of Canada | Photo Credit: Destination Toronto
If you find yourself in Toronto and are looking to grab a bite, check out Pow Wow Caf? in the Kensington Market. Here, chef Shawn Adler serves delicious Ojibway-style tacos on traditional bannock.

After, hit the shops at the Cedar Basket, at the Native Canadian Centre of Toronto -- where you can marvel at the vibrant colours and traditional materials that take the shape of intricate handcrafted First Nations, M?tis and Inuit jewelry, beadwork, baskets and original artworks.

If you're looking for a multi-course Indigenous feast, you'll want to know about chef Joseph Shawana. Born and raised in Wikwemikong, he now runs a catering service in the city, offering authentic dishes like pan seared rainbow trout, wild rice pemmican and salt cured venison. You can also find his recipes at DDcX Indigenous Kitchen, located at the Rainbow Ridge Golf Course in Manitoulin Island.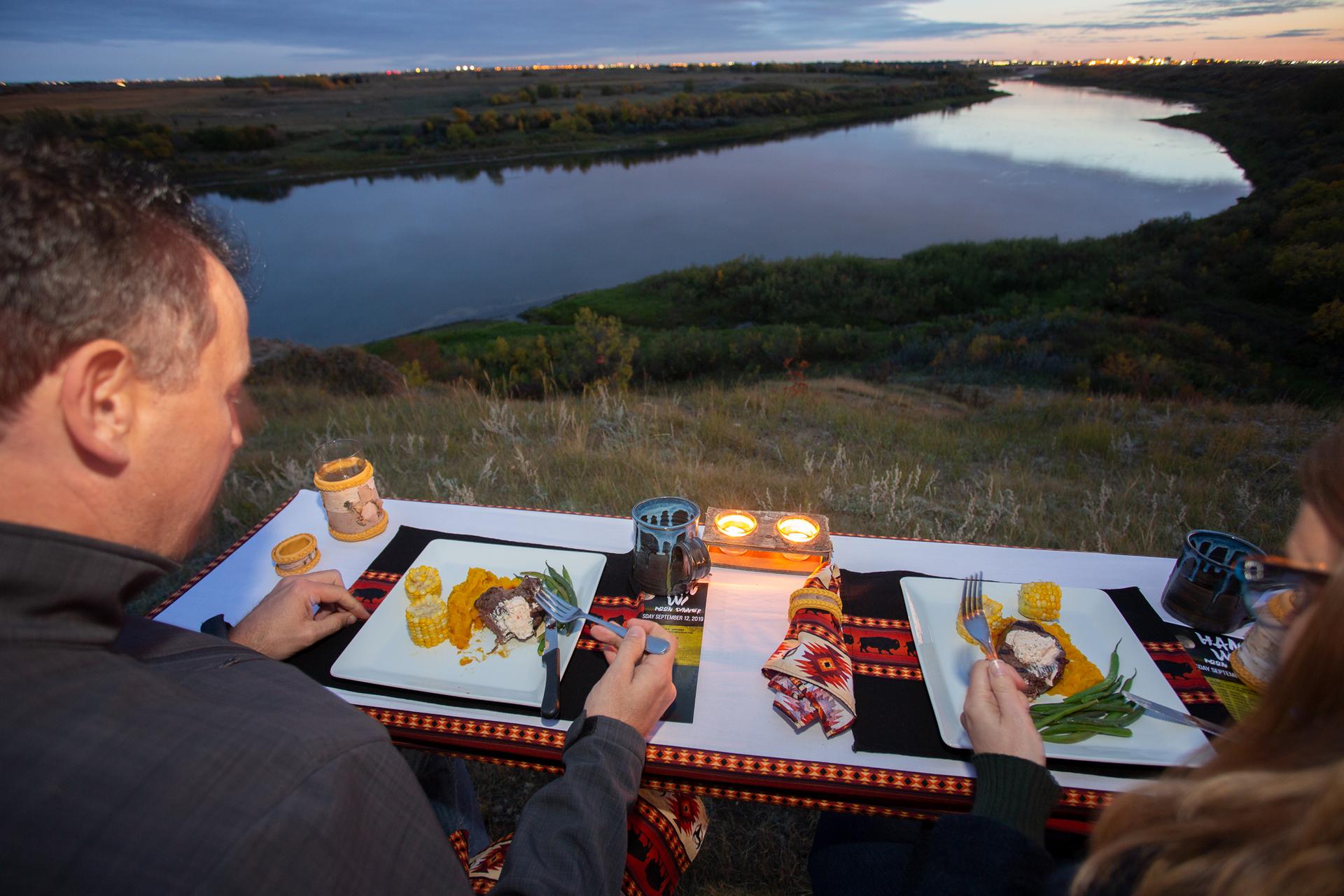 Wanuskewin Heritage Park Han Wi Moon Dinner, Saskatoon | Photo Credit: Tourism Saskatoon / CONCEPTS Photography
Visiting the Prairies? Discover the wonder of Wanuskewin where for over 6,400 years every nation from the Great Plains gathered. History and Indigenous culture run deep here with arrowheads, pottery shards and bison bones being discovered at the longest running archeological dig site in Canadian history. After taking in the beauty and significance of Wanuskewin head over to Dakota Dunes Resort to enjoy a round of golf at one of Canada's best golf courses. This newly built resort on Whitecap Dakota Unceded Territory is situated just beyond the banks of the South Saskatchewan River and nestled within rolling sand dunes that set the scene for a truly unique golf experience.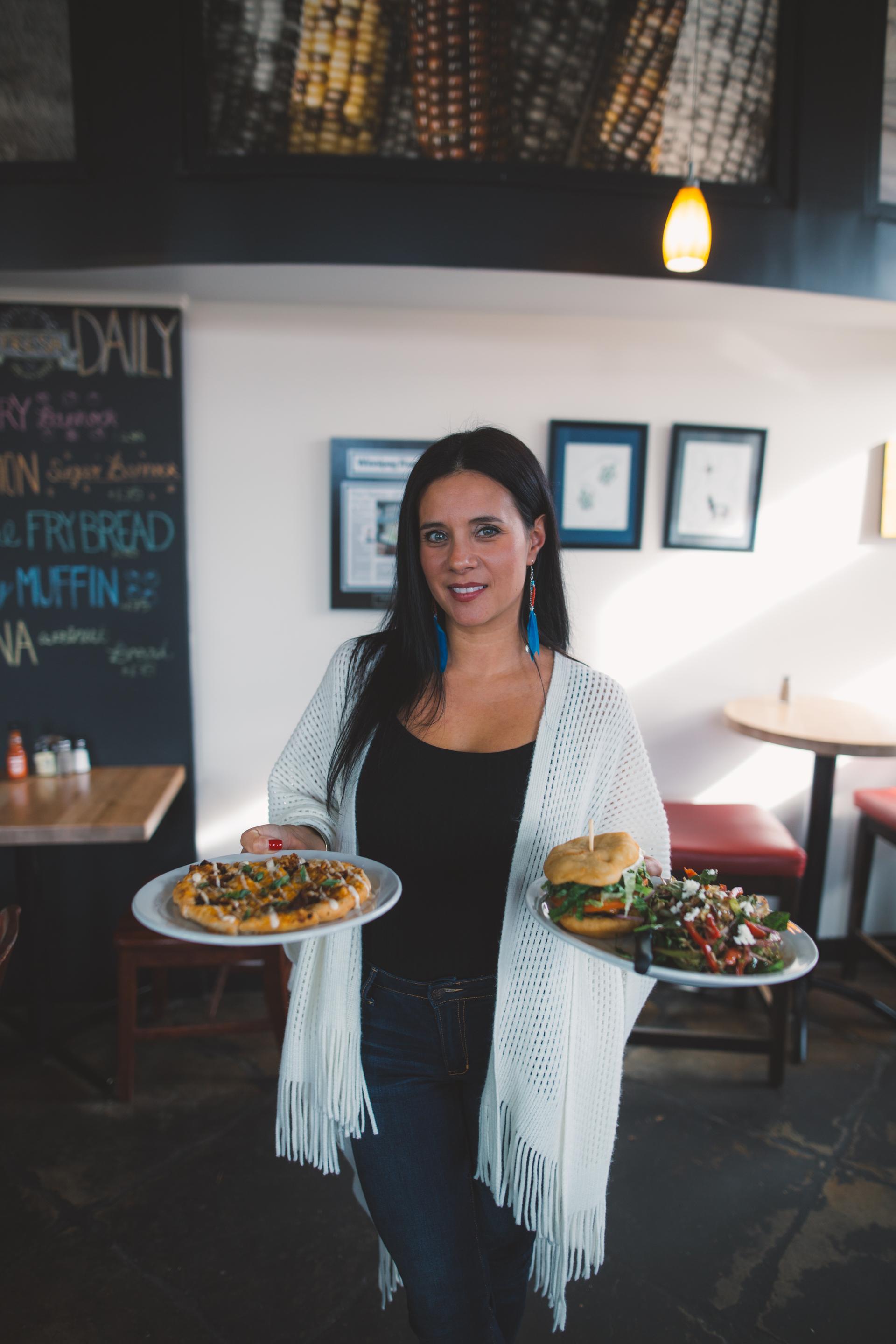 Feast Cafe and Bistro, Winnipeg | Photo Credit: Travel Manitoba
Connect food with the culture at Feast Cafe Bistro in the West End of Winnipeg, where co-owner/chef Christa Bruneau-Guenther, of the Peguis nation, cooks up a tasty menu of traditional favorites. If you're new to Manitoba, it's a great way to try some of its regional ingredients such as bison, pickerel, wild rice and Saskatoon berries cooked using traditional techniques such as multi-day stewing. Make sure you try Christa's famous squash bannock pizza or the delicious two-day marinade maple chicken.
For unique hand-crafted gifts and clothing from Indigenous First Peoples across North America, shop at Teekca's Aboriginal Boutique when visiting The Forks, Winnipeg's famous meeting place and market.. Teekca's stocks artisan Indigenous-made arts and crafts such as mukluks, moccasins, leather jackets, beadwork, blankets, jewelry, carvings and paintings which draw on the history, geography and culture of different nations, using natural resources from the land. The boutique is owned and operated by Marilyn Tanner-Spence (Waywayseecappo) and Chief Walter Spence (Fox Lake Cree Nation) who have carefully maintained the collection since 1995.