Discover a neighborhood: Old Montreal
Montreal is a city of many neighborhoods, each unique in their own right. But to really get a feel for this cosmopolitan city, why not start at the beginning: beautiful and historic Old Montreal.
Discover a captivating blend of European style and avant-garde creativity as you wander the cobblestone streets. Get lost in the abundance of architecture, art, culture, and more. Ride a bike through the winding streets, or visit a modern fashion boutique on your way to a centuries-old landmark. Old Montreal is an incredible mixture of new and old. Here's a quick guide to help you experience the best of both.
Enjoy the quaint streets by bike
Walking through Montreal's past
Begin your tour of the charming old city in the east end, where the beautiful Second Empire-style architecture of City Hall maintains a commanding presence (hot tip: check out the big sunny esplanade at the back of the building). Just across the street, venture into Chateau Ramezay, a historic site and museum that offers a peek at the life of Montreal's 18th century nobility. Not far from there, you can admire a sweeping view of the St. Lawrence River from Nelson's Column, a monument to British Navy General Admiral Horatio Nelson built following his death at the Battle of Trafalgar.
Set aside some time to walk down Place Jacques-Cartier, exploring this wide public square filled with restaurants, shops, live music, and street artists. The silver-domed March? Bonsecours, Notre-Dame-de-Bon-Secours Chapel, and the Marguerite Bourgeoys Museum are all nearby, and are worth a visit for more insight into the history and heritage of Montreal.
Clock Tower Beach - Credit: Eva Blue
Fresh attractions and photogenic landmarks
Head south to the shoreline of the St. Lawrence to get a sense of Montreal's relationship to the water, past and present. In the Old Port, stroll along the boardwalk to Clock Tower Beach and the Terrasses Bonsecours, very popular hang-out spots in warmer weather. Every winter, thousands of people don snow suits and fill the nearby harbour for Igloofest, an outdoor electronic music festival.
As you walk west, you can check out the Montreal Science Centre and IMAX theatre, or stop for a massage at the unique ferryboat-turned-temple-of-transcendence Bota Bota spa. From there, use your camera's zoom lens to look across the water for great views of the helter-skelter cubed homes of Habitat 67 and the iconic grain Silo #5, a powerful reminder of the city's industrial past.
In warmer weather, cruise ships and pleasure crafts keep Montreal's waterfront buzzing; in any season, a walk along the pier front gives a postcard-perfect view of the city skyline.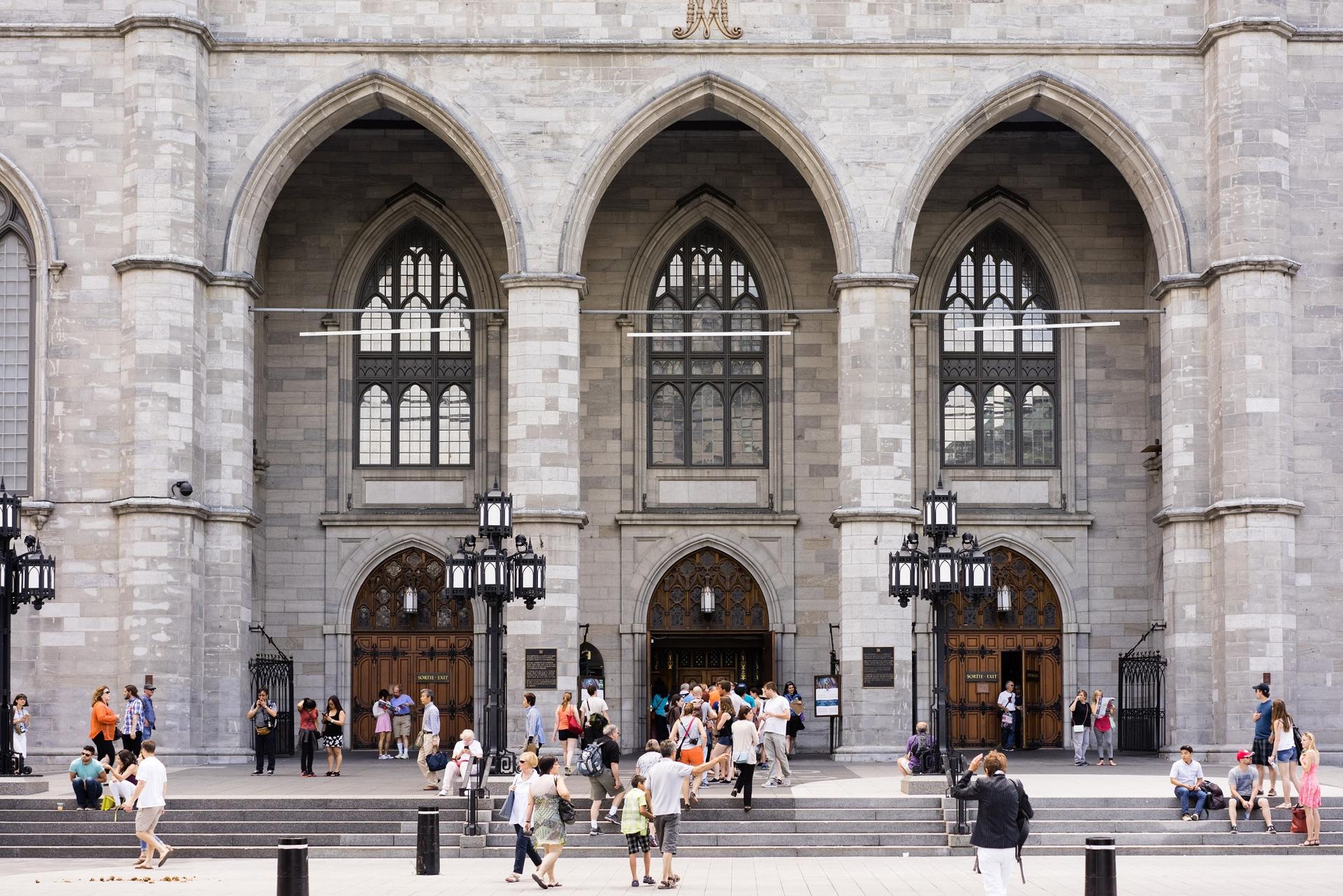 Basilisque Notre-Dame de Montreal - Credit: Alice Gao
The city's history, on display
One of the absolute must-stops in Old Montreal is the stunning Notre-Dame Basilica. A crown jewel in Montreal's religious heritage, the basilica is located at Place d'Armes, where you'll also find a plaza featuring a statue of Montreal's founder, Paul de Chomedey. With its soaring, gold-painted ceilings, ornate wood carvings, and massive pipe organ, the Basilica is nothing short of breathtaking.
From there, continue west to the Pointe-?-Calli?re Montreal Museum of Archaeology and History. It was built on the exact birthplace of the entire City of Montreal, and acts as a highlight reel of the city's history dating back to the 14th century, using archeological relics, exhibits, and displays. If you haven't yet had your fill of history, head to the Centre d'histoire de Montreal, a museum located in an early 1900s firehouse near the site of Canada's first parliamentary building.
Back to the present, with art and design
Of course, Old Montreal isn't stuck in the past. Pop into the PHI Centre art complex and the nearby DHC/ART Foundation for Contemporary Art gallery to see cutting edge work from around the world. If you don't mind a bit of a detour, head west to the Darling Foundry visual art centre. The centre's thought-provoking and alternative modern-day exhibitions make it worth the walk.
If you'd rather explore without a particular destination in mind, head to Saint-Paul Street. This picturesque little street is full of things to see. It's home to a captivating mix of centuries-old buildings, avant-garde art galleries and designer boutiques, and really embodies what Montreal is:  a city that cherishes its past while embracing its future.
For more details on Old Montreal, or to start planning your trip, check out the Tourism Montreal website.
For more details on Old Montreal, or to start planning your trip, check out the Tourism Montreal website.