A quick guide to Victoria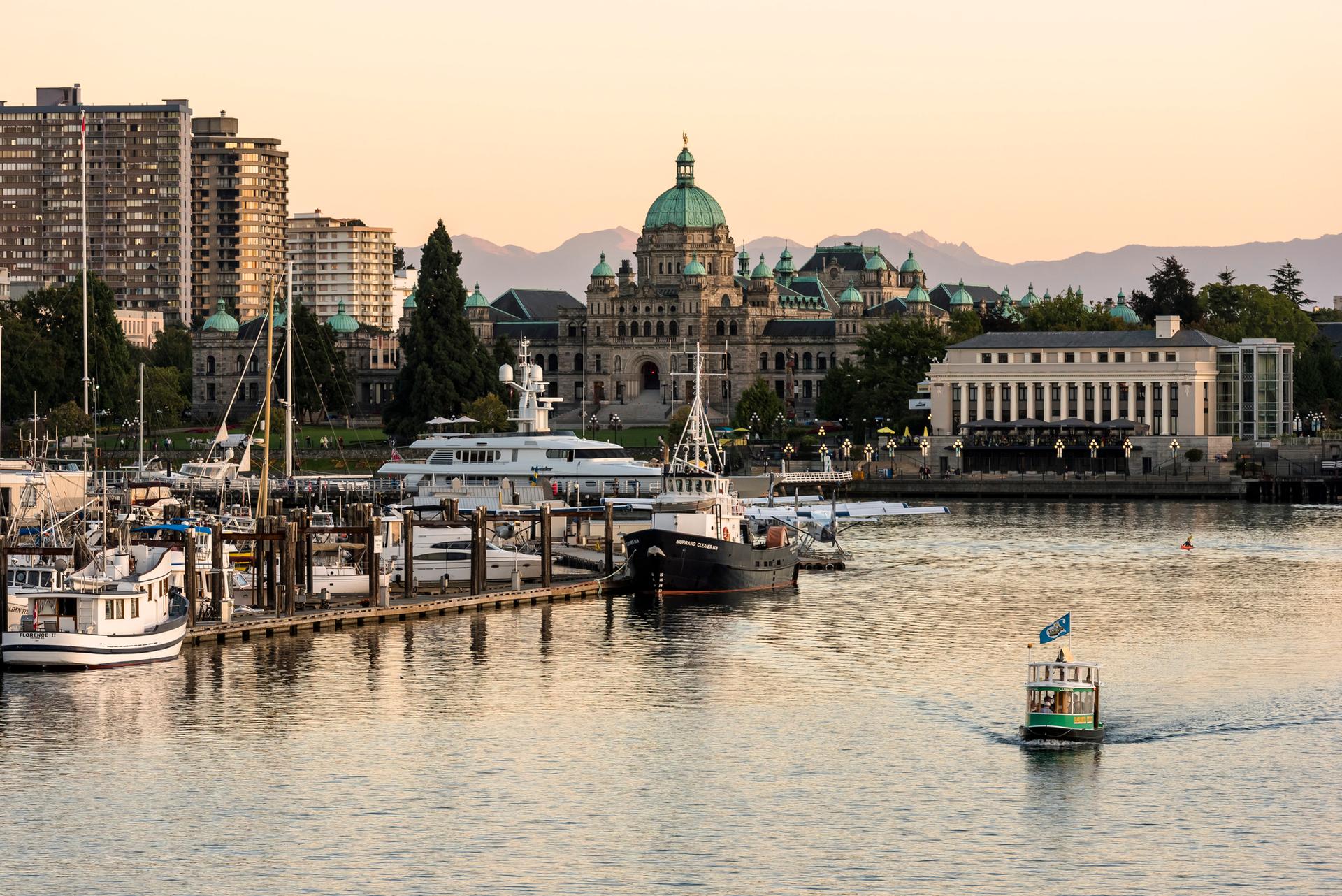 British Columbia's capital city is hard to write about for all the right reasons. There's so much to see and do that you really can't describe Victoria in just one or two ways.
Some would describe Victoria as quaint, from the horse-drawn carriages to its beautiful gardens and classic architecture. But this might seem to contrast with those who would describe it as cosmopolitan, thanks to the great shopping, dining, and entertainment. Still others might call it exhilarating, thanks to the multitude of outdoor adventures close to the city, from whale watching to skiing.
You get the idea. The city has something for everyone. Here's a quick guide to help you find the right Victoria experience for you.
Quick facts
5 must-sees

Victoria's Inner Harbour
Like any great city on the water, Victoria's harbour is a hive of activity year round. Where local First Nations once launched their canoes, yachts, small cruise ships, and ferries now take locals and tourists to and from the city. Like the water? Rent a kayak, sign up for a whale watching tour, or hop in a float plane. Prefer dry land? Spend an hour watching musicians, performers, and artists as you walk along the waterfront, or visit the near-by legislative buildings (built between 1893 and 1897) and historic Fairmont Empress Hotel (built in 1908).

Butchart Gardens
You don't have to love flowers to enjoy the Butchart Gardens. The gardens are home to fine dining opportunities, complete with local ingredients and wines. They host local art and entertainment, as well as Saturday night fireworks in the summer and Christmas lighting and an outdoor ice rink in the winter. Tour the surrounding waters and get a sense of the garden's history in an eco-friendly boat. Or, stay on land and visit the beautiful, bronze and granite dragon fountain gifted by the People's Republic of China and the City of Suzhou. And yes, if you do enjoy flowers, the 55-acre site has world-renowned floral displays that you can explore at your leisure.

The Royal BC Museum
The natural and human history of British Columbia is permanently on display at The Royal BC Museum in Victoria, where you can walk through Victoria in the 1920s, see a woolly mammoth in its habitat, and learn about the ceremonial masks of local First Nations, all under one roof. The museum strives to not only display its collection of artifacts and items -- all 7 million of them -- but to immerse them (and you) in a realistic setting. If you really want to learn about the province as you experience it, you'd be hard-pressed to find a more fitting attraction.
Craigdarroch Castle
See how the other half lives, if the other half in question is a coal baron from the 1890s. Craigdarroch Castle is a Scottish Baronial mansion built during the reign of Queen Victoria which has been restored to capture a moment in time. A real testament to Victorian architecture, this massive, four-floor home includes an 87-step oak staircase, 32 stained glass windows, and an impressive collection of period furniture. Trace the history of the home and its original inhabitants through photographs on your self-guided tour.

Beacon Hill Park
If you don't think petting zoos should be a kids-only kind of attraction, let us introduce you to Beacon Hill Park. Located in downtown Victoria, at the very end of the Trans-Canada Highway, this massive 200-acre park has something for everybody. Wildflowers and beautiful gardens? Check. Oceanside views of waves and sailboarders? Check. Places for putting, lawn bowling, cricket, and a variety of other sports? Check. Opportunities to see fish, turtles, river otters, peacocks, and other animal life in the wild? Check. Oh, and did we mention the petting zoo?
How to spend a weekend in Victoria
If you were to spend a weekend in Victoria, you can have a completely different experience each day you're there.
On the first day, embrace Victoria's British ancestry and hop on a double-decker bus to your nearest tea room -- the Fairmont Empress' Afternoon Tea never disappoints -- and fill up on delicious pastries to fuel the rest of your day. Then, head to one of many formal gardens in the city to embrace another British tradition -- you can't go wrong with stand-out Butchart Gardens. After spending a few hours surrounded by the beautiful flowers, why not embrace a few other cultures that have shaped Victoria, with a stroll through Chinatown (with a necessary stop for dim sum) or a visit to the spectacular Royal BC Museum, with its collection of First Nations masks and art. Then end your night by treating your ears to the Victoria Symphony.
After a day spent absorbing culture, you might want to spend your next day seeking out a little adventure. Book a whale watching trip with one of the many local companies and spend a few hours sharing the water with orcas, humpbacks, or grey whales. If you're more keen on physical activity, you can instead spend your day at a world-class golf course or snowshoeing through beautiful provincial parks, depending on the season.
All of those adventures must have made you hungry. Fill up on authentic Italian food at the award-winning Zambri's, some steak and frites at Brasserie L'Ecole, which is located in a former Chinese schoolhouse, or enjoy the fruits of the ocean with a view at Aura. Then, head out on the town and spend your night rubbing shoulders with the locals at a variety of nightclubs and bars.
How to get here
The quickest way to get to Victoria is likely by plane. The Victoria International Airport connects the city to major airports in western Canada as well as Seattle, so you won't have any issue finding a connecting flight into this destination.

From Vancouver, you can also grab a quick floatplane or even a helicopter over to the island.

Vehicle and passenger ferries regularly travel between Victoria and Vancouver or Washington State.

And Victoria is also a popular stop for cruise ships, allowing passengers to spend a day exploring the city.
Where to go next:
Thinking of doing a little exploring in British Columbia? Victoria is close to other popular destinations in the province, including Canadian surf capital Tofino (4h30m by car) and Vancouver (3h30m by car or bus and ferry, or a quick float plane ride)
Victoria is truly what you make of it. Find the right trip for you, on the Hello BC website.