A quick guide to Kelowna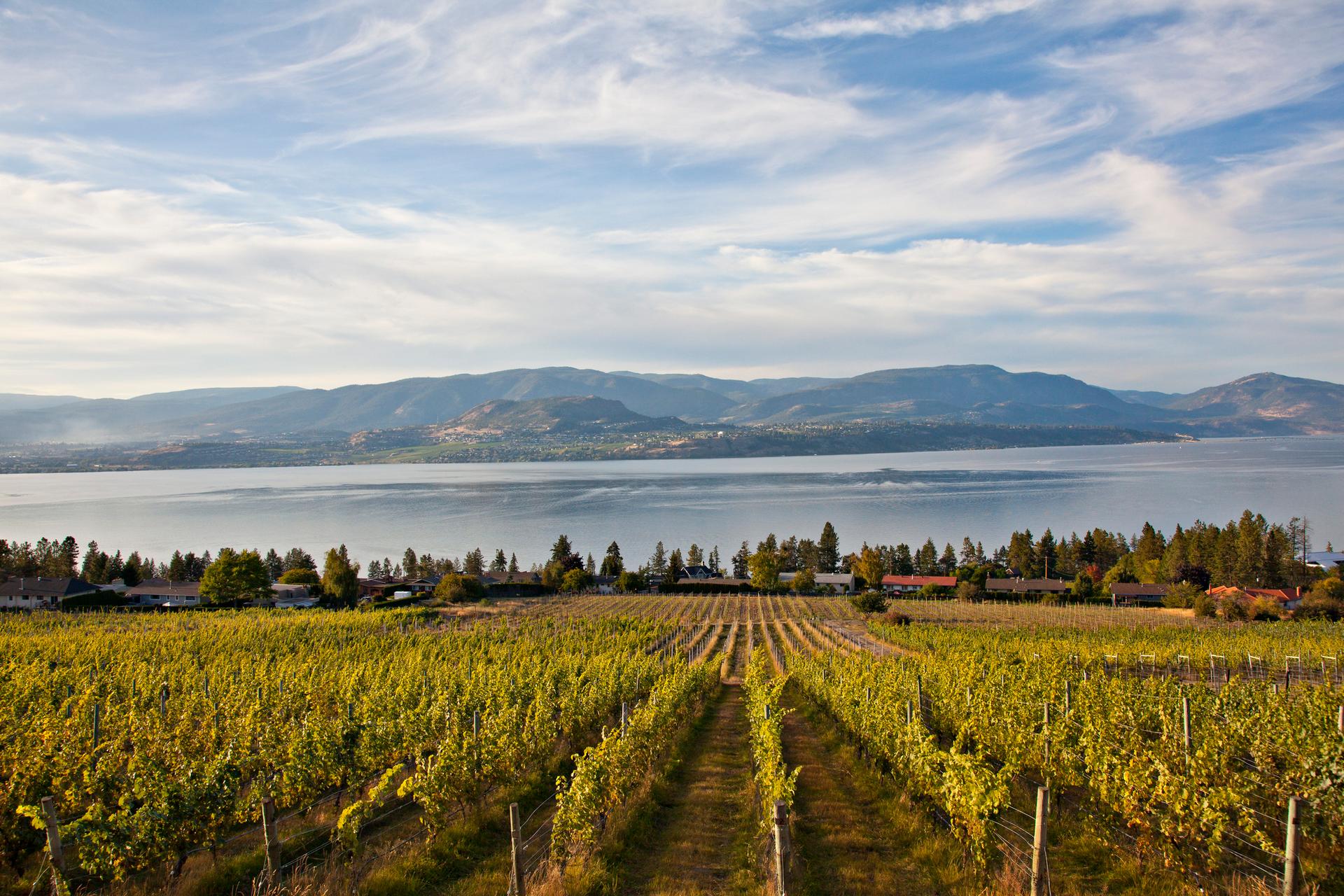 You probably know Kelowna for its reputation as being the heart of Canada's wine country, but don't be fooled — this eclectic year-round destination has a lot more to offer than just internationally recognized food and drink.
Depending on who you ask, Kelowna can be described in a lot of ways. The culture seeker might say it's a lakeside paradise, offering some of the best beaches, restaurants, and artisans in the country. Ask the winter lover and they'll say it's a winter wonderland, with incredible skiing and quaint outdoor skating rinks. Ask outdoors fanatics and they'll say that it was made for adventuring, from its many mountain hikes, to historic trestle bridges and cascading waterfalls.

What we're trying to say is, no matter who your are, or what type of vacation you are looking for, you're going to find it here. Check out this quick guide to help you find the right Kelowna experience for you.
Quick facts
Over 1.5 million people visit Kelowna annually.

The word Kelowna means Grizzly Bear in the local First Nations dialect.

Kelowna is home to over 30 wineries, all within a 20 minute drive of each other.

Kelowna receives over 2,000 hours of sunshine annually.

Kelowna is home to the

W.R. Bennett Bridge

, the only floating bridge in Canada.

Kelowna International Airport YLW

offers 66 daily non-stop flights to eight of the largest North American gateway airports.
5 must-sees
Downtown Kelowna
Perched on the shores of Okanagan lake, Downtown Kelowna is the city's cultural heartbeat. Join the crowds of locals by Kelowna's most photographed sculpture, The Sails, head west to Okanagan Lake City Park for the city's best beach, as well as biking trails, picnic areas, and a water park for the kids. To the east, stroll down Bernard Avenue and enjoy some of the city's best boutique shopping and restaurants. To the north, walk along the picturesque waterfront boardwalk and through Waterfront Park.
Okanagan Lake
If 23C (69-71F) water temperatures sound good to you, then you're going to love this. The entire Western edge of Kelowna is bordered on the pristine Okanagan Lake. Looking to stay fairly dry? Rent a paddleboard, canoe, or kayak and head out along the lake, or keep it simple and go snorkeling along the shore. Looking for something more extreme? Grab a jet ski, go waterskiing or check out the wakeboard park. Rather enjoy the water from a distance? Lay out on one of the Kelowna's pristine beaches, book a dinner reso at a lakeside patio, or just stroll along the City Park boardwalk.
Mission Hill Winery
Often recognized as one of the most beautiful wineries in the world, Mission Hill is a lot more to offer than just wine tasting. Stroll through the expansive grounds, from the fortress-like gates to the courtyard bell tower, and you will notice every detail is perfectly designed to overload your senses. Plan your trip around a live performance of Shakespeare in the intimate outdoor amphitheatre, or reserve a table at the award-winning terrace restaurant and watch the sunset over the vineyards, mountains, and lake.
Myra Canyon Trestles
Looking for the ultimate Pacific Northwest experience? Look no further than 
Myra Canyon's 18 trestle bridges and 2 tunnels
. Originally built by the Canadian Pacific Railway to service prospectors during 20th century mining boom, immerse yourself in this piece of history. Situated on the scenic Kettle Valley Runway, this outdoor escape is perched along a steep-walled canyon offering a complete outdoor adventure just a short drive from the city. Whether you prefer to hike, bike or join an educational guided tour, there's an experience in Myra Canyon for all.
Knox Mountain
If you are looking for some of the best views in the Okanagan valley, Knox Mountain is a must. Sitting on the edge of downtown Kelowna, the 766 acre natural park is just minutes away from most hotels. If you're feeling adventurous, park at the bottom and hike or bike up to the summit, approximately 300 meters above Okanagan Lake. Feeling tired? Lucky for you, in the summer months you can drive up. However you decide to do it, the journey will be worth the panoramic views at the top. 
How to spend a weekend in Kelowna
Spending a weekend in Kelowna will probably leave you wanting more, but here's how to make the most of your time.
Kick off day one by getting to know the city's culture through food and drink. Use The Sails sculpture as your North Star, and explore the city by foot. Beat the crowds, and start with a morning walk through City Park and down the waterfront boardwalk, heading north through Waterfront Park and stopping at the Dolphins sculpture. Take Water Street back south, stopping to rest your feet at Giobean, one of the city's best cafes. Grab a quick lunch at one of Kelowna's best food spots on Bernard (the locals will all point you to Mad Mango Cafe or Little Hobo Sandwich shop) then sneak in some shopping at one of Bernard Avenue's 70+ unique boutique shops. Just as the afternoon crowds start to build, hop in the car and head out on an sunset adventure, for the best views, climb or drive up Knox Mountain.
After a day on your feet, it's time to relax and enjoy Kelowna's incredible vistas and renowned wineries. Start your journey with a drive down the historic Westside Road, stopping along to way to enjoy the incredible panoramic views. Spend the rest of the day at a few of Kelowna's 30+ wineries. Whether you organize a wine tour yourself, or book a guided tour through one of the many local companies, most of Kelowna's wineries are open year-round, so plan to spend the day jumping from one to the next.
To wrap up an active weekend, it's time to relax and enjoy the Kelowna's nightlife. Enjoy farm fresh, local cuisine at RauDZ Regional Table, wood-fired pizza at The Curious Cafe, or French comfort food at Bouchons. After dinner, try some local craft beer at BNA Brewery, or an avocado margarita and live music at Fernando's Pub.
How to get here
The quickest way to get to Kelowna is by plane. The Kelowna International Airport connects the city to major airports across Canada, as well as major U.S. airports including Seattle, Las Vegas and Phoenix.

From Vancouver, you can also rent a car and drive the beautiful 4-6 hour journey through the Coquihalla or Crow's Nest route.  
Where to go next:
Thinking of doing a little exploring in British Columbia? Kelowna is close to other popular destinations in the province, including Canada's only desert, Osoyoos (2h45m by car) and Vancouver (45m by plane or 4h by car or bus).
Kelowna is truly what you make of it. Find the right trip for you, on the Hello BC website.