An outdoor adventurer's guide to Ontario
Ontario offers a wonderful choice of accessible wilderness. You can leave a major urban centre and an hour or so later be out on a boat or hiking the trails. This easy proximity has turned Ontario into an outdoor adventure capital that's so extensive you'll never run out of new experiences to try.
We've put together a quick outdoor adventurer's guide to Ontario so you can make the most of your days exploring the wild.
Hiking at Algonquin Provincial Park
Adventure by land
There are over 330 provincial parks and six national parks in Ontario, and every inch contains some new opportunity for an adventure.
For one, these parks are a hub of hiking. Over 1,100 miles of hiking trails crisscross the province, bringing you through all types of terrain on both short treks, day hikes or weeks-long trips. Hike your way to the 100m deep Barron Canyon in Algonquin Provincial Park, marvel at the picturesque Chutes Provincial Park waterfalls, or test your physical fitness by climbing "The Crack" at Killarney Provincial Park, a series of huge tumbled boulders. There's no way to do all of the hiking in Ontario justice in by describing it; you're just going to have to go out and experience it for yourself!
Seeing things from the ground isn't always enough of an adventure. Luckily, Ontario is also home to fantastic rock climbing and bouldering. Popular climbs include the limestone peaks along the Niagara Escarpment and the rock walls of Bon Echo Provincial Park. Once you've conquered the outside of mountains, head inside for some potholing. Take a cave tour and hunt for fossils at Bonnechere Caves in Eganville or explore the seven Warsaw Caves, carved by glaciers during the last ice age.
From two feet, move to two wheels. Similar to hiking, Ontario is blessed with more miles of mountain biking trails than you could possibly conquer in one lifetime. Abandoned logging roads, steep descents, deep forest routes; you name it and Ontario has it. Single Tracks has compiled a list of many of the province's mountain biking trails with handy information like the degree of difficulty and length of trail. Spoiled for choice and don't know where to start? The Blue Mountain Resort and the Bruce Peninsula Mountain Bike Adventure Park are both popular local picks. Cycling tours are also a popular way to explore Niagara's Wine Region. 
If 'extreme' is your middle name, all kinds of gravity-defying adventures (that probably don't fit in the "land" category) can be found in and around Ontario. It's an amazing rush to soar high and fast toward the breathtaking Niagara Falls on the MistRider Zipline to the Falls. On four parallel ziplines, travelling 670 metres through the wide river gorge, guests get picture-perfect views of the American and Canadian Horseshoe Falls - an exclusive Niagara experience! Experience the adrenaline pumping half mile Thunderbird Twin Zip Line at the Scenic Caves Nature Adventures in Blue Mountain, less than two hours from Toronto. Walk through the tree canopy of the Haliburton Forest and Wildlife Reserve  or challenge yourself at the Skywood Eco Adventure in the 1000 Islands region. Book a Fly and Hike Adventure in Georgian Bay. The airplane will drop you at a private island to hike the shorelines and trails, take a dip or view a shipwreck. Experience motor power, explore the 1,000 acres of private trails amid spectacular Canadian Shield scenery on your ATV (All Terrain Vehicle) with Bear Claw Tours.  Bungee jump 45m above the Ottawa River. These are the activities bucket lists were built for.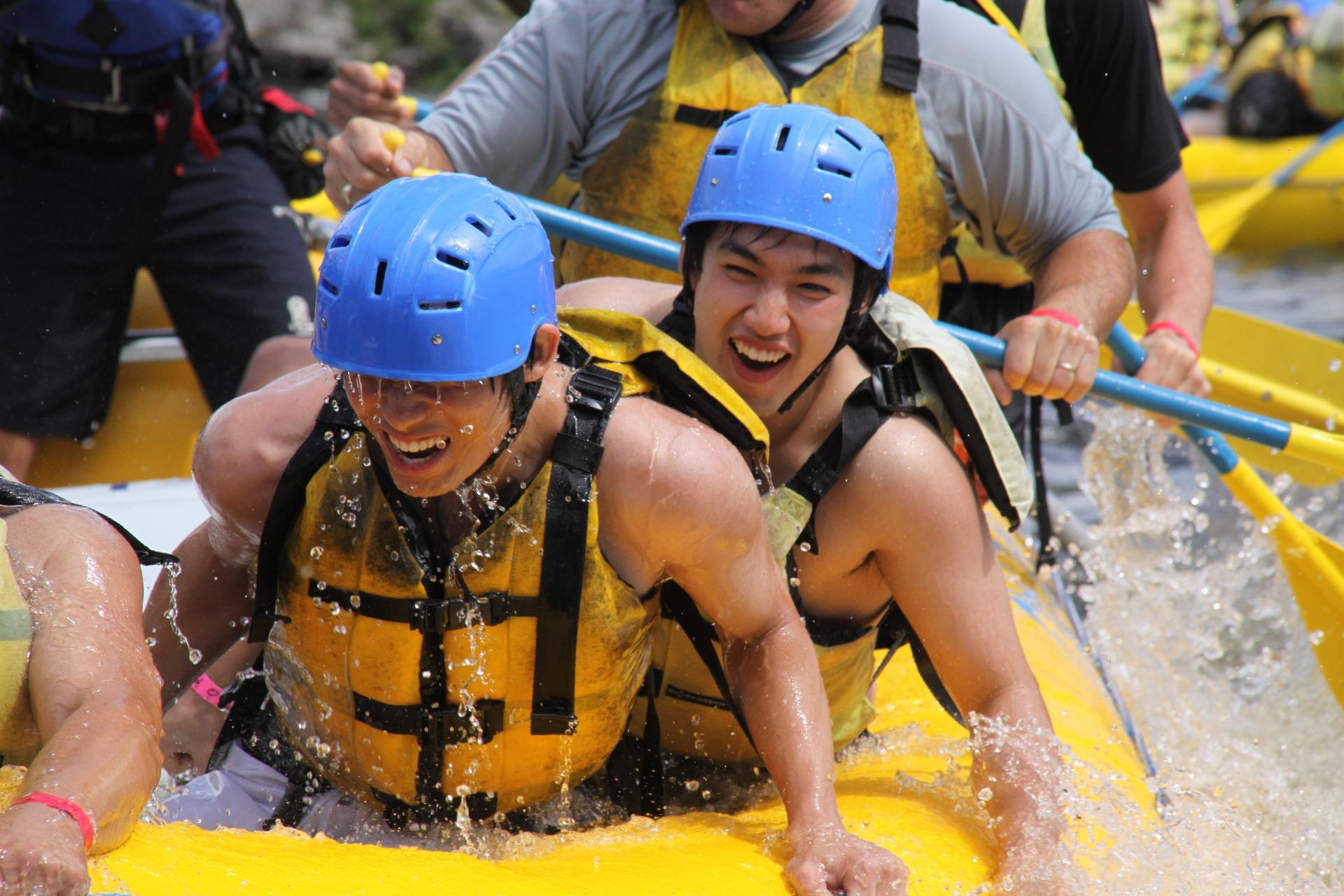 Ottawa River Rafting - Credit: OWL Rafting
Adventure by water
'Ontario' is an Iroquoian word meaning 'the land of shining waters' which is the perfect description for the province. Over a half million lakes and waterways can be found within Ontario, including the Great Lakes, giving you plenty of options to experience Ontario's waters.
Canoeing and kayaking are the quintessential Canadian experience. Ontario Parks offers some of the most iconic canoeing opportunities, like the Algonquin or French River, which will make you feel like an explorer navigating these waters for the first time. Madawaska Kanu Centre -- the world's first whitewater paddling school -- is home to weekend or five-day active vacations that will exhilarate, rejuvenate, and welcome you into a lifelong love of whitewater paddling. Then there's Georgian Bay, a perfect kayaking destination. Local outfitters can set you up with all the gear; guided or unguided, daytrips and multi-day trips are available. Finally, stand up paddleboarding can be done anywhere from Toronto's waterfront to Ontario's North!
Algonquin Park - Credit: Voyageur Quest
If you love to get out onto white water, the Ottawa River is a great place to start. In fact, the Ottawa Valley is known as the Whitewater Capital of Canada. Owl Rafting offers not only rafting trips with experienced guides at the helm, but also guided white water canoe and kayaking trips, that safely splash and roll you through one of the world's great whitewater routes.  Whitewater canoeing is also available on six different rivers at Algonquin Provincial Park. These rivers take on new life during the spring melt when the water levels rise, so you're going to want to plan your visit for then. Or, for a completely different way to power through whitewater, sign up for a Whirlpool Jet Boat Tour of the gorge on the lower Niagara.
You can also experience Ontario's many waterways from under the water's surface. Head to the 1000 Islands region, strap on your scuba gear, and dive the region's 200 shipwrecks. Fathom Five National Marine Park in Tobermory is also home to over 20 shipwrecks, and is one of the most popular scuba destinations in Canada.  
Discover the sparkling lakes, granite shores and pristine waters on numerous day cruises, such as the RMS Segwun, North America's oldest operating steamship cruising on the Muskoka Lakes. A cruise in the 1000 Islands region is a "must do."
Ending this list of water adventures is kiteboarding. Take advantage of the wind and waves in Georgian Bay and learn how to be a pro with Blue Mountain Kiteboarding. You can also get lessons from the Toronto Kite Club without leaving the comforts of the city. 
Ready to start planning your adventure? Visit the Ontario Travel website
Ready to start planning your adventure? Visit the Ontario Travel website