Nova Scotia bucket list experiences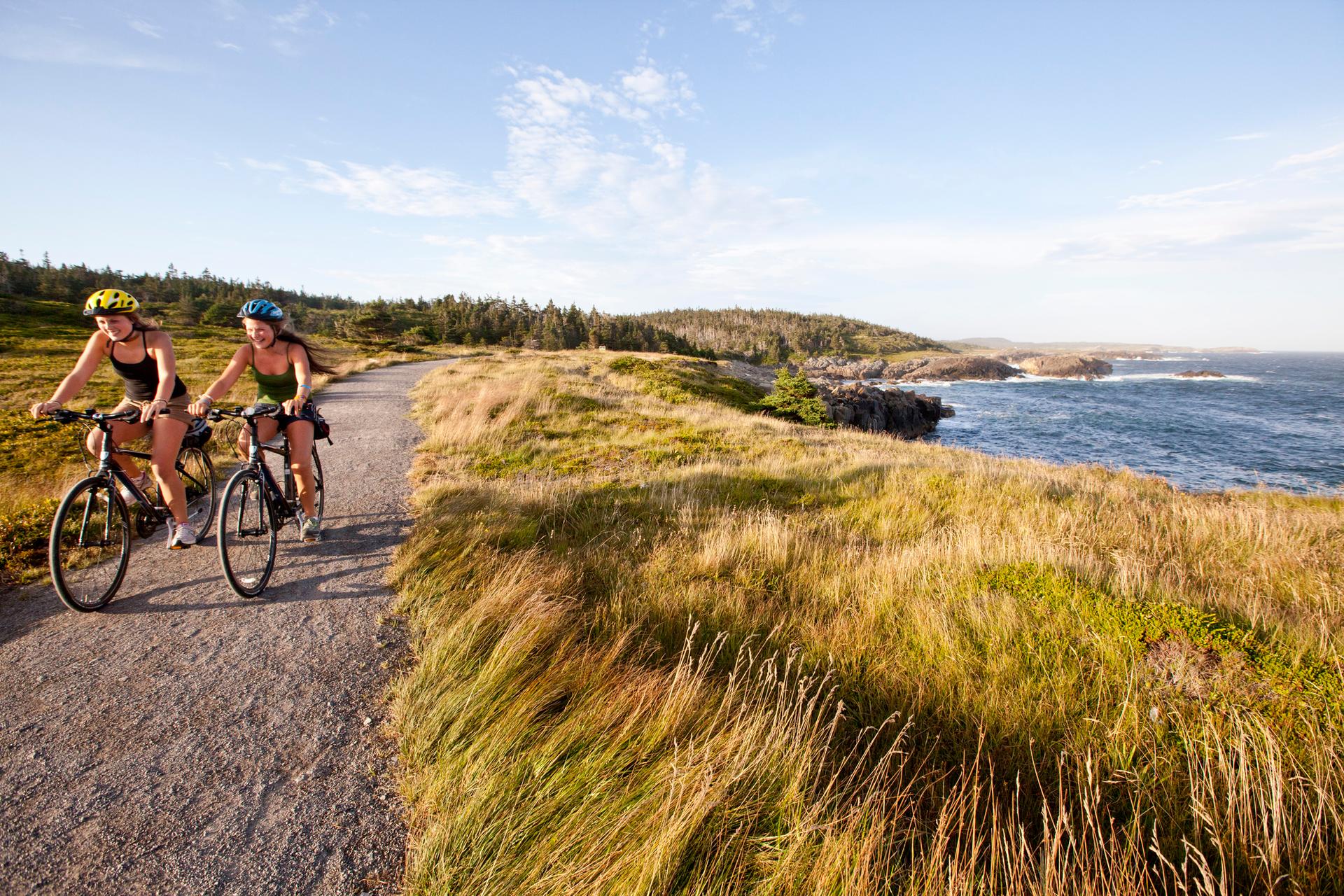 Is a visit to Nova Scotia in your future? Are you wondering what you need to put on your don't-miss bucket list? We've compiled our top picks for your next visit to Canada's East Coast.
Almost surrounded by the Atlantic Ocean, summer and early fall are prime time for whale and seabird watching in Nova Scotia. Not only is there the chance to see up to 12 species of whales, you may also see dolphins, porpoises, seals, puffins, and seabirds. These animals visit the oceanic feeding grounds surrounding Nova Scotia each year -- it's like nature's aquarium!
Cape Breton Island, home to the world-renowned Cabot Trail, was named the #1 Island in the Americas by Cond? Nast Traveler in 2019, and #8 Best Island in the World and #1 Best Island in Canada by Travel + Leisure. The natural beauty of the highlands provides the perfect backdrop for outdoor activities such as golfing, kayaking, hiking, and cycling.
Hike and camp in Cape Breton Highlands National Park, play a round of golf at the famous Highlands Links, enjoy local food, craft beer and spirits, or soak in the scenery along the 186-mile highway. You'll experience spectacular coastal views, highland scenery, and warm hospitality.
Soak up heritage and history as you walk along the waterfront of the history port city of Halifax.  Start at the Canadian Museum of Immigration at Pier 21 - the gateway into Canada for one million immigrants - and then explore shops and galleries, caf?s, and some of the city's best restaurants.
Discover the Halifax Seaport Farmers' Market, the oldest continuously operating farmers' market in North America. Enjoy a taste of authentic Nova Scotia with the outstanding vendors offering locally made food and wares.
Learn about Nova Scotia's seafaring history through exhibits at the Maritime Museum of the Atlantic including displays showcasing Halifax's connection with the Titanic.  Stop into the Halifax Distilling Company and try their hand crafted locally distilled rum products. And end at the stunning Historic Properties, originally built to safeguard treasure captured by privateers, by paying a visit to the The Lower Deck Pub to take in the very best of Nova Scotia's live local music scene.
The Nova Scotia Good Cheer Trail is Canada's first winery, craft brewery, cidery and distillery trail.
From Yarmouth to Sydney, discover locally produced wines, beers, ciders, and spirits at any of the 85+ stops on the trail. Whether you're interested in trying the latest vintage of Tidal Bay (an exclusive to Nova Scotia appellation wine), meeting an award-winning brewmaster, or sampling a fresh cider or single malt whisky straight from the barrel, the Good Cheer Trail has it all. Be sure to pick up a Good Cheer Trail passport to help you as your plan your road trip adventure.
If you want an adrenaline rush on your next Nova Scotia getaway, be sure to check out tidal bore rafting. You'll ride eight-foot waves in a whitewater Zodiac as the surging power of the Bay of Fundy's record tides turns the Shubenacadie River into a water roller coaster you'll find only in Nova Scotia. 
Expert guides take you cascading down white-capped rapids as the incoming ocean suddenly reverses the flow of the river. Your day will be topped off with a mudsliding adventure, so bring your sense of adventure and a change of clothes!
Experience the ultimate culinary adventure at the site of the world's highest tides. Savour the best Nova Scotia food, beer and wine in this exceptional experience. Begin by learning about the wild edibles of Nova Scotia, followed by a lunchtime seafood feast where you meet the Chef and enjoy beer and wine pairings. Enjoy a guided tour of the ocean floor, then take a seat at a dining table with a view of the incoming tide for an intimate 3-course dinner on the ocean floor; all followed by an ocean floor campfire.
Taste your way through Halifax's hippest neighbourhoods and must-try local flavours, connecting with chefs and culinary artisans. This fun-filled, exclusive tour, led by your own culinary insider, features uniquely prepared Nova Scotia food paired with local wine, craft beer, cider, and spirits. This amazing afternoon wraps up with a private, behind-the-scenes charcuterie and spirit tasting inside Halifax Citadel National Historic Site.
Spend your day winery hopping via the Wolfville Magic Winery Bus! This hop-on, hop-off excursion visits five beautiful, local wineries in the heart of Nova Scotia's Annapolis Valley. At each winery, enjoy an hour or so of tasting and exploring before the bus arrives to whisk you to the next incredible destination. You will quickly learn why this region is known as the center of wine country in Atlantic Canada.
Don't let the adventure end when the tour does. When you return to Wolfville, visit the amazing boutiques, cafes, the Annapolis Cider Co., and many incredible restaurants. End your perfect, bucket-list day by staying at one of their amazing inns or bed and breakfasts.