Long weekends in Canada: adventure getaways
Check the most up-to-date travel restrictions, including border closures, before planning your trip and be sure to contact businesses prior to travel to book reservations and confirm availability.
Adventure awaits with these Canadian long weekend ideas. Whether you're looking to spend some time on the water, on land or in the air, every province and territory has activities to keep you challenged and help you unwind.
On the Water
River surfing on the Bow River by the 10th Street bridge in Calgary. Photo credit: Davey Lieske @davey_gravy
Calgary, Alberta: Urban surfing 
When you think of urban Calgary, you probably think of cowboys rather than surfers. You'll be surprised to find you can ride a curl under the 10th Street Bridge, thanks to a permanent wave on the Bow River. Start your long weekend with a lesson and gear rental from the aptly named Outlier Surf Shop. On day two, intermediate and advanced surfers will want to drive  just 45 minutes from Calgary to surf the Lower Kananaskis River waves with equipment from Bow Valley Surf. End your weekend on a high in Calgary with a 'flight' at Altitude Flight Simulation and a sugary treat from Hoopla doughnut!
Northwest Territories: Fishing and wilderness
Yellowknife is a not-to-be missed destination on the rocky shores of Great Slave Lake within casting distance of some truly outstanding fishing. Book a long weekend's stay at an all-inclusive lodge, design a custom guided tour, rent a cabin or houseboat for the whole family. No matter your choice you'll rise with the sun each morning to pull the night's supper from clear lake waters. (Note: Locals and Nunavut residents can visit the Northwest Territories. Other travellers must undertake a mandatory 14-day self-isolation upon arrival. Updated October 19, 2020.)
Montr?al, Quebec: Surfing and island vibes
Chic, multicultural Montr?al is the perfect place to start your island-inspired surfing weekend with Oasis Surf Club lessons. On day two of your vacation, hire an instructor and head for the St. Lawrence River's most accessible standing wave, La Vague ? Guy by Habitat 67. In the evening, take a deep dive into the rich culinary culture of another island, Haiti, with a dinner at Agrikol (order a Ti punch, a French-Caribbean speciality). On your last day, shake off your rum-fueled night with a hike up to the highest point of the urban island of Montr?al, Mount Royal. Before heading home, soothe your sore muscles aboard Bota Bota, a floating spa in the beautiful Old Port of Montreal.
Trails, Tracks and Tours
Skyline Trail – Cape Breton Highlands National Park. Photo credit: Communications Nova Scotia
Ontario: Hiking the fall colours
Fall in love with the reds, yellows and oranges of autumn by spending a long weekend exploring Ontario's most colourful trails. Grab your hiking shoes and hit a few segments of the 900 kilometre-long Bruce Trail that stretches from Queenston to Tobermory. You won't become an end-to-ender in three days--but you'll love the trail so much, you'll return to it, year after year.  On day two, find more fall hues at Rattlesnake Point in the rolling Halton Hills, about 20 minutes off the Bruce Trail. End your weekend beautifully with colours of another sort--white, ros?, red, burgundy--at the wineries of the nearby Niagara region. 
Nova Scotia: Exploring the high points of Cape Breton Island
Start your long-weekend adventure in Nova Scotia with a walk along the infamous Skyline Trail in Cape Breton Highlands National Park here you'll find jaw-dropping ocean vistas at every turn. While you could spend your entire trip hiking on the island, we recommend you also explore on wheels, both driving and cycling along the winding Cabot Trail, and by boat. Keep your eyes peeled for wildlife sightings, including moose and test your sea legs on a whale watching tour. Prior to returning home, make sure to try the fresh-from-the-waves fish and chips at the Sea Gull Restaurant and explore the Cape Breton Centre for Craft and Design in Sydney, which is full of Nova Scotian art and handcrafts.
 Newfoundland and Labrador: Icebergs, whales and lighthouses
After the drive from St. John's to Twillingate, you'll love climbing aboard the Iceberg Quest boat, feeling salt spray on your face and seeing that first early summer iceberg. When a whale appears, you'll be telling your family and friends to come next time! On your next day, reacquaint yourself with the land with a hike to the picturesque Long Point Lighthouse standing 300 feet above sea level, for an unobstructed view of the Atlantic Ocean. Next, celebrate your love of the sea with a classic boil at Doyle Sansome & Sons Super Lobster Pool. Take some of the traditional Newfoundland and Labrador crafts home by paying a visit to the well-curated collection at Durrell Museum.
On Two Wheels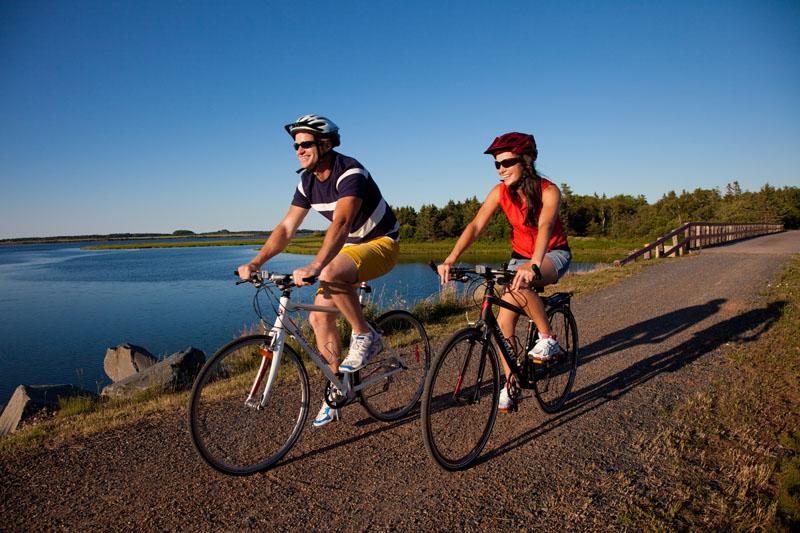 Cycling Prince Edward Island's Confederation Trail. Photo credit: ©Tourism PEI / Stephen Harris
Yukon: All-adventure mountain biking
Whether you're an expert mountain biker or a novice rider, you'll love Carcross, Yukon, where Tagish First Nations youth have created world class cycling trails. Get your family and friends together and enjoy a three-day, two-night, remote mountain biking trip. Led by experienced guides from Bore?ale Explorers and Ranch, roll through stunning, mountainous landscapes by day and enjoy cozy accommodation by night. Sit by the campfire, gaze at the aurora borealis and listen to guides sharing stories from the local Carcross and Tagish Peoples.
New Brunswick: Bay of Fundy fun
A long weekend in New Brunswick's Bay of Fundy region offers something different to get you out of bed each morning. Start by mountain biking the White Rock Recreational Area- named for the white gypsum on which it's built--where there's a trail for every ability. The next day, stretch your legs on the tamer Pangburn and Melvin Cliffs trail that takes you downhill to the entrance to Pangburn Beach where you can enter at low tide. Be sure to book a stay at the Falcon Ridge Inn B&B to take in unobstructed views of the Bay of Fundy, the Nova Scotia shoreline and Fundy National Park.. On day three, walk the ocean floor or kayak to experience the highest tides in the world at Hopewell Rocks.
Prince Edward Island: Countryside pedaling
In Prince Edward Island, a must for cyclists is the St. Peter's Loop, a spectacular coastal route that takes you past rolling farmland, sandy beaches and working harbours. Equally popular is the Confederation Trail, a 449-kilometre rolled-stone trail that runs from Tignish to Elmira with spoke trails into Charlottetown and smaller communities. No matter the trail, you won't ride for very long without stopping--not to rest, but to take a photo--so your ride might consume most of your days. On your last day, rest your legs by wandering the charming shops of Charlottetown's Victoria Row and touring historic Beaconsfield House. Sweet on Charlottetown? Treat yourself to a big scoop of Cow's ice cream then visit the must-see St. Peter's Harbour Lighthouse.
Camping in the wilderness
Grasslands National Park, Saskatchewan. Photo credit: Tourism Saskatchewan/Eric Lindberg
Saskatchewan: Big Sky, Big Adventure
Saskatchewan's Grasslands National Park, is home to the darkest Dark Sky Preserve in Canada. While the sun is up, spend your three days hiking, mountain biking and horseback riding while you look for prairie dog towns, quicksand, bison and even dinosaur bones. For a refreshing perspective on your surroundings, hop in a kayak and explore the Frenchman River that weaves through the West Block of the park. When the sun sets, enjoy the comfort of a front country campsite (pitch your tent in the backcountry for a more rustic experience), roll out your sleeping bag and be enveloped by Saskatchewan's big sky. 
Nunavut: Arctic adventuring
Iqaluit offers once-in-a-lifetime wilderness camping adventures in the Arctic tundra. Direct three-hour flights from Ottawa make long weekends in Nunavut an accessible experience. Hire a local guide from Arctic Kingdom who will share the traditions of the Inuit culture that make this such a unique place, while you hike, camp and appreciate this remote region. Of note, anglers will be delighted with the cold clear waters where bass, trout and bluegill are ready for your line. (Note: Travel to Nunavut is restricted. Locals, Northwest Territories and Churchill residents can visit the region, while travellers coming from other parts of Canada must undertake a mandatory 14-day self-isolation. Information updated on September 21, 2020.)
Manitoba: Beach camping
Manitoba's Whiteshell Provincial Park, a collection of 200 lakes, rushing rivers, warm sandy beaches and rugged forests, will make you feel like a kid at camp again. Choose from luxury adult-only, family-friendly or backcountry options to camp out under the stars. Spend your days in the sun hiking, paddling, fishing, building castles on sandy beaches and swimming in crystal clear water. Book a guided tour to the Bannock Point Petroforms--rock layouts thought to have been created as a healing site by Anishinaabe people. Making the two-hour drive back to Winnipeg? Enjoy modern dishes made from traditional Indigenous ingredients at Feast Caf? Bistro.