Following Québec's gourmet route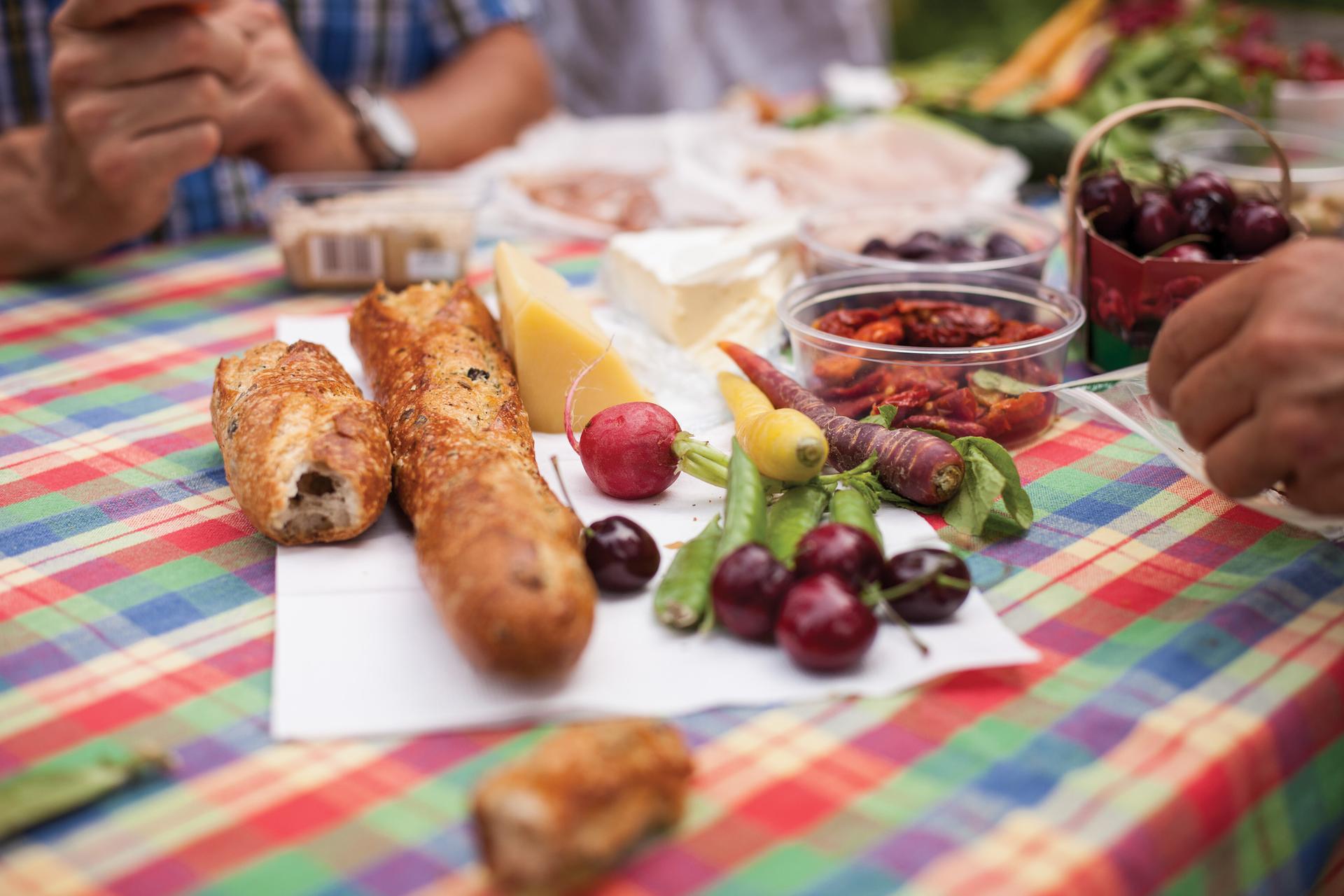 Just like France, French-Canadian Qu?bec is all about good food (and wine, and cheese, and enjoying the best life has to offer). The best way to sample it? On a road trip. Take a Qu?bec tour along the Gourmet Route, a self-guided driving excursion through the green countryside that stops in at more than 50 farms, orchards, fruit stands, tasting rooms, and artisan producers' cottages.
Sample local cheeses -- a Qu?bec specialty -- cold-pressed cider, organic wine, fresh-baked bread and croissants, crisp apples and sun-ripe tomatoes, clover honey and local maple syrup, smoked bison and foie gras, plus homespun products like farmstead lavender oil and lotion.
Meet the makers and take a tour. Gather goodies and picnic in the charming valleys of Charlevoix or along the St. Lawrence River, looking out for breaching whales. There are plenty of options from both Qu?bec City and Montr?al, you just need to decide how you'll travel (you can drive by car, motorcycle, or travel by bicycle) and where you'll go. Plan your route and taste it all.
Muscovy and mule duck breeder Les Canardises is renowned for its exceptional quality meat. Visit the farm in Saint-Ferreol-les-Neiges to pick up premium foie gras, truffle mousse, terrines, rillettes, cassoulet, and other mouth-watering traditional French specialties. Eat it right there or ship a box home.
Spend an hour or afternoon at one of the many family farms, large and small, devoted to sustainable, organic practices and the highest quality products. Choose from orchardists making old-style preserves, alpaca and bison ranchers, goat cheese makers, cideries, and lavender farms. You can even try giant emu eggs in Charlevoix.
Check out Baln?a Spa for a weekend retreat in the Eastern Townships. Here, you can enjoy a massage, body scrubs and wraps, or facials. Then dine on the pristine fare designed around wellness, nutrition, and the seasons.
After you've maxed out the farm stands and u-picks, sit down to dine on the region's bounty in style. Arguably the finest is Qu?bec City's avant-garde La Fenouilli?re, serving eclectic nouveau French in a refined, romantic ambiance. Tuck into browned lamb with thyme and rosemary or perfumed veal medallions. Leave room for the imaginative desserts ? la the Deconstructed Lemon Tart or cacao-hazelnut fondant cake. No tour would be complete without chocolate, of course. Indulge at old-school La Fudgerie, housed in a cheery red-roofed place in Qu?bec City's Quartier Petite Champlain. There's nougat in addition to decadent fudge, and every chocolate-covered treat you can imagine from around the globe.
Qu?bec cheese is so renowned, it needs its own category -- and really, you can do an entire foodie route around cheese (and many do). The province produces a whopping 500 varieties. Sample outstanding types at Fromagerie des Grondines in Qu?bec City -- order the grilled cheese, too -- that's a perfect mix of  artisan organic cow, goat, and sheep's milk cheeses. Watch a cheddar-making demo at Laiterie Charlevoix, a dairy in Baie-Saint-Paul with its own museum. In Saguenay, take a guided tour on weekends of La Fromagerie Blackburn and eat fresh cheese curd, or sample mom 'n pop Fromagerie les folies bergeres's authentic creations -- roasted red pepper cream cheese, a sheep/cow's milk brie -- in Saint-Sixte. Dress up to savour top global wines paired with Qu?bec's best cheeses at upscale 1608 Wine & Cheese Bar in Qu?bec City.
There's no shortage of luscious fruit, especially cranberries, raspberries, wild blackberries, blueberries, strawberries, cloud berries, and black currants. Pull into a roadside stand to select some just-harvested bounty or pick your own on a small farm, then take home some preserves.
If you like to sip 'n swirl, follow the Wine Route, with 22 stops over 138 kilometres through the Eastern Townships, a historical English settlement of handsome brick heritage buildings and quaint old mills. Choose one of four routes, making time to try Icewine at Domaine des C?tes d'Ardoise, the area's first commercial vineyard which also has an impressive sculpture garden, and friendly UNION LIBRE Cidre & Vin's own invention, Fire Cider. Wine taste and overnight at the elegant, antique-filled Vignoble de la Chapelle Ste-Agnes: Set on a terraced hillside, this place will make you feel like European nobility. Just enjoy it.
Of course the destinations are the real stars of the Gourmet Route, but it's also about the journey -- so take your time.
Plan your foodie tour at the Qué​bec Original website.