A guide to Quebec's Saguenay Fjord
The 235-kilometre-long Saguenay Fjord, in Parc National du Fjord-du-Saguenay is not super well known and not well explored, either. That means big nature and few tourists at this beautiful national park in the Saguenay-Lac-Saint-Jean area of Quebec. 
The surrounding area is rugged, filled with craggy mountains, 350-metre-high cliffs, and dense forest. What's most remarkable, though, is that the glacier-cut fjord is not only navigable, it's the only one in North America inhabited on both sides, dotted with quaint, inviting villages considered some of Quebec's most charming. If escape and authentic adventure is on your mind, Saguenay is the place.
Saguenay is less than two-and-a-half hours by car from Quebec City. For a scenic and varied road trip mixing wilderness with friendly, quaint French-Canadian villages, drive the 300-kilometre Route du Fjord up and down both sides of the fjord, or opt for an out and back on one side. You can also cycle the 400-kilometre bike route, if that's your thing.
Dinner on a Wildlife Encounters trip on the Saguenay River Fjord - Credit: Fjord en Kayak
Sleep in a treehouse with a view at adventure park, Parc Aventures Cap Jaseux. Here, you can camp or stay in a more unique accommodation, like a log cabin, a rustic-chic 20-foot-diameter glass dome, or fiberglass bubble-spheres suspended from the trees. Go on a guided trip with local pros like Fjord en Kayak, and the outfitter will arrange overnight lodging for you, or organise your own camping outing in the park. Villages Vacances Petit-Saguenay rents over 30 cute hilltop cabins including kitchenettes that sleep four to eight. If you'd prefer something more cushy, stay in downtown's eco-friendly, artsy H?tel Chicoutimi overlooking the fjord or Les G?tes du Fjord in eclectic L'Anse Saint Jean, an easy walk to the town bistro and marina, plus it has a pool and Jacuzzi. With sweeping views, cliffside fishing lodge Pourvoirie Cap au Leste offers remote cabins, plus breakfast and dinner service for guests.
Any time of year is good at this four-season destination, it just depends what type of activities you have in mind: Ice fishing or sailing? Rock climbing or ice climbing? Whichever, just come prepared and enjoy the clean, fresh air and pristine glacial water.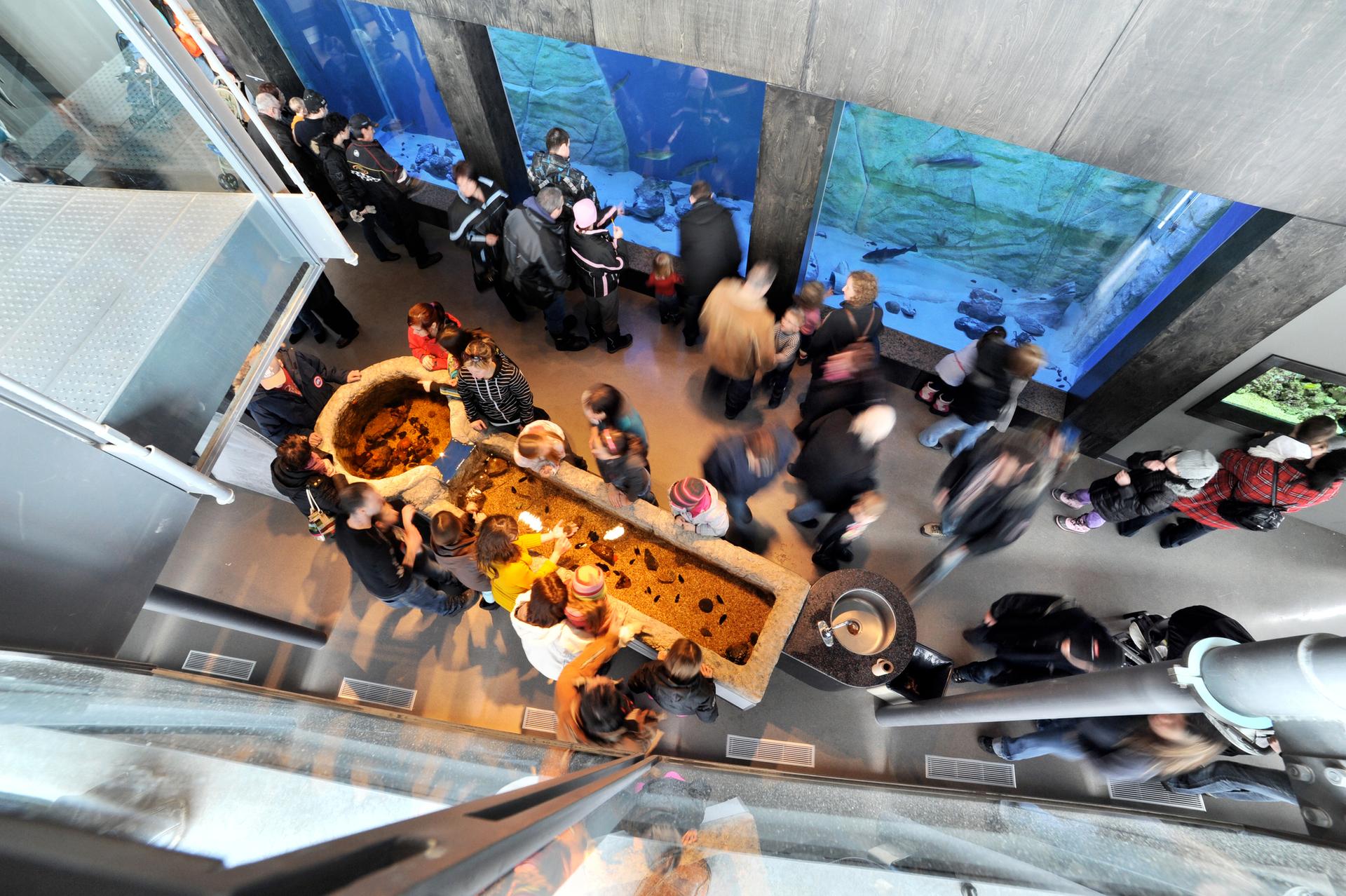 Secrets of the Saguenay Fjord at Musée du Fjord - Credit: Musée du Fjord
On your way in, stop at Mus?e du Fjord first to learn about the history of the area, settled in 1838 by 14 intrepid European pioneers. With a tarantula named Rosie to greet you at the entrance, the museum has engaging interactive, multimedia exhibits and 3-D films, too, which reveal unusual facts about the animal and plant life. For example, the fjord's only shark species is the Greenland shark. Check out the 650 types of sealife in the aquarium or join a guided tide walk to dig for minerals, plants, and creatures with a museum pro.
Rock climb, fish, and play
Climb and get your heart pumping at eco-minded Parc Aventures Cap Jaseux. This is a huge aerial adventure course, with 73 suspended forest bridges, plus ziplines, and a Via Ferrata -- a rock climbing-rappelling-hiking combo challenge that involves scaling the sheer cliff sides -- not for the vertigo-challenged! Or, if you're an experienced climber, scale the massive rock faces on your own. The park is also a fantastic spot for river and lake fishing, hiking, bird watching, mountain biking, and sea kayaking, with two fjord beaches for swimming, picnicking and relaxing. Get a well-earned massage at the end of an action-packed day.
Kayak prep for a Wildlife Encounters trip on the Saguenay River Fjord - Credit: Fjord en Kayak
Water is everywhere here, making paddling, boating, and sailing top activities. You can ice fish in winter, too. For sailing, your go-to is Voile Mercator, an experienced outfitter with five live-aboard sailboats. Charter a two- to five-day sailing vacation, book a two-hour excursion to lovely L'Anse Saint Jean, or take lessons. Family-owned Fjord en Kayak is at your service for guided sea kayak tours, rentals, three- to four-day catered adventures with gourmet meals featuring local game like pheasant and venison, or half- or full-day trips. OrganisAction puts together multi-sport packages, including rafting and snowmobiling. Take a whale watching cruise at Baie-Sainte-Catherine or spend time at the Saguenay-St. Lawrence Marine Park's interpretive centers, head out on an observation cruise or go scuba diving at this top global whale watching spot. Plan your day with this visitor's guide.
The park has 100 kilometres of trails long and short, easygoing and tough. If you're up for a challenge, tackle the trail to the 7.5-metre-high Mary statue at Cap ?ternit? along the fjord's highest cliffs: A 6.5-kilometre, mostly uphill round-trip that takes about three hours, rewarding trekkers with bird's eye lookouts. Another top hike that's less strenuous is Anse des Rochers to Baie Sainte Marguerite, on the fjord's north side, with gorgeous vistas at the trail's end. Look out for white beluga whales swimming in the waters.
Get outside, savor the wilderness solitude, and practice your French -- and if there's time, visit some of Quebec's other beautiful parks. There's a lot to explore in Canada's largest province.
Get ready for your outdoor adventure at the Quebec Original website.