A guide to the Eastern Townships
The Eastern Townships is a big collection of small cities, towns, and villages nestled in nature in south-eastern Quebec. This is where people build summer homes, rent cottages or stay at bed and breakfasts.
The Townships actually have strong English roots. In the late 18th century, it was Americans, British Loyalists, and Irish and Scottish settlers that moved into the region and made it their home. This 'Anglophone' history is apparent in the names of several towns: Dunham, Farnham, Hatley and Orford, to name a few.
So why do people spend an hour or two on the road to the Townships from Montreal? Well, if nature is what you're after, the region is a huge hub for outdoor adventure.
Spa Eastman - Credit: Asymetric/Finn O'Hara
All about the outdoors
Four provincial parks are located within the region, all of which are there for you to explore. Hills like Bromont, Orford, and Owl's Head draw in skiers and snowboarders all winter, while hiking and mountain biking take over in the summer. The region is also dotted with lakes and rivers. Brome, Memphremagog and Megantic lakes are all popular destinations for boating, fishing, water-skiing, and swimming.
The highest concentration of golf courses in Quebec is found in the Townships, if you're interested in hitting up the links. And if a golf cart's four wheels are two too many, the region has a massive cycling community, so you won't have a hard time finding routes to explore, or companions to join you. There are also a number of spas, if you'd rather experience nature in a more relaxing setting.
L'Orpailleur Winery, on the Brome-Missisquoi Wine Route - Credit: Asymetric/Finn O'Hara
Festivals, forests, stars and wine bars
For a more urban experience, consider a night in the City of Sherbrooke. You can have your pick of fine dining restaurants, then take in a show at the Granada Theatre or pay a visit to the Sherbrooke Museum of Fine Arts. Sherbrooke is also home to many of the 130 festivals and major events that call the Townships home.
A few other major attractions make the region a sought-after destination. In Coaticook you'll find Foresta Lumina, a short, one-mile night walk through a forest filled with music, lights, and videos. The walk lets you soak up the old mythology about the origins of Quebec in the forest.
Another unique draw is the ASTROLab and observatory found in Mont-Mégantic provincial park. The ASTROLab is a place to enjoy and learn about the night sky, while the observatory is home to a 1.5m telescope that is Canada's most powerful. If you visit at night, the area is actually the world's first Dark Sky Preserve, meaning there is little to no unnatural light to impede your views of the starry night sky.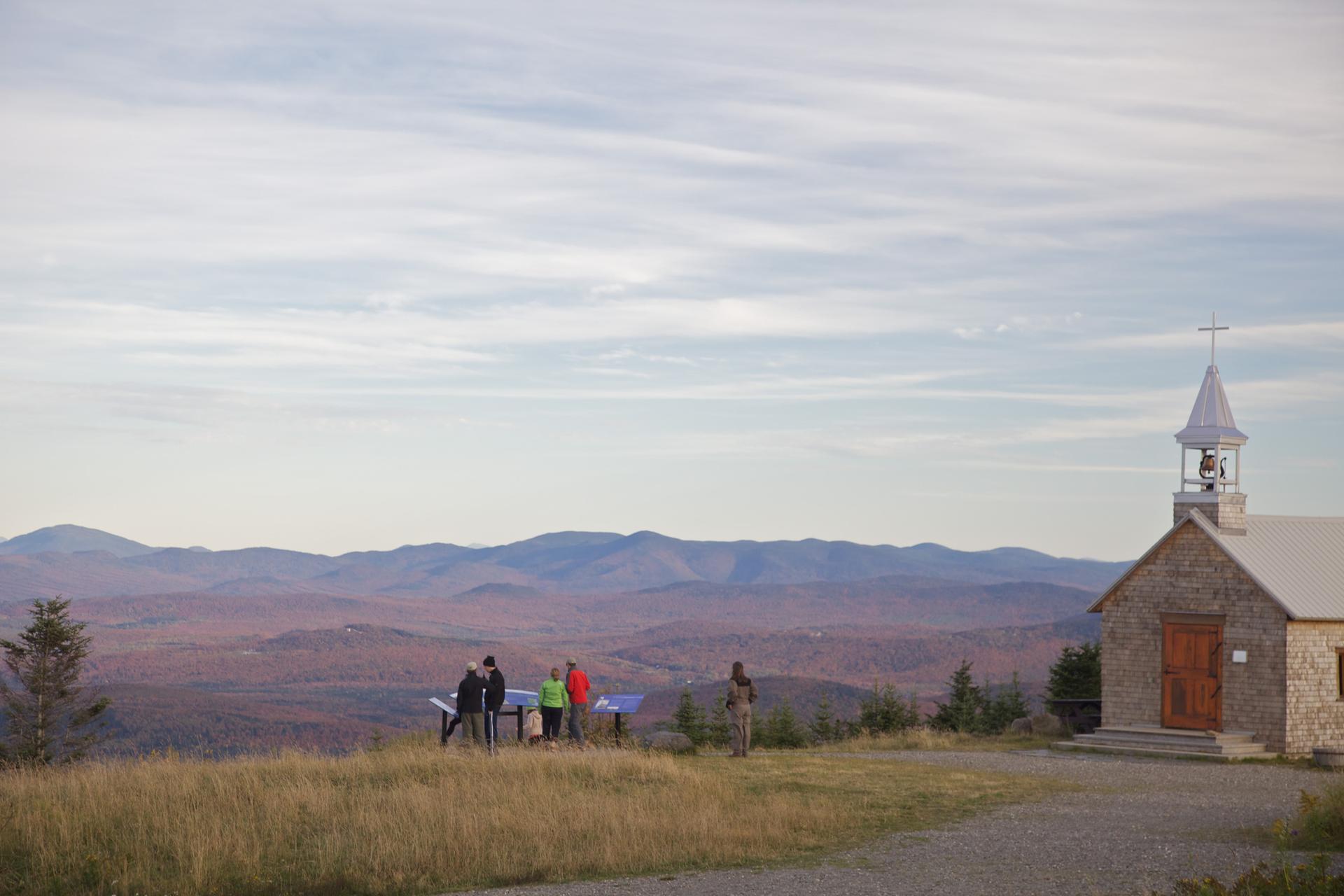 Many old churches can be found in the small towns of the Townships. Credit: Asymetric/Finn O'Hara
Finally, the Eastern Townships are home to many vineyards, including the two oldest in all of Quebec. You can follow the Wine Route which connects 21 vineyards in the Brome-Missisquoi region, and sample everything the Townships has to offer. Twenty-one is a lot, so pick and choose, or remember to bring a designated driver.
If you're considering a trip to the Eastern Townships, consider planning your route along the Townships Trail. The 260-mile trail brings you through 31 towns and villages, highlighting noteworthy heritage stops along the way. You're going to see covered bridges, a multitude of churches, and classic Victorian homes that really illustrate the Anglo-French qualities and influences. All of this is set against a picturesque backdrop of small mountains, forests, and lakes, which really make for a beautiful drive.
Want to start planning your getaway in the Townships? Visit the Eastern Townships website for more information.