The great Canadian safari
My husband and I and our four children were gathered around an animal track that our M?tis guide had pointed out as we walked through a forested area in the Canadian Rockies. She asked the children to guess what kind of animal had made the track and our kids were hunched over looking at it while they excitedly shouted out their guesses. We would have missed seeing the tracks and certainly wouldn't have understood the significance of them without a knowledgeable guide. 
Indigenous Peoples have long had a deep connection to the flora and fauna found in their traditional territories. Protecting earth's biodiversity and conserving its resources is an essential part of the culture and the primary reason Indigenous Peoples have thrived on the land that is now known as Canada since time immemorial. 
If you want to have an amazing wildlife experience, an Indigenous tour operator can help you see animals up close, teach you about them, share cultural traditions and help you really appreciate why conservation is so important. Here are some amazing Indigenous wildlife tours and safaris that will help you experience Canada's remarkable wildlife. 
Bear Watching in the Essipit Innu Territory of Quebec
The black bear, called "Mashku" in the Innu language, is a sacred creature that is found in many stories, legends, and rites. It is believed to be one of the most intelligent mammals. Lacs ? Jimmy Outfitters in Essipit Innu territory can take you on an excursion to see the sacred bears. Along the way, you'll hear the legends of Mashku and learn why the bear matters to the Innu. 
Credit: Croisières Essipit
How to Watch Whales Breach at Eye Level in the St. Lawrence Estuary
The St. Lawrence Estuary is famed for whale watching. Between May and October, up to 13 different species of marine mammals can be seen in the estuary near the Essipit Innu territory in Quebec. From the safety and comfort of a zodiac boat, Croisi?res Essipit tours allow guests to watch humpbacks, minkes, belugas and other whales at eye level while experienced captains share their extensive knowledge about marine mammals. 
Kayaking with Whales
If you really want to see the magnificent sea life of Quebec's St. Lawrence Estuary, you can't get much closer than paddling a kayak among the whales. Mer et Monde ?cotours offers guided sea kayaking tours and a range of accommodations. Whether you're a novice or an expert paddler, guides will help you explore the waters that are teaming with sea life. You can also listen to whale song with a hydrophone. 
British Columbia's Floating Grizzly Bear Viewing Lodge
Knight Inlet Lodge is a remote floating resort in British Columbia that is only accessible by floatplane. It is in the traditional territory of the Da'Naxda'xw Awaetlala First Nation in the heart of some of Canada's best grizzly habitat. The lodge offers land and marine-based grizzly viewing tours as well as whale watching, kayaking and interpretive nature hikes. Guests learn about the wildlife and the people who share the land.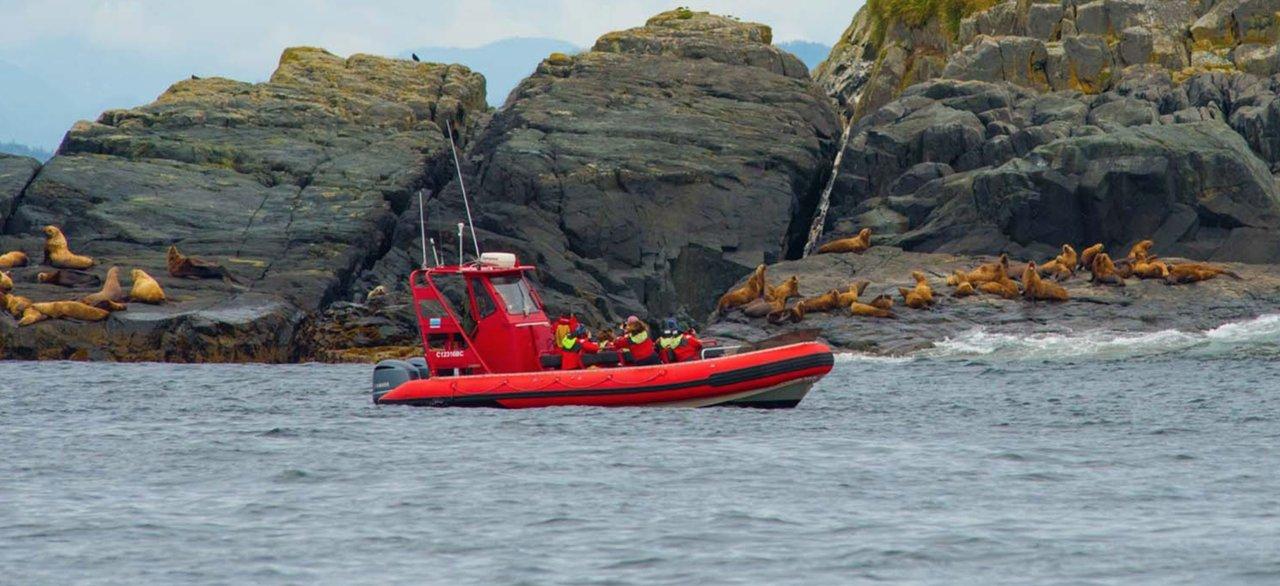 Credit: Coastal Rainforest Safaris
Whales, Otters and Bears in the Great Bear Rainforest
Sea otters, humpback whales, orcas, Dall's porpoises, Pacific white-side dolphins, Steller sea lions, bald eagles and seabirds occupy the coastal region of northern Vancouver Island. Coastal Rainforest Safaris takes guests to see these animals as well as bears and other wildlife in the Great Bear Rainforest. They offer immersive nature experiences that include a taste of the history, culture, and food of the Kwakwaka'wakw People. 
Cultural Safaris with Haida Gwaii's First Haida Owned and Operated Tour Company
You'll probably see wildlife on a tour with Haida Style Expeditions, but that isn't the focus of what this Haida-owned tour company offers. Cultural day trips take guests in zodiac boats to four ancient village sites which include SGang Gwaay Llnagaay (Ninstints) on SGang Gwaay (Anthony Island), a UNESCO World Heritage Site. It's a chance to see ornately carved totem poles and learn about the culture of the Haida from those who know it best.    
Wildlife, Culture, and the World's Fastest Navigable Tidal Rapids
The Gwa'sala Nakwaxda'xw Nation in British Columbia has been known to call Hardy Bay on northern Vancouver Island "God's Pocket." K'awatsi Tours can take you through the area to see eagles, bears, wolves, whales, porpoises, sea otters, and sea lions. They also offer tours to Nakwakto Rapids, the fastest navigable tidal rapids on earth. The nation also owns the Kwa'lilas Hotel and offers unique cultural experiences.
Credit: Klahoose Coastal Adventures
The Grizzly Bears of Toba Inlet
From mid-August to October, the annual salmon run in B.C.'s Toba Inlet draws large numbers of grizzly bears. It's a cycle that has been taking place for thousands of years in the traditional territory of the Klahoose First Nation. Klahoose Coastal Adventures takes guests to viewing towers along the Klite River where they can safely see the bears feasting in their natural habitat. 
Multi-Day Grizzly Bear Viewing from an All-inclusive Luxury Eco-resort 
Owned by the Klahoose First Nation, Klahoose Wilderness Resort is an all-inclusive luxury eco-resort in the remote coastal wilderness of Desolation Sound, British Columbia. The resort is only accessible by boat or seaplane and provides a true off-the-grid wilderness experience from mid-May to mid-October. Guests can enjoy sea kayaking, heli-sightseeing, and boat excursions to a cultural centre. Multi-day grizzly bear viewing excursions in Toba Inlet are also available from mid-August to October.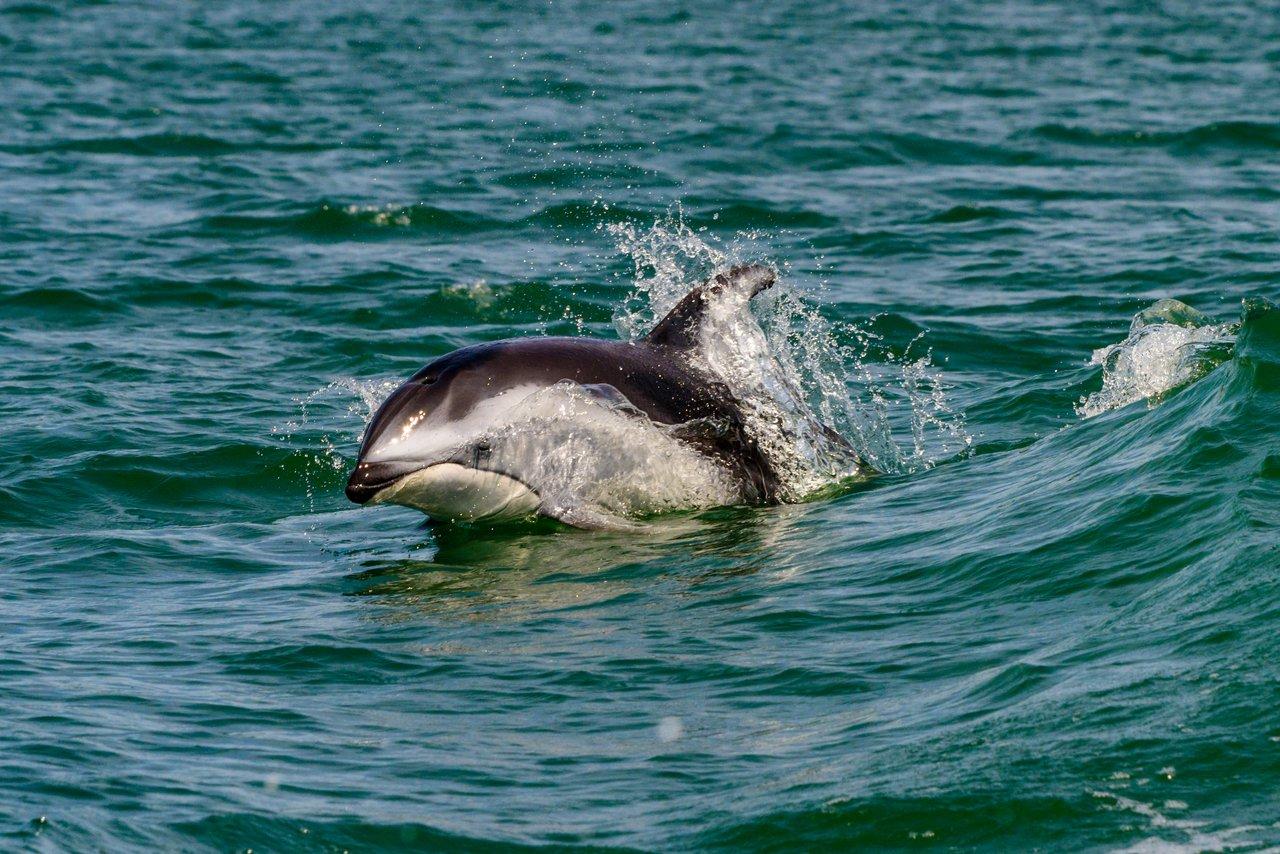 Credit: Seawolf Adventures
Dolphins, Whales, Bears - What Wildlife Means to the Musgamakw Dzawada' enuxw
From Port McNeill on northeastern Vancouver Island, Sea Wolf Adventures offers small group tours to the Great Bear Rainforest on B.C.'s mainland. Guests can see dolphins, whales, eagles, and bears and learn about the four tribes of the Kingcome people along the way. They also offer tours to First Nations communities in the Broughton Archipelago. Guests can visit the site of a former residential school, go into a longhouse, and see potlatch masks in the U'mista Cultural Centre.