A great big Canadian road trip: Vancouver to Calgary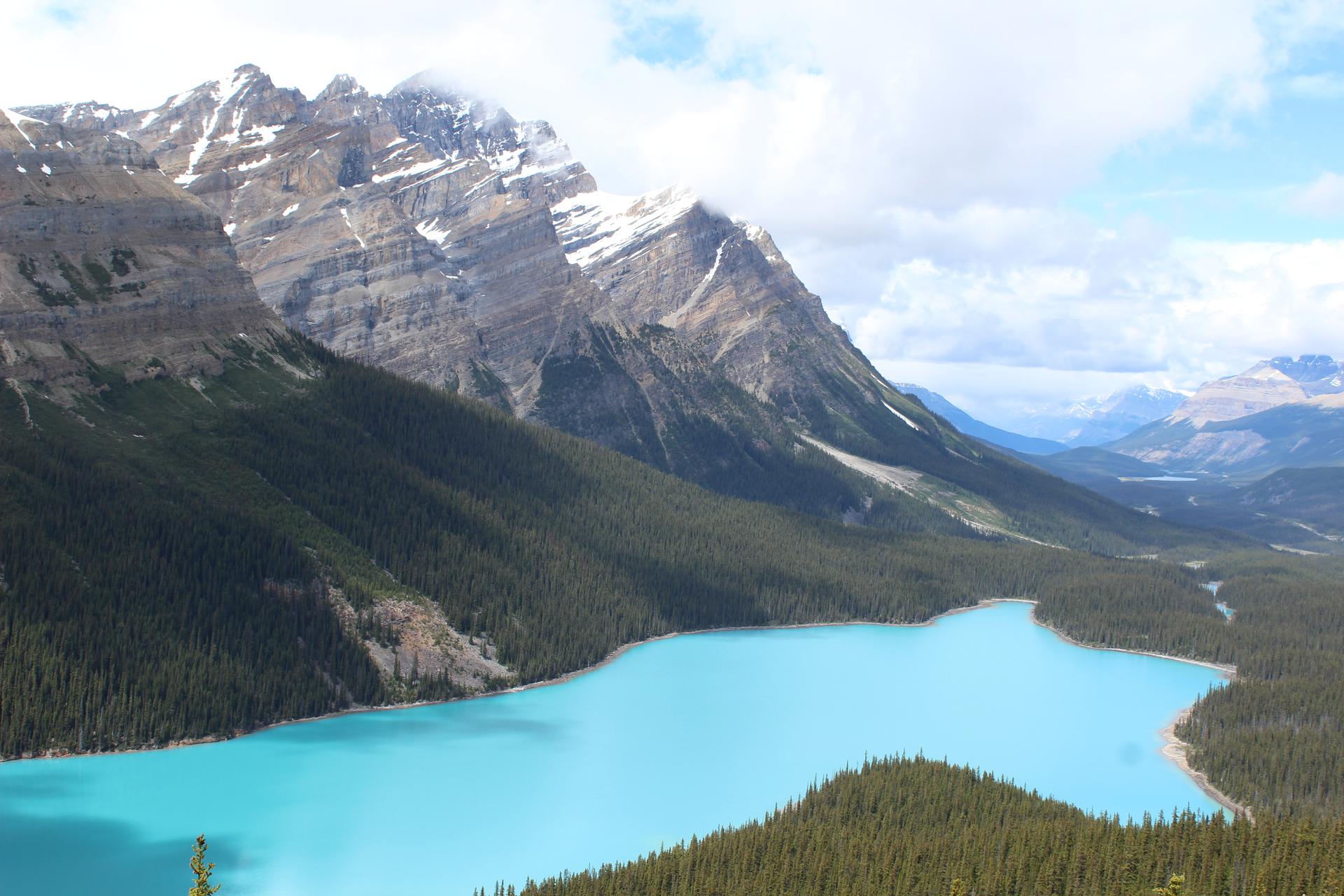 It was true; I really was here in the Rockies. Sitting on top of Whistlers Mountain in Jasper National Park, gazing out across this stunning landscape was a dream come true. I was on a road-trip from Vancouver to Calgary in an RV and I was very happy.
Osoyoos Image credit: Zoë Dawes August 2016
At the end of May, photographer Alison Bailey and I flew out to Vancouver to pick up our Cruise Canada RV (Recreational Vehicle). It was big but an in-depth briefing on driving the vehicle and operating the electrics etc allayed my concerns. It was roomy with two double beds, cooker, sink, dining table and bench seats, shower and loo, plus plenty of storage space.
Ali drove the first day as she'd had a camper van and was used to long-distance driving. We stocked up on food, drink and other necessities at Walmart and headed onto Highway 1 south-east to Osoyoos on the Canadian/USA border. The roads in Canada are generally wide and in good condition with not much traffic, making it a pleasure o drive. We drove over mountains and through hills, mountains, farmland and beside rivers. We stopped in Manning Provincial Park for a coffee to keep us awake before arriving at Osoyoos as it got dark.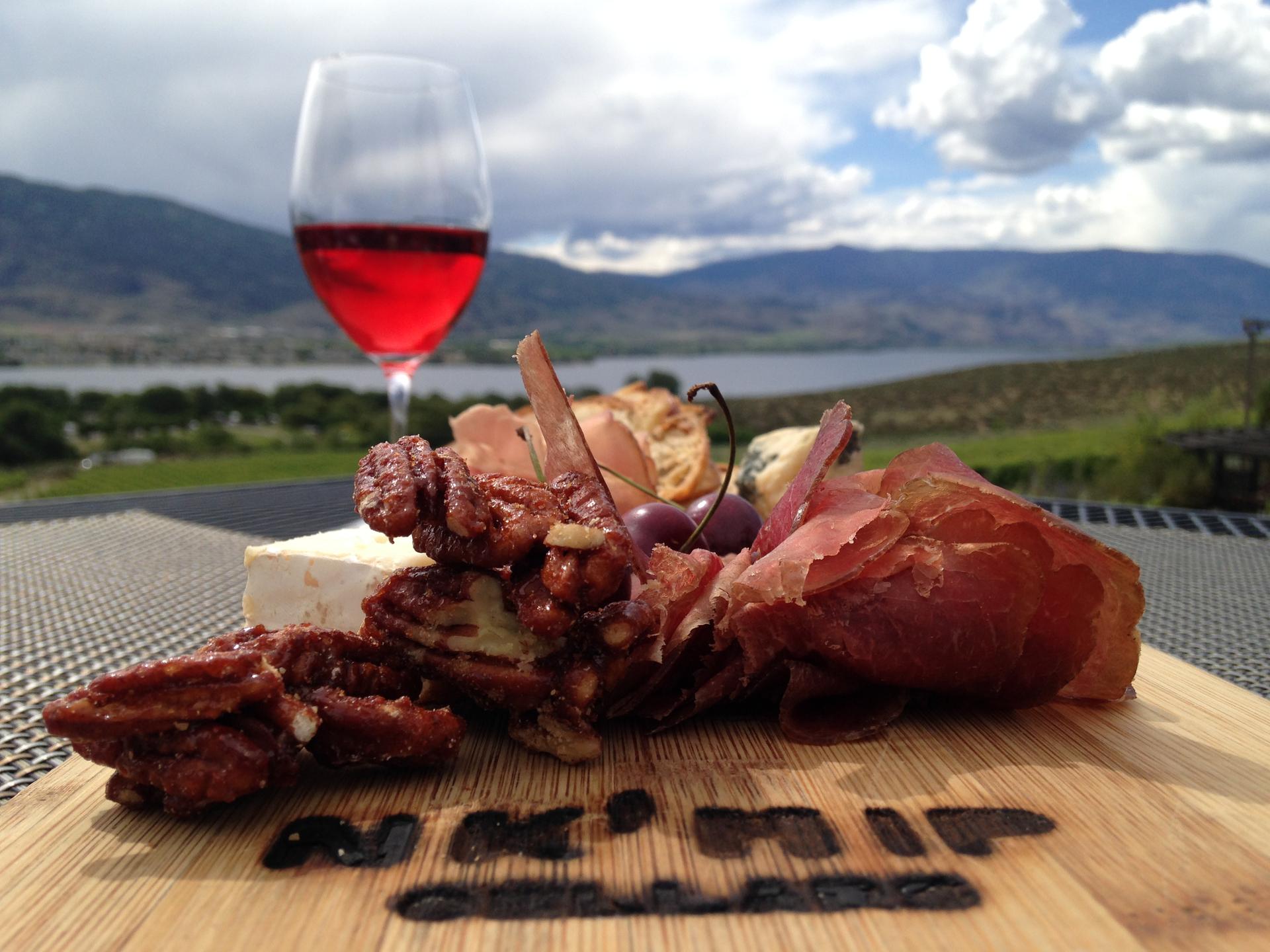 Nk'Mip Winery Image Credit Zoë Dawes August 2016
We stayed at Nk'Mip Campground & RV Park for two idyllic days. Osoyoos is within a semi-desert area and we had a waterside pitch overlooking Canada's warmest lake. A tour of the Nk'Mip Desert and Heritage Centre and Nk'Mip Winery gave an insight into the culture of the Osoyoos Indian Band who own this land.
From Osoyoos we drove along Okanagan Lake past farms selling fresh fruit and vegetable; best cherries ever. We made a number of photo and food stops en route. One of the big advantages of travelling in an RV is you have everything with you so you don't need to search out somewhere to eat.
The Rockies Image credit: Zoë Dawes August 2016
Next stop, Revelstoke, between the Selkirk and Monashee mountains. A major hub for the Canadian Pacific Railway, it's also a popular winter ski resort. We had a tour of the historic town with some lovely wooden buildings and visited Revelstoke Museum and the local art gallery. Williamson Campground was fairly basic and it rained for 14 hours but mostly through the night. Luckily it was fine for our most thrilling experience; the Pipe Mountain Coaster, a breath-taking zoom down Revelstoke Mountain in a little cart at speeds up to 26mph - brilliant.
We got into a routine fairly quickly; I'd do a couple of hours driving then Ali would take over and we shared the navigation. We knew where we'd be spending each night but had to work out the route from A to B. Thank heavens for Google Maps! On checking into the campground, we'd find out our space and Ali would 'hook up' = connect the water, electricity and sewage pipes. I often cooked; having a gas cooker was very handy and we often had a BBQ. Most sites have fire-pits and many sell firewood. Ali was a devil with an axe and could light a fire even in the rain. Eating outside was great as we got to meet lots of people, many of whom were travelling in RVs MUCH bigger than ours.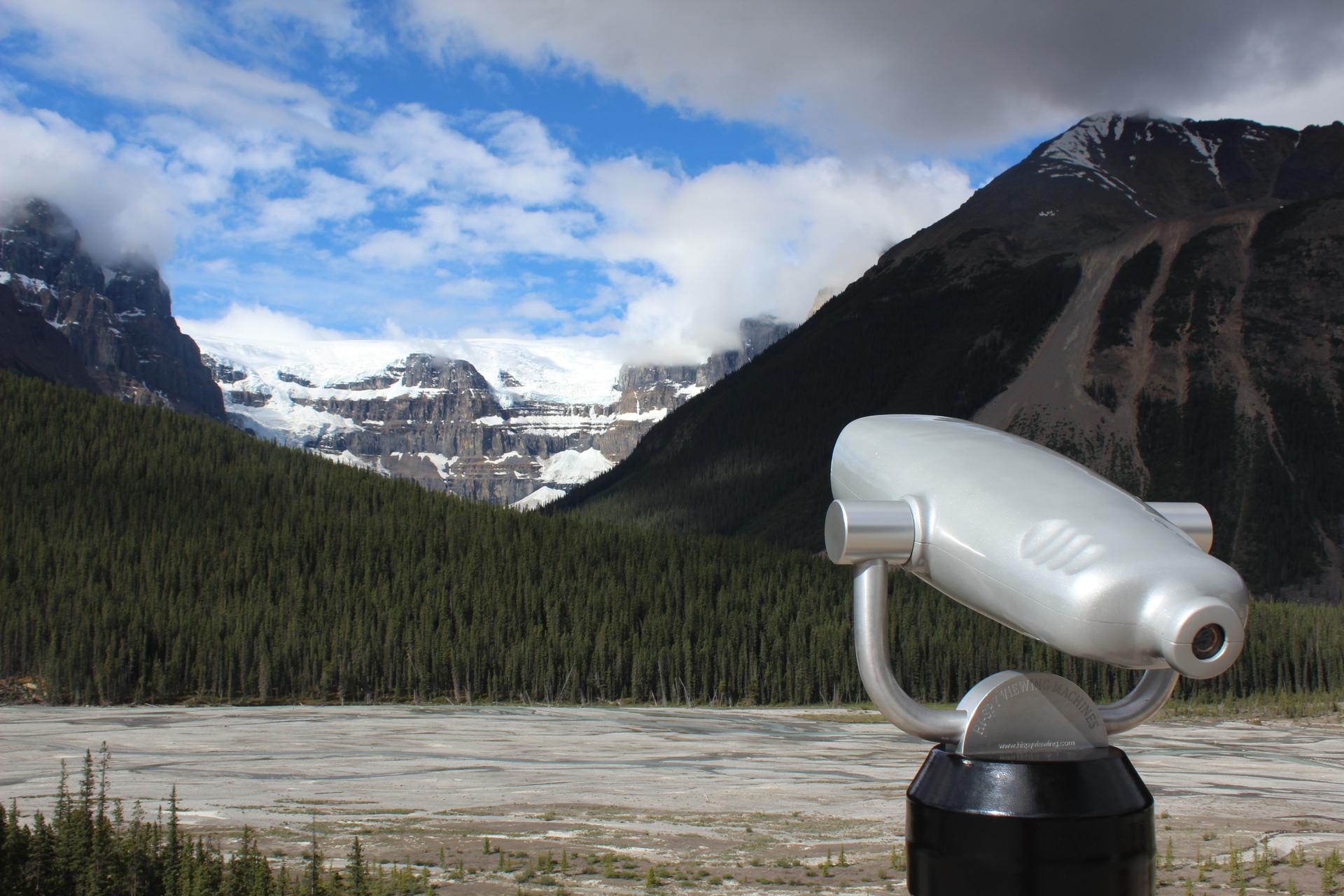 Stutfield Glacier Icefield Image credit: Zoë Dawes August 2016
Then it was on to Jasper in the heart of the Rockies. Our excitement built as the mountain range came into view. The sun came out briefly as we saw Mount Robson, the highest mountain (3954m) in the Rockies. In Jasper we parked beside the railway station got the Jasper Tramway to the top of Whistlers Mountain. I was finally here. The Rockies spread out all around us, snow glimmering in the afternoon sun, glacial lakes glinting blue and green. The Icefields Parkway twisted away to the east and pointy Pyramid Mountain stood out in the opposite direction.
We spent that night outside Jasper National Park and the next two days in Whistlers Campground, just outside Jasper. As well as dramatic scenery this area is renowned for its wildlife. We saw mountain sheep near Miette Hot Springs, a black bear beside the road near Maligne Canyon, chipmunks everywhere and one morning found our RV surrounded by elk. On the flower-strewn shores of Medicine Lake we saw an eagle's nest and heard loons call across its dark waters. We ate out in the town centre, which is popular with adventurous travellers and visitors of all ages.
The drive from Jasper to Banff along the 230km Icefields Parkway was the highlight of our trip. It's a superlative-laden route amidst the craggy Rocky Mountains, alongside deep green lakes and rivers, past glittering glaciers and splendid waterfalls. Top sights include the Athabasca Falls, Stutfield Glacier, the Columbia Icefield and Athabasca Glacier, Bow Summit and turquoise Peyto Lake.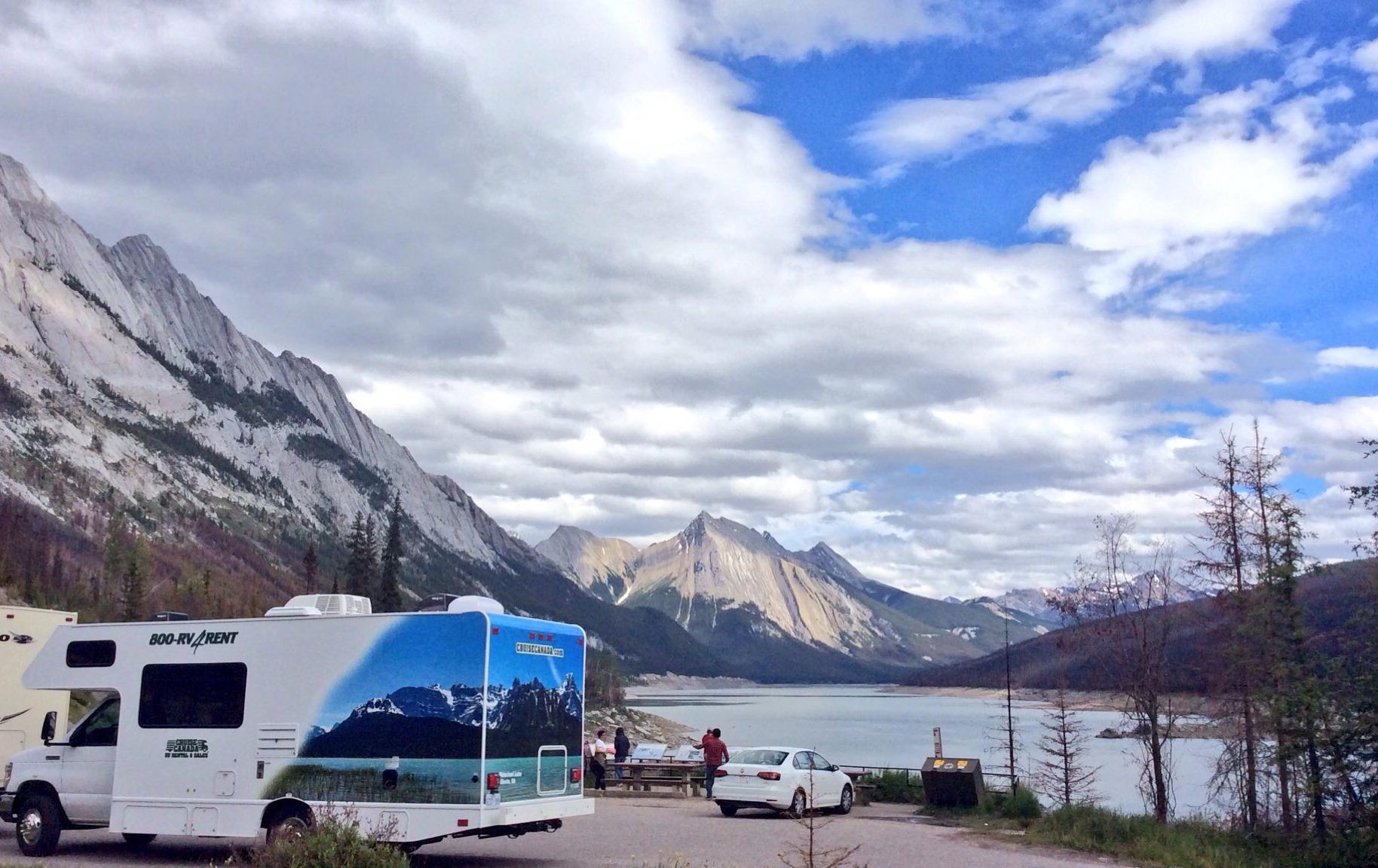 Medicine Lake Image credit: Zoë Dawes August 2016
After a brief stop at postcard-pretty Lake Louise, we checked into Spring Creek RV Camp, Canmore in Banff National Park. In the morning we explored lively Banff and had a tour of Banff Springs Hotel. Built in 1888 to attract visitors to the hot springs it became the first tourism centre in this area. We took the Cable Car to the top of Sulphur Mountain for more fab views before a quick visit to the site of the original springs at the Cave and Basin National Historic site.
The next day we left the Rockies and drove to Head-Smashed-in-Buffalo-Jump where the Blackfoot drove buffalo over a cliff, killing hundreds to provide food and supplies for the coming year. Our final stay was in quirky Vulcan, Star Trek Capital of Canada. on Highway 23, home to the Trekcetera Museum and all things Trekkie. We stayed in the Vulcan RV Truck Stop across the road from a replica of a Vulcan Starship.
After driving across the prairies we got to bustling Calgary a few days before the famous Stampede.  When we dropped off our RV at the Cruise Canada depot we said goodbye with real affection. We'd covered over 3000 kilometres and fallen in love with the friendly Canadian people, some of the most dramatic scenery in the world and the RV way of life.