One national park to visit in every Province and Territory
There are an incredible 48 National Parks and National Park Reserves in Canada's 13 provinces and territories, and each has its own story to tell. From the red sand beaches of Prince Edward Island to the Arctic Circle, there's a park for every outdoor enthusiast to enjoy, no matter where you are in Canada.
Here's one national park in every province and territory that is worth the visit all its own.
Newfoundland and Labrador—Gros Morne National Park
Gros Morne National Park, Newfoundland | Credit: Newfoundland and Labrador Tourism
If Jurassic Park ever actually came to be, you'd be hard-pressed to find a more appropriate setting than Gros Morne National Park. It took 485 million years for the forces of nature to shape this park into a jaw-dropping wonder. Images can hardly do justice to the beautiful green river valleys sitting between massive, imposing cliff sides. These distinct mountains of flat rock are actually the exposed crust of the earth, and the site allowed geologists to prove tectonic plate theory. Gros Morne is a hiker's dream, full of marked and unmarked trails to be explored and enjoyed.
Prince Edward Island National Park
Greenwich Boardwalk, Prince Edward Island National Park, PEI | Credit: Kyle Mulinder
What's an island holiday without a little swimming? The 60-kilometre Prince Edward Island National Park captures the beautiful north shore of the province, including the many picturesque white and red-sand beaches. And you may need to take a dip after spending the day hiking, cycling, golfing, or geocaching. The park is also home to the Greenwich Interpretation Centre, which features 20 interactive and multimedia exhibits about the region, and the 10,000 years of history that shaped it. 
Nova Scotia--Cape Breton Highlands National Park
Cape Breton Highlands National Park, Nova Scotia | Credit: Parks Canada
If you're after a breathtaking view, Cape Breton Highlands National Park should be at the top of your list. The park straddles the famous Cabot Trail, stretching from the east to the west coast of Cape Breton Island. In that stretch you'll find amazing canyons, endless forests, plateau cliffs several lakes, and rivers, all yours to explore. For the best view, though, few places beat the Skyline Trail. This relatively easy five-mile round trip hike leads you to a cliff where you can watch the sun set over the Gulf of the St. Lawrence, while keeping your eyes peeled for breaching whales.
New Brunswick--Fundy National Park
Fundy National Park, New Brunswick | Credit: New Brunswick Department of Tourism and Parks
Fundy National Park is home to the highest tides in the world. Twice each day, 100 billion tonnes of seawater causes the tides to rise up 12 metres, a phenomenon that has left its mark on the coastline. Beyond enjoying the tides in a kayak or boat, the park is really an outdoor adventurer's paradise. Over 120 kilometres of walking and hiking trails will bring you through mountains, into valleys and forests, and past waterfalls. Rent a canoe, kayak, or just swim in beautiful Bennett Lake before setting up your tent for a night in the park. 
Ontario--Rouge Urban Park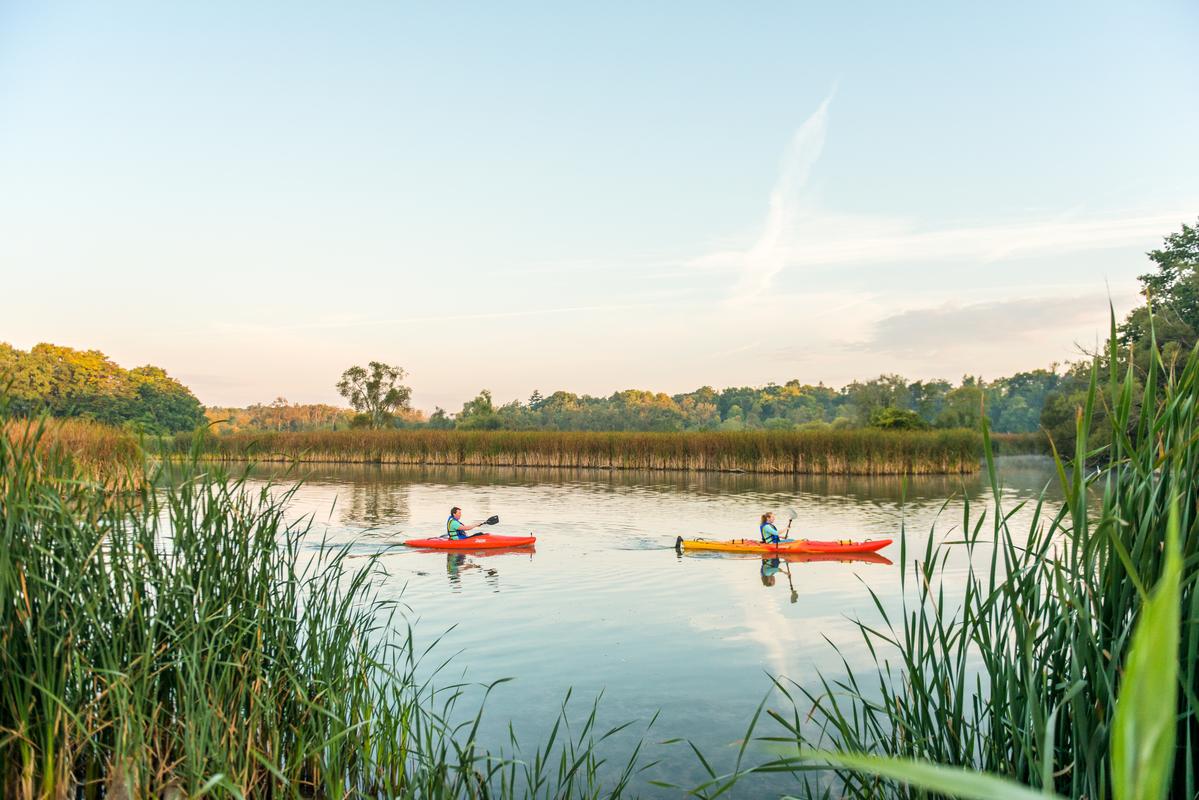 Rouge National Urban Park, Ontario | Credit: Parks Canada
In the Greater Toronto Area, you'll find Canada's only national park based in a city: Rouge National Urban Park. The park's accessibility (an hour from Toronto's core and a touch longer by public transit) means you can easily leave Canada's largest metropolitan area without a car for a true outdoor gateway. Cyclists love the park's quiet, scenic roads and gentle rolling hills. Hikers find delight in its mature forests, views of the Rouge and Little Rouge River and the relaxing rural feel of its farm fields, which are among the last remaining working farms the area. For beach goers, the sandy Rouge Beach brushed by the warm waters of Lake Ontario is a must (please note that there are no lifeguard on site).
Quebec--La Mauricie National Park
La Mauricie National Park, Quebec | Credit: Garry Norris
About halfway between Montreal and Quebec City lies La Mauricie National Park. The park's 340 square kilometres sit in the Laurentian Mountains, whose rolling hills and valleys make it an exciting and very accessible hiking and mountain biking destination. Ninety-three percent of the park is covered by forest and much of the rest is taken up by some 150 lakes and ponds, so a trip to La Mauricie is really an opportunity to immerse yourself in nature. Camping, fishing, canoeing, swimming... this park has it all.
Manitoba--Riding Mountain National Park
Riding Mountain National Park, Manitoba | Credit: Destination Canada
All Canadian parks are worth at least a day trip, but Riding Mountain National Park in the Wasagaming community of Manitoba is special enough to warrant a much longer stay. Whether you're exploring the boreal forest under the summer sun, or ice fishing on Clear Lake in the winter, this park's diverse scenery and nature make it a destination for all types of travellers, in all seasons.  Just under three hours from Winnipeg and more than 2,890 square kilometres in size, this expansive park is where prairies, forest, and parkland meet. 
Nunavut--Auyuittuq National Park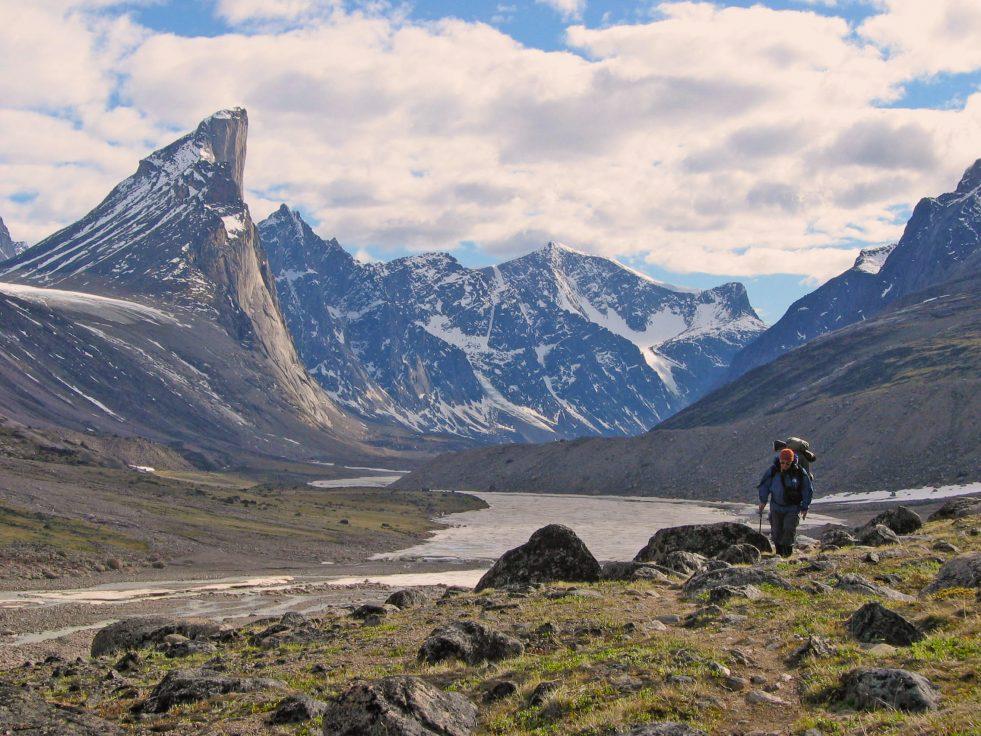 Auyuittuq National Park in Akshayuk Pass, Nunavut | Credit: Parks Canada
Glaciers, rugged mountains, and rivers dominate the terrain of Auyuittuq National Park. The prospect of some challenging terrain attracts leagues of hikers and skiers, most of whom follow the 95-kilometre Akshayuk Pass (known locally as Pang Pass), a traditional Inuit travel corridor that crosses the park. We can't all take on 95 kilometres though, so visitors can also do day hikes to the Arctic Circle, or tackle the terrain via dogsled or snowmobile. If you're going to visit anything in the park, make it Mount Thor. The aptly-named mountain has the world's highest vertical drop, at 1250 metres. It's really something to behold.
Saskatchewan--Grasslands National Park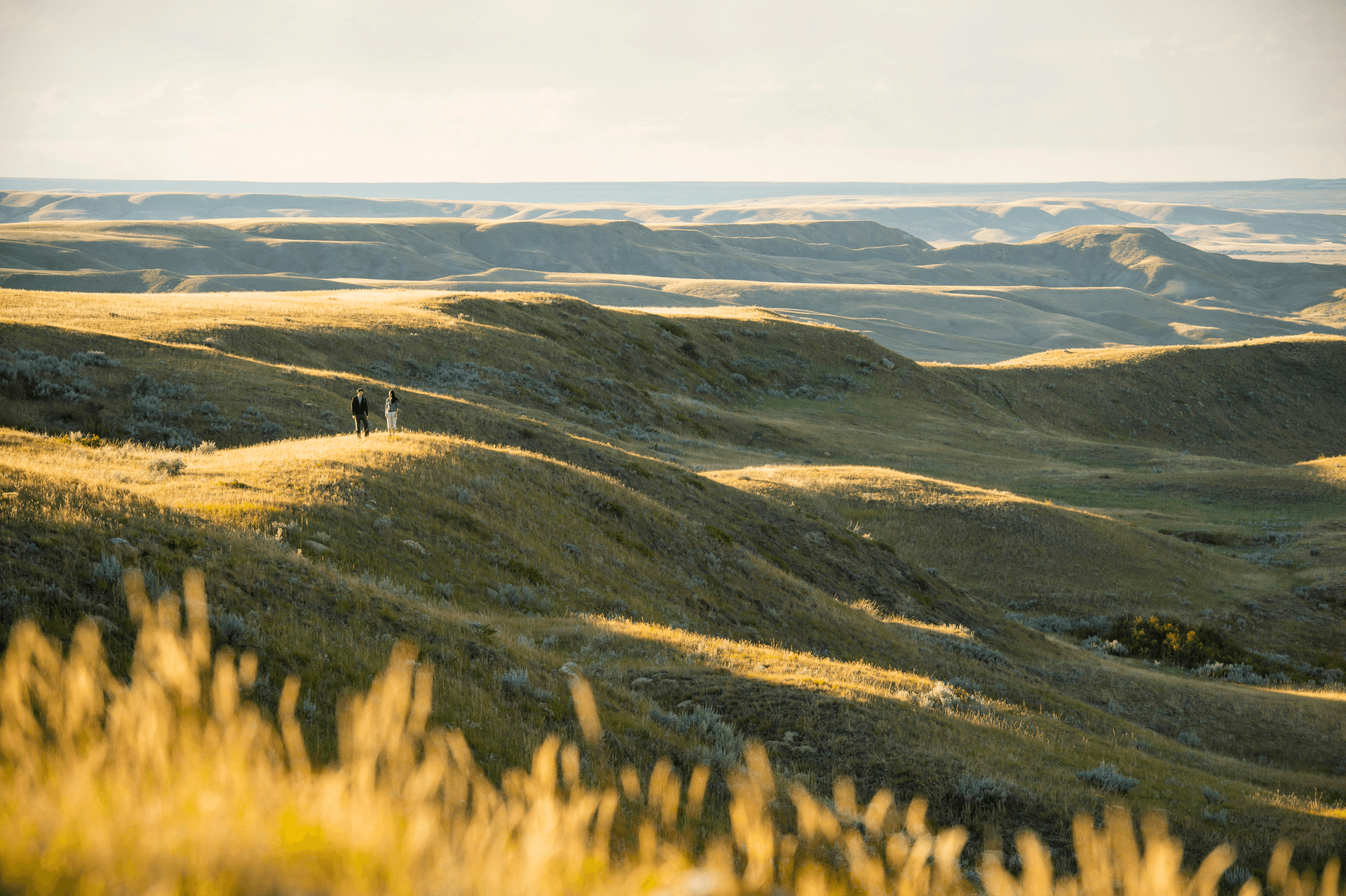 Grasslands National Park, Saskatchewan | Credit: Tourism Saskatchewan
When you imagine the prairies in your mind, the wide grassy plains, the sea of green, the bison herds, you're essentially picturing Grasslands National Park. One of two national parks in Saskatchewan, Grasslands is a Dark Sky Preserve, making it a great place to enjoy unobstructed views of the starry sky. During the daytime, take an Ecotour Scenic Drive, essentially a prairie safari that will bring you close to a herd of bison, visit archeological digs and tours, or saddle up a horse and go on the trail with real cattle on the open range.
Northwest Territories--Wood Buffalo National Park
Wood Buffalo National Park, Northwest Territories | Credit: Hannah Eden
Have you ever visited a national park that's bigger than Switzerland? Wood Buffalo National Park is Canada's largest national park, at over 27,800 square kilometres. It's also home to the world's largest beaver dam, one of the world's largest herds of free roaming bison, and the last remaining natural nesting area for the endangered whooping crane. Make sure you stop by the natural curiosity of the Salt Plains; the dried remains of a 380 million-year-old seabed where salt-like minerals are pushed to the surface from below--almost like stalagmites above ground.
Alberta--Banff and Jasper National Parks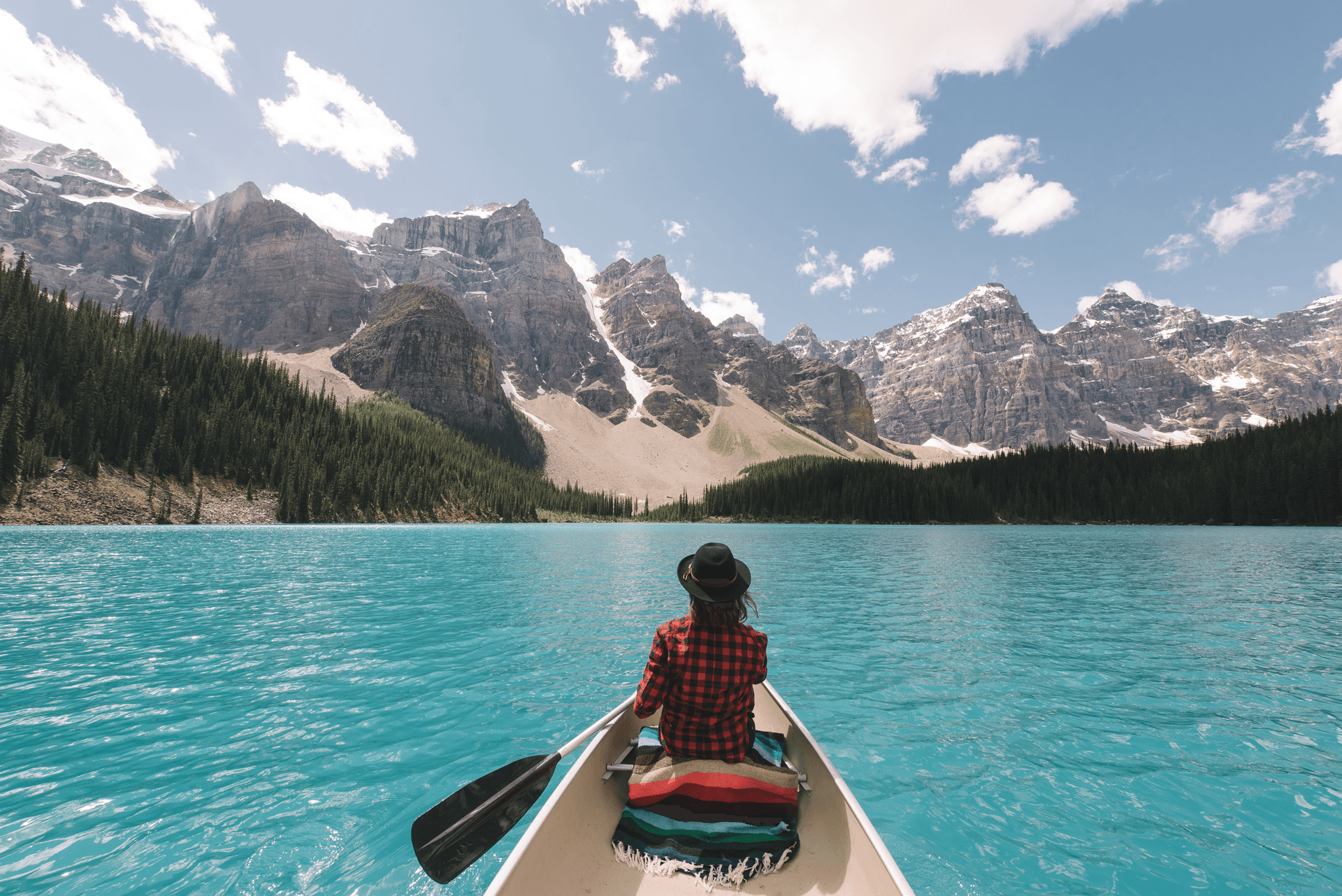 Moraine Lake in Banff National Park, Alberta
Okay, so this is two National Parks but we couldn't help ourselves. Banff and Jasper are the two most-visited national parks in all of Canada, and instead of trying to choose between them, we say "why not both?"
Banff National Park, the first designated National Park in Canada in 1885, is home to glaciers, forests, rivers, valleys, and of course, mountains, all of which will dazzle you with their scale and beauty. It's in this park that you'll find the picturesque Lake Louise, with its jaw-dropping turquoise blue waters set perfectly in front of the Victoria Glacier. Then there's the beautiful Moraine Lake, equally photo-worthy and a great place for a hike or paddle. The park's biggest body of water, Lake Minnewanka, is best explored on an hour-long boat cruise.
Athabasca Falls in Jasper National Park, Alberta | Credit: Destination Canada
The northernmost national park in the Rockies, Jasper National Park is also the largest in the region, spanning over 11,000 square kilometres. There is so much to explore in this immense park, starting with the beautiful Athabasca Falls. The 23-metre waterfall might not be that high, but its power is striking. Then there's Maligne Canyon, a 50-metre-deep canyon that is home to waterfalls, fossils, and all kinds of flora and fauna.
Yukon--Kluane National Park
Kluane National Park, Yukon | Credit: Paddy Pallin
Grandeur -- that about sums up Kluane National Park and Reserve, a dramatic, colorful land of massive valleys and glacier-carved peaks in the territory's southwest including Canada's highest, Mount Logan. Despite its remote ruggedness, this wilderness jewel is only an hour away from Whitehorse, boasting what some outdoor pros call the best day hikes in Canada.
British Columbia -- Pacific Rim National Park Reserve
Pacifc Rim National Park, British Columbia | Credit: Destination Canada / Yuri Choufour
Beaches, rainforests, and rocky islands form the incredible Pacific Rim National Park Reserve. The 317-square-kilometre park really captures every setting that has come to characterize the Pacific Coast. Walk barefoot along the 16-kilometre aptly-named Long Beach, or don a wetsuit and try your hand at surfing. Fill your backpack with a week's worth of supplies and head out through the rainforests, cliffs, waterfalls, and caves of the 75-kilometre West Coast Trail. Listen to the legends of the Nuu-chah-nulth First Nations and then trace that history under the canopy of giant Sitka spruce in the old growth forest. The Pacific Rim National Park is truly a Canadian treasure.
Love the great outdoors? Check out six breathtaking Canadian wildlife experiences.
Love the great outdoors? Check out six breathtaking Canadian wildlife experiences.