What to do in Ottawa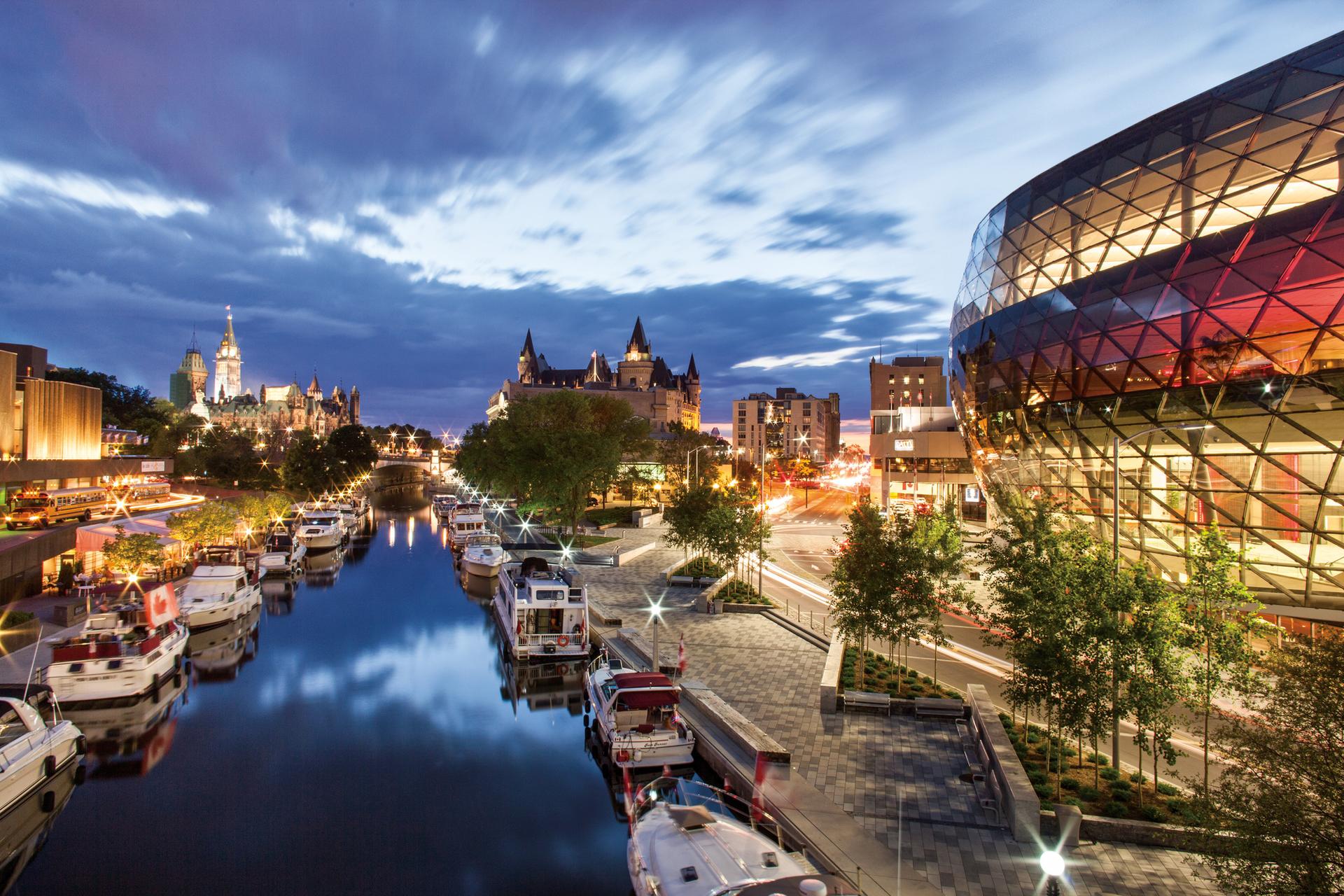 What better place than the capital city to really get a feel for a country? This holds true in the Canadian capital of Ottawa, where a multitude of cultures intertwine with history and beautiful nature to create one heck of a vacation destination.
There is so much going on in Ottawa that you could spend a weekend in a nearly infinite amount of ways, but here's a few ideas that would make for a guaranteed good time.
Day 1: Enjoy the Canal
In true, stereotypically Canadian fashion, Ottawa is home to the largest naturally frozen skating rink in the world: the Rideau Canal. While this 7.7-kilometre 'rink' is widely-known for the purpose it serves in the winter, the Canal is actually a fantastic year-round destination.

As the weather heats up, the Rideau Canal takes on new life as paddlers enter its waters and cyclists fill up its peripheries. Sign up for a voyageur canoe tour and make your way through the canal while learning a traditional First Nations method of travel. If you're not as keen to work those arms, several local companies offer relaxing boat tours or cruises, allowing you to sit back and enjoy the scenery as you wind your way through downtown Ottawa.
Don't have your sea legs? You can also explore the canal by walking, running or cycling along its banks. The 7.5-kilometre Sightseeing Cycling Route is a great way to enjoy the Canal while seeing some of the city's nicest natural spaces, landmarks and major museums.
Voyageur Canoe Tours
When: 7 days/week, weather-permitting, at 10 am, 11:30 am, 1 pm, 2:30 pm, or 4 pm (tours last one hour)

Cost: $7.30 per person
Rideau Canal Boat Cruise
RentABike
Cost: $10 for one hour, $40 for 24 hours, or $80 for a Rideau Canal Tour
Day 2: Chow down at the Market
No visit to Ottawa is complete without some time in the ByWard Market Neighbourhood, which has been a food hub for nearly two centuries. Farmers and craft merchants have sold their wares at the ByWard Market since 1826, and great restaurants have naturally also come to call the surrounding neighbourhood home.

Start off with a visit to the market itself, which has evolved from its humble beginnings to now include over 260 stands of food, crafts, clothing and more. Spend a few hours shopping and then pick up some fresh produce, meat, bread, and cheese -- everything you need to have an awesome picnic.
Then, take a walk around the neighbourhood. You don't need to have specific destinations in mind; just take in the wonderful musicians playing on the street, the flower stalls, and the smells from restaurant windows. Follow your nose and you won't have a hard time finding a great meal -- there are over 100 restaurants in the neighbourhood. And if you really can't decide, Play Food & Wine and Vittoria Trattoria are both popular choices. Or take the ByWard Market Food & Wine Tour and stop at four of the historic market's top restaurants for tastes of award-winning cuisine.
Don't rush your meal; at night, the ByWard market neighbourhood becomes a hub for nightlife and entertainment. Whether you lean more towards the pub or the club, there's live music and dancing for every taste.
Hours: 6 am - 6 pm, 7 days/week (weather permitting) for the market itself, but the surrounding neighbourhood comes alive at night

Location: Right in the heart of Ottawa, just minutes from Parliament Hill. The neighbourhood is everything within Sussex Drive, Saint Patrick Street., King Edward Avenue, and Rideau Street.

Website: http://www.byward-market.com/
Day 3: Play at Parliament
Don't worry, Canada's Parliament Hill isn't just a place for the history or politics buff in your group; it's actually a cultural and community hub, where activities can be enjoyed by everyone in a beautiful setting.
Every Wednesday during the summer, hundreds of people flood the hill with mats and comfortable clothes to stretch out in front of the iconic buildings for a yoga class. If you enjoy a gentle workout, this is a class you won't forget.

You can also take in Parliament Hill's Sound and Light show, which for 30-minutes nightly in the summer projects a beautiful, engaging, visual story about Canada onto the Parliament Buildings themselves.
And if you don't mind a little bit of history, there's that in abundance as well. Visit the historic Peace Tower for a 360-degree view of the city and take in the Changing of the Guard every morning during the summer. The head inside for a free tour of Parliament's centre or east blocks, before grabbing a seat on the lawn to enjoy all the fresh food you bought at the ByWard Market.
Parliament Hill Website: http://www.lop.parl.gc.ca/Visitors/index-e.html


Changing of the Guard
Dates: June 26 - August 21, 2016

Time: 10:00-10:30 a.m.
Sound and Light Show
Dates: July 9 - September 10, 2016

Time: Evenings (times may vary)
Yoga on Parliament Hill
Dates: Every Wednesday from May-September (weather permitting)

Time: Noon
Ready to have some fun in our nation's Capital? Start planning your Ottawa getaway with the help of Ottawa Tourism.
Ready to have some fun in our nation's Capital? Start planning your Ottawa getaway with the help of Ottawa Tourism.
Food
We talked at length about the ByWard Market but there are a ton of worthwhile foodie stops in Ottawa. This includes restaurants like the modern Atelier, the Spanish tapas-influenced Navarra, and the North American headquarters of the renowned Le Cordon Bleu. This city is also home to more than 60 food trucks and street vendors, a number of wineries and breweries, and the famous Canadian classic, the BeaverTail. For more details on the Ottawa food scene, check out our Foodie's Guide to Ottawa.
Activities
Ottawa isn't just Canada's capital, it's also a cultural capital, and you'd be hard pressed to find a better collection of museums in one city. There's the Canadian War Museum, which houses exhibitions that cover Canada's involvement in conflicts throughout history with everything from military equipment to art. There's the National Gallery of Canada, an institution of all things art, with nearly 40,000 works covering everything from Inuit sculpture to the very latest in contemporary art. There's the nearby Canadian Museum of History, one of the country's oldest museums, and the most-visited in Canada thanks to its four million items tracing the history of the country. There's the Canadian Aviation and Space Museum, the Canadian Museum of Nature... the list goes on.
Other highlights
Summertime in Ottawa is also festival time. If you can time your visit around July 1st, Canada Day, you won't find a better part in the country than the celebration on Parliament Hill. Otherwise, there's the TD Ottawa Jazz Festival, the electronic music-focused Escapade Music Festival, the very popular RBC Bluesfest, and many more.