City itinerary: Seven surprising destinations to see in Calgary by bike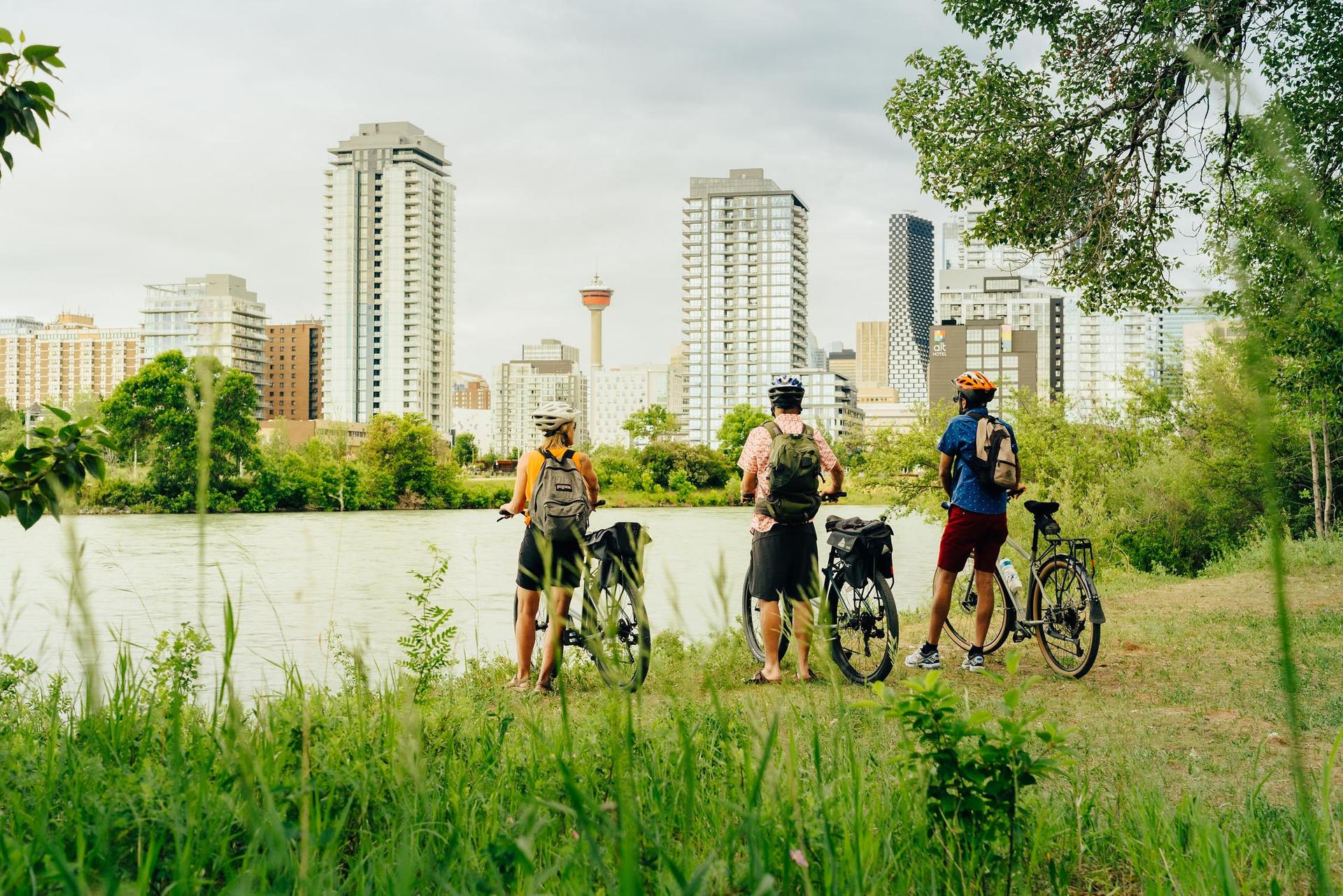 Naheed Gilani is one of the many folks who have gravitated to an increasingly popular horse in the city of Calgary: the bicycle. "I've been four or five years without a car," says the urban cycling enthusiast. "I take so much pride in having grown up in this city and seeing the cycling culture emerge."
Gilani proudly encourages locals and visitors alike to discover the city's best places and experiences - from some of the city's contemporary architectural gems to its heritage roots - all from the seat of a bike.
Cycling infrastructure for all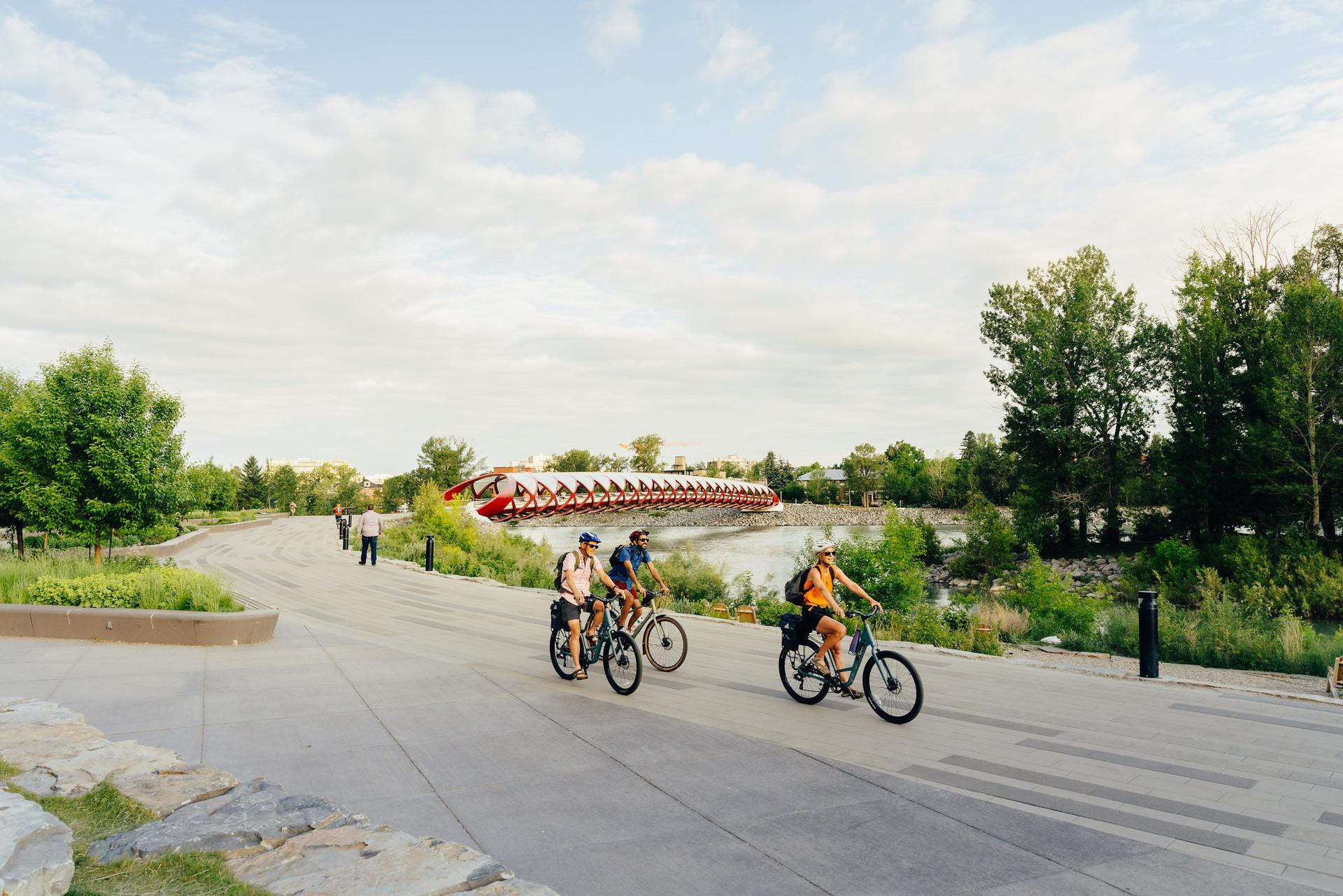 Calgary is home to the most extensive urban biking and pathway system in North America.
This southern Alberta city, known for its nearby mountains and world-famous annual Stampede, has quietly been developing the most extensive urban biking and pathway system in North America. In a did-you-know moment, Gilani says the cycling opportunities within the city limits keep growing by about 30 kilometres a year. Clearly marked bicycle pathways, dedicated traffic signals and many purpose-built pathways ensure visitors can travel almost anywhere in the city by bike in complete safety, at a pace that gives them the time to relax and take it all in.
Architectural bridge to the city's roots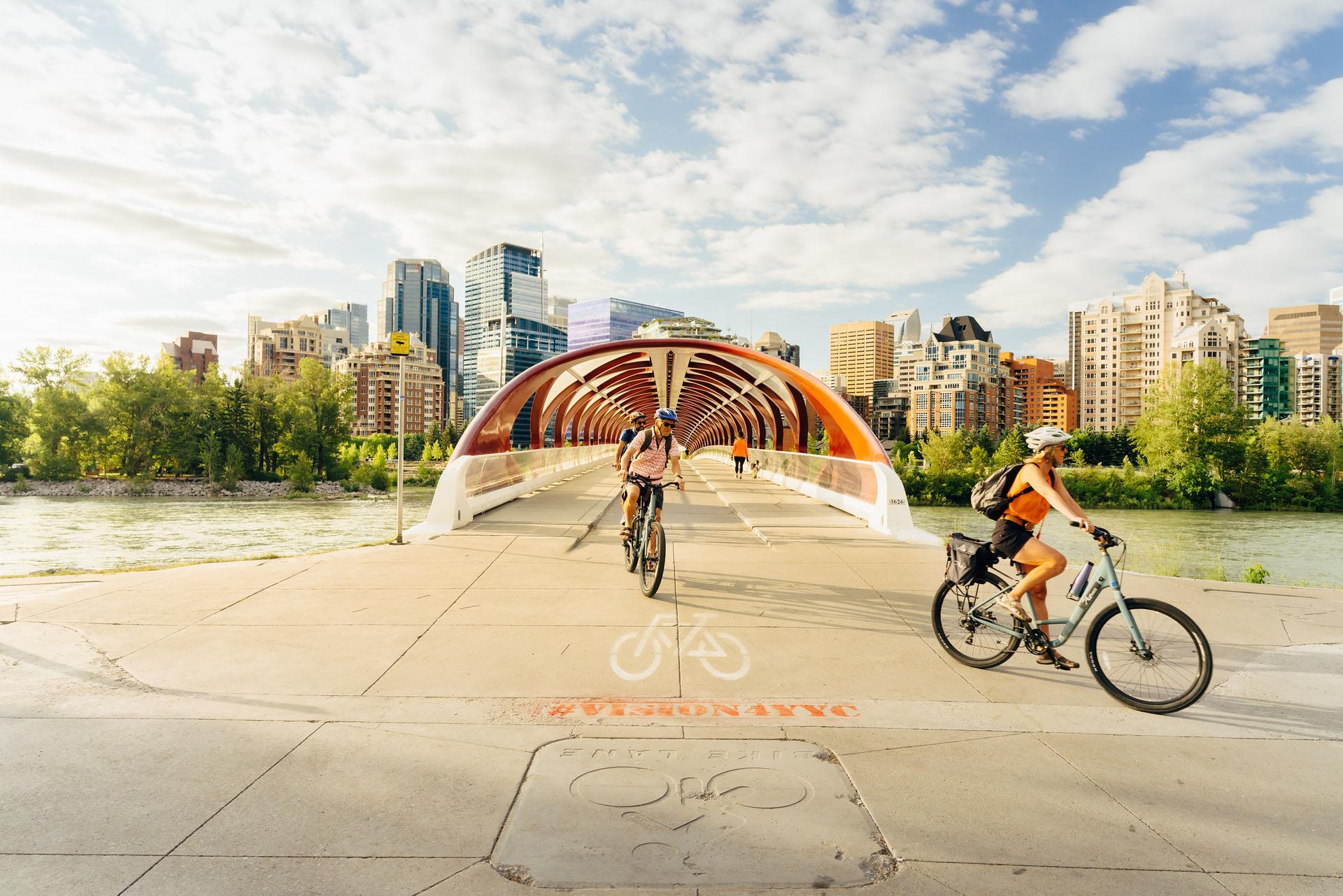 Calgary's emblematic Peace Bridge.
One of Gilani's first recommended stops is the crown jewel of the four bridges that span the Bow River downtown: the striking tubular Peace Bridge, with its helix-like geometric features. Designed by world-renowned architect Santiago Calatrava, this pedestrian and bike-friendly bridge connects Calgary's downtown core to neighbouring communities to the north. Be sure to stop here for an eye-popping photo op as the vibrant red bridge over the blue river makes for iconic memories.
National Music Centre at Studio Bell
The Speak Up exhibit of the National Music Centre at Studio Bell.
With 220,000 shiny terra cotta tiles shaped in a swooping fa?ade and a skyway that connects to the historic King Eddy Hotel live music venue (home to the Rolling Stone's Mobile Recording Studio), the National Music Centre is a true architectural landmark. The centre houses 2,000 musical artifacts, some dating back 500 years, and memorabilia from such iconic Canadian musicians as Gordon Lightfoot, K.D. Lang and groundbreaking Indigenous artist Tanya Tagaq, featured in the Speak Up exhibit. 
"Speak Up is an exhibition that focuses solely on Indigenous artists and the impact Indigenous artists have had on the world," says Jason Tawkin, an engineer at the Centre.

The National Music Centre is also the bricks-and-mortar home for the Canadian Music Hall of Fame. If you get a chance to see a concert in the 300-seat auditorium, you'll be treated to acoustic perfection.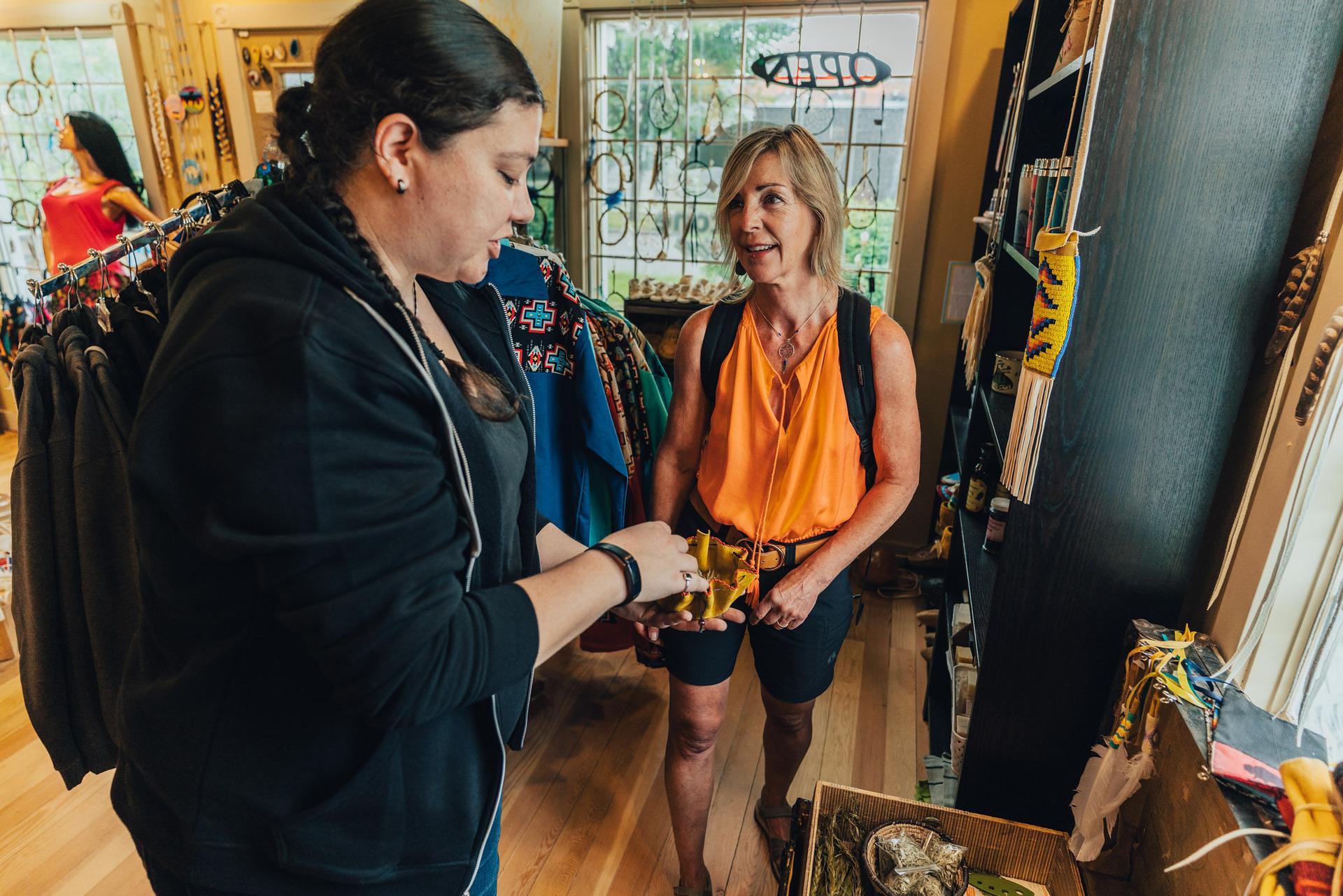 Yvonne Jobin Cree First Nation traditional artist, designer and spiritualist runs Moonstone Creation.
Just a short ride away from the National Music Centre is the historic meeting place of the Bow and Elbow rivers. The Blackfoot people call it Moh'kinsstis, which translates to "elbow." Historically, the confluence of the two rivers has been a gathering place for the Blackfoot Nation. It also became the site on which the North West Mounted Police established Fort Calgary. Visitors can walk the pathways along the river bank and learn about the local Indigenous history of the site with a free audio tour from Fort Calgary.  
Crossing into the city's oldest neighbourhood, Inglewood, you'll find Moonstone Creation, run by Yvonne Jobin, a Cree First Nations artist and designer, and her niece Kim Brothers. Scents of sage waft sweetly through the shop filled with authentic, Canadian-made Indigenous crafts, jewelry, clothing and books. Both talented artists in their own right, Jobin and Brothers are happy to tell you about the more than 60 native artists they feature and answer questions about Indigenous culture. "We are all about preserving and promoting the native culture," says Jobin.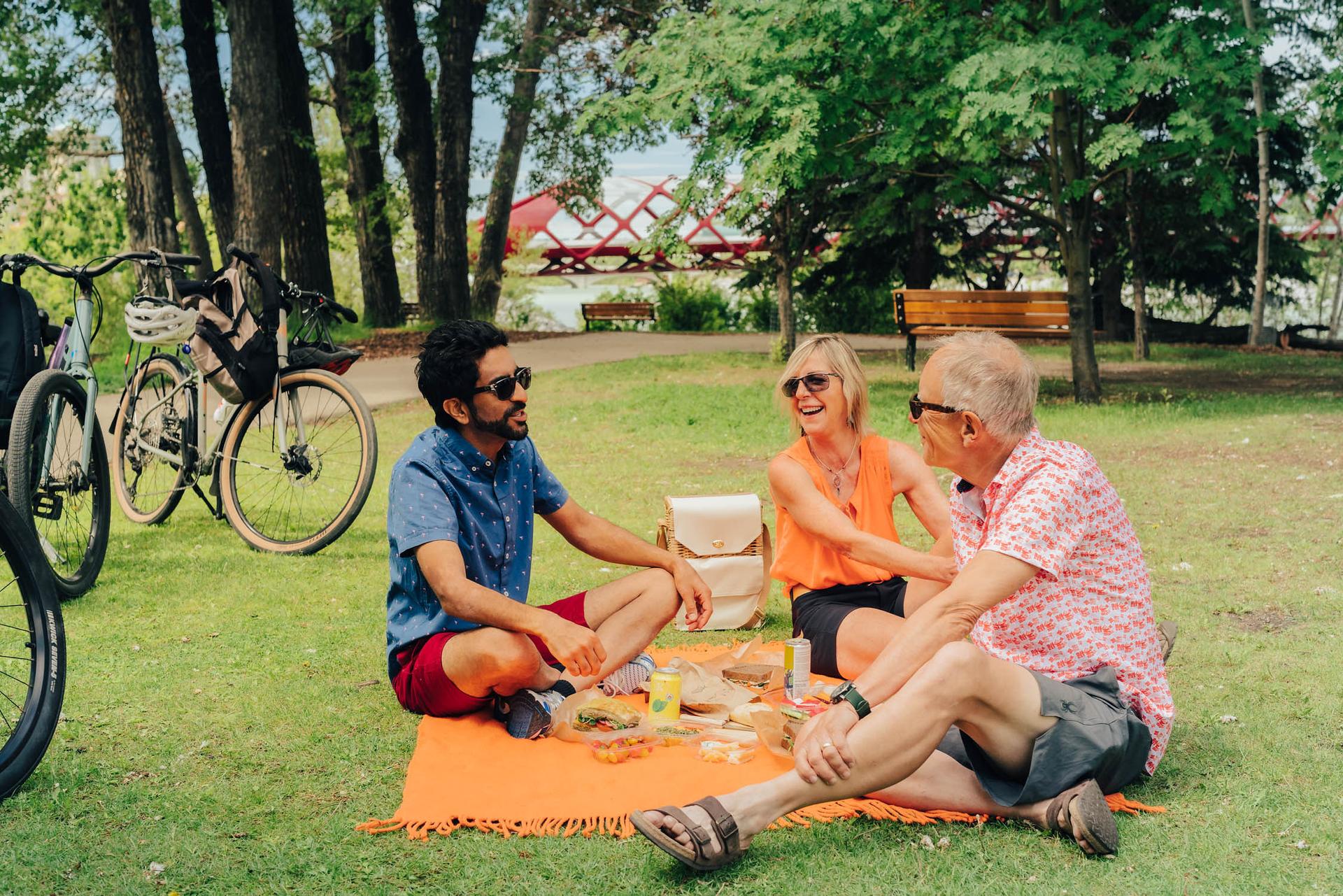 Cycling leisurely through Calgary offers opportunities to relax in nature, reconnect with one another and recharge for the rest of your urban adventure.
Once a major transportation passage for Indigenous people, the winding Bow River flowing through Calgary has become a magnet for kayakers and surfers, thanks to a water control feature built by the city. Riding along Bow River Pathway in Inglewood, you'll find one of the most fun and challenging urban whitewater playgrounds in Canada. For an easier turn on the water, The Paddle Station rents rafts and offers guided tours. If you prefer to stay dry, you can safely witness the impressive athletic performances (and frequent spills) of whitewater enthusiasts from a viewing platform just off the Bow River Pathway in Pearce Estate Park.

Right in the heart of Calgary, Prince's Island Park is a stunning natural area that hosts musicians, theatre groups and the city's famous Calgary Folk Music Festival. Four bridges allow pedestrians and cyclists to access the pathways that weave through 60 hectares of trees, sprawling lawns and gardens at the park.
The River Café offers delicious, locally sourced-meals.
Hungry? Stop by the rustic-chic River Caf? for a delicious and leisurely lunch, featuring locally-sourced foods. Pre-order a picnic basket and find a quiet area to people-watch while enjoying  casual sandwiches and locally crafted sodas or fancy-up your meal with an order of caviar, blinis (Russian-style pancakes) and chilled pinot gris.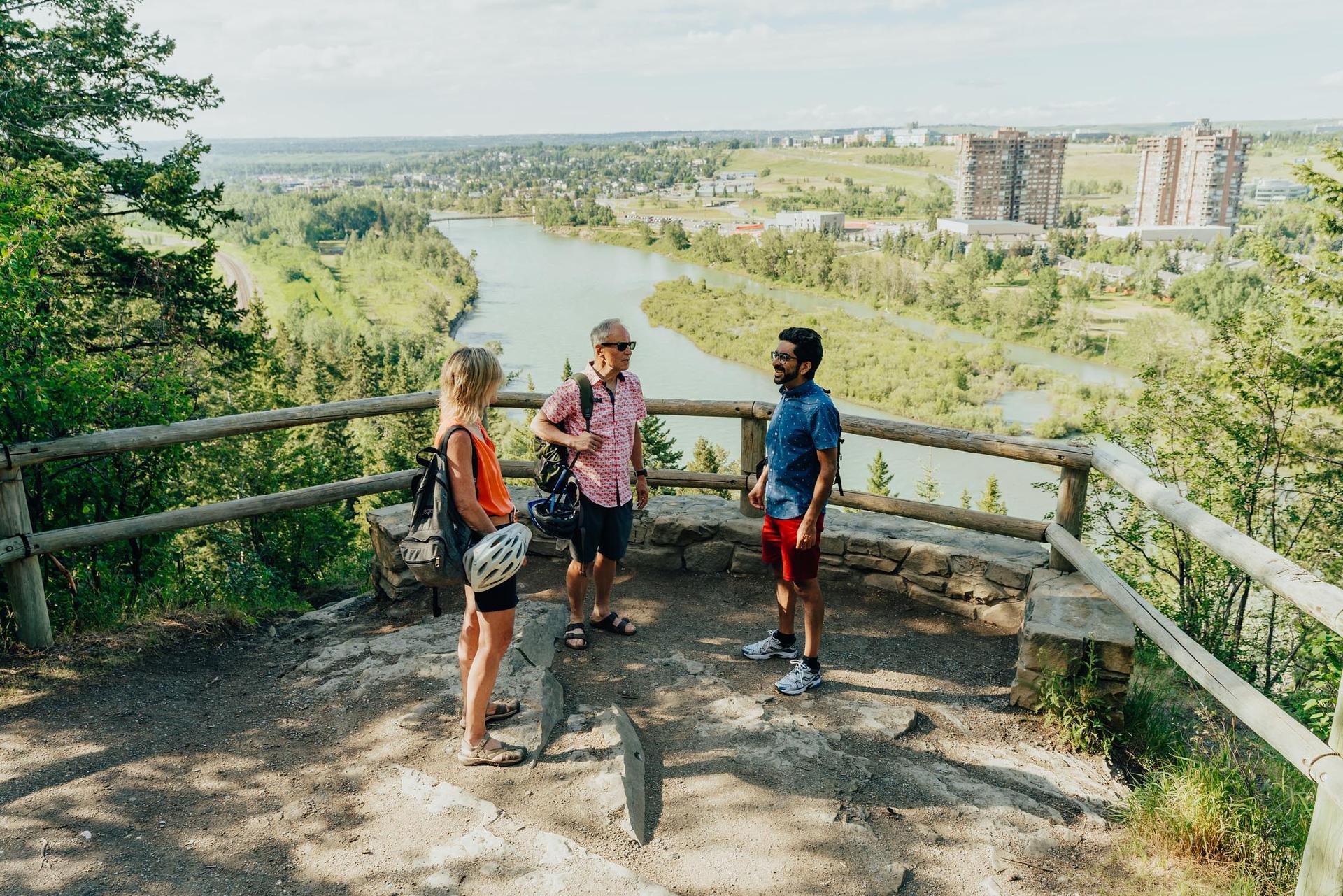 Step off the bike to enjoy the Douglas Fir Trails and elevated views of the Bow River.
Cycle over to the west side of Calgary on its bike pathway system along the Bow River and you'll discover the remarkable Douglas Fir Trail, another of Gilani's favourites. Park your bike and hike up to the spectacular lookout that lays out the entire west side of the city on a seemingly surrealistic canvas. It's guaranteed to take your breath away and provide a perspective on Calgary you've never expected to experience.
Carry on a little further west and cross the Bow River to reach the family-friendly Bowmont Park and adjacent Bowness Park. These charming sites offer canoe and kayak rentals, a mini-train ride for children, beautiful boardwalks and even an off-leash area for dogs. At Bowness Park, the Seasons of Bowness Park restaurant offers delicious casual meals, perfect for winding down after a big day of cycling.
Trade your automobile for a bike for a day in Calgary, and like Gilani, you'll see the city through new eyes. 
"Everything is just so well connected," Gilani praises, "it's really a big part of the city's vision." 
Thanks to that vision, exploring Calgary by bike allows you to seamlessly connect to the vibrancy of the urban core and, in the next minute, be surrounded by nature, all by pedal power.
Stay and Cycle
Calgary has many places to rent bikes. If you stay at Hotel Arts downtown, complimentary bikes are available to guests.