Five of Canada's best beaches near the city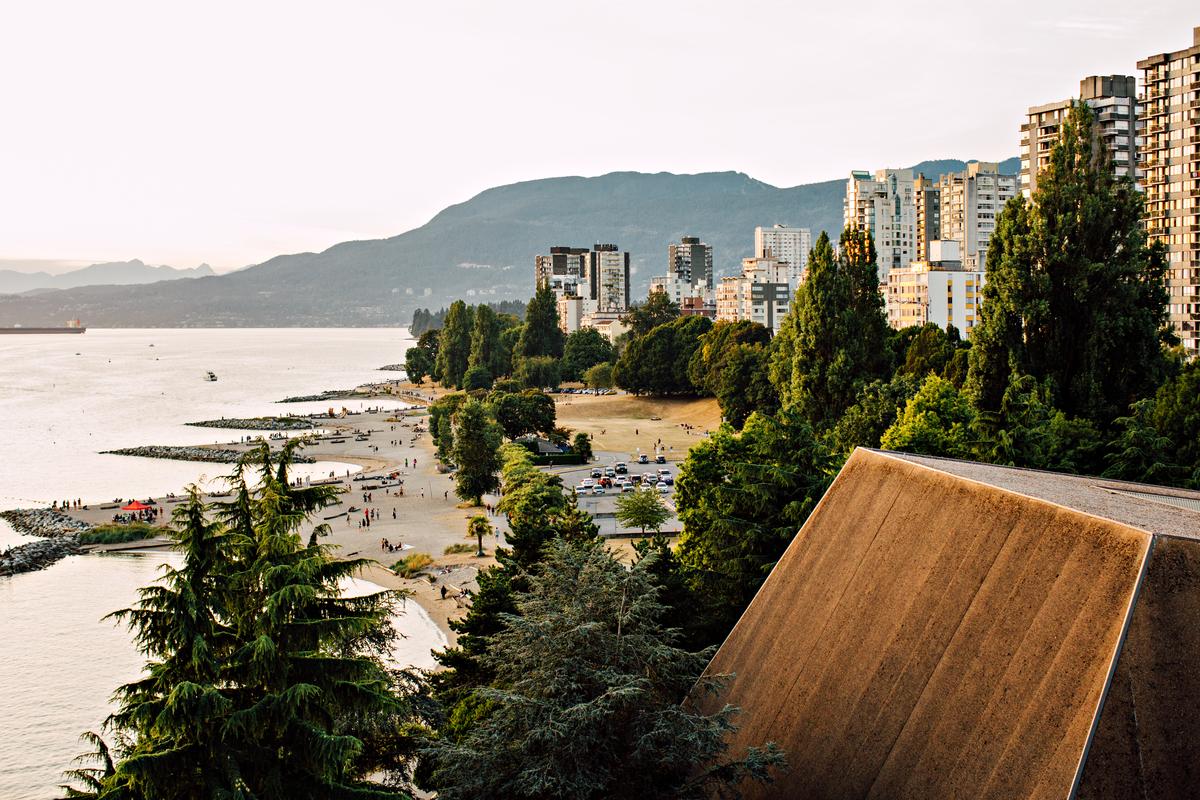 Check the most up-to-date travel restrictions, including border closures, before planning your trip and be sure to contact businesses prior to travel to book reservations and confirm availability.
 
Admit it: you're probably surprised to be reading about amazing beaches near Canada's major cities. While we have plenty of gentle waters lapping onto rocky shores, Canada also has some of the best beaches that are right in the centre of (or very close to) some of our beloved cities. Trade the sidewalk for sand and enjoy a little relaxation under the sun or excitement in the surf, then cap off your day snuggled up next to the fire. Whatever your vacation plans are in Canada, be sure to carve out some time at one of these beaches near the city that will help you redefine how you look at Canada's urban destinations.
Sugar Beach | Credit: Destination Toronto
Leave it to innovative Toronto to create one of Canada's most unique man-made beaches on the site of a former parking lot. Welcome to Sugar Beach in Toronto's East Bayfront, a short 10-minute walk east from Union Station. On one side is the beach's namesake, Redpath Sugar Refinery, on the other is Corus Entertainment, which often opens its retractable doors in the summer to host events right on the beach. Nestled between the two structures are 36 iconic pink umbrellas, 150 Muskoka (Adirondack) chairs and one splash pad all waiting to provide an urban escape for visitors. The beach is also wheelchair-accessible with an access ramp and boardwalk that's level with sand and chairs. Swimming isn't permitted here, but if you want to cool down, St. Lawrence Market is a 10-minute walk away, filled with epicurean stalls and shops that will tempt any foodie.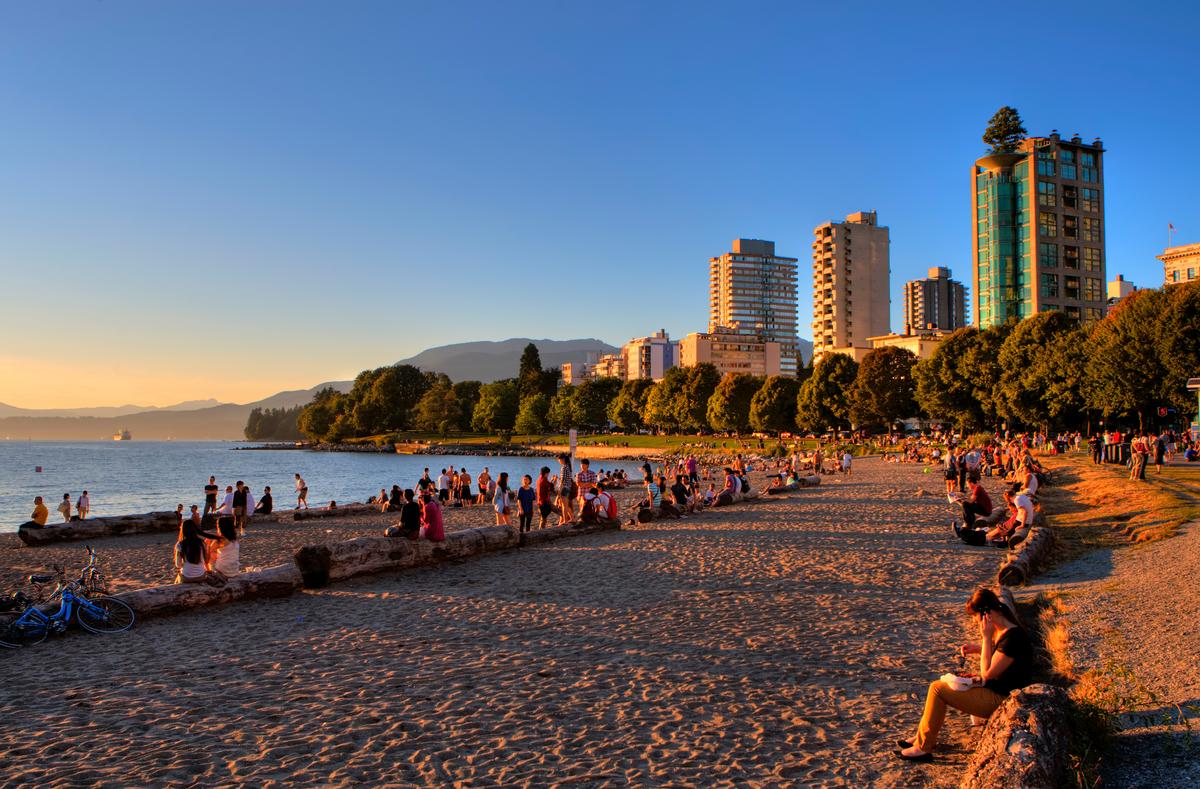 English Bay | Credit: Tourism Vancouver/Clayton Perry
English Bay is fully integrated into the friendly backyard of the West End neighbourhood, an easy commute from anywhere in Vancouver by public transit, bike or foot, making it one of Canada's best neighbourhood beaches. On your way to the beach you'll pass dozens of restaurants and cafes--pick up some fish & chips from Papi's or sushi from Akira to enjoy while sitting on the logs that lay along the sand. And when it gets hot, go for a refreshing dip in the Pacific Ocean, where you can take turns on the waterslide located on a swimming raft a short swim away from the beach. Visitors with mobility challenges are welcome to borrow a water wheelchair and can access the beach using the non-slip Mobi Mats, designed to assist those with walkers, wheelchairs and scooters. Stanley Park is adjacent in case you want to explore the trails or take a guided forest walk that connects the surrounding nature with the history and cultural of the Squamish people. If you want a rest but aren't quite ready to leave, head over to Stanley Park Brewing to admire the views from their patio.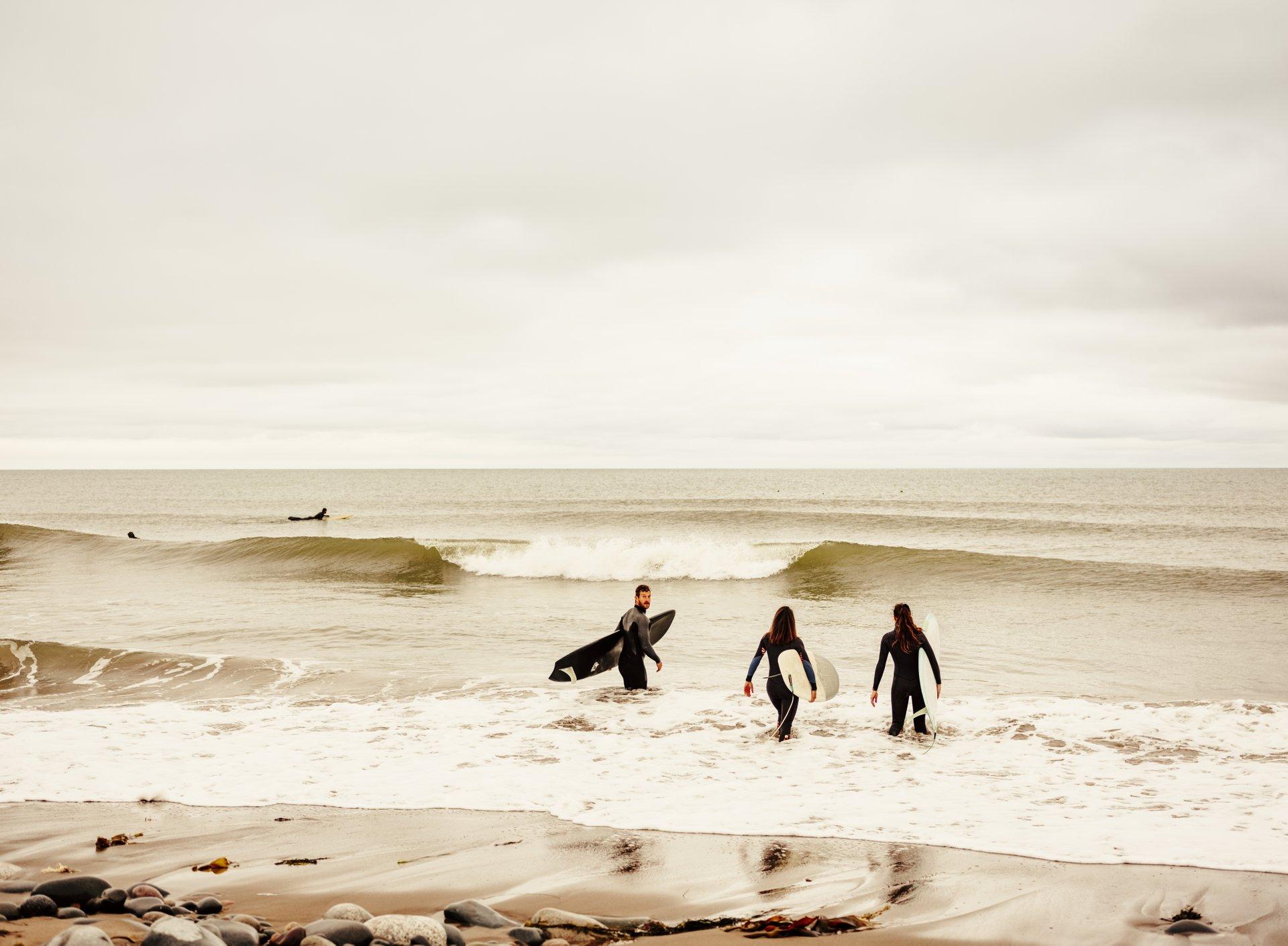 Lawrencetown
A scenic 45-minute drive from Halifax is Lawrencetown Beach, one of Canada's best surfing beaches.  If you've ever wanted to try surfing or kitesurfing, local outfitters Kannon Beach, Surfdonkey or Halifax Kitesurfing can rent you all the equipment you need and set you up with lessons. Strong rip tides and currents are common here, so learning from locals who are knowledgeable about surf conditions and waves at Lawrencetown will ensure you're safely and confidently riding those waves throughout your visit. After a day playing in the ocean, find a spot at local favourite Rose & Rooster Bakery or try Seaforth Country Store for burgers and the biggest ice cream scoops in the area. For something more substantial, head back to Halifax's Dave's Lobster for what locals call the best lobster rolls in Canada.
St. John's - Middle Cove Beach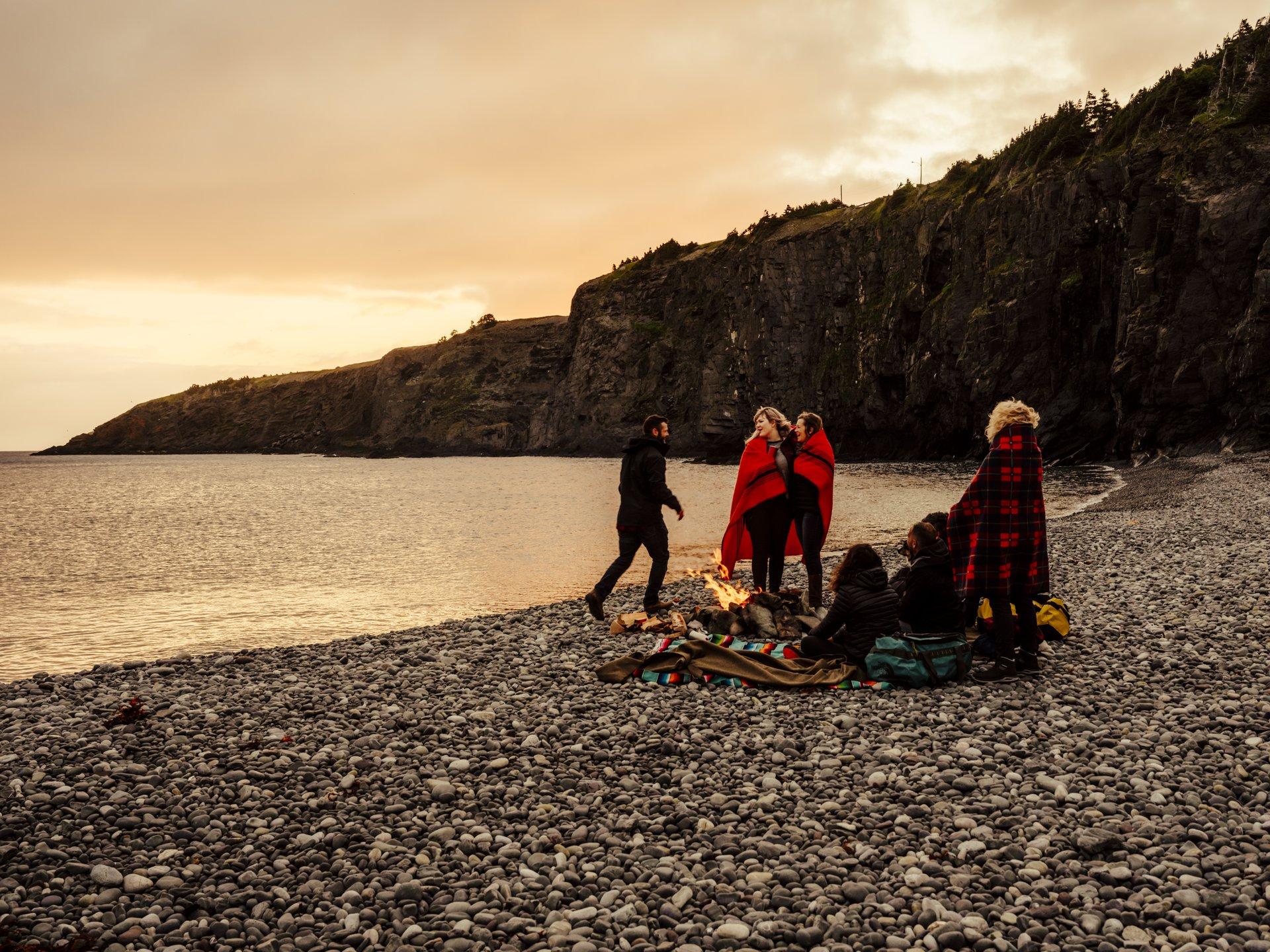 Middle Cove Beach
Pick up some firewood and marshmallows on your way to the campfire-friendly Middle Cove Beach, one of Canada's most dramatic beaches. Fifteen minutes away from St. John's, you'll find yourself at the edge of Canada with cinematic vistas of Atlantic waves that crash into the rocky shoreline on either side of the beach. Come see icebergs lazily float by in the spring or head to the water's edge in the summer to watch the capelin roll, when tens of thousands of fish come to spawn, often with humpback whales not far behind. Finish your day by cozying up to one of the many fire pits dotted along the beach (after reviewing local guidelines on campfire safety, of course). If you prefer to warm up indoors, head to nearby fishing hamlet Quidi Vidi for some fresh seafood and charming maritime hospitality at Mallard Cottage, a restaurant housed in an 18th-century Irish-Newfoundland cottage.
Montréal - Clock Tower Beach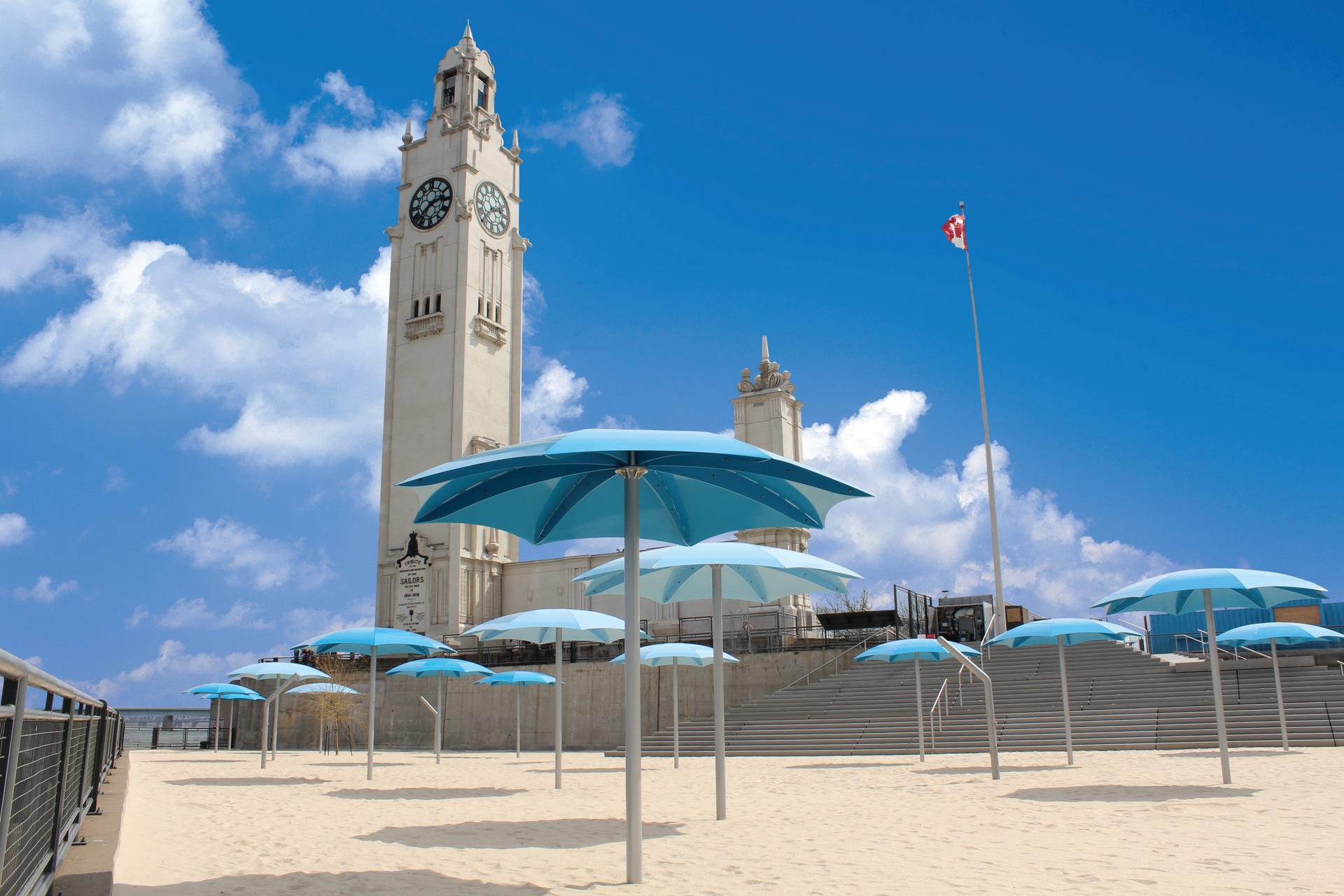 Clock Tower Beach | Credit: Old Port of Montréal
You can easily spend the entire day at Old Port, an area just south of Old Montreal packed with adventures like a ziplining, free-fall quick jumping and even Canada's tallest observation wheel. And, of course, there's Clock Tower Beach, one of Canada's most family-friendly beaches, nestled in the midst of this festive, seaside haven. While the St. Lawrence River looks tempting from here, you'll have to admire the Jacques-Cartier Bridge and ?le Sainte-H?l?ne with feet firmly in the sand, as there's no swimming allowed (though plenty of misting stations for cooling off). If you want to take to the water, try jet boating, available right at the Clock Tower Pier. There are always food trucks nearby, so it's easy to find a quick, delicious meal, but for a refined alfresco experience, pre-order a takeaway picnic box from nearby Chez M?re Grand.
Canada clearly has no shortage of beaches! So pack your bathing suit on your next city holiday and enjoy a little sand during your urban getaway.