Algonquin and Killarney: Toronto's wilderness weekend escapes
As the canoe slid through a mat of lily pads, all we could hear was the splash of our paddles cutting through the water and the hum of dragonflies. Every now and then a rustling on the banks had my eyes darting over to look for a bear or a moose. But then it was back to paddling, soaking up the scenery and the sunshine, and feeling closer to nature and further from everyday life than ever before.
This was the Canada you see in films or magazines. The unspoilt wilderness we'd travelled halfway across the country to explore. But it turns out we didn't really need to go all that far. Two of Canada's best-known and most beautiful Provincial Parks are both within just a few hours drive of Toronto. So it's easy to combine a city trip with a taste of life in the wilderness. But Algonquin or Killarney – which would you choose?
Algonquin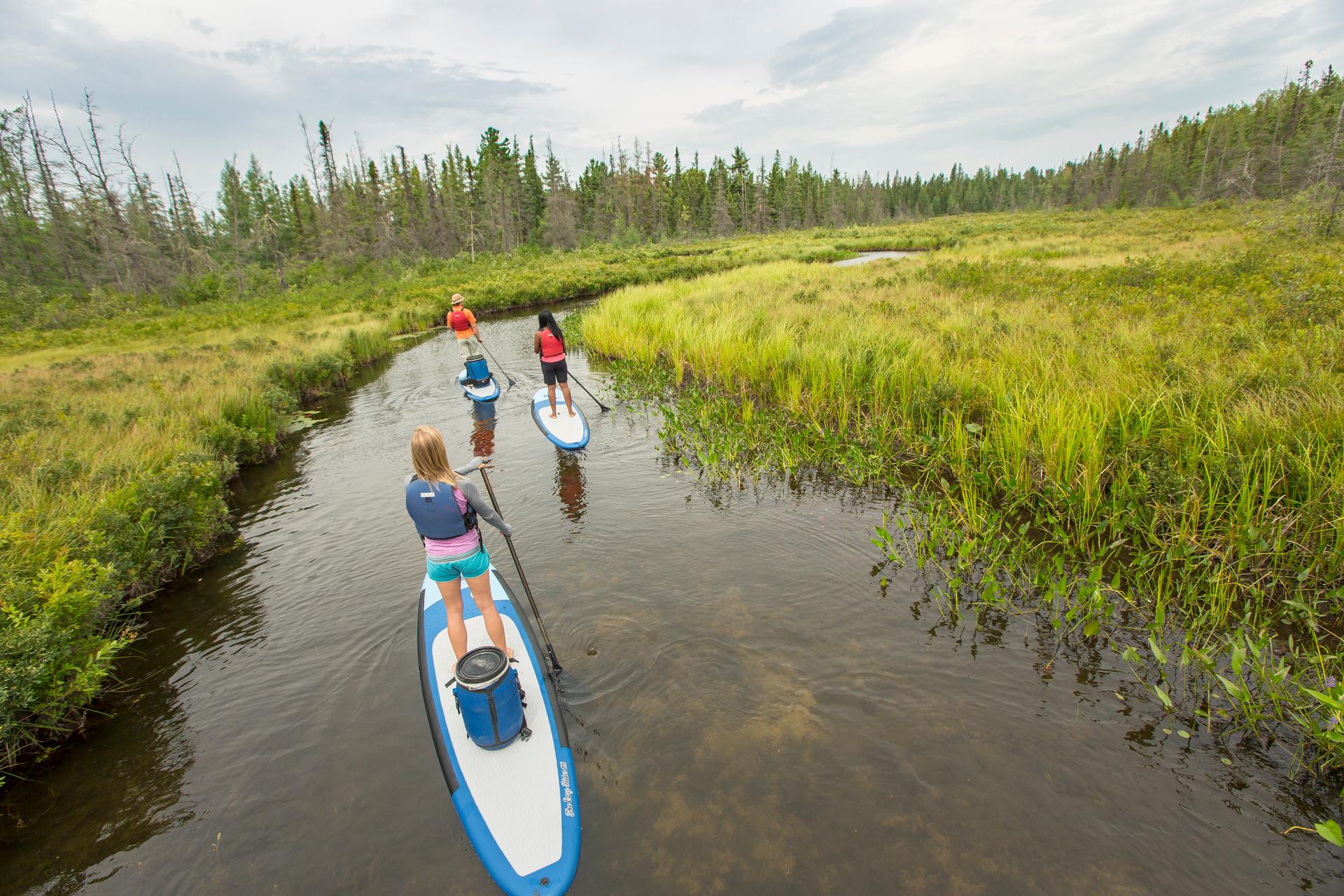 Algonquin Park
Just 3.5 hours north of Toronto, Algonquin is Ontario's oldest and largest Provincial Park. It spreads across a huge 2946 square miles with maple-covered hills, rocky ridges and 1500 lakes. If you want to get away from it all and head out into the backcountry to hike or canoe then there's plenty of space to get lost in. But what attracts many people to Algonquin is its accessibility. Highway 60 runs right through the park so it's easy to get in and around.
Algonquin's size means you've got facilities like the Visitor's Centre, with a restaurant and exhibition about the park, a Logging Museum, Art Centre and evening film shows and talks. It also means there's a wide choice of activities to try out, but one of the most popular way to explore the park is by canoe. If you love canoeing, you'll be in heaven in Algonquin with over 1200 miles of canoe routes to get stuck into.
Algonquin Park
We got a taste of what to expect on a trip with Algonquin Outfitters to Costello Creek. Our route took us into a sheltered bay full of waterlilies. The park's forests are home to beavers, otters, deer and bears, but we were on the lookout for a Canadian icon - the moose. The park has over 3000 moose, and although we didn't see one from the canoe, it didn't take long to find one. Along the path to the Creek we spotted her at a distance. She lifted her head nonchalantly and for a moment we were eye-to-eye before she carried on with the far more important business of eating.
There are also wolves in the park, and in summers the rangers hold a weekly 'Public Wolf Howl' where you can learn more about them and try your howling skills. As well as its waterways, Algonquin also had mountain bike tracks, 14 hiking routes and some of the best trout fishing in Canada. There are eight campgrounds inside the park so there's plenty of choice, but it can get busy in the holidays. We based ourselves at Rock Lake, where pitches line the edge of the lake. The site was almost full, and it's ideal for first-timers with plenty of novices trying out camping.
Killarney
Where Algonquin's accessibility is part of its attraction, Killarney is all about the wilderness. It's a smaller, remoter and more mountainous version of Algonquin, but still only 4.5 hours drive north-west of Toronto.
The area was made famous by the Group of Seven, a group of Canadian landscape painters who fell in love with its landscapes in the 1920s and 30s. They were inspired by the area's unusual mix of colours. There's the pink granite rocks along the coast of Georgian Bay, the white La Cloche Mountains and the emerald green of the park's 50 lakes. And it's one of the artists, AY Jackson, that we need thank for the park being here today. When he heard the area was about to be logged, he petitioned the Ontario government and got them to preserve it as a park.
Today the park stretches over 250 square miles with a mix of rocky peaks, pine forests, lakes and marshes. There's one road into the park and from there walking and canoeing routes fan out into the interior. Killarney's best-known walk is the La Cloche Silhouette Trail, a 48-mile loop that runs through the mountains and takes about a week to complete. But there are plenty of shorter walks too. We headed out on the 2.5-mile Cranberry Bog Trail to explore some of the park's marshlands. From a distance it all looks quiet, but a closer look reveals the water's edge is buzzing with insects and the undergrowth reveals hidden beaver lodges and birds nests.
If you want to get out onto the water, there are beaches and swimming areas at George Lake, and you can also canoe from there. It's one of the best way to explore the park and get a closer look at its unusual geology. Our guide from Killarney Outfitters took us around the lake, steering us close to the banks where you can still see scraping marks on the rocks left by ancient glaciers.
The park has just one campsite which is next to George Lake. Otherwise you can head out into the wilderness to one of the many backcountry camping sites - there are 183 you can access by canoe and 33 on foot. The camping spots are spaced out and screened by trees, so it's peaceful and you never feel crowded. Though watch out for rowdy neighbours - we had a cheeky racoon and a band of noisy chipmunks next door to us.
If you do want a dose of civilisation then not far from the park is the historic village of Killarney. It started life as a fur trading post in the 1820s and is now a pretty waterside village. For a change from campfire cooking you can grab a delicious crispy local fish and chips from Herbert Fisheries and eat it on the dockside among the sailing boats for the perfect end to the day.
Two fabulous parks, but which would you most like to visit, Algonquin or Killarney?