City itinerary: 8 spots to see Edmonton by bike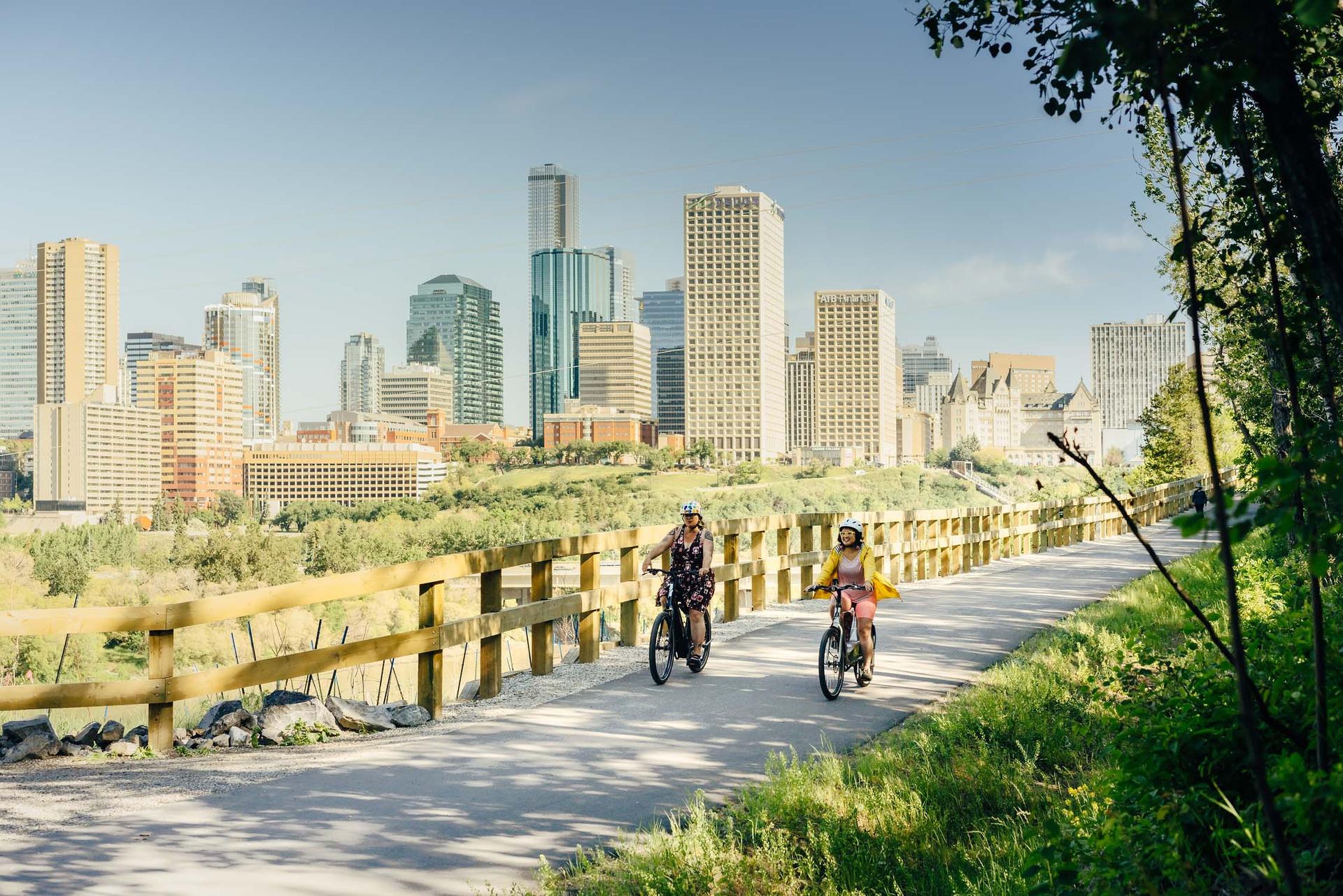 There is nothing quite like exploring a city by bike. I was born in Edmonton and have lived here my entire life (that's over 30 years!). Despite being a local blogger who explores the city for a living I always discover something new when I take the time to slow down and explore by bike. Unlike driving, cycling gives me the opportunity to slow down and notice nooks and crannies I hadn't noticed before while also connecting with locals I would not come across otherwise. 
The beauty of it all is that you don't have to be an expert cyclist to uncover hidden-to-you gems and experience that joyful feeling of exploring Edmonton by bike.
To help you experience the joy of cycling in Edmonton, longtime cyclist Karly Coleman and I have crafted, and road-tested, the cycling tour below. It covers beautiful Edmonton landmarks and photo op spots best experienced by bike. To leisurely complete this tour, we recommend renting an electric bicycle which will make the ride a lot more leisurely.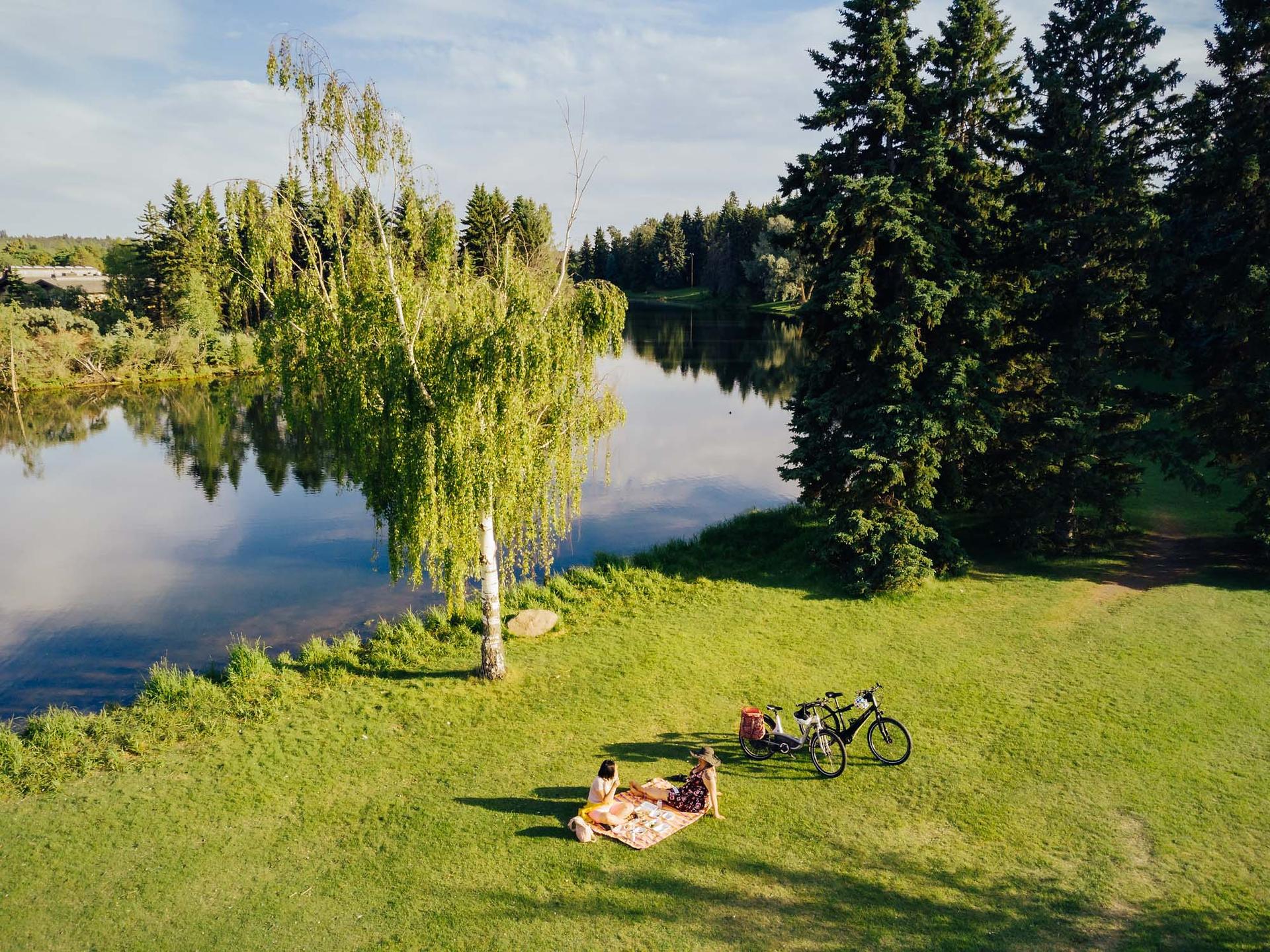 Edmonton is home to the largest stretch of connected urban parkland in North America.
From cafes and shopping districts you can easily connect to river valley trails winding all along the North Saskatchewan River, to discover the extensive natural beauty that flows right through the city. One of the best places to bike ride in Edmonton is along our stunning river valley. I bet you didn't know this: Alberta's capital city of Edmonton is home to the largest stretch of connected urban parkland in North America, with more than 160 kilometres of maintained pathways and 20 major parks; significantly more green space than you'd find in New York City's Central Park!
The free 100 Street Funicular makes the city's river valley more accessible for all ages and abilities.
Start your ride at Edmonton's 100 Street Funicular, which is as functional as it is fun.The mechanized funicular makes the city's river valley more accessible for all ages and abilities. It operates like an elevator and offers a free, 48-second ride from downtown into the river valley (or vice versa), making the transition effortless.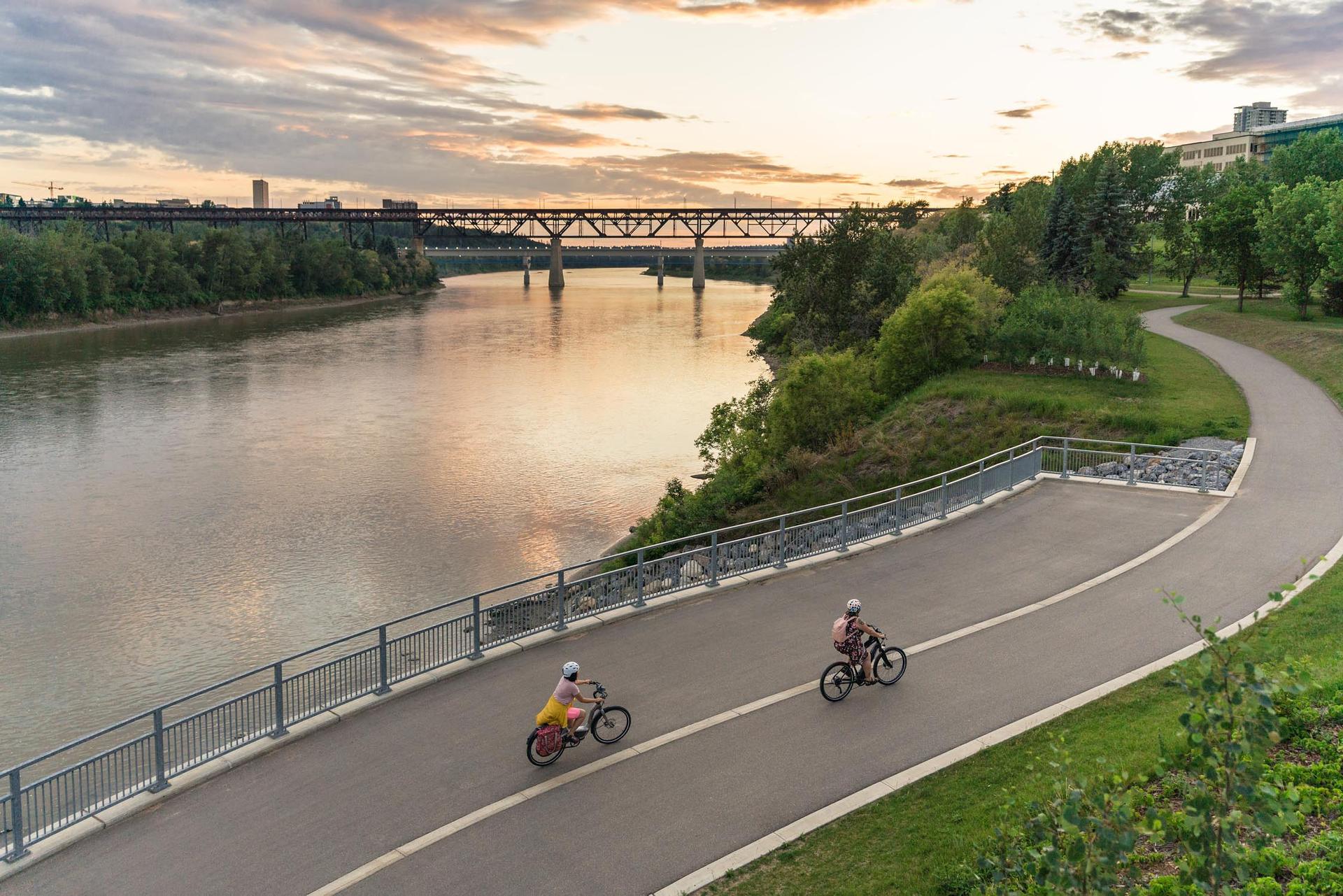 Edmonton' High Level Bridge.
Next, Karly and I recommend riding over to Constable Ezio Faraone Park, north of the river, to snap a stunning photo of the city's High Level Bridge, a steel truss bridge that sits 49 metres above the North Saskatchewan River and spans 755 metres across, linking South Edmonton to downtown. Here, you'll find numerous biking paths and walkways, a gazebo and benches. At night, the bridge is illuminated in 60,000 LED bulbs that change colour for holidays or special requests.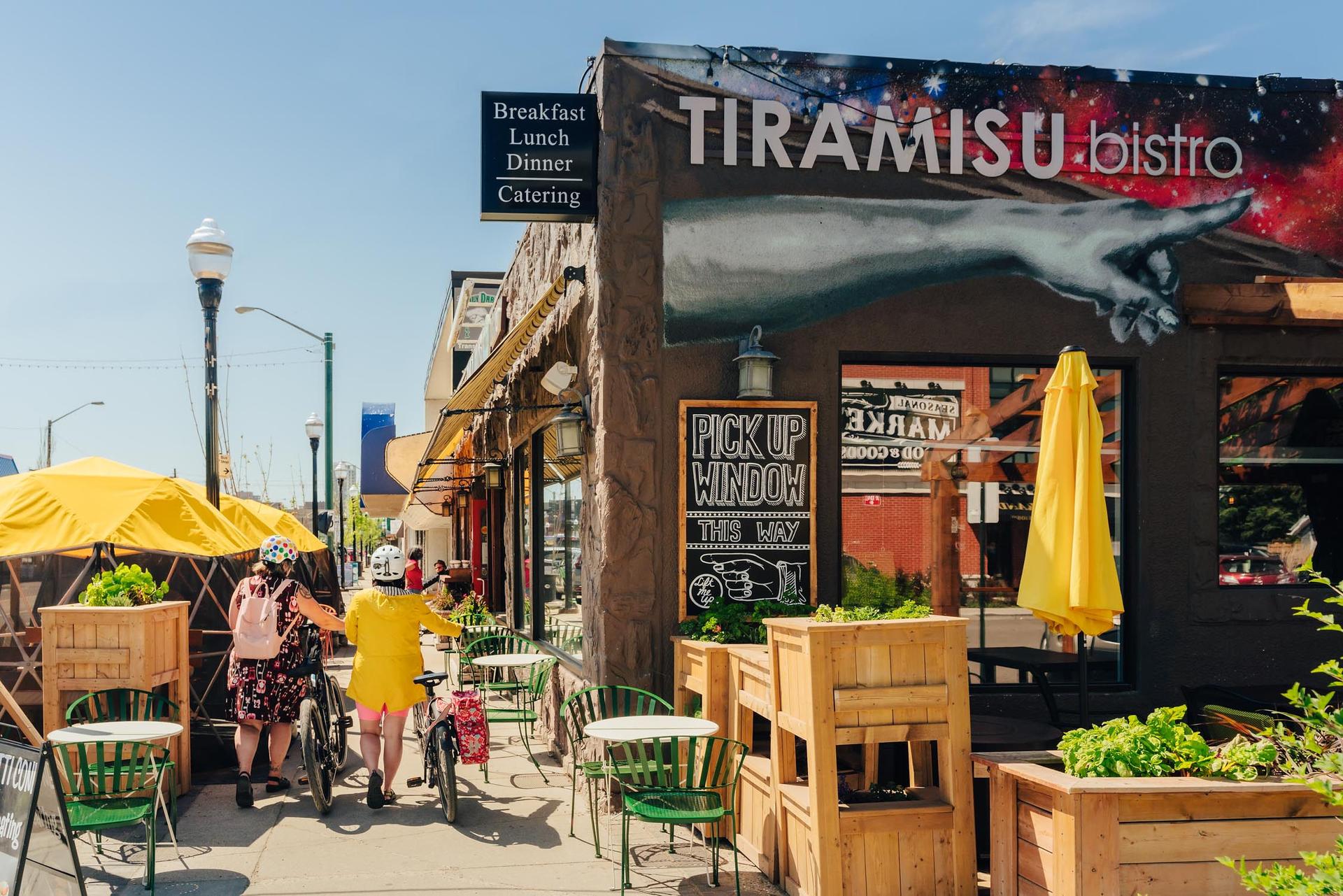 Tiramisu Bistro and the Lift Me Up Market along Edmonton's 124 Street.
We know you'll get hungry during this cycling adventure, so plan to pick up a picnic basket from Tiramisu Bistro and the Lift Me Up Market along Edmonton's 124 Street, just west of downtown. Tiramisu means "pick me up", and that's what Seble Isaac, owner of the popular bistro, hopes her food does--picks and lifts people up. Isaac, who is originally from Ethiopia, lived in Italy and has called Edmonton home for a long time, says Edmonton is "so different from every other place I've travelled, it's very welcoming," Isaac tells us. "I think that's what makes Edmonton very distinct and very beautiful to live in."
The 124 street neighbourhood is home to a diversity of people and businesses that come together along this popular strip. Be sure to sample specialties from the pretzel, croissant, and macaron shops, butchers and artisan markets, food stand and food truck lots, and the outdoor 124 Street Grand Market farmers market.Hawrelak Park 

With picnic baskets tucked on your cruiser, head down to William Hawrelak Park, perhaps the pinnacle of river valley parks in the city. This 68-hectare park is home to a five-hectare lake and open green spaces. It's the perfect spot for a picnic break during your ride. Here, you'll find pavilions, picnic sites, a restaurant on the lake, numerous walking and cycling trails connected to pedestrian bridges linking to nearby parks and river access points. Alcohol consumption is permitted at designated sites. Hawrelak is often a preferred spot for locals who want to spend a day outdoors, picnicking or playing games in the field or simply take a cycling break to watch the ducks swim by.
ᐄᓃᐤ (ÎNÎW) River Lot 11∞ Indigenous Art Park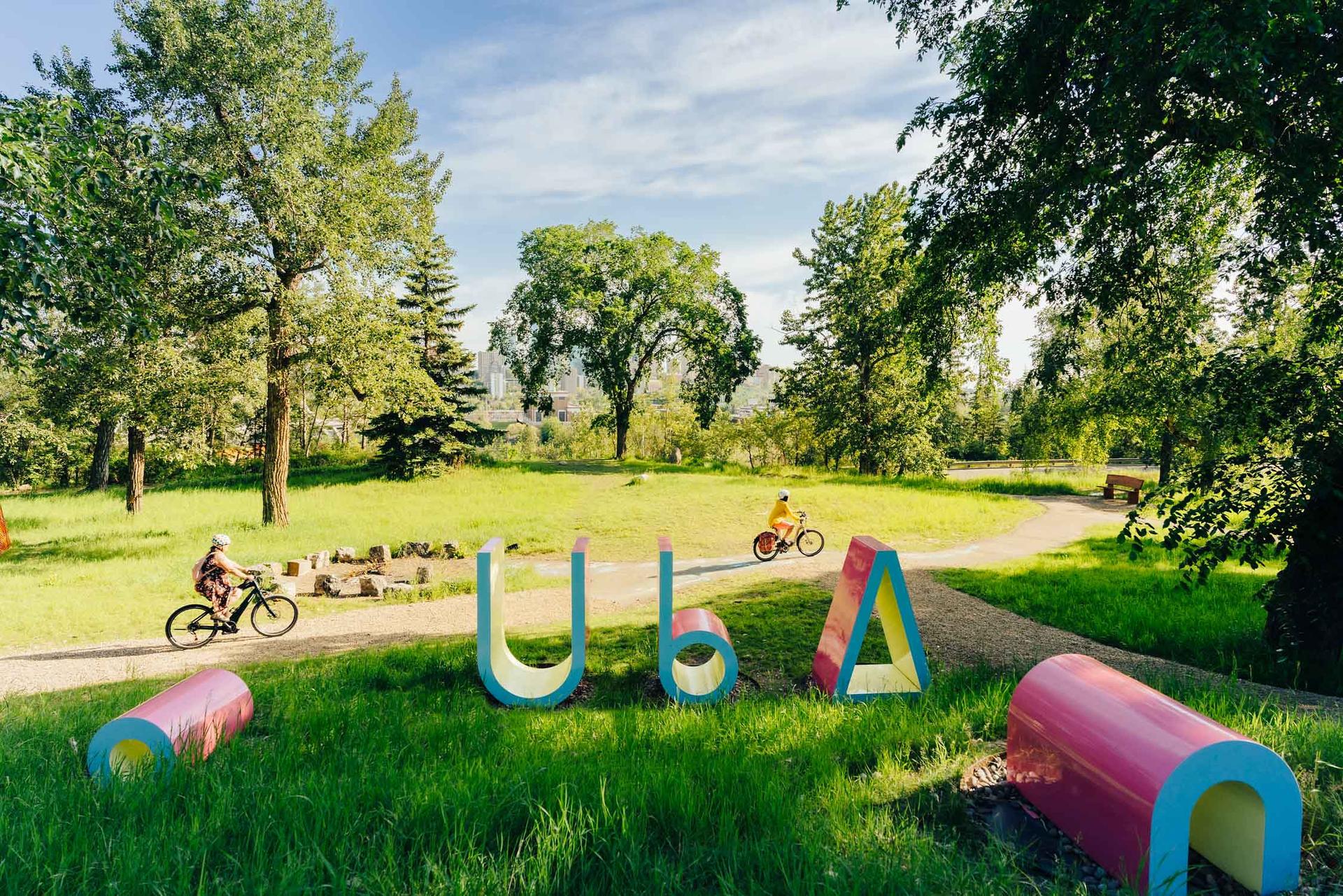 ᐄᓃᐤ (ÎNÎW) River Lot 11∞ Indigenous Art Park, located within the larger Queen Elizabeth Park.
Across the river you'll find the ??? (?N?W) River Lot 11? Indigenous Art Park, which sits on ancestral Indigenous lands and can be found within Queen Elizabeth Park in Edmonton's North Saskatchewan River Valley. The Indigenous Art Park features six artworks by Canadian Indigenous artists, designed to "tell the story of this place."
Edmonton, in Treaty 6 Territory, is home to Canada's second largest urban Indigenous community and as Canadians work on acts of reconciliation, I'm grateful for Indigenous spaces like this art park, and having an opportunity to reflect on and learn from Indigenous artists and stories of the land.
Old Strathcona - Whyte Avenue
Old Strathcona - Whyte Avenue is a diverse, photogenic neighbourhood. Mural by Okuda San Miguel Photo credit: Travel Alberta
Arguably one of Edmonton's most popular districts, Old Strathcona - Whyte Avenue is home to a diverse selection of shops, restaurants and art. Ride through dedicated bike lanes while making strategic stops for treats at the city's unofficial dessert district. 
Find Filipino and Asian-inspired ice cream flavours at Yelo'd Ice Cream & Bake Shoppe (try the ube purple yam ice cream!). Get back alley baked goods at Sugared & Spiced. Be sure to check out the Okuda San Miguel mural. This is where you'll find the city's most vibrant nightlife. With so many sights, sounds, and smells to take in as you roll by, this is easily the busiest neighbourhood to cycle through!
Walterdale Bridge and Hill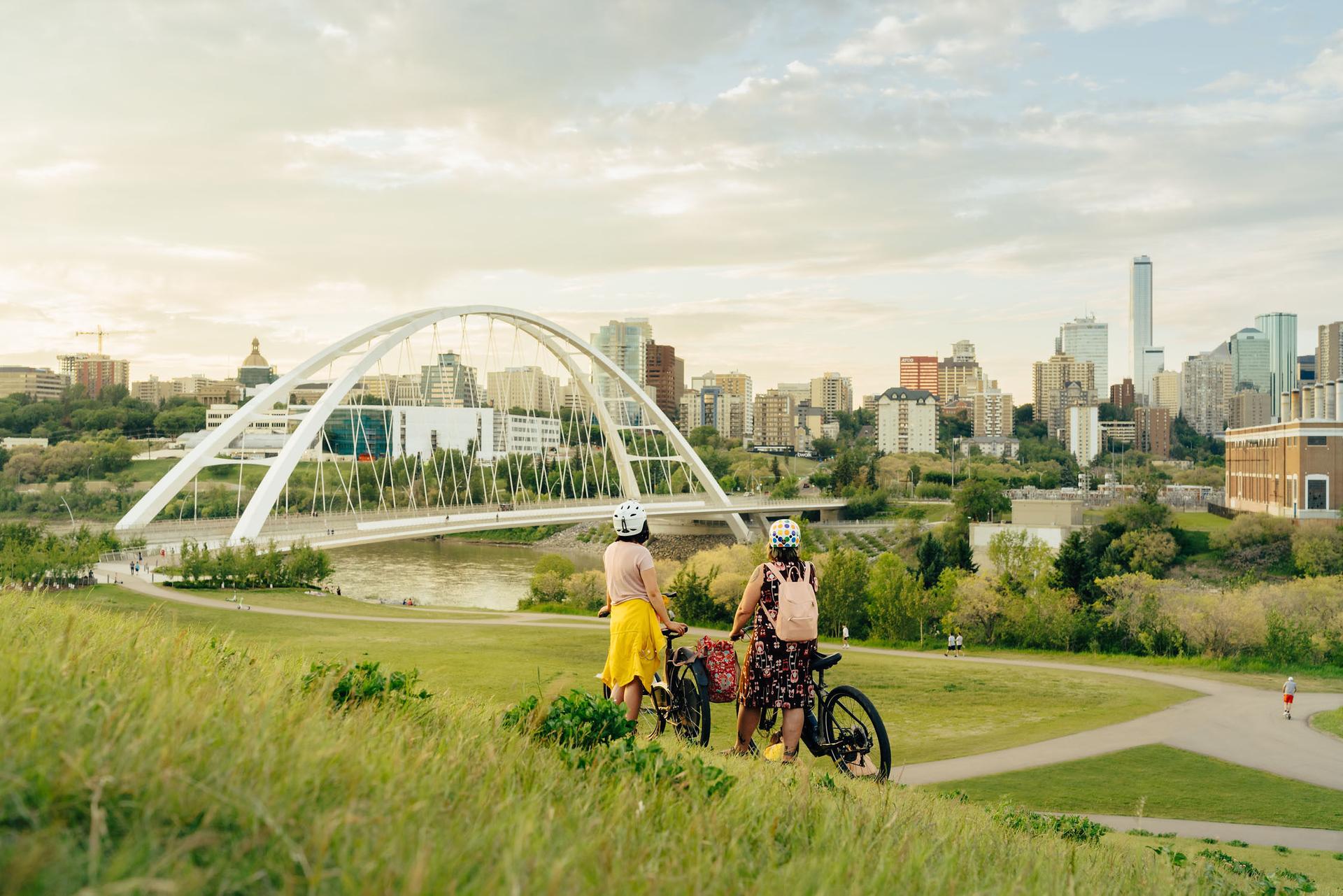 The Walterdale Bridge and Hill is a popular picnic spot and admire Edmonton's skyline.
Perhaps the most iconic landmark in the city, no visit to Edmonton is complete without crossing the Walterdale Bridge, a signature bridge and the only one of its kind in the city with two 56-metre-tall arches that stretch across the North Saskatchewan River, featuring enhanced pedestrian and cyclist crossings. On the southside of the bridge, Walterdale Hill has become a popular spot for picnics. It's also an ideal spot to pause and catch the sunset behind the city's stunning skyline.
End your jam-packed day of exploration by bike at Edmonton's Neon Sign Museum. This outdoor museum is a first of its kind in Canada. It tells a story about Edmonton's past through local, restored neon signs. This free museum is open 24 hours a day, seven days a week and is best viewed at night when more than 20 lovingly restored neon signs twinkle brightly along the popular 4th Street Promenade by Rogers Place.
Like Karly and me, once you've toured Edmonton by bike you'll see the city in new ways. With so many wow moments, natural wonders and friendly local interactions, you'll come away from your cycling experience with a greater sense of place than you could ever gain from the confines of a car.