Best camping in Canada – with a twist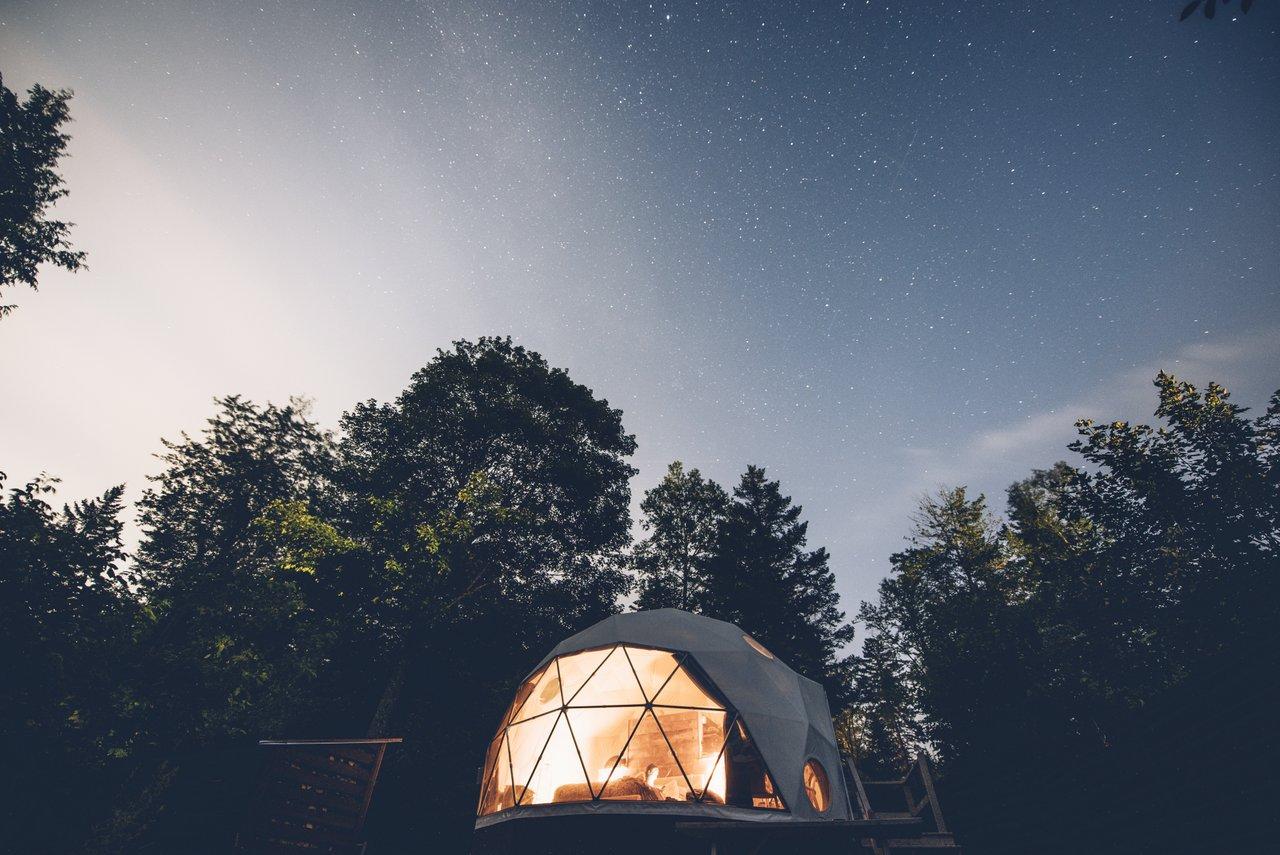 Canada has long been known as a camper's paradise. After all, only 20 per cent of the country is inhabited, leaving plenty of room to pitch a tent and gather around a crackling fire. Then there's the wide range of scenic settings to choose from too — wake up beside a sparkling alpine lake, thick pine-scented forest or hoodoo rock formation.
But what if your idea of camping puts comfort first and effort last? No worries, Canada still delivers. Whether you just want to skip setting up camp or are dreaming about an utra-luxe wilderness escape, Canada has a getaway for you.
So along with a list of some of the best campgrounds in Canada, we're also bringing you a selection of high-end glamping (glamour meets camping) opportunities across the country.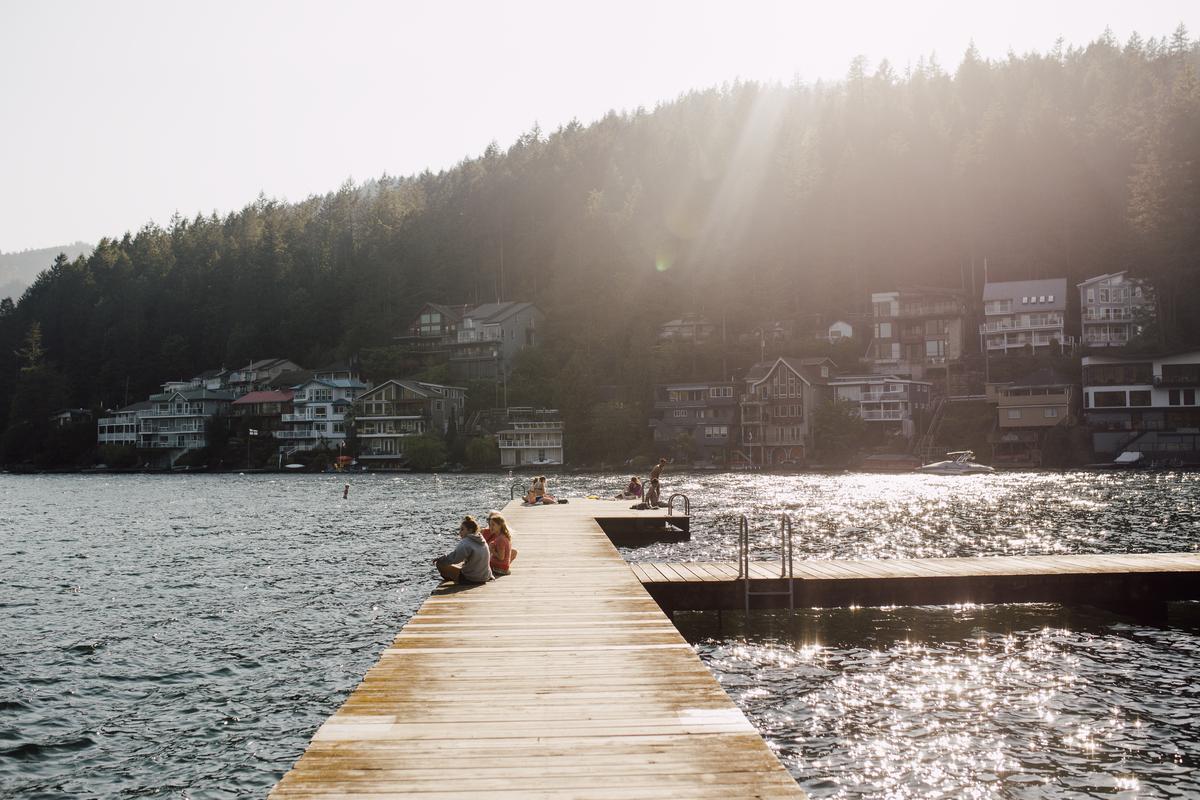 Cultus Lake beach and docks. Photo credit: Destination BC/Local Wanderer
No stranger to alternative camping adventures, British Columbia welcomed yet another option in 2019. A step up from traditional tent camping, the Maple Bay Cabins in Cultus Lake Provincial Park offer cozy shelter along one of the province's most popular lakes. A 1.5-hour drive east of Vancouver, the 18-square-metre wood units include heating, lights and a power outlet, as well as a covered patio with picnic table. Each of the 25 cabins can sleep up to five people on the provided queen bed, bunk beds and single bed (guests bring their own bedding, dishes and cooking stove). Day trip tip: don't miss the park's easy Teapot Hill hiking trail, lined with hidden teapots along the way.

After your stroll, take the short, 25-minute drive to the nearby city of Chilliwack. One can't-miss attraction is the Chilliwack Circle Farm Tour, a self-guided tour that takes you to the area's diverse culinary, agriculture and artisanal offerings. From organic produce and gourmet cheese to kosher honey and farm fresh craft beer, you're sure to find something delicious to try.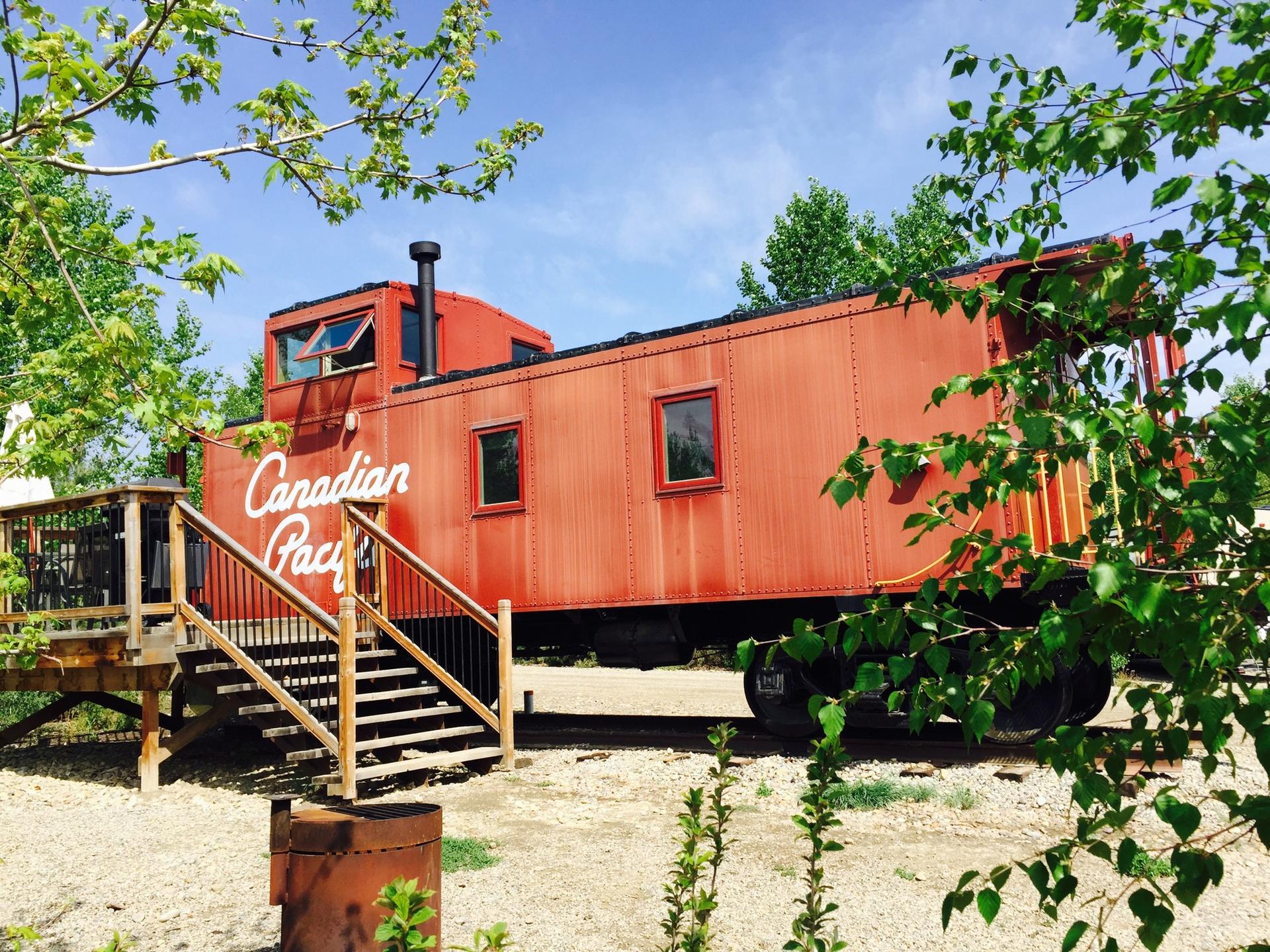 Canadian Pacific caboose cabin at Aspen Crossing. Photo credit: Julie Van Rosendaal @dinnerwithjulie
For an experience that's literally off the rails, stay a couple of nights in Alberta's Aspen Crossing Caboose Cabins. Tucked among the trees in a separate section of the Aspen Crossing campground near the hamlet of Mossleigh (an hour-drive southwest of Calgary), three authentic railcars take guests back in time to rolling stock's heyday. The polished exteriors are true to their original form, while the repurposed interiors resemble sleek hotel rooms with king-size beds, stocked kitchenettes and air conditioning. Amble over to the 1887 Diefenbaker Dining Car Restaurant for Friday Night Prime Rib, and the 1912 farmhouse turned Bergquist House Tavern for pizza and pints.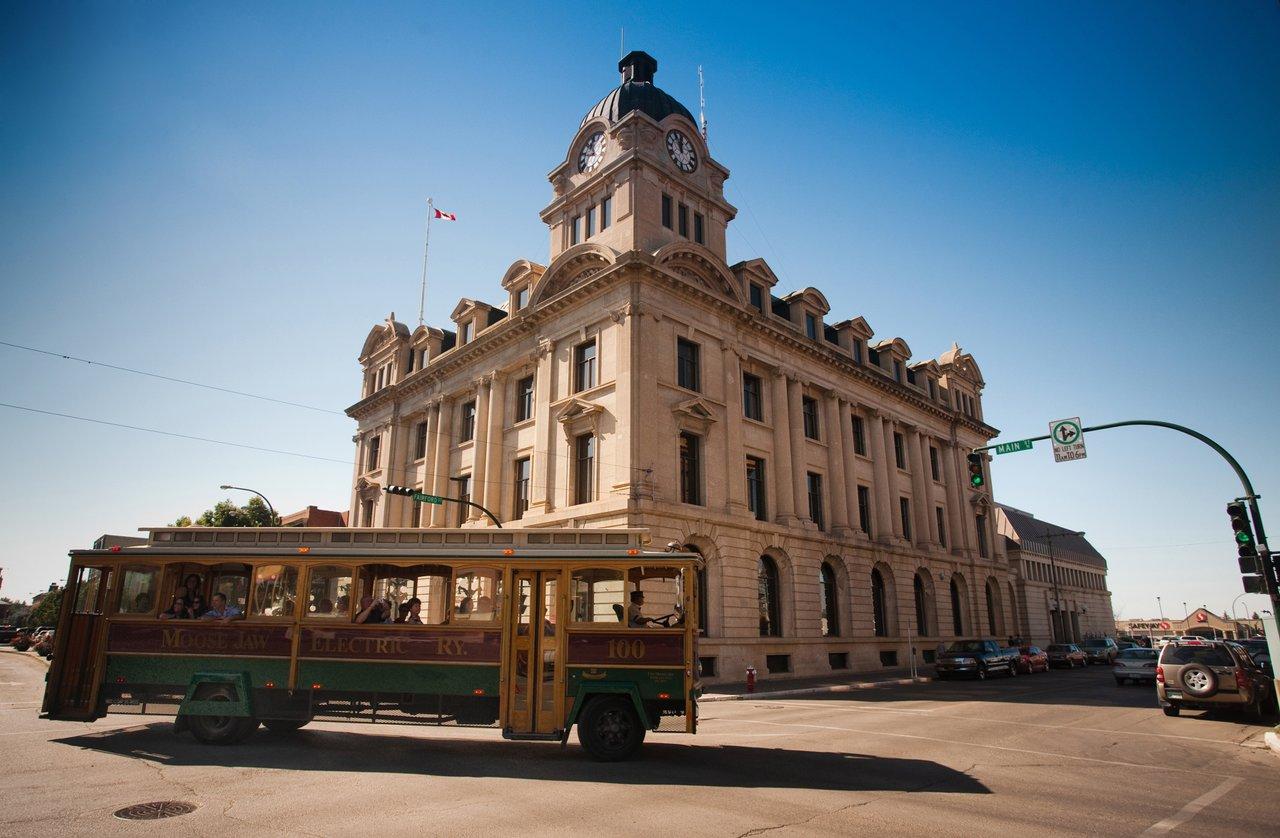 The Bin There Campground is located just 20 minutes from Moose Jaw. Photo credit: Tourism Saskatchewan/Greg Huszar Photography
Opened in 2019 by a welcoming farming couple, the Bin There Campground just northeast of Moose Jaw -- billed as Canada's most notorious city -- is home to six steel grain bins converted into comfortable two-storey cabins. You can't get more Saskatchewan than that. Equipped with skylights, two queen beds, air conditioning and heat, each unit puts guests in touch with the province's deep agricultural roots while keeping them comfy during their prairie stay. Rounding out the offerings is a service center for cooking and washing, which includes a BBQ area and a fire pit. A 10-minute drive away takes you to Buffalo Pound Provincial Park and its two Camp-Easy tents and swimming pool. Be sure to carve out time for a trip to the downtown of Moose Jaw, too -- which is less than 20 minutes away. Explore the historic streets by foot, or go on a trolley tour to hear the tales of what makes it so notorious.
Plains Bison in Riding Mountain National Park Credit: Enviro Foto
Get your outdoor fix without the hassle of hauling around a temporary home in Manitoba's diverse Riding Mountain National Park, offering some of the best camping in Canada just over a three-hour drive northwest of Winnipeg. Choose from the ?ber-cool two-person MicrOcube (you'll love this 10-square-metre structure's panoramic window), a wood-frame canvas yurt with solar lighting and heat or an A-frame oTENTik cabin equipped with a wood stove. Spend the day spotting bison, elk and moose, then fall asleep to howling wolves and laughing loons.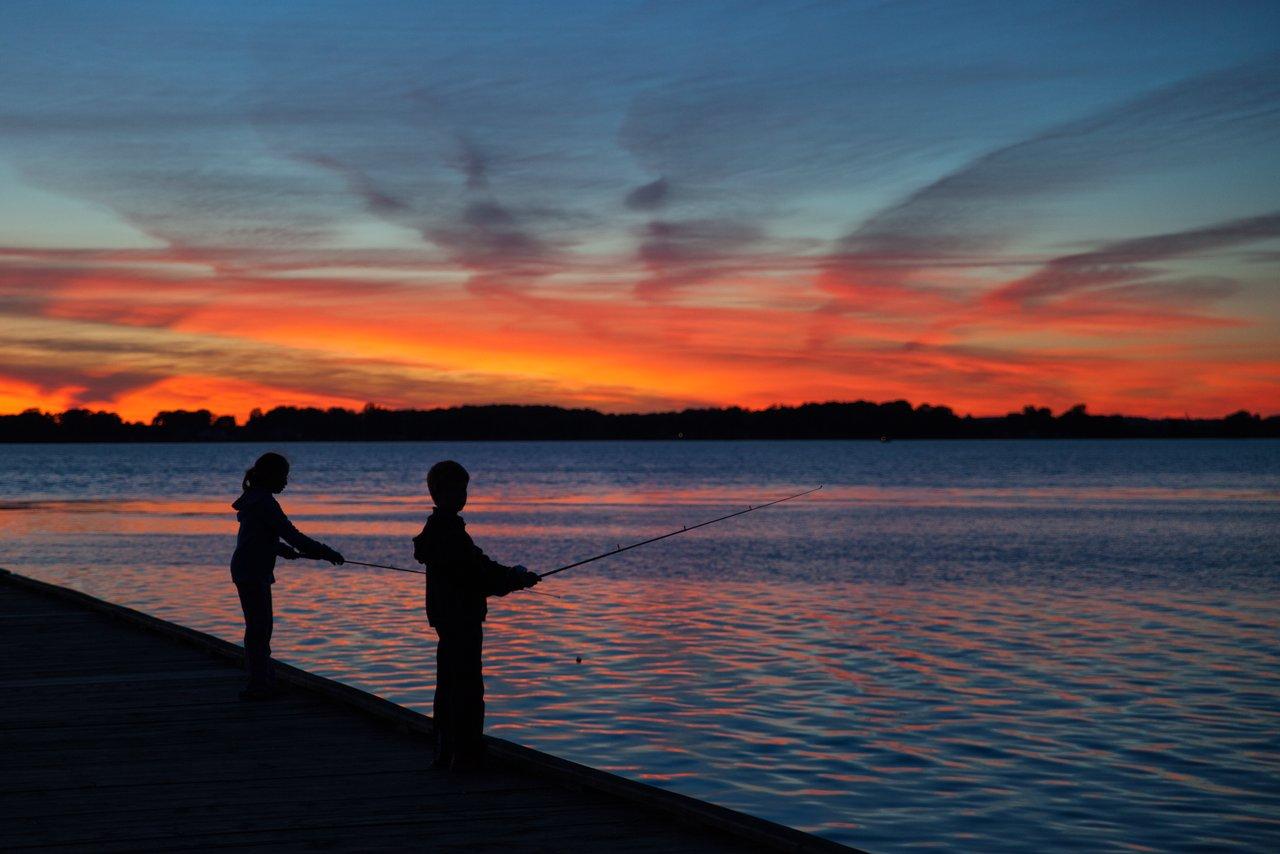 The shores of Lake Erie. Photo credit: Destination Ontario
Ontario might be dotted with traditional camping opportunities, but it's no slouch when it comes to highbrow backcountry escapes either. Enter Long Point Eco-Adventures on the north shore of Lake Erie, just a two-hour drive southwest of Toronto, Canada's biggest city. Tent it up in a wilderness suite with hardwood floors, sliding glass patio door, fresh linens and an outdoor shower, or tuck into an adorable wooden pod with queen bed and mini-fridge -- handy for chilling that bottle of Sweet Leaf Riesling from the Burning Kiln Winery across the road. In between sleeps and sips, there's plenty to do onsite including ziplining, Zodiac boat touring and -- true to Canada's lumberjack roots -- axe-throwing.
Spa le Scandinave in Mont-Tremblant. Photo credit: Christian Savard
There's top Canada camping sites, and then there's top Canada canoe camping sites. Kayak & Cabana definitely falls into the latter, offering canoeing, kayaking and standup paddleboarding excursions on Quebec's Red River. After a day of descending the calm waterway, paddlers can retreat to the two-person Shepherd's Hut, a cedar caravan brimming with simple charm and comforts, or the minimalist two-to-three-person La Cabana with picture windows looking out to a pine forest. A 1.5-hour drive northwest from lively Montr?al, this secluded site is also an ideal base for hiking and mountain biking in the surrounding Laurentian Mountains. After a day of outdoor activities, spend a few hours at the Scandinave Spa in picturesque Mont-Tremblant. Experience the myriad benefits that come from the ancient practice of hydrotherapy, as you relax and recharge in the spa's outdoor baths, steam rooms, cold plunge pools, solariums and more.
Newfoundland and Labrador
The wild & beautiful coastlines of Newfoundland and Labrador. Photo credit: Destination Canada
Founded by Canadian actor and comedian Shaun Majumder in his hometown of Burlington, 'Ome Sweet 'Ome has pinned Newfoundland and Labrador on the global glamping map. Built with sustainability in mind, this seaside resort's nine luxury tents sport locally handcrafted log frames, hand-stitched canvas and solar lighting. Colourful bed coverings, pillow-top mattresses and propane heaters ante up the comfort level. Seated in an Adirondack chair with latte in hand (each unit has a coffee machine), catch the sunrise and some of the province's 350 bird species from your tent's front deck. Step it up in the 'Ome Pod, a wood-and-glass dwelling with fire stove, kitchenette and wrap-around deck -- perfect for ogling a massive iceberg floating into Green Bay below.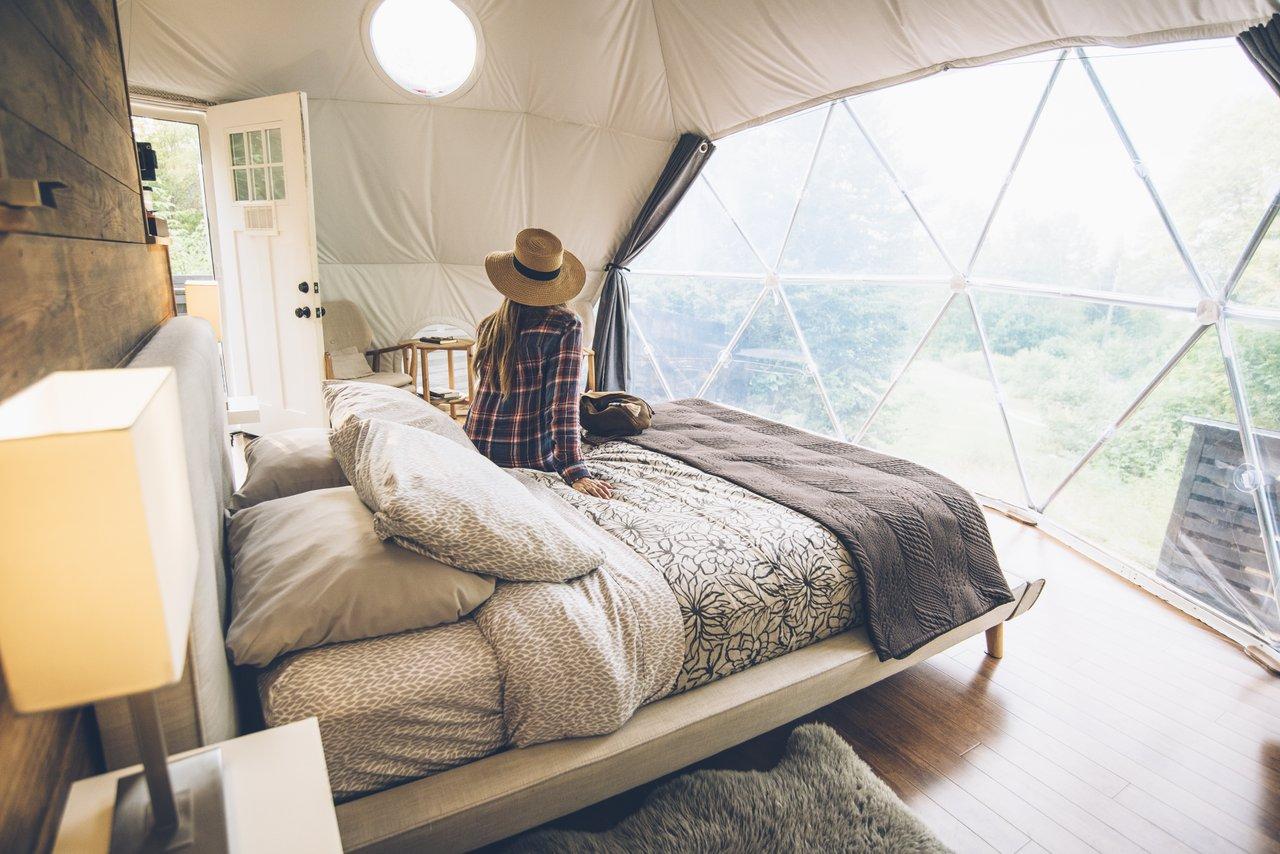 Sleep in one of these domes at Rigdeback Lodge. Photo credit: Tourism New Brunswick
Named one of the "world's most unusual camping experiences" by CNN Travel in 2013, the adult-only Ridgeback Lodge continues to delight glampers with its geodesic domes nestled in an Atlantic Canada forest. Fall asleep counting constellations in a transparent-roofed stargazer dome or enjoy the comfort of a dream dome that comes with a perfect kitchenette, pellet stove and private balcony. Either way, go for the Japanese wood-fired hot tub add-on to fully absorb the natural beauty of this unique gem on New Brunswick's Kingston Peninsula. For those with traditional taste, two log cabins await: one deluxe with wine-barrel vanities, the other simple with a wood stove.
Cap off your New Brunswick experience with a visit to the iconic Hopewell Rocks Provincial Park, a two-hour drive away. Experience the thrill of kayaking on the world's highest tides at the Bay of Fundy, all while taking in the breathtaking scenery and spotting wildlife along the way.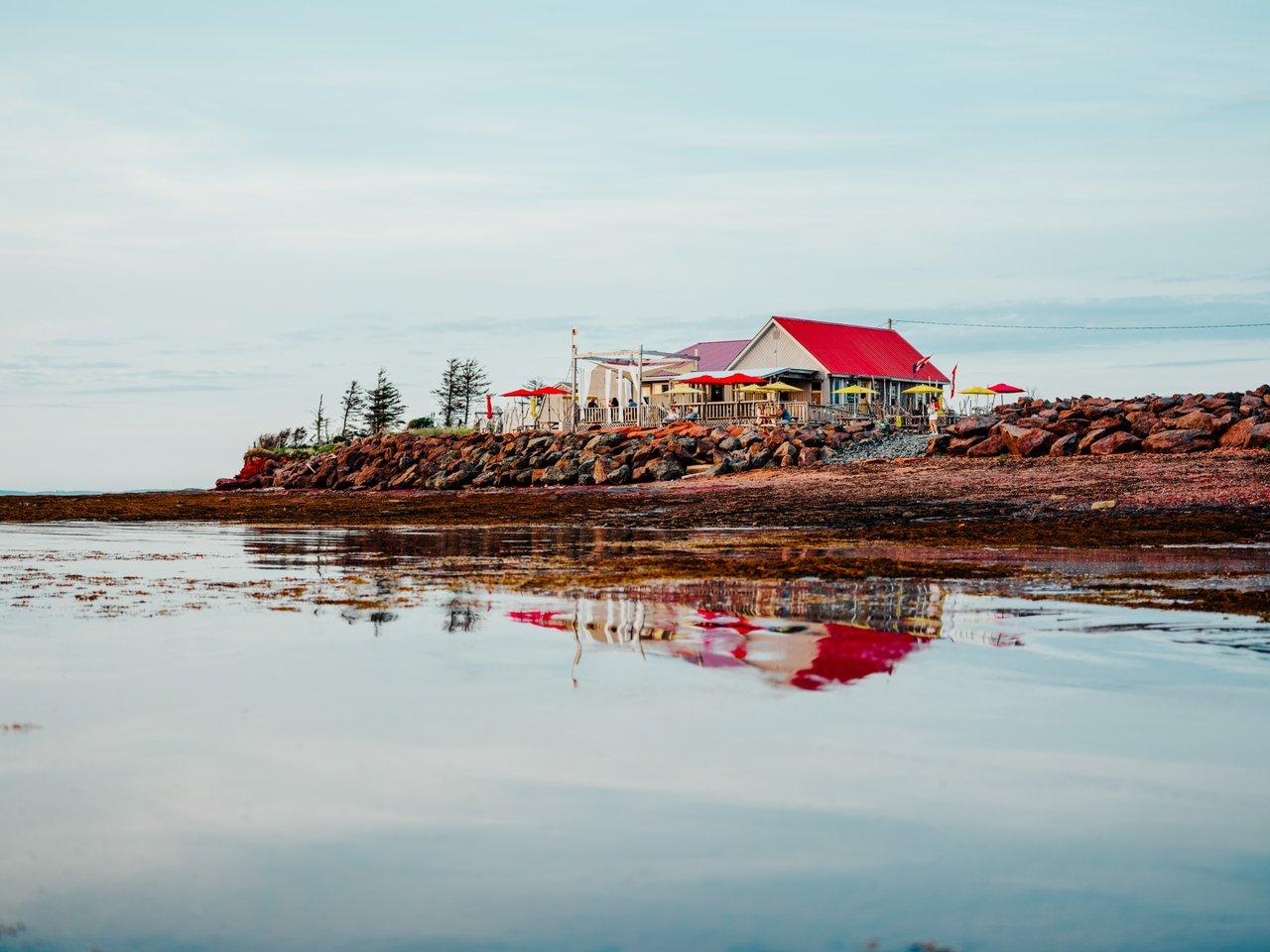 The red sandy shores of Prince Edward Island. Photo credit: Destination Canada
Spend a few nights in the trees with all the comforts of home at Treetop Haven in Mount Tryon, Prince Edward Island. Perched nine feet off the ground in a 20-hectares birch forest, five geodesic domes called TreePODs boast picture windows, large decks, hot tubs and BBQs. Ranging from 40 to 65 square metres, each unit houses a fully equipped kitchen, four-piece bathroom, bedroom(s) and living area. Local birds figure prominently in the dome names and decor (think deep blue chairs and black accents in the Blue Jay TreePOD). Not far away are the 12-kilometre-long curved Confederation Bridge linking Prince Edward Island to New Brunswick; Chelton Beach Provincial Park on the Red Sands Shore; and Green Gables Heritage Place in Cavendish.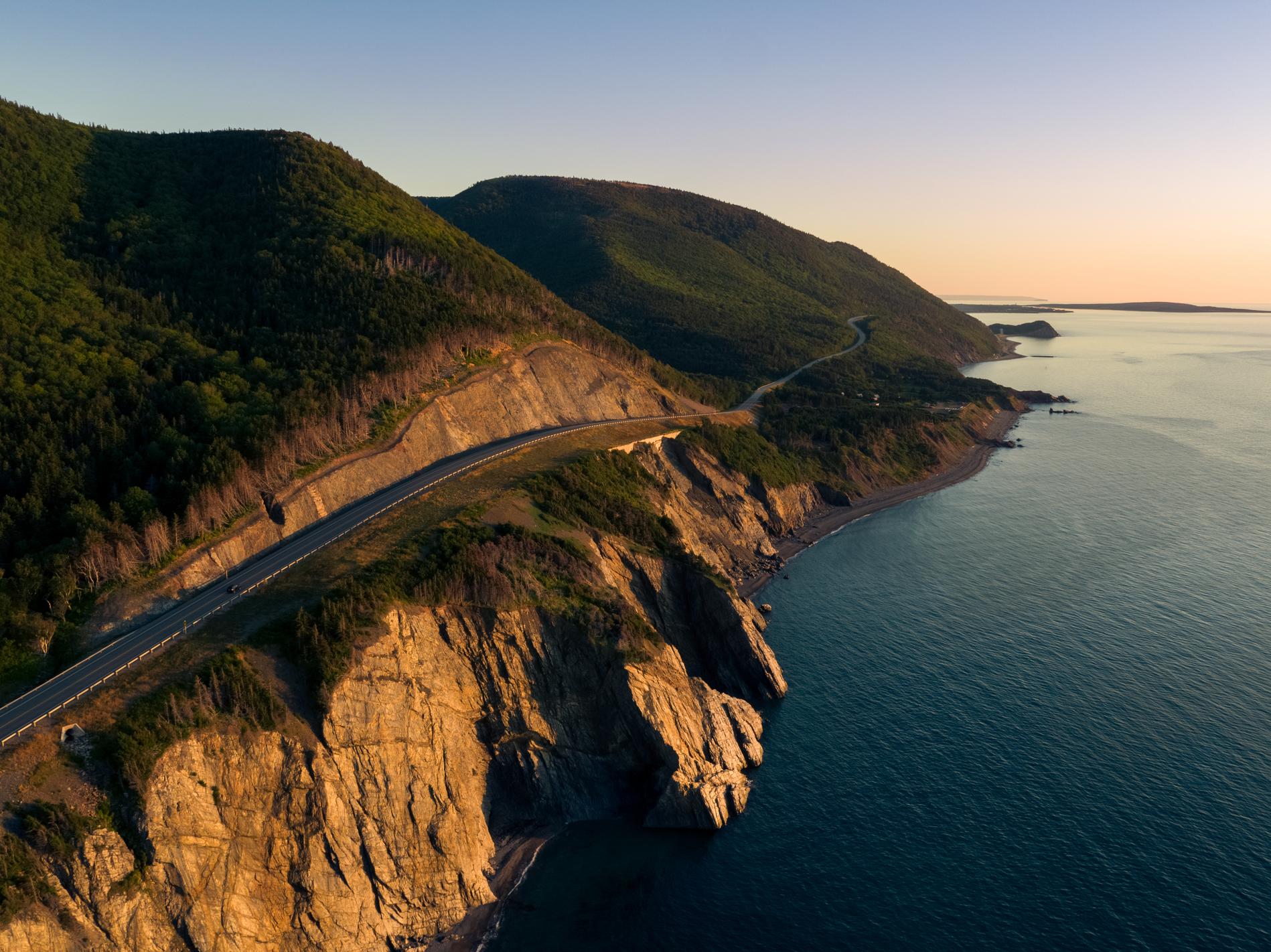 Sunset over the Cabot Trail on Cape Breton Island. Photo credit: Destination Cape Breton Association
Sleeping by the ocean in Nova Scotia just got better with the 2019 opening of the Blue Bayou Resort. Near the northern tip of the Cabot Trail in South Harbour, this up-and-coming glamping destination beckons with 23 swanky geodesic domes and seven classic teepees. Expect three-piece bathrooms, hot water, charcoal BBQs and room service with the former, and electricity in the latter with access to BBQs, picnic tables and sink in the teepee village. On the doorstep to Cape Breton Highlands National Park, the resort connects guests to some of the province's best hiking -- the 7.5-kilometre Skyline Sunset Hike is a must.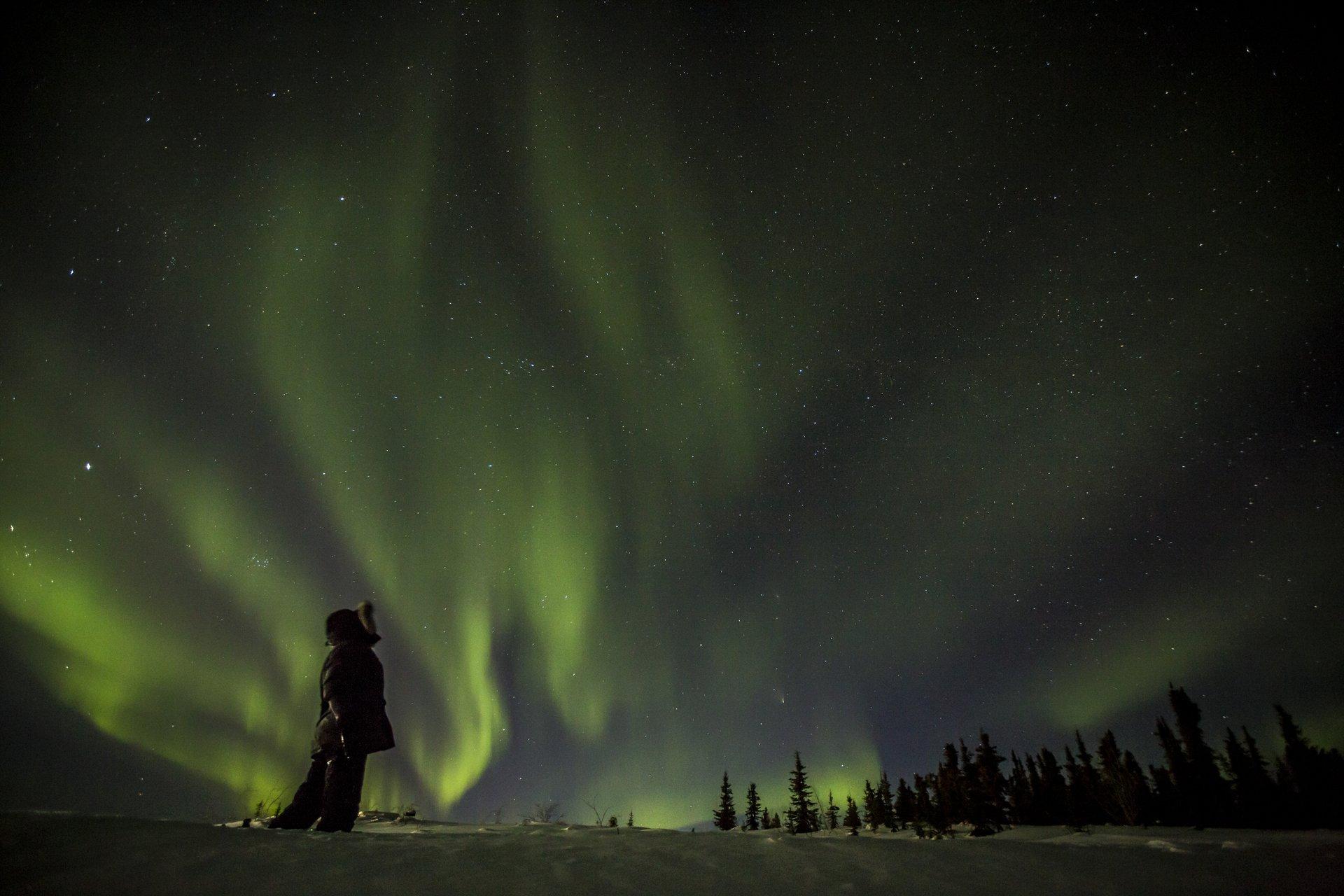 The dancing Northern Lights. Photo credit: Destination Canada
Time your glamping getaway to catch Canada's winter northern lights or summer's midnight sun -- best viewed from an aurora glass chalet at the Northern Lights Resort & Spa in southern Yukon. While both sights are enchanting to behold even from an old-school tent, viewing them through floor-to-ceiling wrap-around windows while relaxing on a soft queen-size bed certainly raises the bar (of course, autumn colours and starry nights throughout the year also look darn good from here). A 20-minute drive from the territory's capital of Whitehorse, the forest- and mountain-fringed property also offers chef-prepared meals served family style, and spa and sauna services.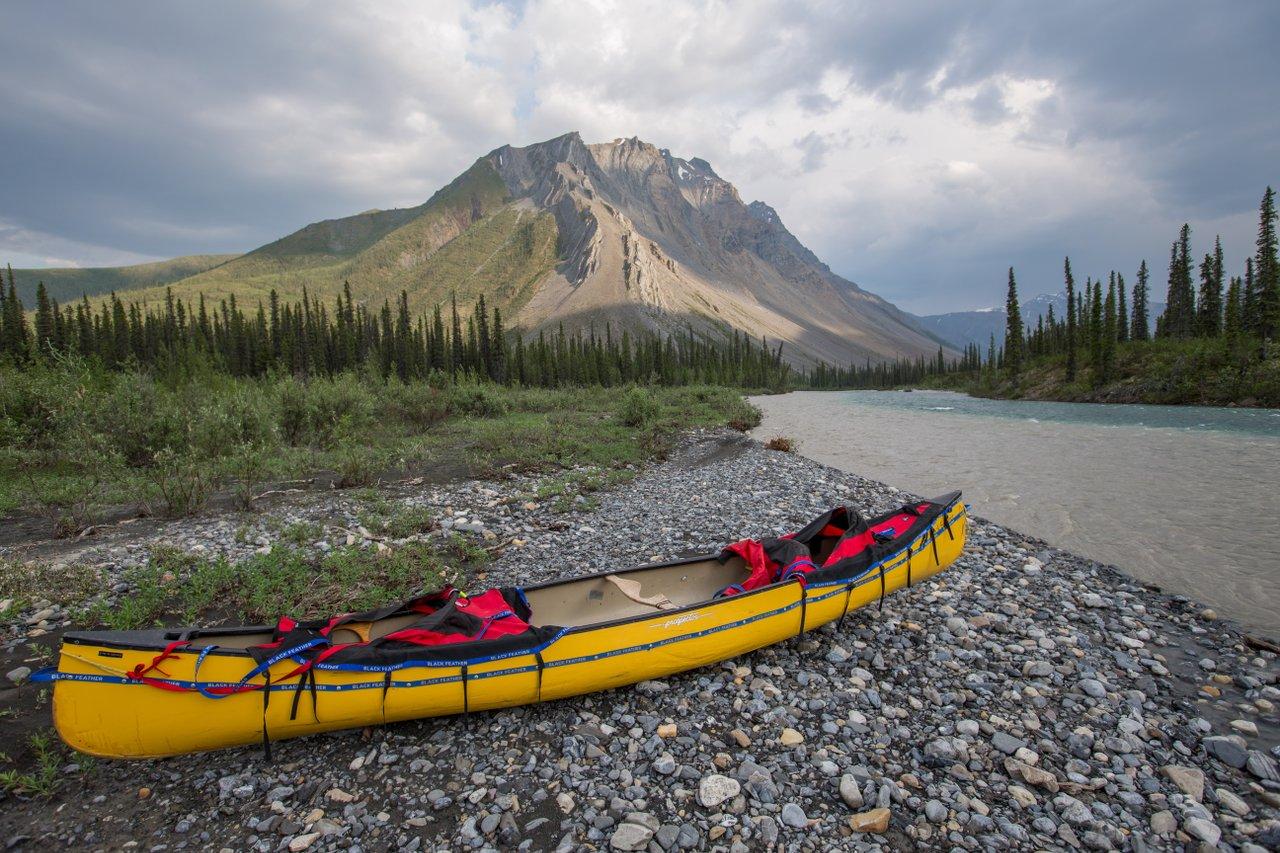 A canoe rests on a rocky riverside beach in the Northwest Territories. Photo credit: Colin Field
Prime Canada camping sites and experiences also extend into the north. Glamp it up in the sparsely populated Northwest Territories by embarking on a guided 12-day canoe journey on one of the world's longest rivers and learn about the rich Indigenous culture along the way. Highlights include six relaxing nights camping on the river's shore, two overnight camp visits by Indigenous leaders, and supplied river meals and snacks.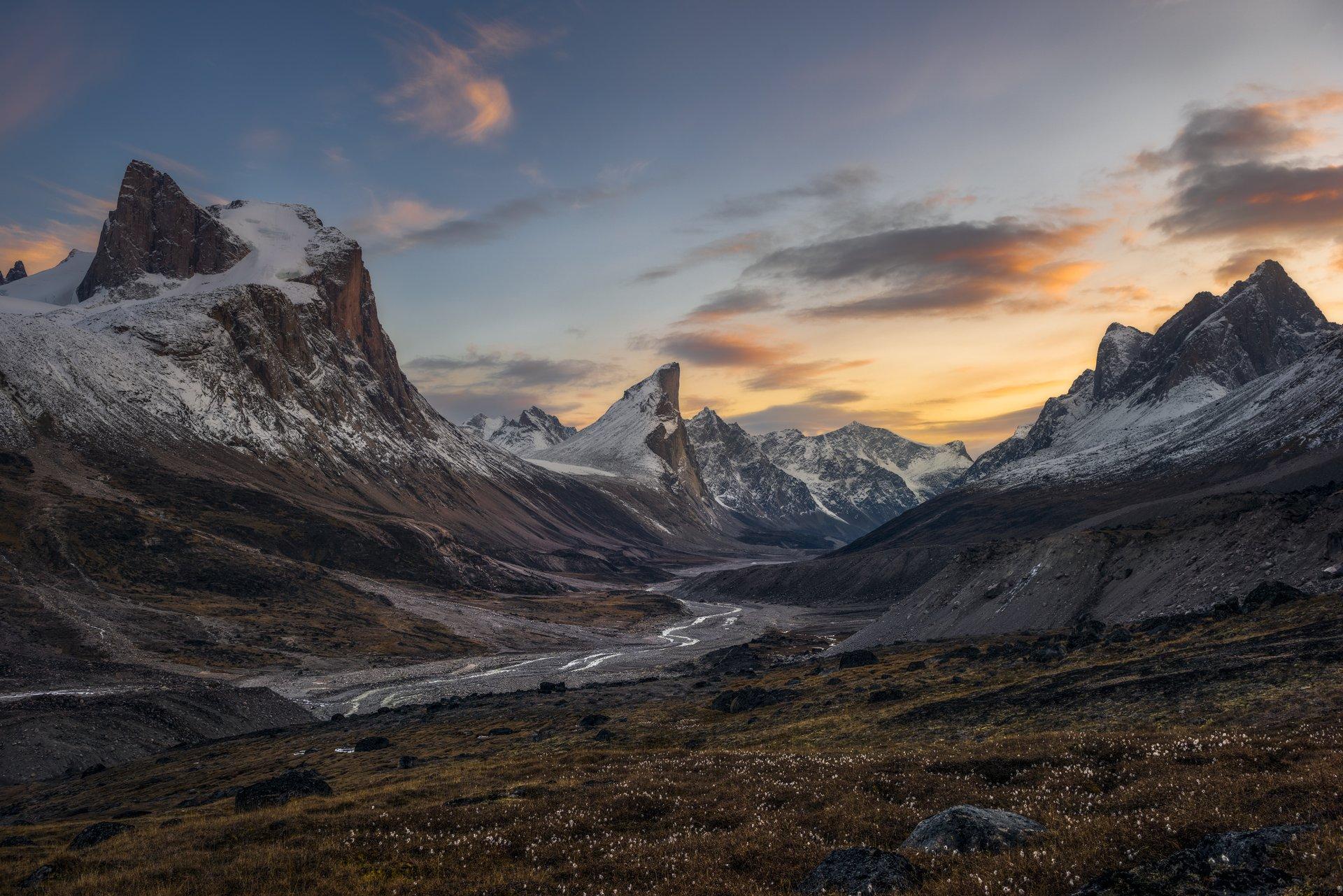 Mount Thor on Baffin Island, Nunavut. Photo credit: Artur Stanisz
Sign up for the eight-day Baffin Explorer package to experience glamping in the Canadian Arctic. Starting in the Nunavut capital of Iqaluit on Baffin Island, this guided tour includes a dog-sled ride to base camp, six nights in a heat-equipped yurt, a hot-air balloon ride over the stark Arctic landscape, an Inuit lunch of Arctic char and caribou and one night in a cozy igloo.
One of the elevated camping experiences at Clayoquot Wilderness Lodge, BC. Photo credit: Clayoquot Wilderness Lodge