Your guide to hiking in Ontario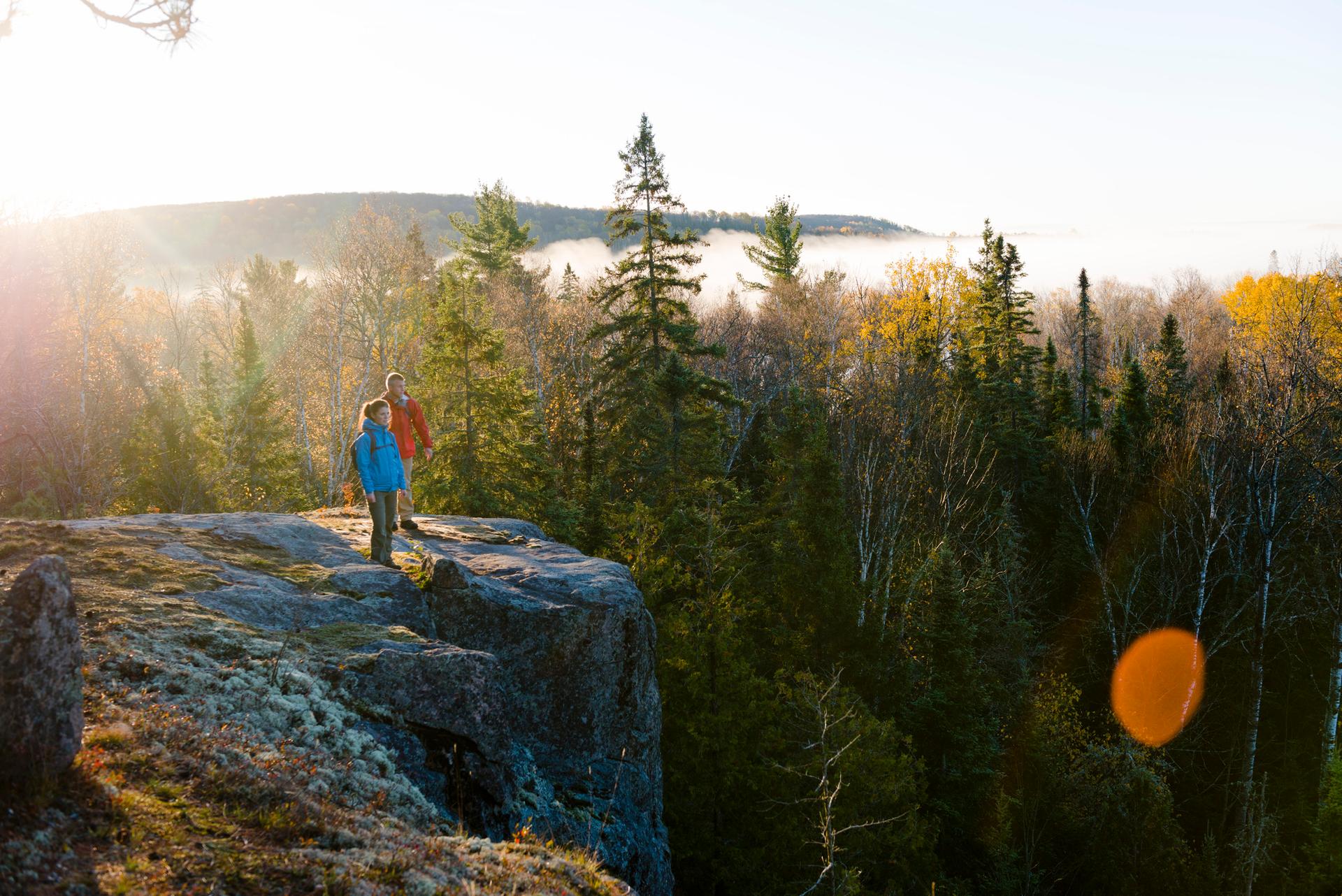 You want to see Ontario -- why not do it on foot? It's a relaxing way to connect with nature and slow down the pace of your holiday for a change. Hiking is also good exercise and a chance to get some fresh air. 
If you like, take a course or connect with a local club and join a group trek. You'll be in good company: some nine million people walk or hike the province's beautiful trails. Choose your speed, pull on a sturdy pair of shoes, grab a few layers, water, and snacks, and get hiking in Ontario!
Here are the very best trails for all levels -- from Sunday strollers to outdoor adventurers.
Quintessential Canadian in Algonquin Provincial Park
Algonquin is one of Canada's treasured wild places -- a pristine parkland of lush woods, clear lakes, and rushing rivers, and a home to wolves, bear, and moose. Most of the 7,650 square kilometres can only be explored by canoe, horseback, or on foot. There are about 20 interpretive trails for year-round educational day hikes, each delving into a different aspect of the park. Backpacking trails range from six to 77 kilometres in length. Head out solo or opt for a Northern Edge Algonquin adventure lodge weekend with naturalist-guided group hikes (or snowshoe treks) into remote forest areas. Finish with a wood-fired sauna session and gourmet dinner.
A bit of everything at the Great Lakes waterfront
This one's a crowd pleaser. The 1,600-kilometre, multi-use Great Lakes Waterfront Trail is a series of interconnected paths, streets, and rural roads running from Lake Huron's Grand Bend all the way to the St. Lawrence River near Quebec. It passes three lakes, 76 villages, and 495 parks of that remarkable distance. The Waterfront Trail is ideal for cycling, too, or jogging if that's your speed. Fully marked, it has it all: wetlands, boardwalks, beaches, and vistas. Detour for a Niagara Falls or winery side trip.
Mushroom hunt in southern Ontario
Near up-and-coming "it town" Hamilton, the easygoing, nearly five-kilometre Spencer Creek Gorge and the Old Dundas Station Loop hits two highlights: first, the exhilarating Tews Falls -- at 41 metres high, just shy of Niagara's height; second, a view. A forest trail skirts along the valley rim up to Dundas Peak for a look at one of the Niagara Escarpment's most picturesque valleys. On the way down, cross an old quarry rail line and sightsee along Spencer Creek. At the head is Webster's Falls, the best place to cool down on hot summer days.
Painting-perfect at Killarney park
Long captured by Canada's greatest artists on canvas, Killarney Provincial Park is about sweeping vistas. Expect rolling pink granite outcroppings overlooking Georgian Bay, sapphire-blue lakes, and spectacular fall foliage. There are four trails. Travel field and forest Granite Ridge with views of the white La Cloche Mountains. Look for the beaver and bird-filled marshes and swamps of Cranberry Bog. For history fans, Chikanishing has old remnants of its logging past. And finally, for the committed, 79-kilometre La Cloche-Silhouette crosses streams and rivers in a 10-day journey into quietude.
Yes, it's Canada -- but Ontario might surprise you with its cerulean waters and sugar-sand beaches that look more like something out of the Caribbean. Take time to get out and explore.