9 vehicles for viewing polar bears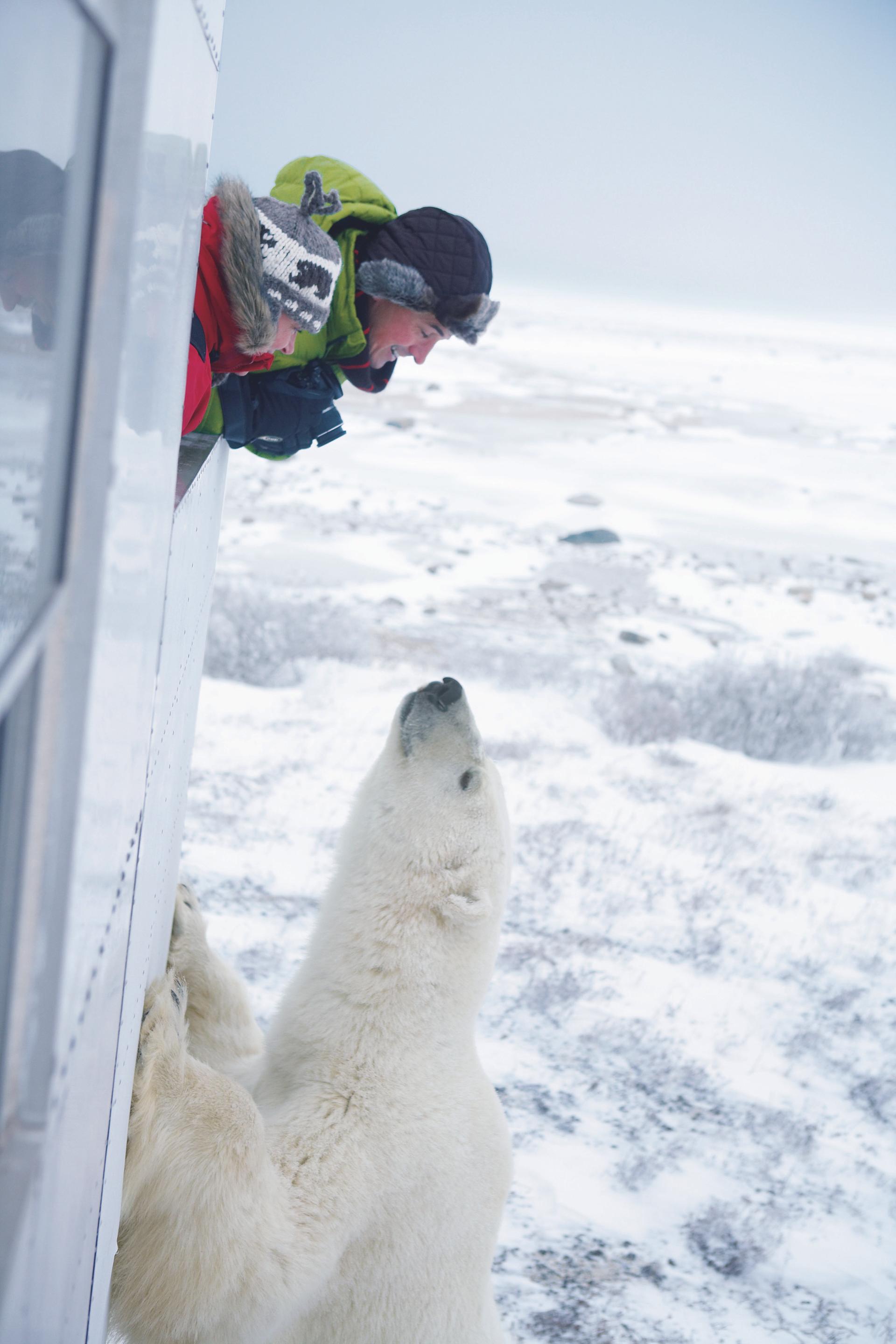 You might be surprised at how many different ways there are to see a polar bear. If encountering a polar bear in Churchill – at very a safe distance, of course – is one of those things on your bucket list of activities, we've got nine vehicles that will get you as close as humanly possible to witnessing our largest and most majestic land predators.
By land
Travel by land is probably the most common way to see the lords of the Arctic and here are five options from which to choose.
In a tundra vehicle
If you want to see polar bears in their natural habitat, but are equally enthusiastic about coming back in one piece, then a tundra vehicle is a great bet. Climb aboard one of these all-terrain vehicles that stand over 13 feet tall and you'll feel like you're on top of the world. Even the average adult polar bear standing at about 9 feet will have nothing on you.
Check out: Frontiers North, Lazy Bear Expeditions, Great White Bear Tours
On a rhino
Visitors to Churchill on the quest for witnessing polar bears in their natural habitat don't usually think of the experience as a safari. The rhino, however, will change that. Think smaller scale, open-air, low-impact tundra vehicle. The rhino works well to navigate the boggy lowlands and tidal flats and gets you closer to your goal of seeing bears.
Check out: Nanuk Polar Bear Lodge
On foot
If hands-on experiences and getting up close and personal with nature speak to the explorer in you, then we've got you covered. Churchill is the only place in the world that offers a walking tour. Get ready for the adrenaline rush of your life as you come face to face, eye-level, and sans barriers with the apex predator of the Arctic. These guided ambles are as good as it gets for getting you so close to these fantastic beasts yet with the safety net of experienced guides having your back at every turn.
Check out: Churchill Wild
By bus
For the DIY traveller not on a fully packaged vacation but looking for a more intimate experience, bus tours are a great way to see polar bears at a reasonable distance, capture images that will cement your experience for a lifetime, while comfortably seated with up to 40 passengers.
Check out: Nature 1st, North Star Tours
By car
The idea of renting a car to see polar bears may not seem as obvious, but it is doable. If you choose to go this route, ask for an experienced guide to accompany you on your explorations.
Check out: Tamarack Rentals
By water
If you're always looking for ways to get out onto the water and see polar bears, you can combine your two desires into one amazing experience. Here are a few options for seeing polar bears by water, particularly during the summer months.
By boat
Named after the 18th century explorer, the Sam Hearne is a custom-built boat made for adventure to the Hudson Bay's more remote polar bear viewing locations. Not only do you get to see polar bears, there's also the bonus of seeing beluga whales feeding and playing along the coastal shore.
Check out: Lazy Bear Expeditions
By Zodiac
If you have a need for speed and you enjoy a cool breezes on your face, then climb into a Zodiac, head out on the river estuary and keep your eyes peeled; you never know what you'll find lurking around on the rocky coastline, especially near Prince of Wales Fort.
Check out: Frontiers North
By air
If you're always thinking outside of the box and looking for ways to one-up your last travel experience, getting up high to view the world down below might just do it for you.
By helicopter
So we know you're in this for the polar bears, but wouldn't it be extra special to see sweeping vistas of this beautifully barren landscape and polar bears? Helicopter tours offer 60- and 90-minute views with a difference. Think sweeping tundra, thick boreal and taiga forests. These tours offer the flexibility to move in the direction of the animals' migration patterns and reach corners where no roads lead. Don't be surprised if you see a mother bear surrounded by adorable cubs.
Check out: Heli Tours
By bush or float plane
Upon your arrival in Churchill, depending on which lodge you've decided to make your roost, an additional flight may be necessary to get you to your final destination, which means a chance to see not only polar bears, and possibly other wildlife from the windows of one of these tiny, nine-seat prop aircraft.
Check out: Seal River Heritage Lodge, Dymond Lake Ecolodge, Nanuk Polar Bear Lodge