The top 10 attractions in New Brunswick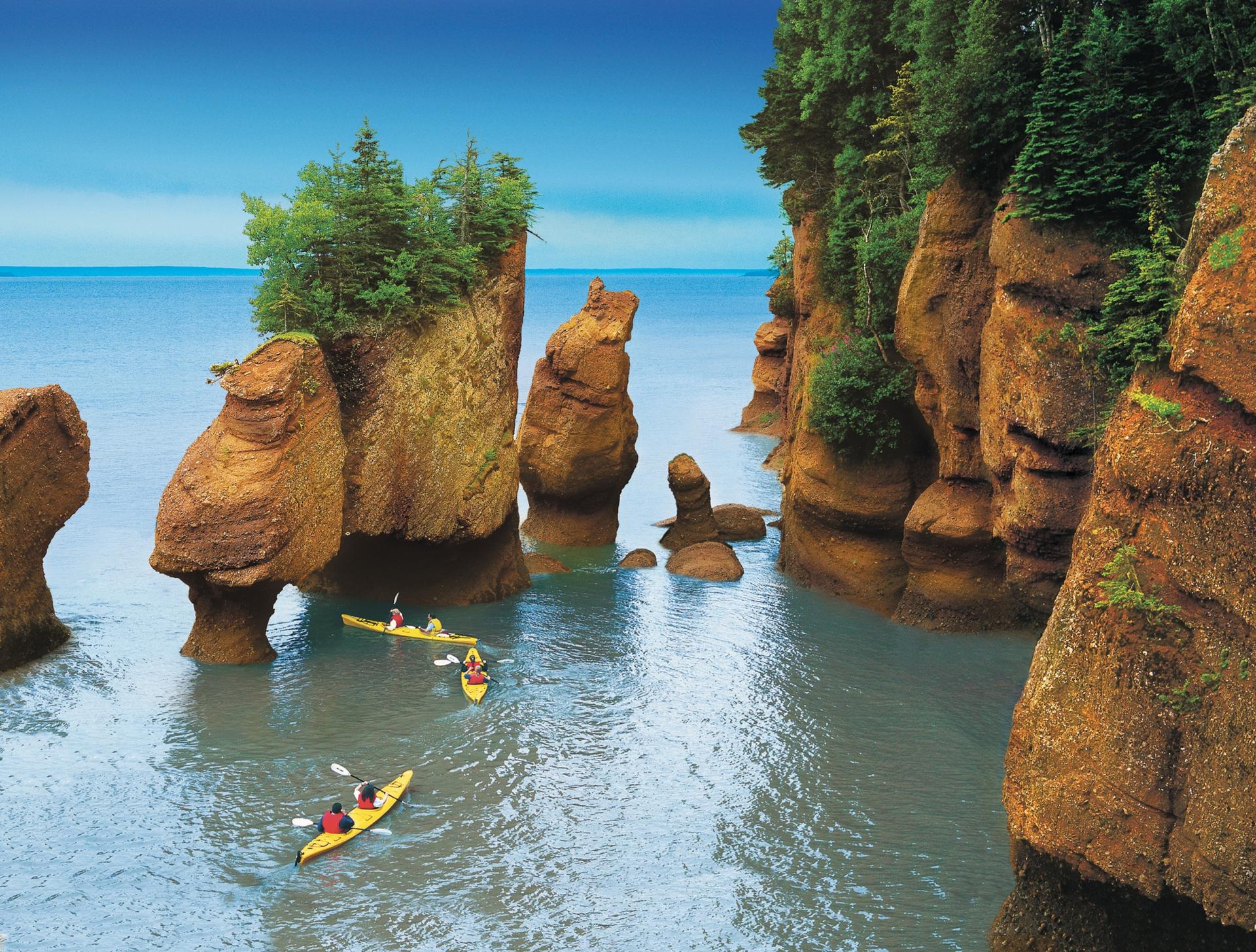 Home to the world's highest tides, New Brunswick is abundant with natural wonders, outdoor adventure, and a rich history, all influential elements of this beautiful Maritime province. 
Bay of Fundy Rappel - Credit: New Brunswick Department of Tourism and Parks
Bay of Fundy
The Bay of Fundy has a lot to be proud of. It has remarkable biodiversity, acts as the summer feeding area for half the population of the North Atlantic right whales, and is home to the world's highest tides. These tides, formed by over 100 billion tonnes of seawater, rise up to 12 metres twice each day, a phenomenon that has shaped the unique landscape of the coastline and entire region. Walk the ocean floor at the Hopewell Rocks or abseil down cliffs into the bay at Cape Enrage. Board a boat for a whale-watching excursion and get a great photo of these ocean beasts, or hop on a ferry to three unique islands that sit in the bay, each hosting their own outdoor adventures.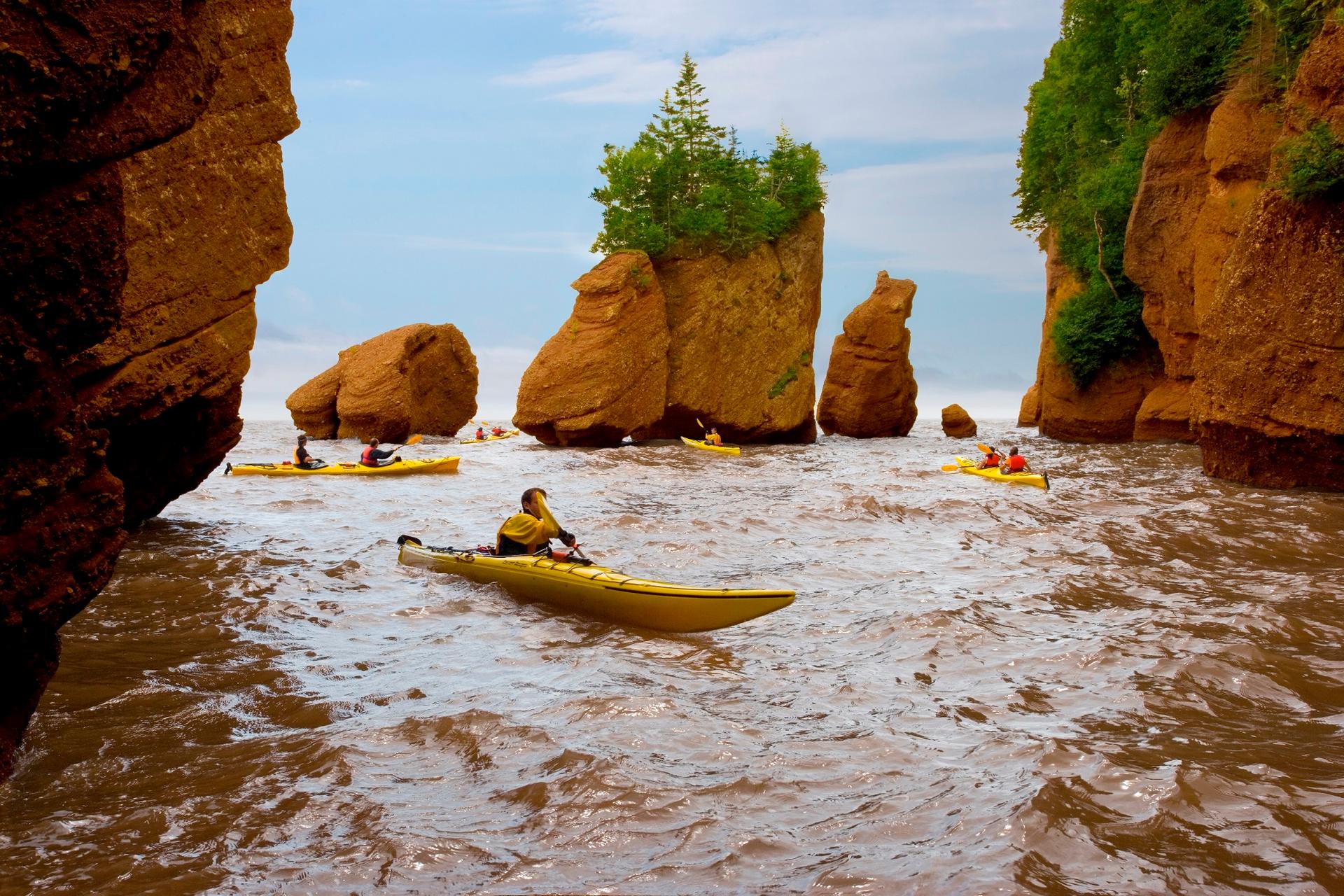 Bay of Fundy, Hopewell Rocks - Credit: Tourism New Brunswick
Hopewell Rocks
Located on the shores of the Bay of Fundy are the famous Hopewell Rocks, unique rock formations carved by tidal erosion over thousands of years. Dubbed the 'Flowerpot Rocks' due to their rounded appearance and vegetation-covered tops, these sandstone formations offer a unique vantage point for the highest tides in the world. Visit during low tide to walk the ocean floor and look up at the massive rocks towering four storeys above your head. Then, return a few hours later and kayak among the tops of those same rocks, sitting above the waterline. Relax on the sandy beaches, explore a network of walking trails, or enjoy a meal with panoramic views of the bay.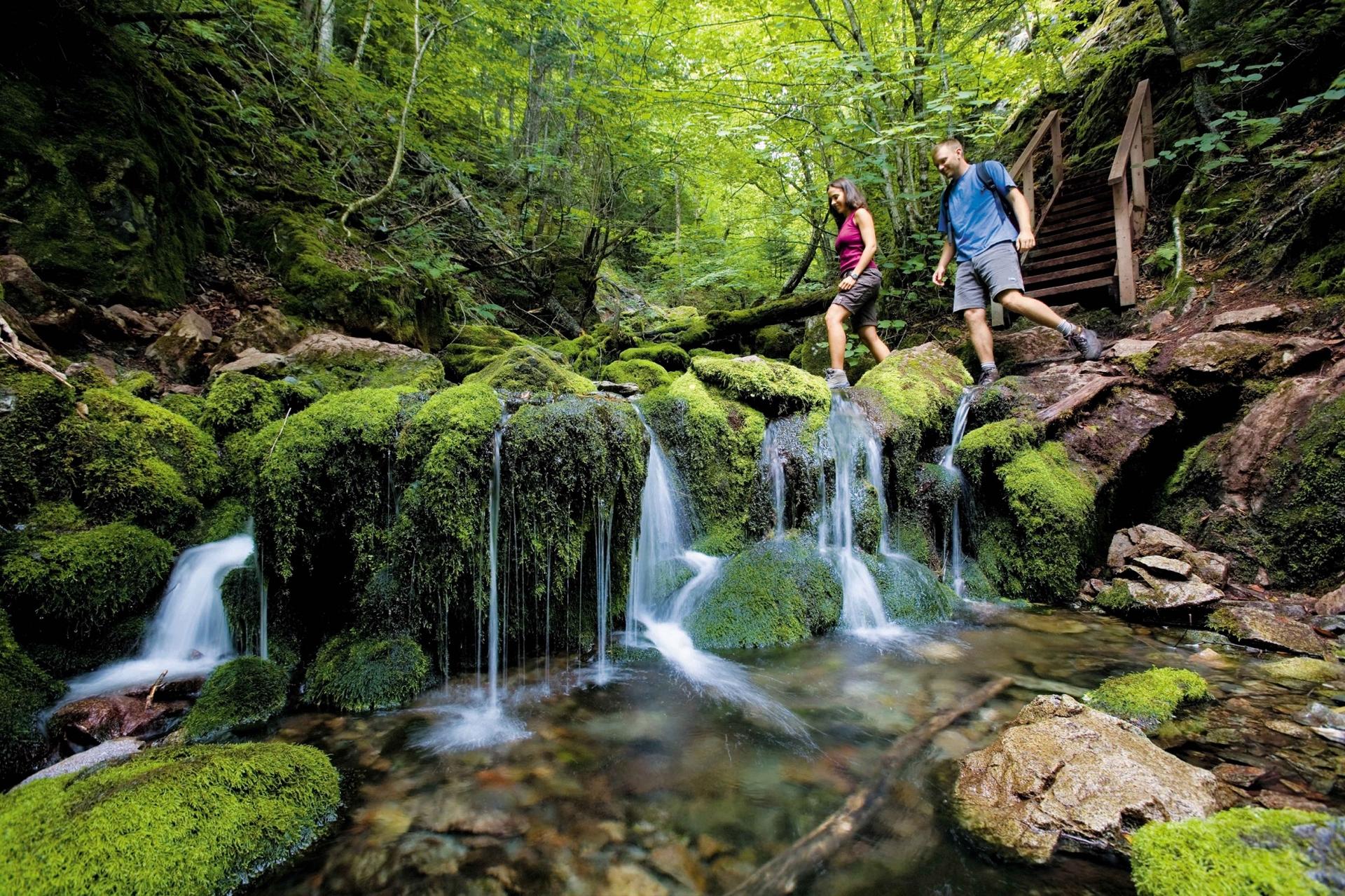 Fundy National Park - Credit: Tourism New Brunswick
Fundy National Park
Yes, Fundy National Park is home to those same high tides, but there's so much more to see and do. The park is an outdoor adventurer's paradise. More than 120 kilometres of walking and hiking trails guide you through mountains, into valleys and forests, and past waterfalls. Rent a canoe, or float away in beautiful Bennett Lake before setting up your tent for a night in the park. For more organised outdoor fun, play a round of golf, spend the afternoon on the tennis courts, or take part in one of the many annual music and cultural festivals.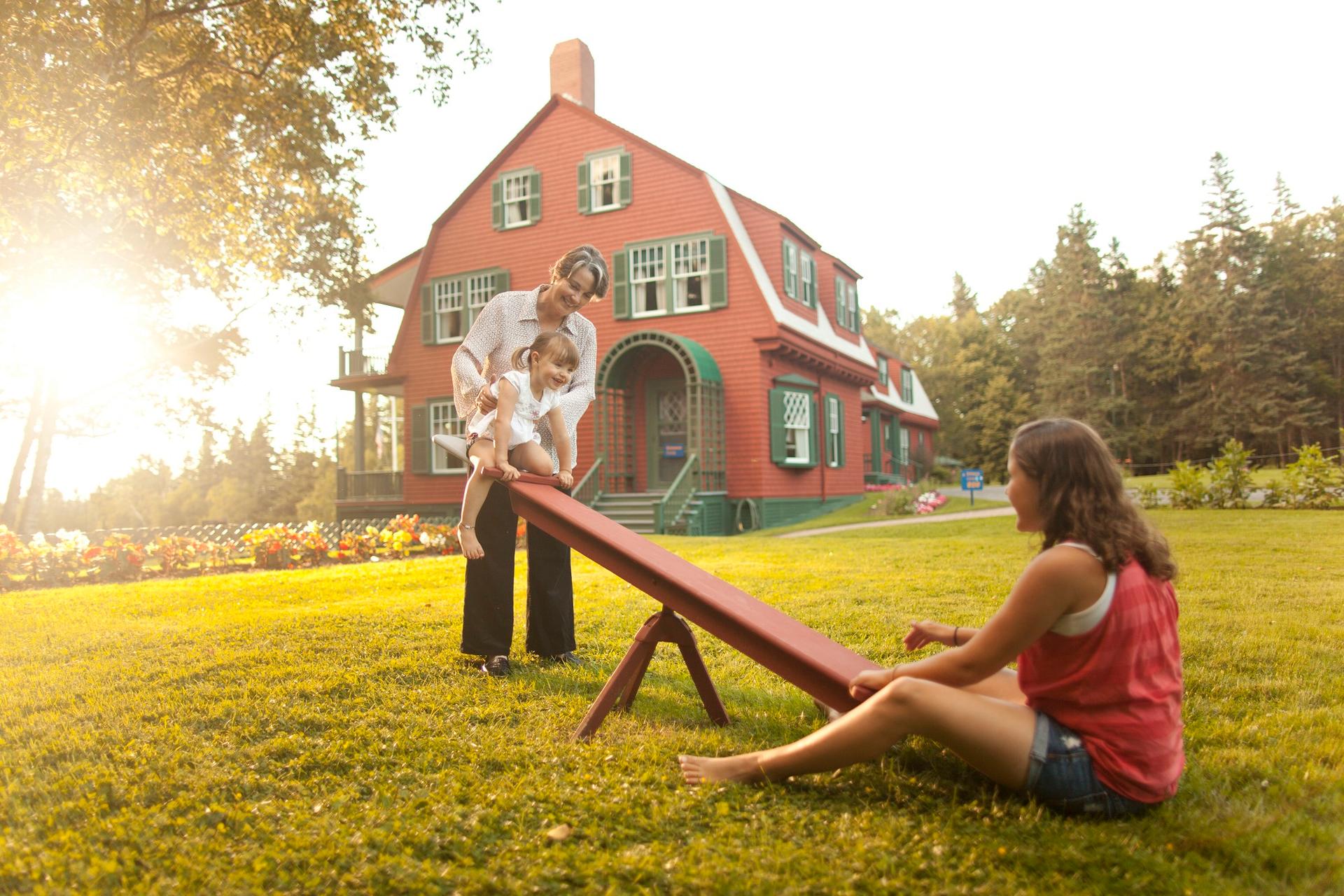 Roosevelt Campobello International Park - Credit: Tourism New Brunswick
Roosevelt Campobello International Park
Former U.S. President Franklin Roosevelt once spent his summers on the beautiful Campobello Island in New Brunswick. Today, he is memorialized in the park's name, Roosevelt Campobello International Park. Take advantage of 2,800 acres of bogs, forests, and shores. Hike to one of the park's four lighthouses, picnic with a view of the water, smell the flowers in one of the many gardens, or hop on a whale-watching tour. 
Kingsbrae Garden - Credit: Tourism New Brunswick
Kingsbrae Garden
The 27-acre Kingsbrae Garden is a collection of over 50,000 perennials in themed spaces that have earned it a place as one of the top 10 gardens in Canada. Join a guided tour to really appreciate the magnitude of this collection of flora. Kingsbrae offers a "floral carpet ride" through the grounds on a golf cart. Beyond the flowers, visit the Dutch windmill and lose yourself in the cedar maze. Check out the sculpture garden, which gains new pieces every single year. Say hello to alpacas roaming the grounds and marvel at the beauty and colour of the peacocks. Play boules or croquet and enjoy lunch courtesy of an award-winning chef at Savour in the Garden restaurant.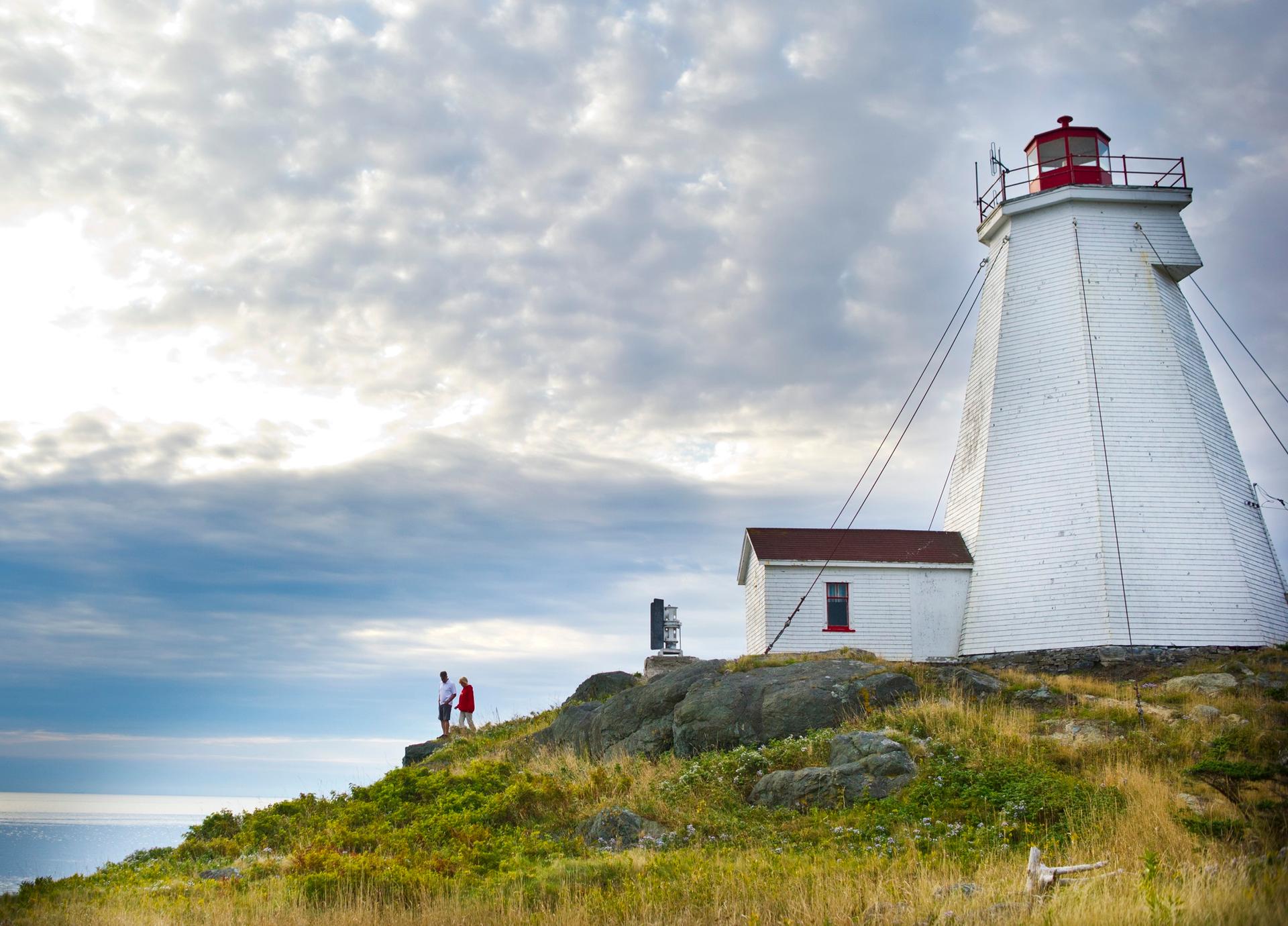 Swallowtail Lightstation - Credit: Tourism New Brunswick
Swallowtail Lightstation
It wouldn't be the Atlantic coast without a historic wooden lighthouse standing tall along rocky shores. Swallowtail Lightstation, a beacon on Grand Manan Island, greets you as you approach on the ferry. One of the most photographed lighthouses in New Brunswick, Swallowtail was built in 1860 before being restored just a few years ago. An observation area offers picturesque views of the lighthouse from a distance, or if you don't mind a steep flight of stairs, you can walk right up to the structure. Visit in the summer to climb to the top of Swallowtail, and pay a visit to the lighthouse museum below.
Fredericton Farmers Market
Fredericton Boyce Farmers Market
The Fredericton Boyce Farmers Market is one of the top community markets in Canada. Over 250 local suppliers bring fresh produce, meats, cheeses, breads, wines, and much more to the table - literally! Head to the market on a Saturday morning to get everything you need for a picnic lunch. Gobble up ethnic foods, like samosas and Chinese buns, right on site, and then spend an hour browsing local art, pottery, jewellery, and other unique souvenir options. The Boyce Farmers Market is open all year round, but there's no better time to visit than the autumn harvest.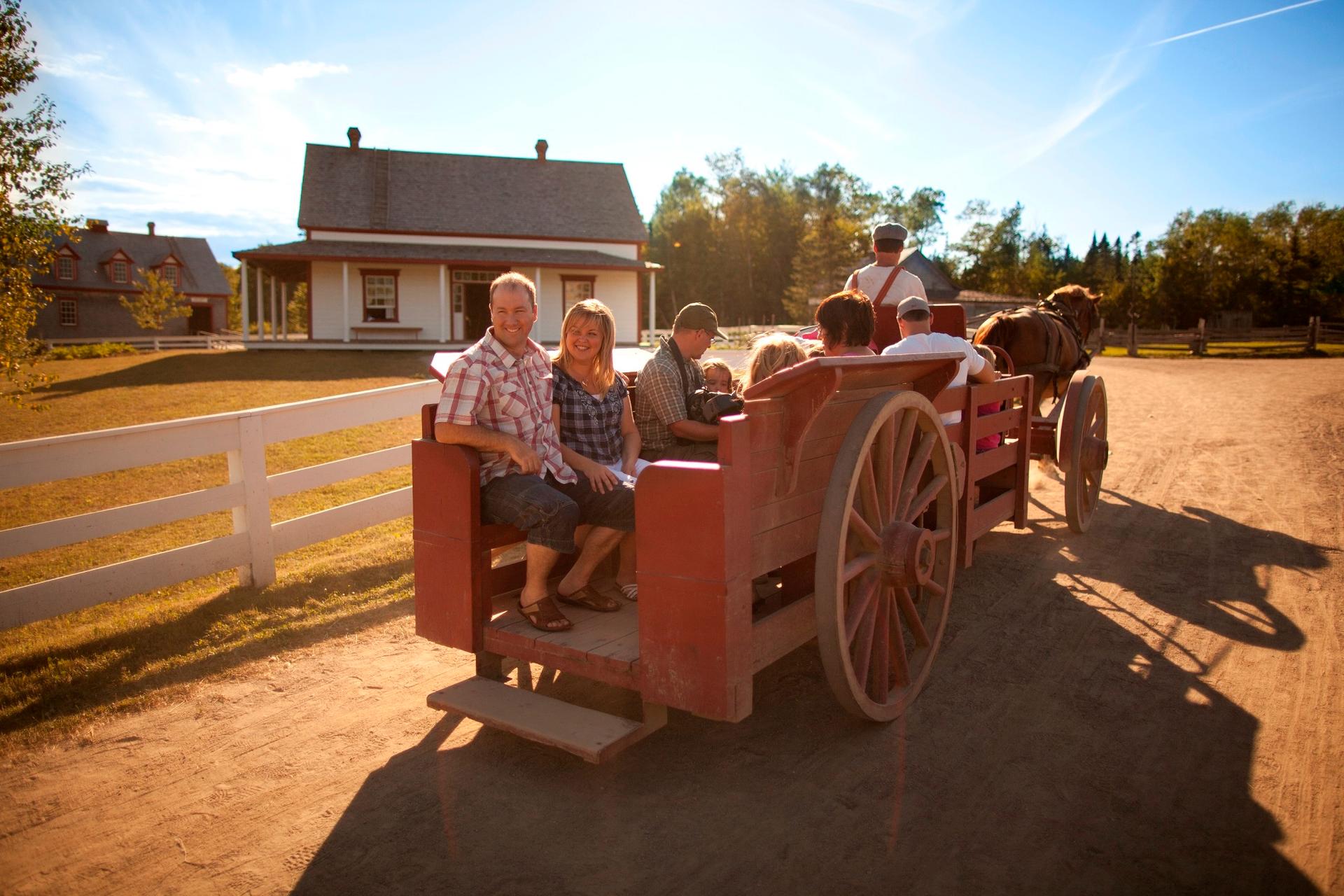 Village Historique Acadien - Credit: Tourism New Brunswick
Village Historique Acadien
It was in the 17th century that French settlers made their home in New Brunswick. The Village Historique Acadien makes it feel like it was just yesterday. History comes alive as you walk among the costumed guides and over 40 historic buildings, each with its own story to tell. Marvel at how a family survived the tough Canadian winters in a 10x10 log home, and learn the songs and the dances that got them through. Sink your teeth into a molasses cake at an Acadian table. You'll go home with a real appreciation for the perseverance of the Acadian people.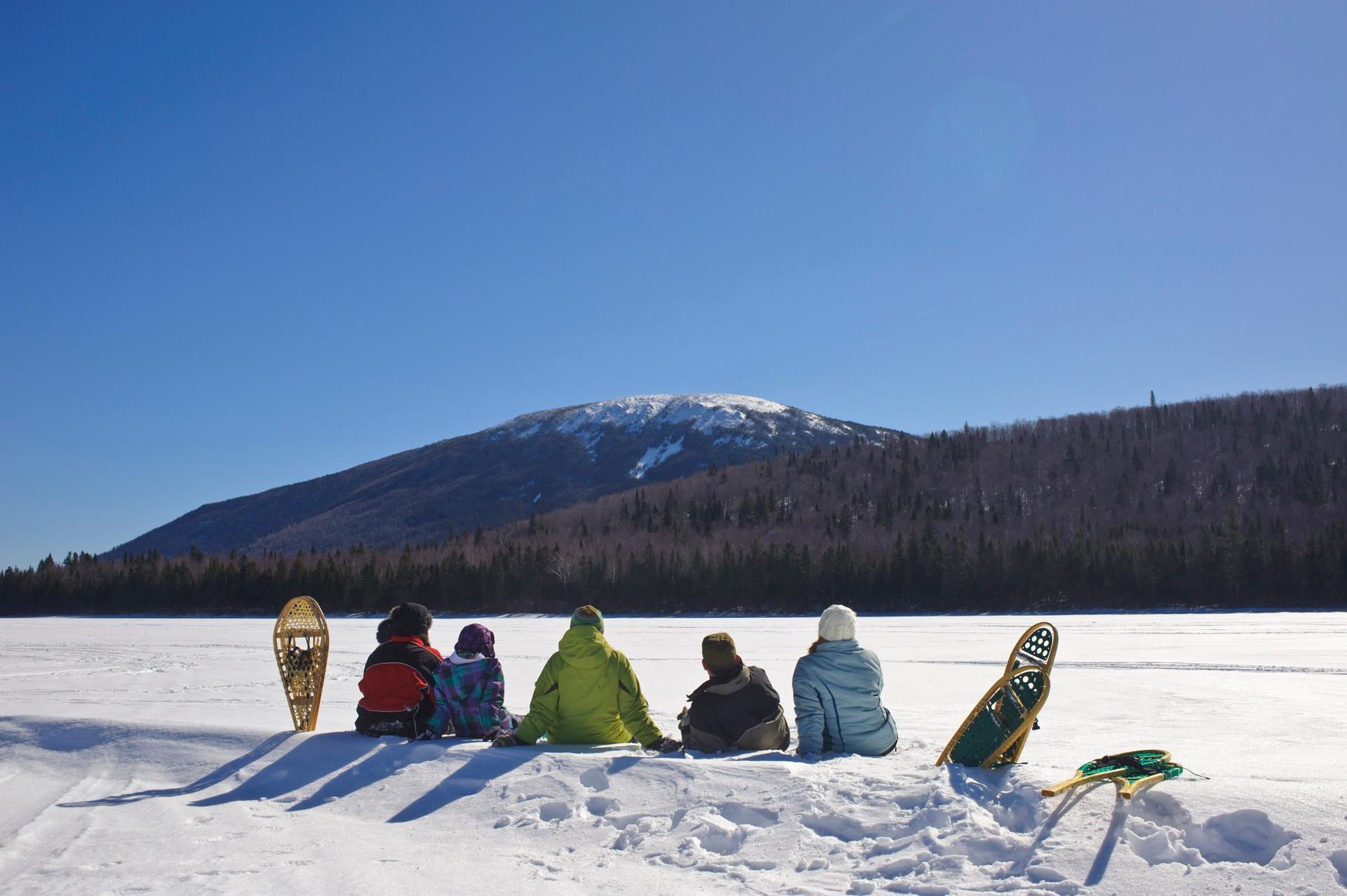 Mount Carleton Provincial Park - Credit: Tourism New Brunswick
Mount Carleton Provincial Park
More than 42,000 acres of pristine wilderness are yours to enjoy in Mount Carleton Provincial Park. Famous for its hiking, the park is home to 11 trails for all skill levels. If you're up for a challenge, try and reach the top of Mount Carleton, which at 820 metres above sea level is the highest peak in the Maritimes. The entire area is heavily wooded, and you can see 10 million trees from that peak. Go for a swim or camp along the shores of Lake Nictua. Mountain biking, stargazing, wildlife viewing, canoeing, and ice fishing are just a few other activities you can enjoy in the park. Have you started packing yet?
Miramichi River - Credit: Tourism New Brunswick
Miramichi River
There's more than one way to explore the Miramichi River. The waterway is famous for fly-fishing, having one of the largest Atlantic salmon runs on the east coast. Not interested in landing the big one? Jump in canoe or kayak and explore the river at your own pace, or slow it down even more and go for a lazy float along the river in an inflatable tube. Learn about the waterway and region from the comfort of a riverboat, go on a nature walk on the shoreline with your camera ready to capture bears along the way.