A quick guide to Whitehorse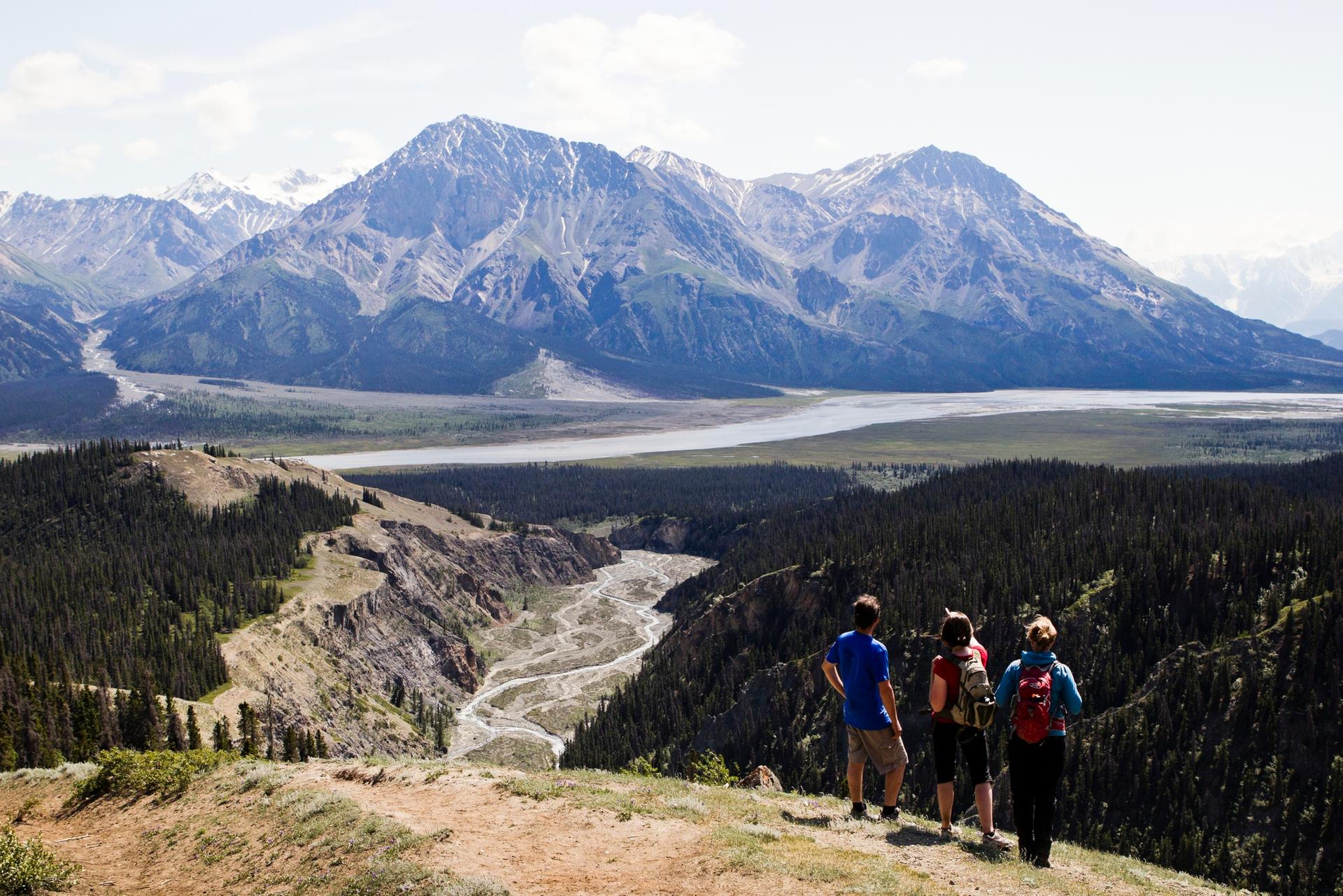 The capital of Yukon and the largest city in Northern Canada, Whitehorse is also big on hospitality and adventure. It's both a great city for a weekend trip, and a great kicking off point for activities that bring you up close and personal with nature.
Quick facts
Whitehorse is nicknamed "The Wilderness City," and with wildlife abound and the Northern Lights overhead, you'll quickly realize that the name is earned.

In the summer, Whitehorse can get up to 19 hours of daylight, which means you have loads of time to spend enjoying the outdoors.

In the winter, the city is either the starting point or the ending point (depending on the year) of one of the toughest races in the world: the Yukon Quest sled dog race. Participants travel 1,610 kilometres by dogsled between Whitehorse and Fairbanks, Alaska.

Whitehorse was once named by the Guinness Book of World Records as the city with the least air pollution in the world. So breath in that crisp, clean Northern air!

Whitehorse has the longest fish ladder in the world. What's a fish ladder, you ask? Keep reading to find out!
5 must-sees
Miles Canyon
Miles Canyon was once a daunting site for gold seekers. Many tried and failed to cross the canyon, or navigate their supply-filled boats through the rushing whitewater of the Yukon River. While a rail system eventually allowed these prospectors to avoid this hazard, today the Miles Canyon isn't a place you want to avoid at all. Visitors are treated to a slightly calmer river, thanks to a hydroelectric dam which slowed the flow of water. A suspension bridge was also built  in 1922 to connect the two 15-metre sides of the canyon, where it still sits today, making for an incredible view of the canyon if you're up for a thrill. This site, only minutes from downtown Whitehorse, also provides great hiking, mountain biking, and cross-country skiing trails.
MacBride Museum
Have you ever dreamed of striking gold? The history of the Yukon is deeply tied to the gold rush, which is why the MacBride Museum of Yukon History offers visitors a chance to put pan in hand and experience this old profession. Of course, panning is only one of many experiences offered by the museum, which fills over half a city block with exhibits covering the entire history of the Yukon. See First Nations beadwork and tools, learn about Northern animals, immerse yourself in the history of capital city Whitehorse, and even step into the real cabin of Sam McGee — made famous by a Robert W. Service poem. Artifacts, photographs, and documents are yours to explore. And who knows... maybe you'll find something big at the bottom of your pan.

Takhini Hot Springs
There's nothing like a nice soak in some steaming hot water to help you relax. The Takhini Hot Springs are a series of natural mineral hot pools only 29 kilometres from downtown Whitehorse. These pools were used for centuries by local First Nations, and became a commercial site all the way back in 1907. The water is a balmy 41 degrees Celcius meaning you can enjoy it every season of the year, no matter the temperature outside. Beyond the pools themselves, the Takhini Hot Springs sit on 200 acres of land that you can explore on foot or on cross country skis. So give your muscles a bit of a work out before relaxing them in the pools.

S. S. Klondike
In the early 20th century, over 250 riverboats linked the Yukon to the outside world by way of water. The biggest of these steam ships, the S.S. Klondike, still sits on the shores of the Yukon River today. Restored to its original 1937-1940 appearance, this boat is a popular destination for travellers who want to see what life was like for the region's early inhabitants. The Klondike was a beast with a capacity of over 270 tons, and was most often used to carry supplies and silver lead ore to and from mines before the area had any roads. Roam the decks on a guided or self-guided tour, and discover how the ship worked and how its passengers passed the time. Keep an eye out for the geocache onboard.

Yukon Wildlife Preserve
Canada's North is home to some of the country's most interesting wildlife, and the Yukon Wildlife Preserve works to keep it that way. Located only 25 minutes from downtown Whitehorse, the Preserve's passionate staff care for injured animals before releasing them back into the wild. Visitors can actually stop in to the preserve to learn about over a dozen different species of Arctic and boreal animals. Tour the facility's five-kilometre viewing loop on foot, by ski, by snowshoe, or on a guided bus. See caribou, lynx, elk, bison and more in their distinct natural habitats, from wetlands to cliffs, but not in a pen or a cage. And be camera ready -- you never know what animals will make an appearance.
How to spend a weekend in Whitehorse
As a city surrounded by beautiful Northern wilderness, a weekend in Whitehorse will usually involve a bit of both.
On your first day, grab a coffee and a bite at the modern Baked Cafe and then dive into the city's First Nations culture and history. The Kwanlin D?n First Nation lived on the banks of the Yukon River near present-day Whitehorse since just after the last Ice Age. Their traditions are showcased for visitors at the impressive Kwanlin D?n Cultural Centre, where you can browse artwork and immerse yourself stories dating back generations.
Hop through time, going back even further to when wooly mammoths and giant beavers walked the region, at the Yukon Beringia Interpretive Center.  Beringia refers to the area that once occupied territory from Siberia through the Yukon, and where those now-extinct animals roamed. At the center, you'll learn about these animals through First Nations art and legends, as well as fossils and cast replicas that bring these beasts to life. Then, jump forward to a more recent moment in Whitehorse's history: the Yukon Gold Rush. Both the MacBride Museum and S.S. Klondike offer a fun, engaging lesson on how this time period affected the city and entire territory.
Spend the rest of your day wandering down Main Street, popping into art galleries and shops before grabbing a seat at one of the great downtown restaurants, like Antoinette's or the classic Wheelhouse Restaurant. Be sure to try a local speciality, like Arctic char or caribou meat.
After a day in the city, it's time to explore some of the incredible nature that surrounds Whitehorse. Start your morning off easy with a walk on the waterfront Millennium Trail, a 5-kilometre path that connects many of the city's popular attractions. The trail will bring you to, among other things, the longest fish ladder in the world. This 366-metre wooden masterpiece of engineering allows salmon heading upstream during the salmon run to bypass a dam on the river. Then, if you want a bit of a longer trek, there are some 700 kilometres of walkable, hikeable, and bikeable trails in and around the city to explore.
In the afternoon, pack a lunch and head to Miles Canyon to test your mettle, crossing the suspension bridge 15 metresabove the rushing Yukon River. While visiting the site, keep an eye out for wildlife, or just pay a visit to the Yukon Wildlife Preserve for a guaranteed look at bison, elk, caribou, and more. Like a bit more of a refined outdoor experience? There are also two golf courses in Whitehorse where you can work on your swing.
You've done a lot of outdoor adventuring and your body is a little sore? End your day with a visit to the Takhini Hot Springs. And don't forget to look up. You might just see the Northern Lights dancing above your head.
How to get here
Getting to Whitehorse almost always means taking a plane. You can get a connection to Whitehorse through several major cities, including Vancouver, Kelowna, Calgary, Edmonton, Ottawa, and Frankfurt, Germany, if you happen to be out that way!
Where to go next:
Thinking of doing a little exploring in Yukon? Whitehorse is close to other popular destinations in the territory, including Carcross (50min by car) and Dawson, home of the Klondike Gold Rush (6h45m by car or 1h15m by plane).