Prince Edward Island's coolest small towns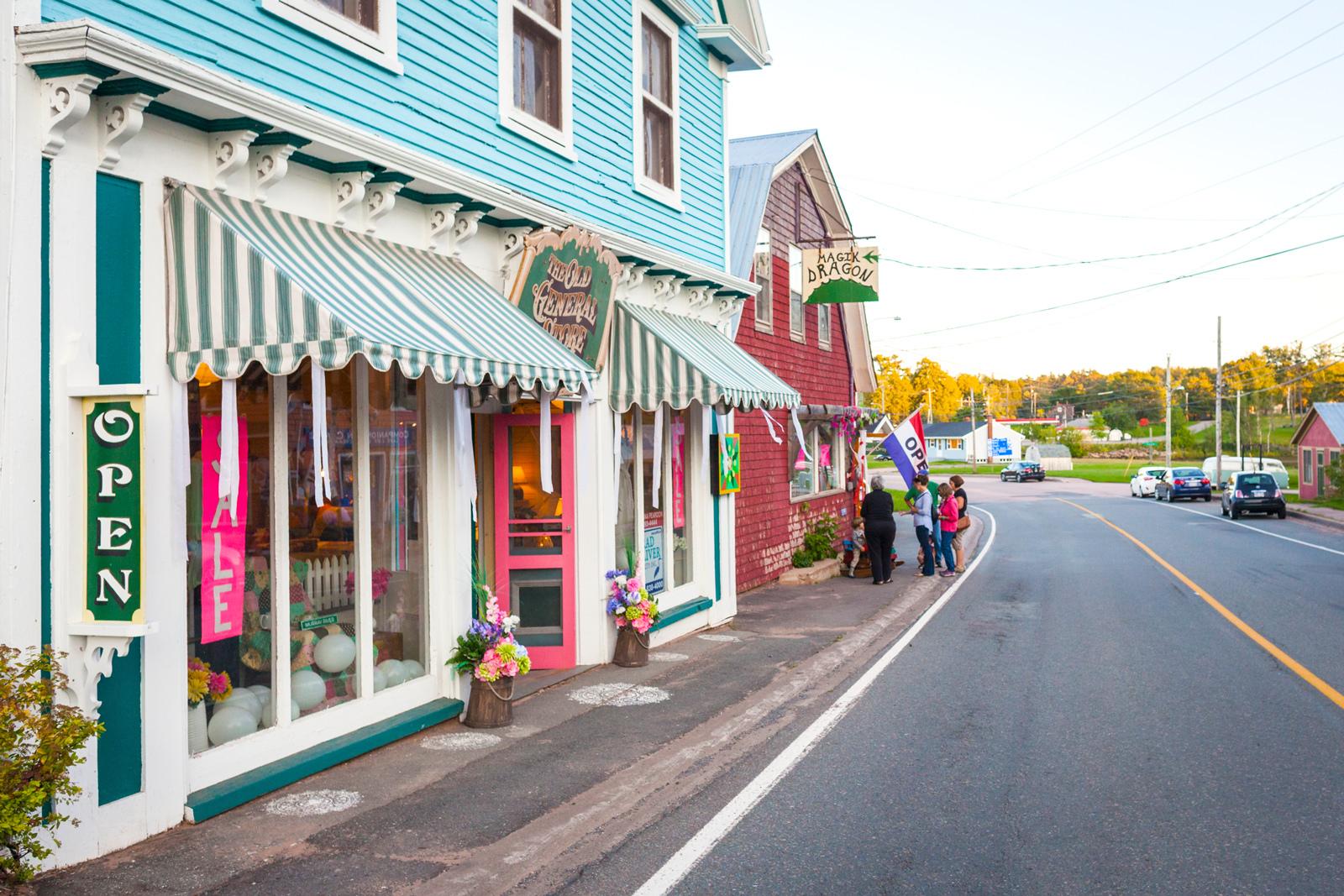 The smallest province in Canada, Prince Edward Island proves that bigger isn't always better. The island is full of small towns that always show visitors a good time. From beaches to baked goods, these tiny towns pack a big punch. The best part? You never have to drive very far to find one!
If you're ready to get out there and start exploring, here's a list of PEI's coolest small towns.
Souris
Many people pass through Souris on their way to Basin Head, one of the most beautiful beaches on PEI, without ever stopping. Big mistake. Located in the southeastern part of the island, Souris has a population of just over 1,000, but there's no shortage of experiences to enjoy. Instead of zipping through the town, make sure to pull the car over, stop, and explore.
Start your adventure at the Souris Beach Gateway Park. It features artisan shops, fresh seafood from The Lobster Shack, an ice cream stand, and Chef Michael Smith's Flavour Shack, all while looking out at the ocean. If you get a little further into town, pop into Artisans on Main for one-of-a-kind locally-made items, and grab a latte at Kim's Coffee Bar and Creamery next door.
Souris has an eclectic mix of old and new. Many of the new shops or yoga studios are in old renovated buildings on Main Street. Once you've explored that, head over to Breakwater Street to find 21 Breakwater Restaurant. Then end your adventure at the Souris Historic Lighthouse, where you can climb to the very top!
Murray River
Located on the Eastern end of PEI with a population of around 330, you may not have seen Murray River at the top of any travel itinerary. But this small town is totally underrated. With the scenery of a quaint fishing town and a very cool vibe, young entrepreneurs are moving in and setting up shop. With stores like Magik Dragon, where they curate funky pieces of handcrafted items from around the world, you're sure to find one of a kind souvenirs to take home. Once you get tired from shopping, you can pop into Companion Coffee for home bakes goodies and locally-roasted java, or visit Newman Estate Winery where you can purchase a bottle of wine before watching the sun set over the river.
If you're visiting Murray River in the summer, be sure to stop into the Northumberland Fisheries Festival. There you'll find a petting zoo, food demonstrations, open mic, rowing competitions, and the Miss Northumberland Pageant. But no matter when you visit, Murray River is always a good time.
North Rustico
North Rustico is one of those places that you'll fall in love with as soon as you arrive. Oozing with small town charm, good food, amazing views, and a beautiful beach, it's a one-stop shop. Watch the busy harbour as the fishing boats come in, walk on the boardwalk, or head down past the house with all the buoys to reach the beach. Go on a stormy day and watch the waves crash against the shore; it's beautiful and also makes for some great photos! Grab lunch or dinner Blue Mussel Caf? (get the namesake mussels, you will not be disappointed), and enjoy a nice cold beverage on the patio before heading over to the Watermark Theatre, where you can get so close to the action, you can actually hear the actors breathe.
If you happen to visit PEI around Christmas, North Rustico takes on even more charm as the whole town is lit up -- truly something to experience.
Kensington
Kensington is known as "The Small Town with a Lot to Offer," and they really earn that tagline. The town has has restaurants, historical sites, and easy access to the Confederation Trail -- making it a great stop if you're cycling the island. The famous Frosty Treat Dairy Bar is in this town and people will drive from all over PEI to get a taste! Whether you are craving a deep-fried Mars bar, soft serve ice cream, an order of whole clams, or a nutty-dipped cone, this local favourite has you covered.
If you're interested in eating something a lit bit fancier, check out Broadway 45 or Island Stone Pub. And if your Instagram is more scenery than food, the old railway station is a picture-perfect spot to snap some photos.