An outdoor adventurer's guide to Ontario
Ontario's cities and epic nature live side-by-side. Shop the major urban centres in the morning and climb a mountain or hit the waterways in the afternoon. It's that easy. Ontario is an outdoor adventure capital abundant with wilderness escapades and stunning landscapes. 
Venture into the wilds of Ontario with this outdoor adventurer's guide.
Hiking at Algonquin Provincial Park
Adventure by land
Ontario boasts 270 provincial parks and six national parks, each one brimming with unique adventures.
Firstly, these parks are the ultimate hub of hiking. More than 1700 kilometres of hiking trails crisscross the province through diverse terrain on short treks, day hikes or week-long trips. Delve into the 100 metre-deep Barron Canyon in Algonquin Provincial Park, marvel at the picturesque Chutes Provincial Park waterfalls, or test your physical fitness by climbing "The Crack" at Killarney Provincial Park, a series of huge tumbled boulders. Each experience will leave you wanting to delve deeper into Ontario's tranquil wilderness.  
For those who like to take it higher, Ontario offers incredible rock climbing and bouldering. Popular climbs include the limestone peaks along the Niagara Escarpment and the rock walls of Bon Echo Provincial Park. Once you've conquered the mountain facades, head inside for some potholing. Take a cave tour and hunt for fossils at Bonnechere Caves in Eganville or explore the seven Warsaw Caves, carved by glaciers during the last ice age.
From two feet, move to two wheels. Similar to hiking, Ontario is blessed with more kilometres of mountain biking trails than you could possibly conquer in one lifetime. Abandoned logging roads, steep descents, deep forest routes; you name it, Ontario has it in spades. Single Tracks has compiled a list of the province's mountain biking trails with handy information on the degree of difficulty and length of trail. Not sure where to start? The Bruce Peninsula Mountain Bike Adventure Park and Sir Sam's trail network are both popular local picks.
Brave the gravity-defying adventures found throughout the province and earn bragging rights back home. Cross the Eagle Canyon Suspension bridges, almost 50 metres above the canyon floor, or walk through the tree canopy of the Haliburton Forest and Wildlife Reserve. Zipline 300 metres over Heart Lake in Brampton, or strap in for a tandem hang glide through the skies above Waterloo. Bungee jump 45 metres above the Ottawa River, or go skydiving in Toronto or Niagara. 
Adventure by snow
As the seasons change and the weather gets a little colder, a new group of outdoor adventures become accessible to those who love the snow and ice.
Skiers and snowboarders can hunt down powder across a number of different mountains in the province. If you're visiting Toronto, Blue Mountain Resort is only a couple hours from the big city, and the largest ski resort in Ontario. If you're in Ottawa, Calabogie Peaks Resort has the highest vertical slope in Ontario, at almost 240 metres. Multiple mountains and resorts are scattered elsewhere throughout the province, from Mount St. Louis Moonstone in Coldwater, to Devil's Elbow Ski Area outside of Peterborough, and Horseshoe Resort in Barrie.
Horseshoe Resort is a great place to try fat biking. This is the mountain biking winter equivalent, allowing you to bike through the snow on two wheels thanks to some extra-wide tires.
There's nothing quite like experiencing a Canadian winter with a team of furry, four-legged friends. Ontario is home to many dogsledding teams, ready to pull your sleigh through the snow at a cracking pace. The real power of these animals is displayed during the province's dogsled races, including Marmora Snofest near Peterborough and the Kearney Dog Sled Races north of Huntsville. If dogsledding sounds a little tame, try your hand at skijoring. Visit Magnetawan's Quiet Bay Log Motel or Woodland Echoes, strap some cross-country skis to your feet, and let the dogs take you for a ride.
The vast wilds of Ontario also provide plenty of opportunities for ice climbing. Fasten spiked cleats to your shoes, grab a couple of ice axes, and take off on a 90 metre-high ice route, or stay closer to the ground and learn the ropes. Join Outdoor Skills and Thrills for a guided climb of beautiful sites around Thunder Bay, or try ice climbing and winter caving close to Toronto with One Axe Pursuits.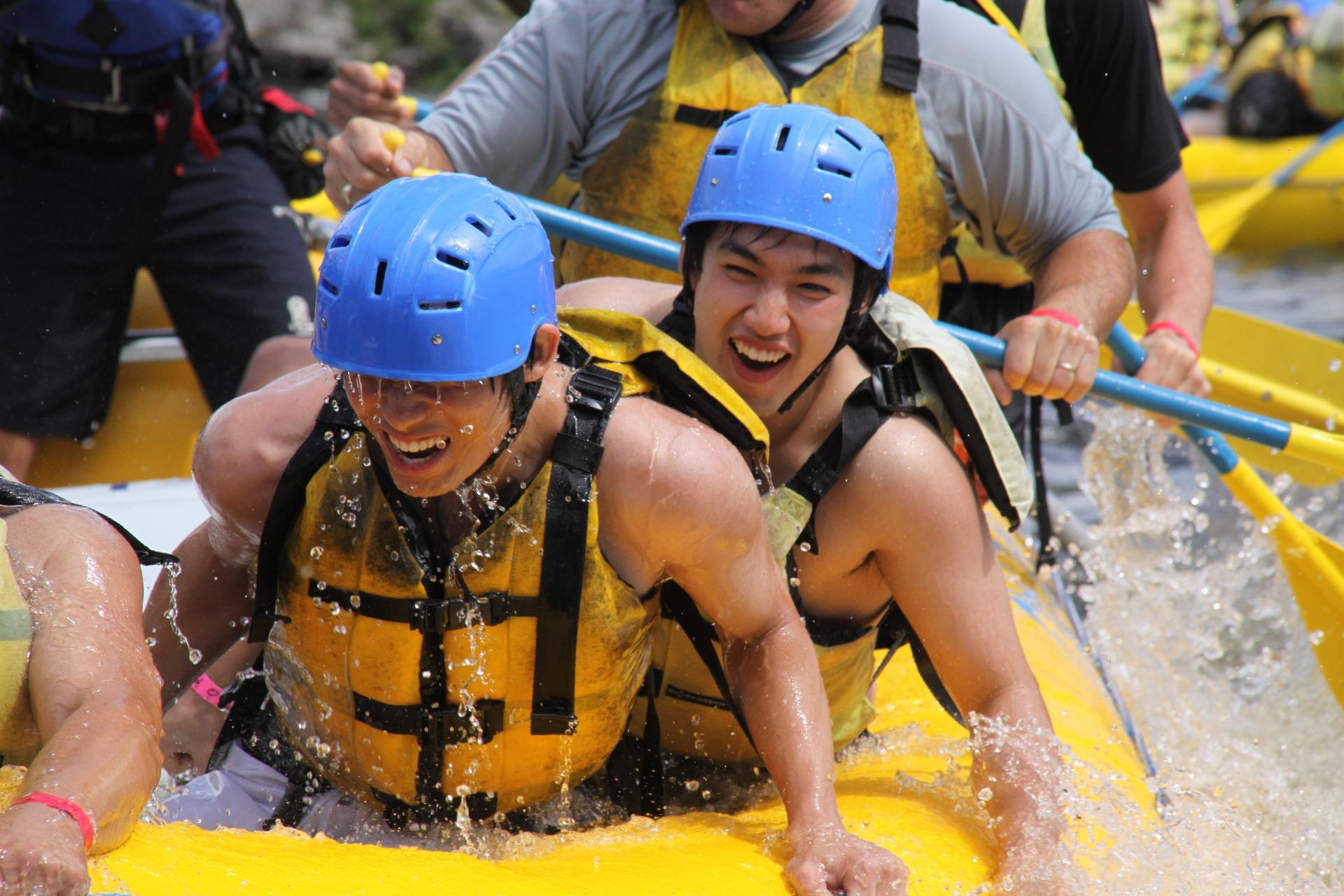 Ottawa River Rafting - Credit: OWL Rafting
Adventure by water
'Ontario' is an Iroquoian word meaning 'the land of shining waters' which is the perfect description for the province. Over a half million lakes and waterways can be found within Ontario, meaning there are about a half million ways to have an adventure on the water.
If you love to get out onto white water, the Ottawa River is a great place to start. In fact, the Ottawa Valley is known as the Whitewater Capital of Canada. Choose one of the local rafting companies and, with experienced guides at the helm, safely splash and roll through one of the world's great whitewater routes. Whitewater canoeing is also available on six different rivers at Algonquin Provincial Park. These incredible rivers take on new life during the spring melt when the water levels rise.
Algonquin Park - Credit: Voyageur Quest
Ready to start planning your adventure? Visit the Ontario Travel website.
Ready to start planning your adventure? Visit the Ontario Travel website.