A 3-day Ottawa to Toronto, Algonquin Park itinerary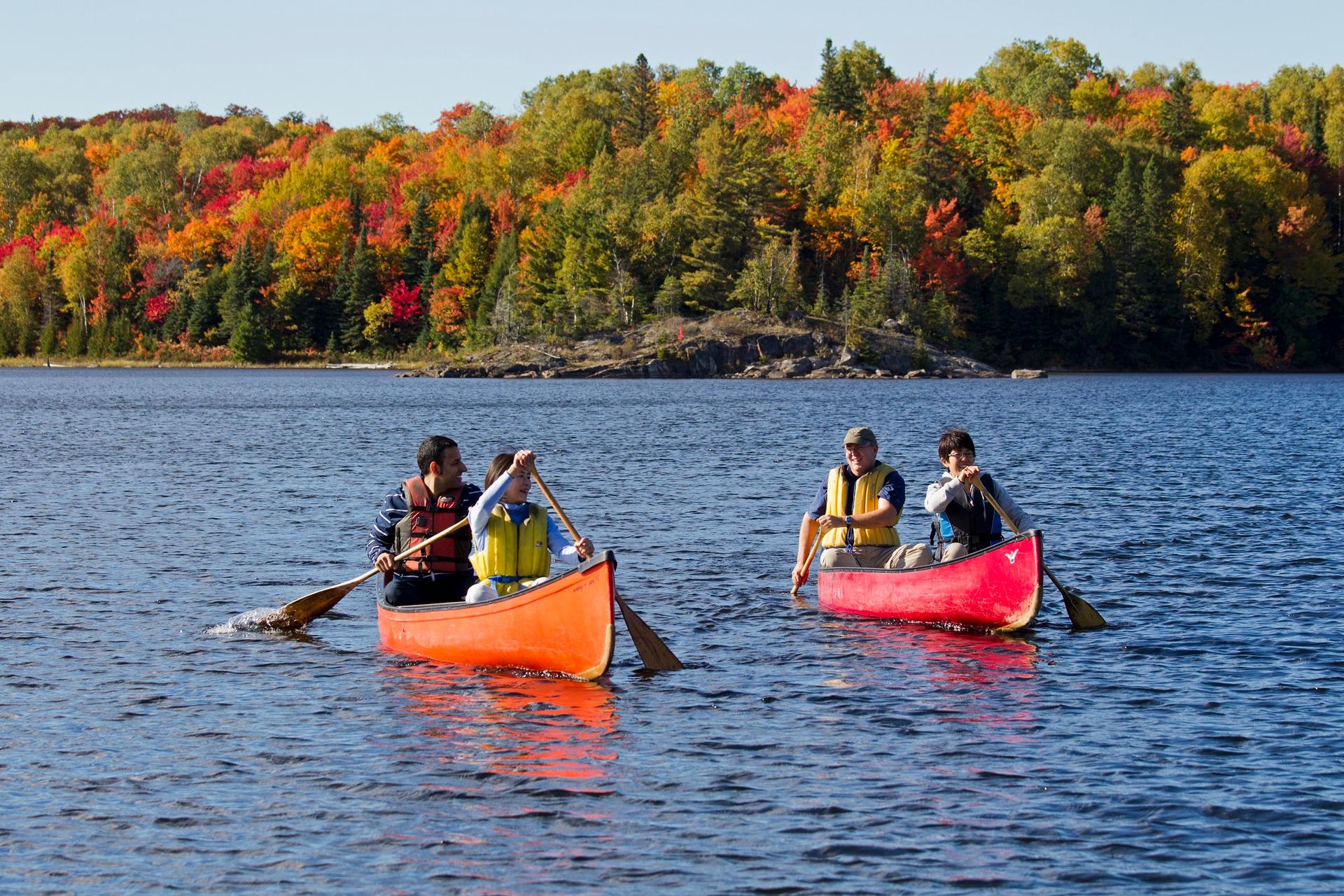 Algonquin Park is a vast wilderness that's larger than Prince Edward Island, with spectacular scenery easily accessible on a road trip between Ottawa and Toronto. The area's iconic landscapes have been immortalized in the work of Canada's famous Group of Seven painters, but you won't want to miss seeing them in person.
What does this drive look like?
After exploring Ottawa's scenic waterways and burgeoning food scene, you'll drive west, visiting rural communities surrounded by fruit farms, thundering waterfalls, and intriguing caves.
When you reach Algonquin Park adventure awaits in this natural playground full of forested trails, clear lakes, and opportunities to hike, paddle, and spot wildlife.
Once you've enjoyed your fill of unspoiled nature, finish your journey with a drive into Canada's glamorous metropolis, Toronto. This vibrant city located on the shores of Lake Ontario is a cultural hotspot that begs to be explored.
Driving the highway directly from Ottawa to Toronto only takes three to four hours, but you'd bypass the breathtaking beauty of Algonquin Park. If that sounds like your ideal detour, here's a more detailed itinerary for your trip from Ottawa to Toronto, through Algonquin.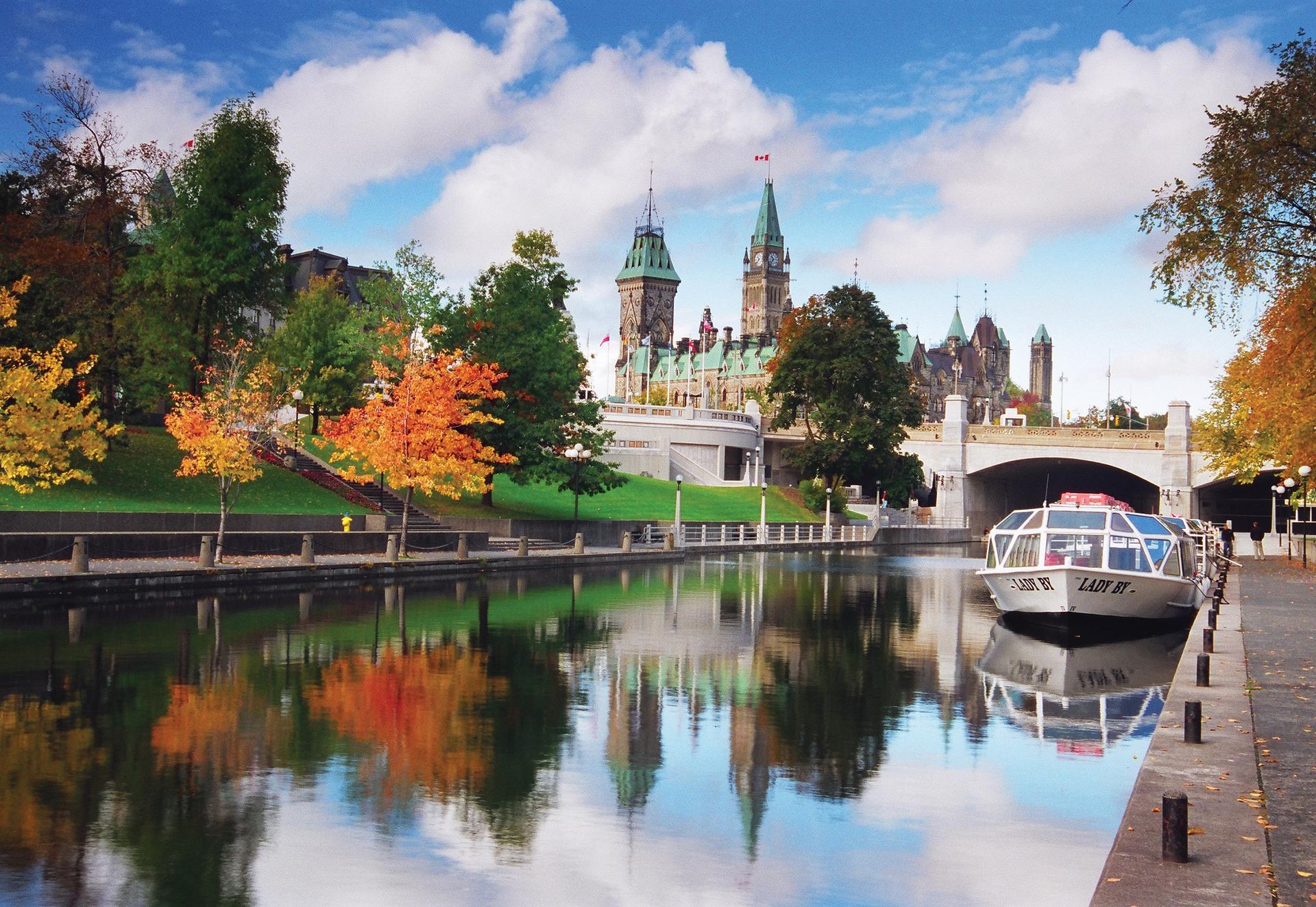 Day 1: Ottawa
Your starting point
Must-stops along the way
While it's tempting to take a deep dive into Canada's heritage in Ottawa by visiting its monuments, museums, and galleries, there's plenty to see outdoors. Spend the day exploring the natural attractions without ever stepping foot inside of a car.
Rideau Canal: Starting from downtown you can cycle the shoreline of the 200-kilometre river, pedalling past historic sites along its grassy banks as boaters drift by. The stone-walled canal, which is Ontario's only UNESCO World Heritage Site, was opened in 1832. Some of its 47 locks are original and still operated by hand.
Ottawa River: Ready for a water-bound alternative to canoeing and kayaking? Try stand-up paddle boarding on the calm waters of the Ottawa River. Companies such as Urban Ocean rent paddle boards and offer lessons for first-timers, all from the city's downtown core.
Gatineau Park: Hop on the free shuttle near ByWard Market and in 15 minutes you'll find yourself surrounded by sprawling forests, lakes, and waterfalls. Take a dip in Philippe Lake during the summer or visit during "fall rhapsody" when the sugar maples and birch trees transform from green to red and gold in a stunning display of colour.
Eat
Ottawa's chefs and purveyors always bring their A-game to the table, so it's easy to fuel up on Canadian favourites wherever you wander.
ByWard Market: This public market, established in 1826, is brimming with more than 120 places to eat and drink. Start with a Canadian treat: pick up a BeaverTails pastry, a fried-dough confection shaped in the form of a beaver tail and topped with cinnamon and sugar.
Supply and Demand: For a taste of Ottawa's best ingredients, reserve a seat at this Wellington Street restaurant and raw bar. Its menu changes seasonally, bringing fresh and sustainable food from farm to plate. Foodies can indulge in a pasta-making class, which includes a three-course meal shared family-style.
St-Albert Cheese Co-Op: Located east of Ottawa in St-Albert, you can tour this cheese factory that traces its humble history back to 1894. Then head inside the restaurant and chow down on a bowl of poutine. Fifteen types are on offer, including the traditional version: French fries smothered in gravy and garnished with cheese curds.
End your day
There's so much history and charm in Ottawa, you'll want to explore all day here and stay the night. In the evening unwind with a locally-made craft beer and some well-earned chill time at a beautiful hotel before tomorrow's drive to Algonquin Park.
Fairmont Chateau Laurier: Get a glimpse at the stately edifice huddled next to the Parliament Buildings and you'll swear you're looking at a French chateau. Opened in 1912, this hotel lives up to expectations with its old-world opulence, earning accolades such as Travel and Leisure magazine's Greatest Hotels in the World Award.
Arc the Hotel: If modern minimalism is more your pace, this boutique hotel ticks all the boxes with its restrained style. Indulge in luxurious touches and thoughtful amenities like in-suite massages and yoga classes. Bonus: it's pet-friendly.
McGee's Inn: For a restful retreat in Ottawa's Sandy Hill neighbourhood (Canada's first prime minister, Sir John A. Macdonald, lived here), look no further than this B&B in a Victorian mansion. Choose from charming rooms or deluxe suites that feature Jacuzzi tubs for two and fireplaces.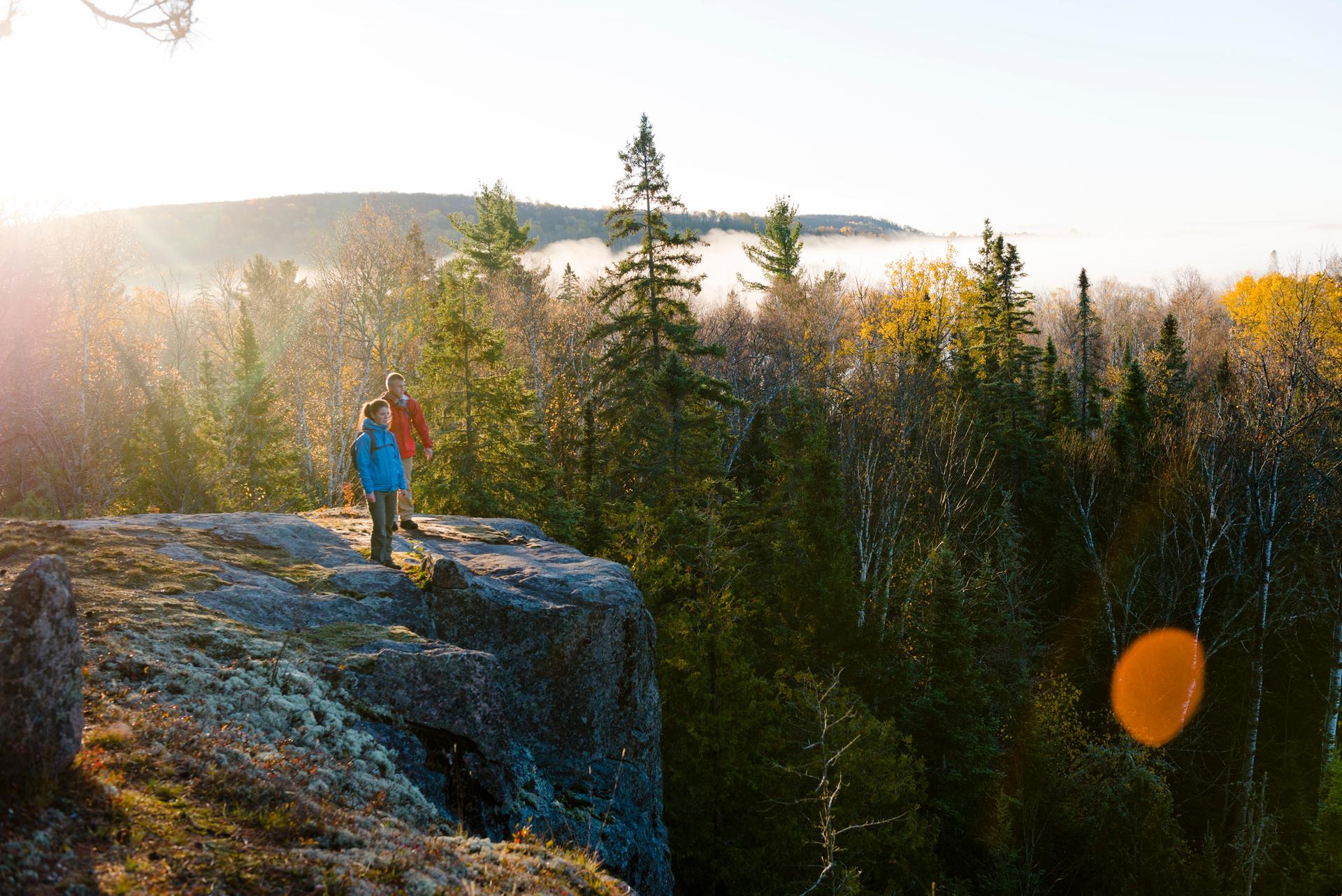 Day 2: Algonquin Park
Total drive time: 3.5 hours
Must-stops along the way
Bonnechere Caves: Head underground in Eganville and take a trip 400 million years back in time on a guided tour through the limestone caves spotting fossils of gastropods and coral. 
Polish Kashub Heritage Museum: When you see the old crosses of the village church you'll have arrived at Wilno, a farming community that's home to Canada's oldest Polish settlement. Browse cultural memorabilia and artefacts in the museum, then stroll the pathway marked by heritage stones commemorating the first Polish Kashub settlers.
Algonquin Park: Enter the park on Highway 60 through the east gate. Then lace up your hiking shoes and hit one of the interpretative day trails, such as the Spruce Bog Boardwalk or paddle a canoe along a mist-shrouded lake. If cycling is more your speed, continue to Minnesing where four bike loops ranging from 4.8 to 23 kilometres take you through forests and around Linda and Polly lakes.
Eat
With ample places to eat that boast to-die-for views, there's no need to tear yourself away from Algonquin's lush landscapes when grabbing a bite.
Lake of Two Rivers Store: Stock up on picnic provisions or linger longer at the cafe and grill, which serves prime-rib burgers and healthy fare like fresh salads and wraps. Be sure to leave room for ice cream made by Kawartha Dairy.
The Portage Store Restaurant: Fill your belly with the hearty Tom Thompson French toast for breakfast. For a midday pick-me-up, nibble on snacks such as onion rings and deep-fried pickles while sipping a craft beer as you watch people paddle the aptly named Canoe Lake. Pressed for time? Get your food to go and continue exploring.
Bartlett Lodge: Hop the Freighter Canoe Water Taxi or pontoon boat to the lodge on Cache Lake and indulge in a four-course table d'h?te meal, finished with Ontario wild blueberry pie.
End your day
Spending a night (or two) in the park is a must, whether you bed down in a quaint log cabin or camp under the stars.
Killarney Lodge: For a true slice of Canadiana, revel in the stillness of the lake and listen for the call of the loon piercing the silence, all from your cabin's private deck perched above Lake of the Two Rivers.
Arowhon Pines Lodge: With cabins nestled in the cloak of the forest or alongside Joe Lake, plus tennis courts, canoes, and hiking trails galore, you won't want to leave this wilderness oasis. All-inclusive packages are available with three meals served daily in the on-site dining room.
Bartlett Lodge: Rustic meets refined at this 1917 lodge, once again only accessed by a water taxi or pontoon boat. This off-the-grid resort is the park's most historic property and has been celebrated for its dedication to sustainability. Want a vantage point for star-gazing? Opt for the platform tent for a comfortable experience that's more "glamping" than roughing it.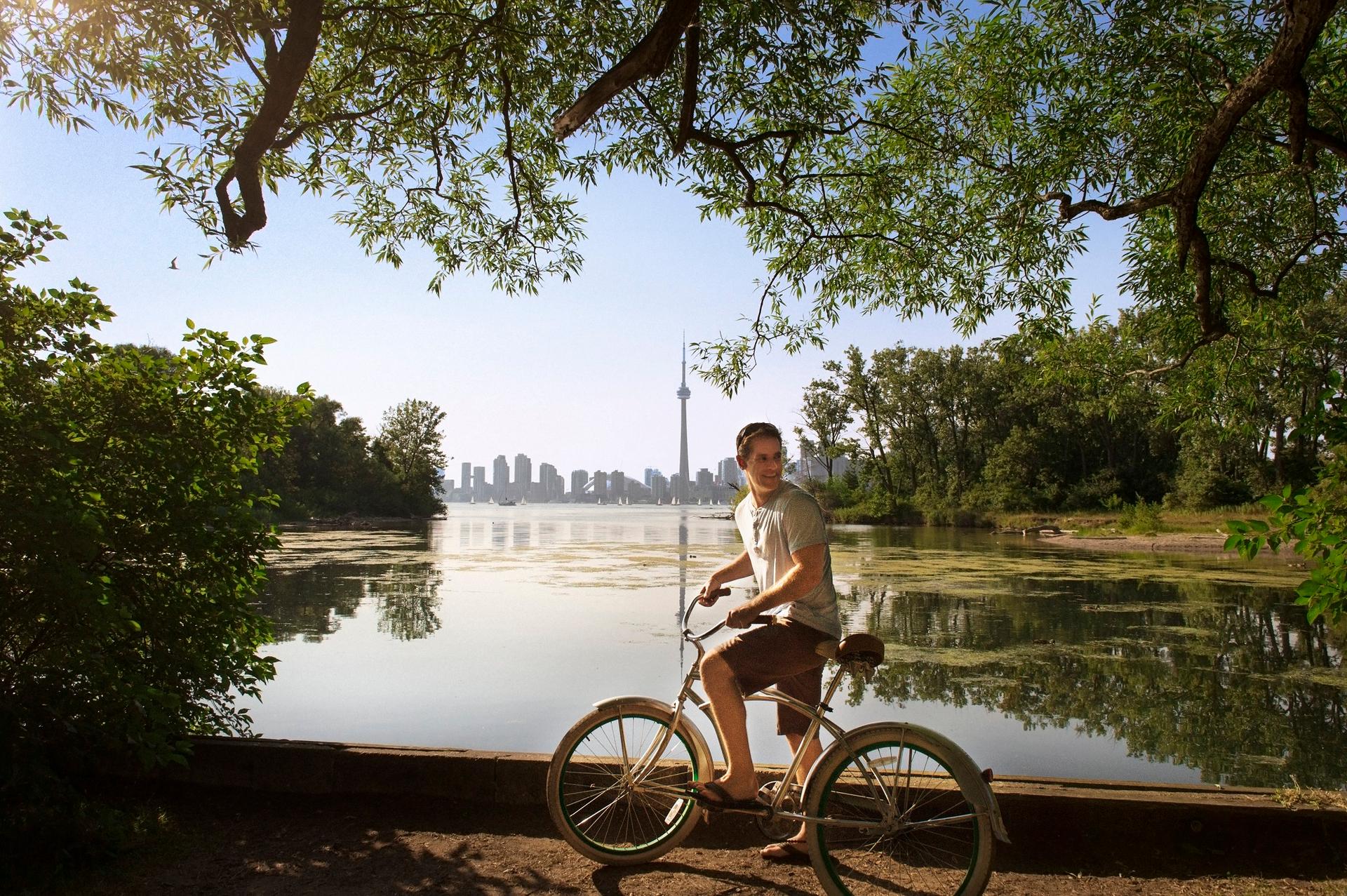 Day 3: Toronto
Total drive time: 3.5 hours
Must-stops along the way
Even though you've left the solitude of the park (and we can't blame you for wanting to stay longer), nature still abounds so embrace the great outdoors on the way to, or even when you arrive in Toronto.
Eat
Toronto's restaurant scene is ever-evolving, with a globe-trotting array of standout cuisines, often with a Canadian twists. So eat up -- and repeat.
Don Alfonso 1890: The name may sound ostentatious but this Financial District hotspot comes by it honestly. Michelin-star chefs Alfonso and Ernesto Iaccarino have brought their modern Mediterranean cuisine concept from Italy to their first North American location. Some menu items showcase Canadian ingredients like organic Manitoba bison.
Antler Kitchen & Bar: Wild food and foraged cocktails are the cornerstone of this restaurant and bar that delivers deeply Canadian cuisine and beverages to its loyal patrons. During brunch find fare such as burgers made with wild boar, bison, and deer, and omelettes filled with foraged mushrooms.
Pinky's Ca Phe: Vietnam meets Philadelphia on this snack bar/restaurant's inventive menu inspired by its owner's cultural heritage and hometown. Expect amazing mashups like the chef's take on French Dip that's accompanied with a pho dipping sauce. Cond? Nast Traveler magazine even put the affordable eatery on its 20 Best Restaurants in Toronto list in 2018.
End your day
Toronto's nightlife is one of legends and its bar game has earned international acclaim. So don't make your way to your hotel's comfy bed before having a nightcap first.
BarChef: The ultimate cocktail experience awaits at this Toronto institution that is constantly pushing the the limits with its homemade syrups and liquor infusions. Overwhelmed by what to order? Try the signature vanilla- and hickory-smoked Manhattan.
Omni King Edward Hotel: If you're going to splurge, here's where to do it. The 1903 luxury hotel just underwent a $40 million renovation that brings modernity to this grande dame while preserving its heritage, including its tradition of serving afternoon tea.
The Broadview Hotel: Chic meets cool at this 58-room boutique hotel housed in an 1891 Romanesque Revival landmark. Spin some vinyl on your in-suite record player and raid the minibar stocked with locally-sourced treats.\
With so much to see and do, you might want to stretch out your itinerary a little longer and spend a couple of extra days discovering Ontario's two largest cities and the stunning nature in between.