Manitoba's must-do cultural experiences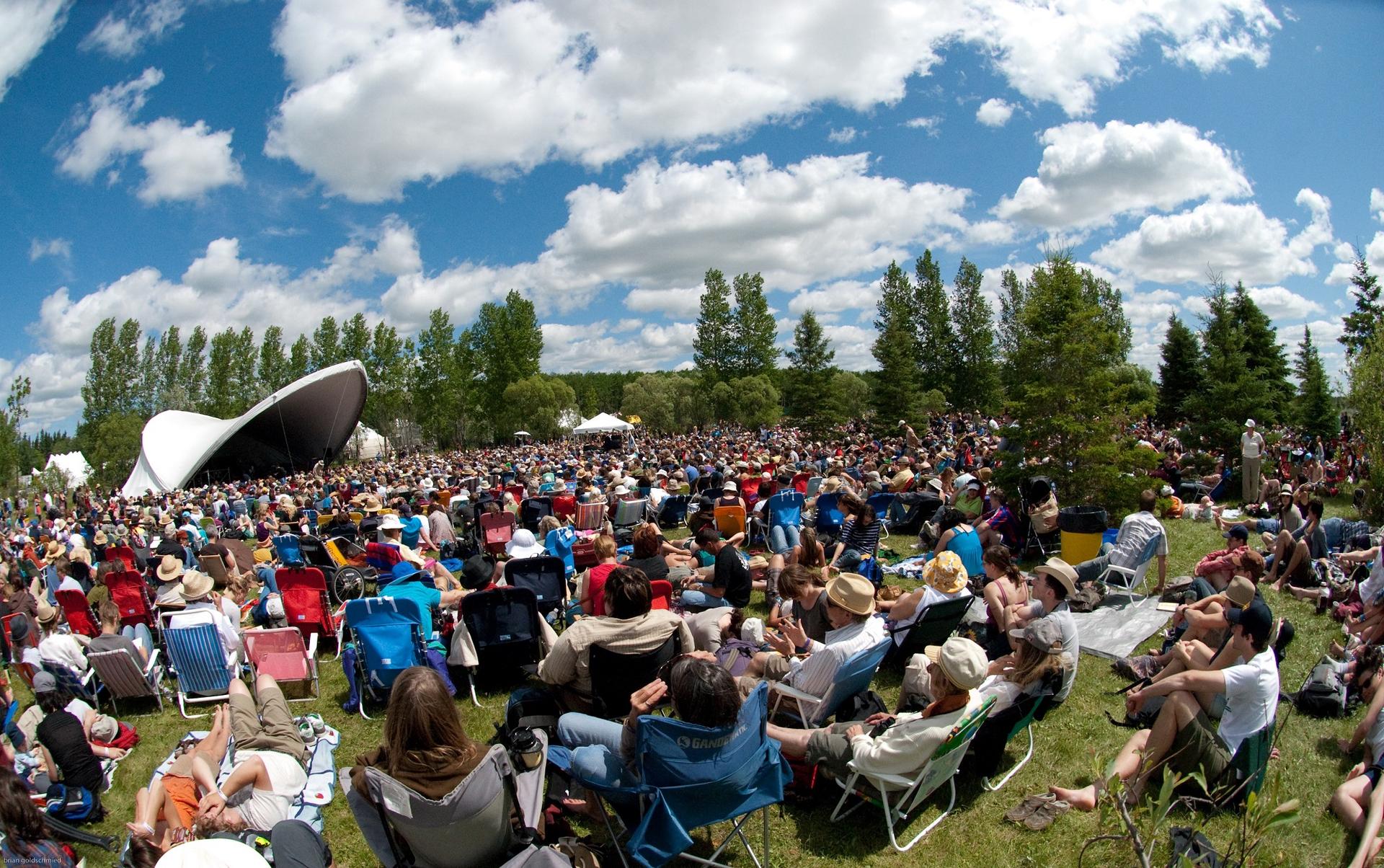 Manitoba is a cultural hotbed, serving up an eclectic range of arts, music, festivals, plus a rich dose of historical landmarks. Here's our top pick of necessary stops on any cultural tour of the province.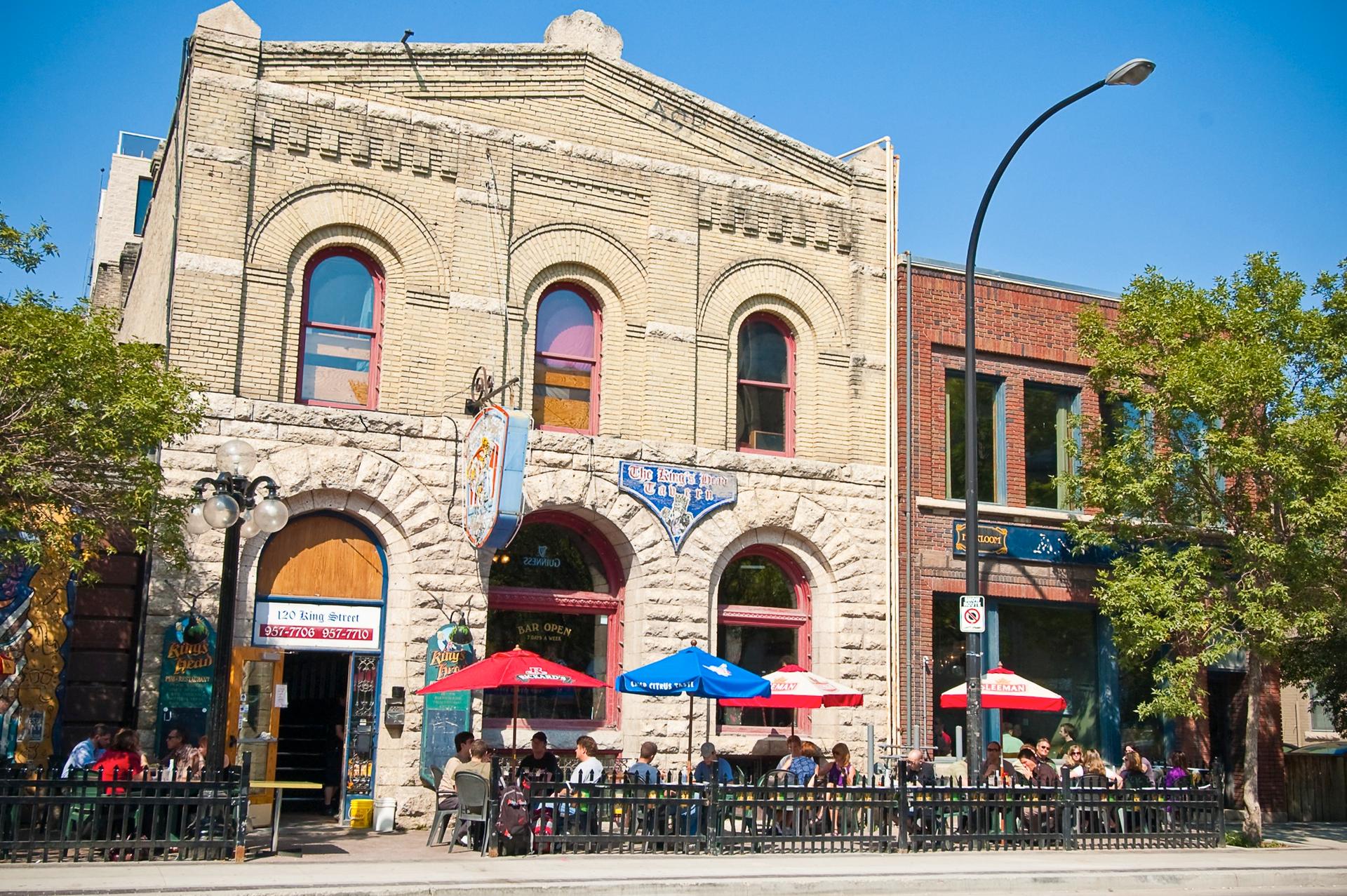 Winnipeg Exchange District
Cultural hubs
The Winnipeg Exchange District is a National Historic Site housing a vibrant restaurant, theatre, museum, and nightlife scene. What really makes the Exchange District stand out is the architecture. Bask in ornate early 20th century architecture, strongly reminiscent of the Chicago-style. This old-world architecture meets the ultra-modern at the Cube in the district's Old Market Square, a performance stage enclosed by an interactive metal-mesh cube covered in coloured lights. This unique outdoor space is home to a variety of music festivals and performances, from the Winnipeg Folk Festival to the Winnipeg Symphony Orchestra.
Sitting where the Red and Assiniboine Rivers come together is a 6,000-year-old meeting place. The Forks in Winnipeg holds incredible historical significance and is now home to captivating markets, inspiring museums, and flourishing gardens. Originally horse stalls for the rail companies, the Forks Market is a welcome stroll through tempting boutiques, food stalls, and restaurants. If you're visiting the Forks in winter, lace up your ice skates and glide down more than eight kilometres of breathtaking frozen Red and Assiniboine Rivers. Then warm up with some maple-spiked hot chocolate before heading into one of the many nearby museums.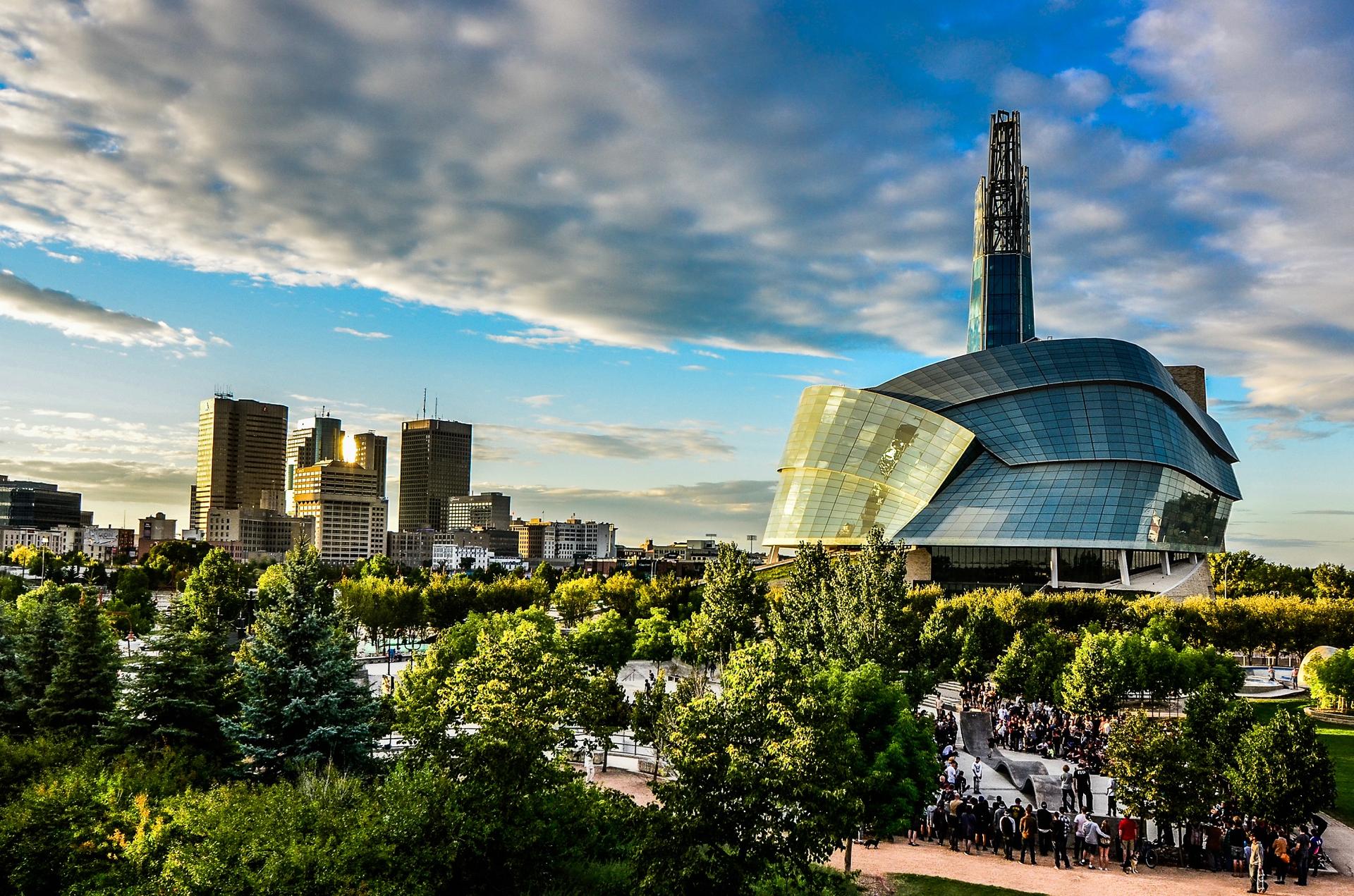 The Canadian Museum for Human Rights - Credit: Mike Sudoma
Museums
One of the most eye-catching buildings in Canada is Winnipeg's Canadian Museum for Human Rights. The shining structure of curved steel and glass is awe-inspiring to behold. The museum houses a powerful collection of 10 core galleries of exhibits that encourage you to think about the human experience and your own place within it. This is the only museum in the world devoted solely to human rights awareness and education. Learn about Indigenous perspectives on human rights, the Holocaust, and other genocides, as well as how to break the silence and inspire change - all through a uniquely Canadian lens.
Over 24,000 pieces make up the collection at the Winnipeg Art Gallery (WAG), the oldest civic gallery in Canada dating back to 1912. These fascinating works span just about all eras and forms, from Ancient Greek statues to Renaissance paintings and modern photography displays. The gallery also features some of the most important Canadian art pieces and includes the world's largest collection of contemporary Inuit art.
The Manitoba Museum
The Manitoba Museum is the largest museum in Winnipeg, and its scope is a big as its collection. Nine permanent galleries showcase everything from a full-size replica 17th century ship to a re-creation of early bison hunts. Regular touring exhibits also ensure a fresh, unique experience every time you visit.
Lastly, located in Brandon, Manitoba, the Art Gallery of Southwestern Manitoba is deeply rooted in the local community and has been since 1907. With an emphasis on Manitoba art, the gallery exhibits contemporary art of regional, national, and international significance. Take home a unique piece from the gift shop, featuring Manitoba artists in paint, jewellery, ceramics, and textiles.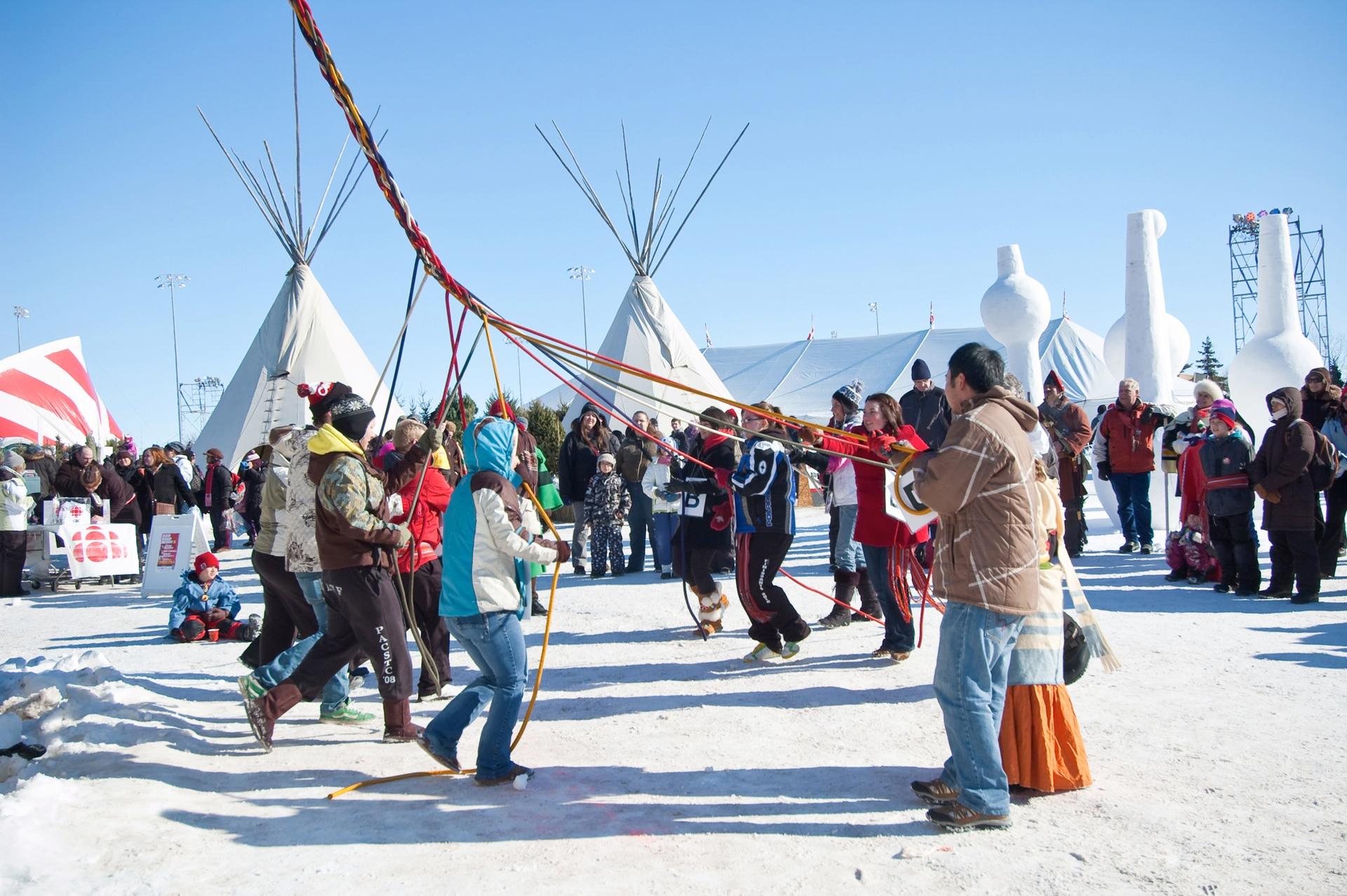 Festival du Voyageur
Experiencing Manitoba culture and history
Dive into a cultural experience and head to Manitoba's Birds Hill Provincial Park for the Winnipeg Folk Festival, a four-day celebration of musical genres such as folk, blues, bluegrass, roots, gospel, Celtic, French Canadian, world, and country, as well as a healthy showing of arts, food, and community spirit. Sway to the sweet sounds from the main stage, where world-renowned artists perform every evening. Meet accomplished musicians face-to-face. Browse the artisan shops. Dine on delicious cuisine from 25 different food vendors. Camp out on-site and let the good times roll all night long.
Any mention of dance companies in North America must begin with the longest continuously operating company on the continent: the Royal Winnipeg Ballet. Prepare to be enthralled and enchanted by creativity, beauty, and technical skill. Granted 'royal' status in 1953 by Queen Elizabeth II, if you have even a casual interest in dance, a performance by the RWB has to be at the top of your list.
While we're on the subject of dance, you'll have a hard time sitting still during Winnipeg's Manito Ahbee festival. From the moment the drummers strike up a pounding rhythm and the women in elaborate shawls spread their butterfly capes, you know you're in a special place. Manito Ahbee is named after a sacred place in Manitoba's Whiteshell Provincial Park and is an Ojibway First Nations word meaning "where the Creator sits." From this traditional gathering place, a festival grew where pow wow performers in feathered headdresses share the spotlight with Aboriginal hip hop musicians who wow the red carpet crowd. Feel your whole body move as dancers from Cree, Ojibway, Dakota Sioux, and other nations spin and sing at one of North America's top pow wows. And when the "inter-tribal dance" begins, don't be surprised if you find yourself joining in.
From Aboriginal culture to European roots, the "World's Largest Kitchen Party," the Festival du Voyageur, is a chance to experience food, fun, and French Canadian heritage on the snowy streets of Winnipeg. Tour a re-created 19th century fur-trading outpost, take a swig of traditional fortified wine, and enjoy dozens of live music performances at a variety of venues. Taking place for 10 days every February, this annual celebration of Manitoba's fur trading history is not to be missed.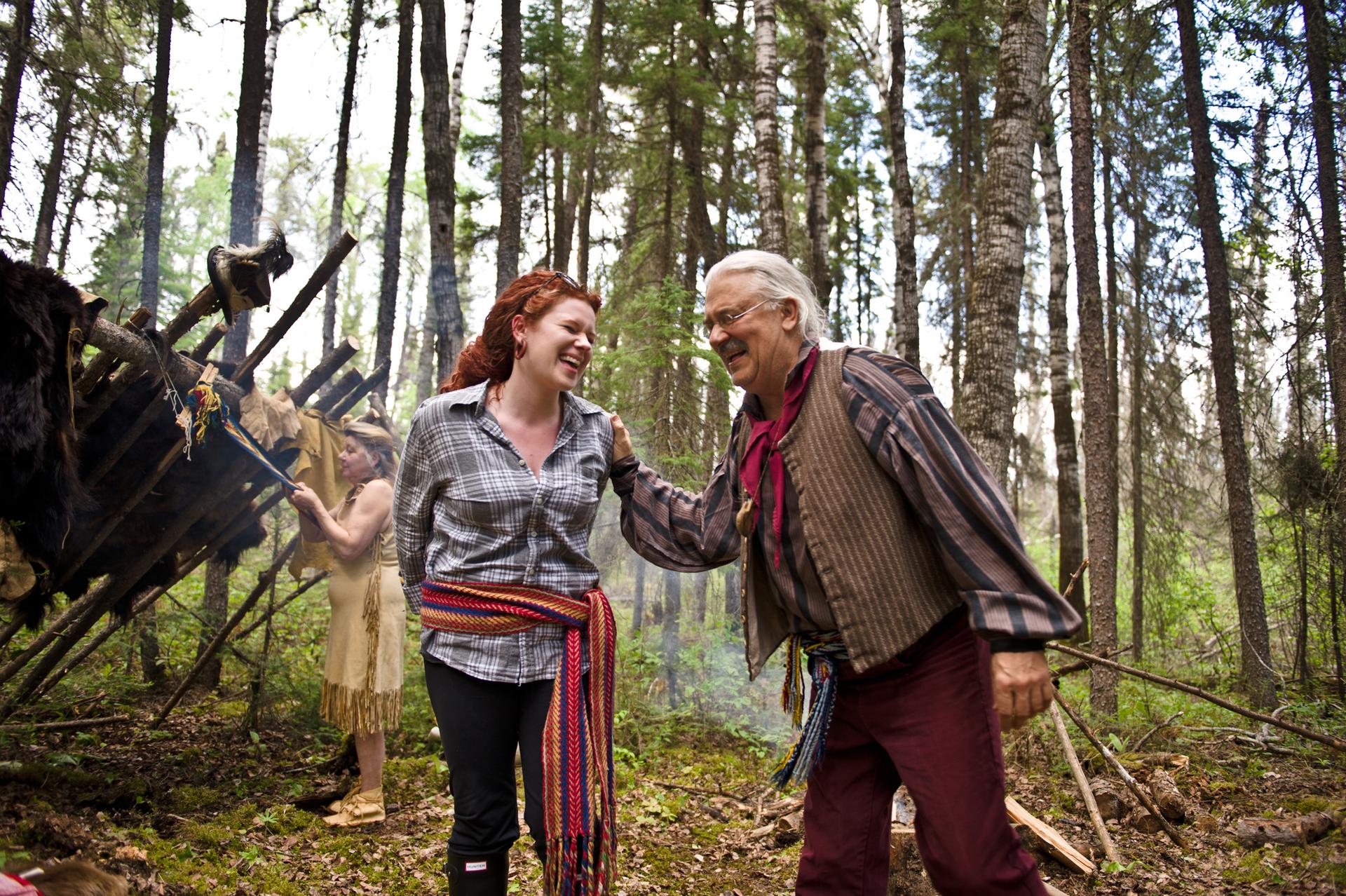 Pathways of the Voyageurs
For more on these early explorers, head out of the city and follow the Pathways of the Voyageurs at Manitoba's Aikens Lake Wilderness Lodge. Learn the secrets of wilderness fishing and how to prepare a traditional shore lunch of fried fresh-caught fish, baked beans, and hot potatoes cooked over a campfire. Then hike along a historic 'portage' trail where fur traders once walked. Along the way, look for ancient pictographs and learn about the history of Aikens Lake, the Gammon River, and the Bloodvein River, as you follow in the footsteps of the Voyageurs.
This is only the tip of the cultural iceberg. Discover more uniquely Manitoba experiences with the help of Travel Manitoba.