Instagram hot spots in Quebec City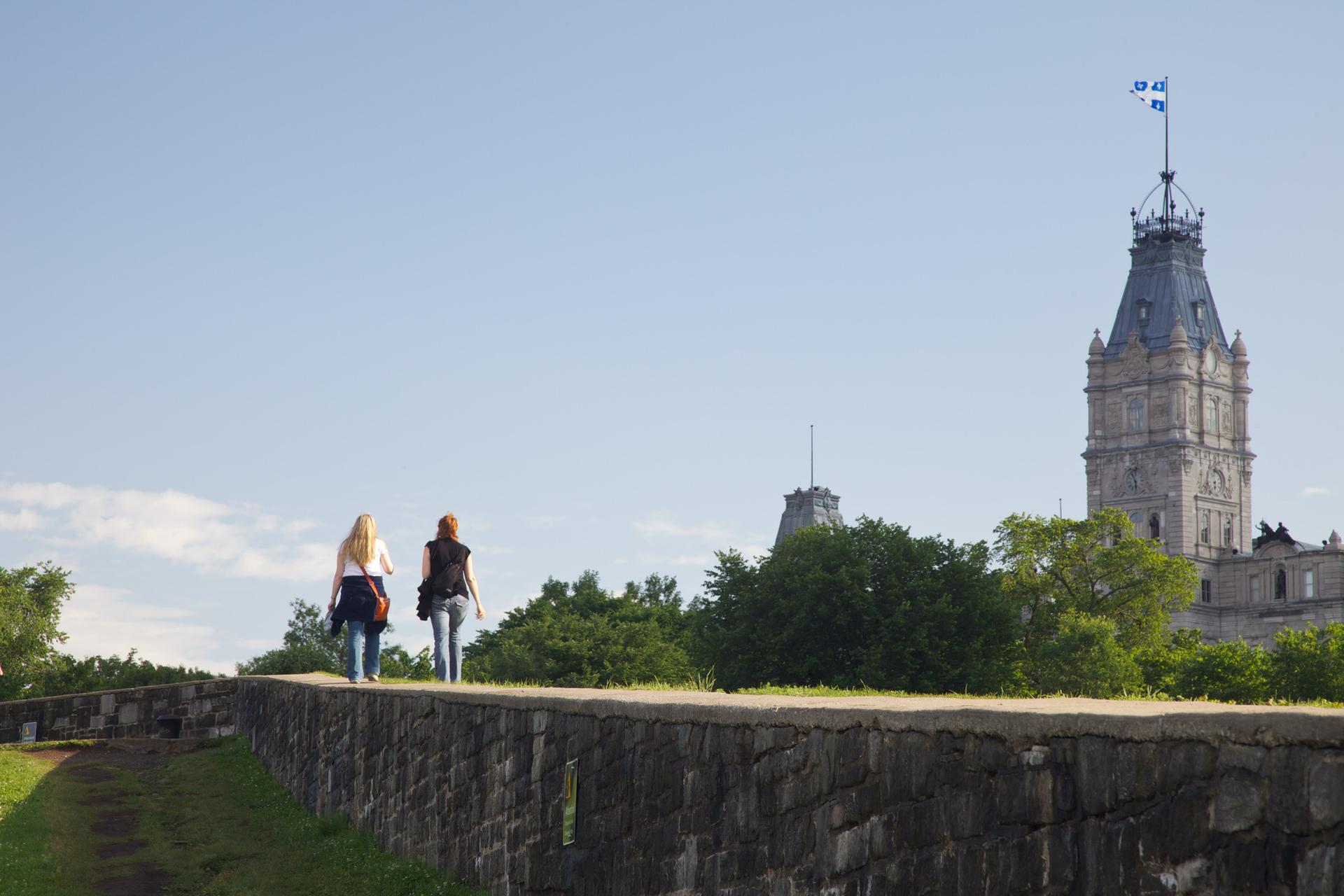 Quebec City is a heart-on-her-sleeve kind of city, and it's chock full of eye-candy just begging to adorn your Instagram feed. Fall in love with the historic architecture, cobblestone streets and melodic French accents, and have your camera ready. Check out our list of Quebec City's most photogenic corners.
The Ultimate Castle 
Perched high on a hill overlooking the walled city of Old Quebec and the St Lawrence River, the Fairmont Le Chateau Frontenac is said to be one of the most photographed hotels in the world. It's not hard to see why. With its copper turrets and iconic green roof, this Victorian Gothic castle is undoubtedly one of Canada's most magnificent buildings. A selfie against this spectacular backdrop is guaranteed to win you likes. Extra points if you actually stay overnight.
Montmorency Falls 
Did you know Quebec City boasts a waterfall one and a half times higher than Niagara Falls? At 83 metres high, the Montmorency Falls are a remarkable sight, both from within the city and up close and personal in the Montmorency Falls Park. Hang out near the base and feel the mist on your face, or ride the gondola to the top for a spectacular view. For the ultimate Insta Story, zipline across the Falls as cascading water tumbles and rushes into the chasm below. Your screams of exhilaration will be the ultimate social media brag.
Ice Hotel
This is not your average hotel. Spend a wintery night at the Hotel de Glace:  a fantastical 44-room, cathedral-ceilinged hotel built entirely of ice and snow, just ten minutes from Quebec City. This ephemeral work of art offers an unbeatable igloo experience, filled with crystalline ice sculptures, a bar, and a restaurant. Even the beds are perched atop huge blocks of ice. You won't get a photo like this anywhere else.
Old Quebec, The Petit Champlain District, and Place Royale 
This is one of North America's oldest neighbourhoods – and one of the most photogenic. Think old-world architecture, historic churches, local artists selling their wares on every corner, and antique shops aplenty. Your camera will love the cobblestone streets and the massive mural at Place Royale, depicting 400 years of Quebec history starting in 1608 when Samuel de Champlain founded the city right here.
Quebec Winter Carnival
A selfie with Bonhomme, the jolly mascot of the world's biggest winter festival, is something to treasure! Every year the Quebec Winter Carnival hosts 17 days of snowy merry-making. You'll need your camera on hand to prove you really did witness canoes race the semi-frozen St. Lawrence River, and to capture the mind-boggling snow sculptures glistening in the winter sun. Celebrate like a local and find out why you can't beat Quebec in winter.
Plains of Abraham 
Grab some chocolate and cheese from the local artisans and head to the Plains of Abraham for a picturesque Insta-picnic. This beautiful urban park is a haven for cycling and walking in summer, and snowshoeing in winter. You can almost feel the history permeate the air as you relax on the grass. This is the very spot where the French and British fought for control of the city in 1759.
A bird's-eye view
For a different perspective, have dinner in Quebec City's only revolving restaurant. Overlooking Grande-All?e, not far from the Plains of Abraham, Ciel! serves up impeccable cuisine and majestic views of the St Lawrence river and the city. You won't know whether to photograph the view or your meal! In 90 minutes you'll go 'full circle' and soak up the city from every angle.
Romance the rails
Just outside of Quebec City, the Train de Charlevoix winds its way along the St Lawrence River to the picturesque township of Baie St Paul in Charlevoix, a region so stunning you'll be forced to put your camera down just to believe your eyes. Charming villages are adorned with antiques, arts and crafts, farm-to-fork gastronomy, and welcoming locals who will melt your heart with their thick French accents.