The best places to experience the aurora in the Northwest Territories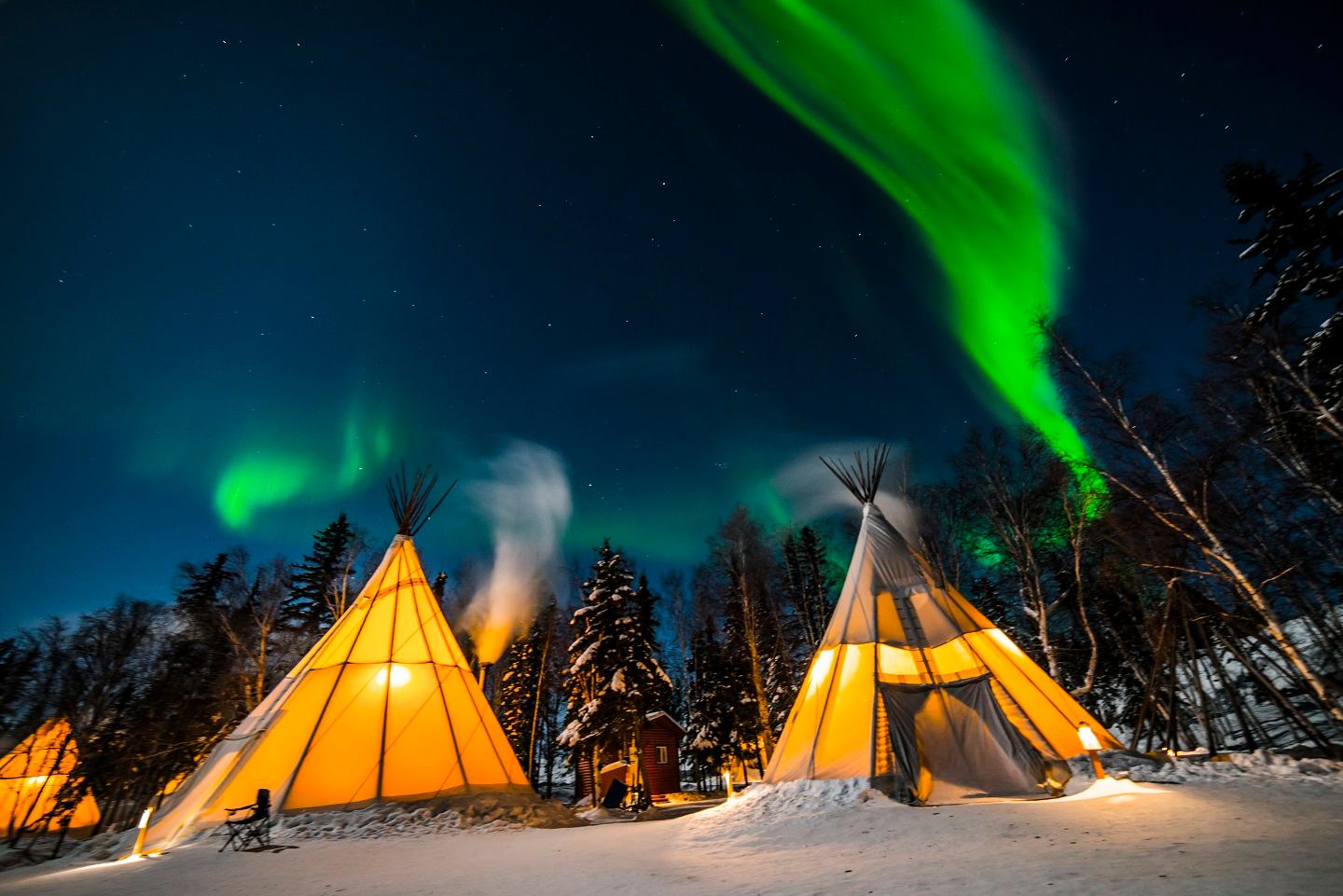 This post was originally published on the Spectacular Northwest Territories blog.
Looking for Northern Lights that set the night sky on fire? Then the Northwest Territories is the place you want to be. Nearly every evening of the year, thousands of light-chasing visitors and residents get geared up and head out to enjoy the ever-changing Aurora Borealis show.
Thanks to our ideal location under the Auroral oval, we're the global epicenter of Aurora-watching. If you can see the stars in our night sky, there's a better than 99% chance you'll see the Aurora.
Want to join the action? Head out to one of these stellar viewing spots.
Call it the village that never sleeps: Aurora Village is a short 20-minute drive outside of Yellowknife. With heated Aurora-viewing seats, cosy teepees where you can warm up, and no light pollution to dim the show, Aurora Village is a unique attraction, popular with tourists and Northwest Territories residents alike.
Catch the Aurora like a king or queen - in Yellowknife's glittering palace of ice and snow, created each winter on Great Slave Lake. The palace is the site of the March-long SnowKing Festival. Dance to the music of a concert in the castle as the mysterious Northern Lights sway overhead.
For a more active adventure, snowmobile to Yellowknife Outdoor Adventures' cabin on the shore of Great Slave Lake. It's a great spot to see the Aurora sparkling overhead and getting there is half the fun!
Wander down to the shore of Great Slave Lake in the fall to see the Aurora shimmering in the night sky above and reflected in the rippling water below. In winter, walk out along the frozen lake and see the eerie glow of the Aurora on the snow beneath your feet.
Camp under the Aurora to catch its full majesty all night long. In winter, you could choose a spot on a frozen river. This tent is perched on ice at the top of fabled Alexandra Falls, not far from the town of Hay River.
Or, the coolest spot of all
Consider hanging out in an igloo to watch the celestial light show. Local igloo builders might invite you to join them in their cosy dome.
Make your way to the Northwest Territories, the Aurora capital of the world. Our nightlife is like no other.